2018 Ram AEV Prospector XL for the Family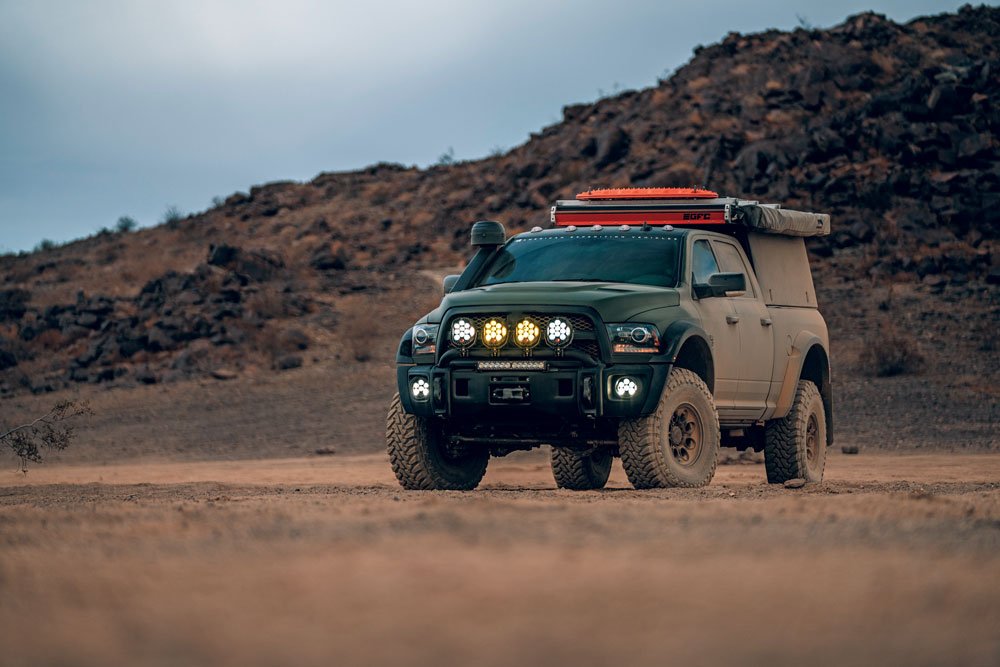 Fotornr's 2018 Ram AEV Prospector XL 2500
If you've read the pages of Tread, are active on social media, or have attended any number of overland and automotive events, such as Overland Expo West, SEMA Show 2019, or the inaugural Toyo Tires Trailpass, then there's a good chance you've either met AJ van de Water, seen his work, or come across one of his rigs. In fact, van de Water's 4Runner graced the cover of our March/April 2019 issue.
The professional photographer has created quite a name for himself in the industry by sharing images of his rig nestled in the most scenic of landscapes, providing his knowledge of both travel and photography, and giving an occasional glimpse into his personal life with images of his beautiful family via his Instagram account (@fotornr). His 4Runner was his first chosen rig for many adventures, but as he spent more time on the road away from his family, he came to the realization that he wanted more out of a truck. As their son was getting old enough to travel with him and his wife on trips, he wanted a vehicle that could provide more space, comfort, and power—a fullsize truck was the ideal candidate.
His checklist of requirements for a new rig included better fuel efficiency due to more miles on the road and ever-increasing gas prices, more power to tackle any terrain that he may encounter, and ample room inside for the family on their long treks. So the decision was made to part ways with his Internet-famous 4Runner and purchase a new RAM 2500 equipped with the American Expedition Vehicles (AEV) treatment. Fortunately for van de Water he found exactly what he was looking for sitting on the lot of Glendale Dodge Chrysler Jeep. Eureka! What he ended up with was a truck that was solid right out of the box and a turnkey solution. At first glance, van de Water thought, "Throw on a camper, some lights, and some special touches to the truck, and hit the road!"
The AEV Prospector XL package on his truck includes 40-inch Toyo Tires Open Country M/T tires and AEV Katla 17×10 wheels to handle the roughest of roads and obstacles while retaining the factory Ram load and tow ratings, making it ideal for hauling. HighMark Fender Flares wrap around the large wheels and provide 4.5 inches of additional tire coverage, enough to legally run a wider tire on the street. This combination helps to keep the truck's center of gravity as low as possible.
An AEV 3-inch DualSport suspension system maximizes the ground clearance and improves off-road articulation utilizing factory springs and control arms optimized with 3-inch cast aluminum coil spacers and front brackets that reposition the control arms and axle an inch forward. To help control unsprung weight, AEV co-engineered Bilstein 5100 series shocks to increase control and comfort on any terrain. Additional corrective components are added that include extended swaybar endlinks, bumpstop lowering brackets, and an aluminum front driveshaft spacer, along with the AEV High Steer Kit, which restores factory geometry with a replacement draglink, track bar, and track bar tower. And don't forget AEV's heavy-duty Hydraulic Assist Steering Kit that helps restore the stock steering feel.
To help protect the truck through the various terrain van de Water encounters is the AEV HD front bumper, which is made from stamped 4mm steel. The bumper includes a Warn 16.5 Ti winch with synthetic rope paired with Warn Sidewinder and EPIC Fairlead.
Up front is an AEV heat-reduction hood that includes two strategically placed vents to reduce underhood temperatures that help improve performance in slow-moving, off-road situations or heavy towing. Made from 23-gauge stamped steel, the hood is built to be durable and strong.
"Now with a few trips under his belt he can confidently say that he made the right decision in moving to a fullsize truck from an SUV, as it suits his current needs."
Peace of mind goes a long way, and this AEV-equipped truck helped deliver that. As a full-time photographer, van de Water is often out on the road taking photos, having worked with notable brands such as Goal Zero, Dometic, and others, as well as running his off-road photography workshops. Reliability is an important factor when searching for a photo location, and he usually only has a short period of time to get the right shot under perfect conditions. Any delay could cost him a project. In the case that something were to go wrong, he knew he would be covered under the factory warranty that is offered with the AEV upgrade.
Shortly after purchasing the vehicle, a few modifications were in order. Although, the truck was well-equipped by AEV, van de Water sought to customize it further to make it fit his needs, which would include lights, power, a place to sleep, and a solution for food. His experience in building vehicles came in handy as he created a plan for the build. And, of course, there had to be the one modification that not only helps protect the factory paint, but has also become a signature look for his vehicles—the installation of a matte olive drab wrap.
For his first trip, he needed to ensure he had all the bases covered and an SDHQ built-in bed chase rack was installed that holds his spare, along with two 15-pound Powertank Air Tanks to help air up and down his massive tires. Exterior Baja lights were added, four LP9 lights and two LP6 lights in the front bumper. For storage, a trio of Front Runner Wolfpacks are used along with a Pelican 1535 Air case to protect his valuable camera gear. And don't forget the Outer Limit Supply first-aid kit is always on hand, just in case.
One reason he elected for a fullsize was to future proof himself for his family trips. He wanted four doors for easy access to the cab and the ability to tow as his future plans are to haul a trailer. His first major trip with the truck covered about 4,000 miles over the span of 15 days. He began the trip solo from Southern California to Montana to install a Go Fast Camper (GFC) to the bed, along with Beef Rack crossbars and a Platform Wind Skid in orange. To help add some shade to his campsite, a Kinsmen Hardware Rapid Deploy 270 awning was also installed. The additional space along with the GFC has come in handy for van de Water to allow for some creature comforts when on the road. He's able to utilize the bed to hang out and work, all while being fully enclosed.
From Montana he made his way to Portland, Oregon, to connect with his wife and son who had traveled separately to meet him. They then drove down the coast, creating memories with their 3-year-old son as they made their way back home. "We ended up hitting some dunes, checked out some really tall trees, and watched miles and miles of ocean out of the passenger-side windows. It was a really awesome trip and I hope to get in another one this year," van de Water says.
Even with those new additions, the truck still wasn't complete and continued with the customization process. For additional lighting, van de Water outfitted the truck with a collection of Baja Designs lighting that includes a 20-inch ONX6+ light bar, eight Rock Lights, two S2 Pro Flush Mount lights in the rear bumper, four Dome Lights used inside the camper, two Squadron Pro lights in the rear camper door, and an S1 on the side of the camper to be used as a camp light. Many of the lights are mounted using Axia Alloy mounts, which also hold up a couple other items, such as his first-aid kit, phone, fire extinguisher, ram mounts, and HAM radio.
All of the lighting would require a solution to control it all and he worked with Greg Amendola to install and wire the lighting using two Switch Pro 9100 switch panels, one located as the main unit inside the truck and one as a slave unit inside the camper/bed of the truck for convenience and immediacy. Reliable electricity and power is key and van de Water opted for two Odyssey Performance 94R-850 batteries located underhood and has a NOCO GB150 battery jump pack on hand, just in case. As he relies on electricity to work from the road, a pair of Goal Zero Boulder 100 Panels were installed along with a Goal Zero Yeti expansion module. Additional on-board power is provided by a Goal Zero Yeti 3000 and 200X to help power his laptop and recharge his camera's batteries. More power is utilized by the Dometic CFX3 55IM portable fridge that slides out conveniently on a Dometic fridge slide.
Now with a few trips under his belt he can confidently say that he made the right decision in moving to a fullsize truck from an SUV, as it suits his current needs. "It's just a better vehicle for us. I can go anywhere. It has so much more room, better efficiency, and is just better all-around," van de Water shares. "The 4Runner was awesome, but cramped for the entire family."
As for his family, they love the additional space that is offered and the extra comfort. In fact, his son loves it so much that even at home he uses the truck with GFC as a jungle gym. And as a family, they are getting out more and enjoying time together outdoors. About once a week they use the truck for short family camping trips where they are able to relax and hang out.
"van de Water sought to customize it further to make it fit his needs, which would include lights, power, a place to sleep, and a solution for food."
Van de Water plans on more trips this year, including a trip to Banff, Alberta, Canada, and possibly Alaska. In addition, to his outdoor photography workshops, he has launched a YouTube channel where he will be showcasing not only his experience overlanding, but also mountain biking, products and gear, photography tips, camping, vlogging, and behind the scenes.
Van de Water and his family would like to thank everyone who made this possible for them in the past three years.  
---
UPGRADES
2018 Ram AEV Prospector XL 2500
Platform: 2018 RAM AEV Prospector XL 2500
Engine: 6.7L Cummins Diesel
Suspension: (Front and rear) AEV 3-inch DualSport suspension system
Wheels & Tires: AEV Katla 17×10 with Toyo Tires Open Country M/T 40×13.50
Accessories: AEV hydraulic-assist steering, AEV stamped steel hood, AEV stamped steel front bumper with Warn 16.5 Ti with Synthetic rope, Warn Sidewinder, Warn Epic Fairlead, Baja Designs 20-inch ONX6+ light bar, (two) Odyssey Performance 94R-850 batteries, NOCO GB150 Battery Jump Pack, Go Fast Camper (GFC), GFC Beef Rack Cross Bars, GFC Platform Wind Skid (orange), Kinsmen Hardware Rapid Deploy 270 awning, SDHQ Built-in Bed Chase Rack, (two) 15-pound Powertank Air Tanks, (three) Front Runner Wolfpack Storage Box, Pelican 1535 AIR, Outer Limit Supply first-aid kit, Axia alloy mounts throughout, Baja Designs (four) LP9 (front bumper), (two) LP6 (front bumper), (eight) Rock Lights white, (four) Dome Lights (inside camper), (two) Squadron Pro (rear camper door), (two) S2 Pro Flush Mount (rear bumper), S1 (side of camper/camp light), Switch Pro 9100 Main Unit (inside), Switch Pro 9100 Slave Unit (inside camper/bed of truck), (two) Goal Zero Boulder 100 Panels, Goal Zero Yeti Link Expansion Module, Goal Zero Yeti 3000, Goal Zero Yeti 200x, Dometic CFX3 55IM, Garmin Overlander, and Dometic Fridge
Editor's Note: A version of this article first appeared in the May/June 2020 print issue of Tread Magazine.