The Toyo Trailpass Tread Editor's Choice Award winner Lexus LX470 That's on the Next Level
This beautiful Lexus LX470 overland build showed up on our radar at the first-ever Toyo Trailpass event in Hood River, Oregon, this summer. It won our "Tread Editor's Choice Award," which earned it a place in this magazine.
"Gordon and Beavers designed and built this luxury Land Cruiser to be a comfortable daily driver and a bug-out rig that is 24/7 ready for anything."
Chris Beavers built this 2005 Lexus LX470 over four months in early 2019. Owner Kevin Gordon reached out to his good friend Beavers to take his Land Cruiser to the next level. Beavers is a master Toyota mechanic, has a background in engineering and has been in the off-road industry for many years. His smart, detailed-oriented overland builds, especially on the electrical front, are what earned him the job.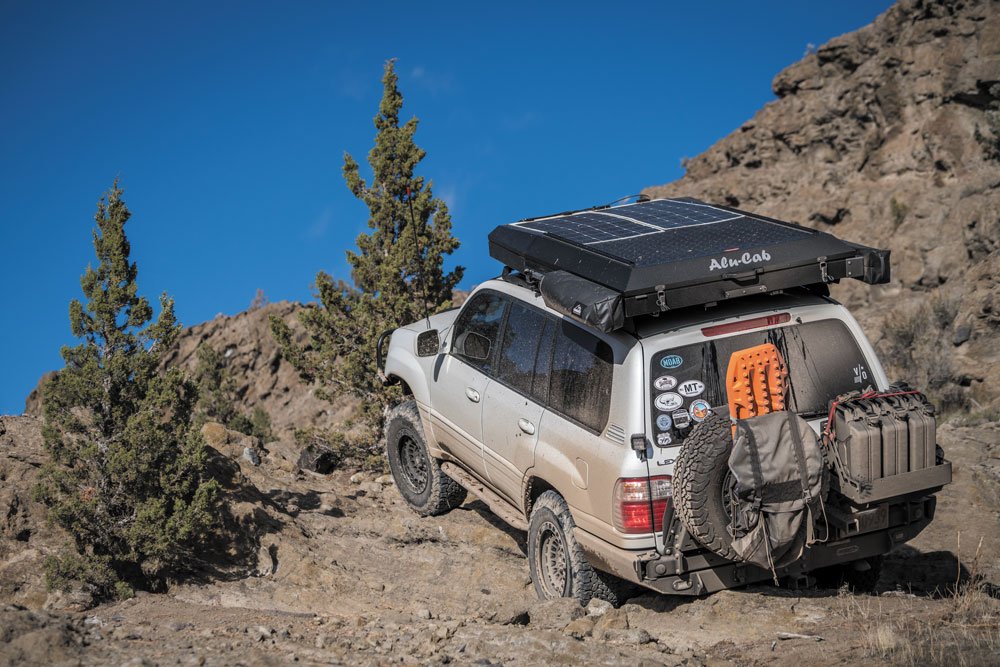 Gordon works with the M Experience, where he is the general manager of M Car Company and a managing partner in M Auto Capital. These companies specialize in getting clients into new and pre-owned exotic and luxury vehicles. Gordon knows quality when he sees it and couldn't pass up this superclean Lexus off-road machine when it fell into his lap.
Build Concept
Gordon and Beavers designed and built this luxury Land Cruiser to be a comfortable daily driver and a bug-out rig that is 24/7 ready for anything. The idea is that at any time Gordon can hit the road for a camping road trip, as this vehicle is a fully self-contained home on wheels.
"The idea is that at any time Gordon can hit the road for a camping road trip, as this vehicle is a fully self-contained home on wheels."
It's also Gordon's only vehicle, so it's his daily driver. He loves the quiet ride, bulletproof reliability, super off-road capability, and extreme comfort that this Lexus-badged Toyota 100 Series Land Cruiser provides. His favorite thing to do is leave work and head out into the mountains to camp at a spot without cell service. This vehicle provides him the peace and quiet he can't find in the daily grind.
Adventure Calls
This is Gordon's second Land Cruiser Overland build. The first was a 2000 Toyota Land Cruiser, which he had for four years. He upgraded to this 2005 LX470 in early 2019. He had no intentions of upgrading his Cruiser, but when a one-owner, flawless, white luxury Land Cruiser with half the miles on it falls into your lap, there is little choice but to seize the opportunity.
While Gordon loves getting out to explore locally near his home in Portland, Oregon, he also loves to explore further afield all across the American West. This LX470 has already taken him across more than 10 states and over many off-road miles, most notably off road across the Washington and Oregon Backcountry Discovery Routes.
Gordon's most recent trip in this rig was an eight-state, 25-day, 6,000-mile adventure across the American West. Moab, Utah, was a major highlight, as it provided the most amazing off-road adventures this rig has seen so far. Gordon spent four days there in July 2019, where his favorite trail was Kane Creek Canyon. Then he was off to Silverton, Colorado, where he spent five days exploring with The Hundreds in the Hills Land Cruiser Rally. His favorite trails in the area were the Alpine Loop and Stoney Pass to Kite Lake.
Built for Capability
This Lexus is no longer a soccer mom vehicle. It has been built to be used in remote, rugged terrain while fully loaded with every camp comfort you can think of. Let's dive into how this truck is set for adventure.
First up is fitting big BFGoodrich KO2 tires, 285s for touring and even 35s for technical terrain. That big rubber is wrapped around 17-inch Fuel Zephyr rims. To make the big tires fit, a combination of suspension and body lifts were implemented. OME springs, SPC upper control arms, and MetalTech offset rear lower links make up the underpinnings of the suspension. The body was lifted an additional 12 mm to provide the tire clearance needed. Custom-valved Rad-Flo remote reservoir shocks ensure the luxury Lexus ride is maintained.
To keep this vehicle in the power band of its 4.7L V-8, and get through seriously tough and technical off-road terrain, it has been re-geared. A set of Nitro 4.88 gears was installed, along with a Marlin Crawler low gear upgrade. The Marlin Crawler super low 3.12.1 gear replaces the stock 2.488.1 low gear.
Front and rear ARB AirLockers were also installed to make this rig nearly unstoppable off road. An ARB twin compressor powers the AirLockers and offers a quick disconnect hose connection in the front bumper for airing back up after a long day on the trail.
For armor, this Lexus sports front and rear bumpers from Dissent and MetalTech rock sliders. If it does somehow get stuck, the front bumper has a Warn Zeon 10-S, featuring a Factor55 fairlead and Flatlink. Maxtrax recovery boards and a full selection of recovery gear also ensure a speedy and safe extraction from whatever trouble Gordon might find on the trail.
A full host of Rigid Industries lighting solutions surround this vehicle. Everything from a lot of forward off-road driving lights, foglights, backup lights, engine bay lighting, and area lighting ensure there is never a shortage of lumens. There are even red KC lights mounted inside the tailgate for night cooking.
Built for Camp Comfort
Besides being off- and on-road capable and comfortable, this Lexus is designed for remote self-supported adventures. It is set up with everything from a RTT, full kitchen, and bathroom to a hot water shower system.
The roof is set up with a Frontrunner platform rack with an Alu-Cab gen3 RTT. A 270-degree Shadow awning is mounted to the rack, along with a stainless steel camp table and Kinsmen privacy stall. Sleeping comfort, lots of shade, camp table workspace and privacy for changing, showers and going to the bathroom are all quickly deployable from this rack system.
Inside the rear hatch on this Lexus LX470 is a full ARB double-drawer system and cargo area divider. Atop the drawers are an Alu-Cab tilting fridge slide with a 63-quart 12V ARB fridge/freeze. Also in the back are kitchen items like a Frontrunner utensil set and two-burner Partner stove, which are alongside camp chairs from Frontrunner and NEMO. There is even a Cleanwaste toilet kit inside.
Fully kitted is what I'd call this rig, but everything has a useful purpose on the trail. There is a full Pelican 1500 EMT case for medical emergencies, HAM and CB radios for communications and a Blueridge Overland Gear XL tire storage bag for hauling trash, firewood, vehicle fluids, and the like.
Rounding out Gordon's onboard systems is a full freshwater system. It features an 11-gallon Frontrunner footwell freshwater tank, which is custom plumbed under the vehicle and tied into an engine heat exchanger hot water system. There is no better way to finish off a dusty day on the trail than with a hot shower at camp.
To power all the added electronics, the main battery was relocated to the other side of the engine bay to make room underhood for a larger capacity auxiliary battery. A RedArc DC to DC charge system was installed to ensure both batteries are always topped off and healthy, while a 200-watt solar panel mounted atop the RTT keeps the juice flowing even when the truck isn't running. An sPod touch-screen controller with remote Trigger system, with phone app, allow all the auxiliary systems to be operated from anywhere around the vehicle with ease.
More Adventure
The adventures in this Lexus LX470 overland machine have just begun. While Gordon loves off-road adventures and this rig is more than capable, he also loves general travel. His next trip will take him from California to Missouri on the famous Route 66. There is no more iconic overland route across America than that. This Lexus LX470 will provide a comfortable, reliable, and capable ride while also providing a great home away from home on the adventure.
"Gordon knows quality when he sees it and couldn't pass up this superclean Lexus off-road machine when it fell into his lap."
Upgrades
2005 Lexus LX470
Engine: Toyota 4.7L V-8
Suspension/Lift: Rad-Flo Shocks, OME Springs, SPC UCAs, MetalTech Offset Rear Lower Links, 12 mm Body Lift
Wheels & Tires: 17-inch Fuel Zephyr Wheels wrapped in 33- or 35-inch BFG KO2s
Driveline: Nitro 4.88 Gear Package, Marlin Crawler Low Range Gear Reduction, ARB Front & Rear AirLockers
Accessories: Dissent front and rear bumpers, MetalTech Rock Sliders, Frontrunner roof rack, Alu-Cab Gen3 RTT and Shadow 270 awning, Kinsmen Hardware Shower Stall, dual battery, Redarc DCDC charging system, sPod, Trigger Remote System, Rigid Industries lighting, ARB dual compressor and 63-quart fridge/freezer, Yaesu Ham Radio, Cobra CB radio, Warn Zeon10-s, Factor 55 Fairlead and Flatlink, Maxtrax, BROG Recovery Bag with Warn Epic Shackles and Treaty Oak Straps, Gransfor Bruks 42-inch Axe, ARB Dual Drawer System and Cargo Barrier System, Frontrunner Stainless Camp Table, Chairs and 11-Gallon Footwell water tank, hot water system, Alu-Cab Tilting Fridge Slide, Partner Stove, BROG XL tire bag and Overland Attic, Cleanwaste toilet kit
Editor's Note: A version of this article first appeared in the January/February 2020 print issue of Tread Magazine.