2023 Airstream Basecamp 20X: Toy Bin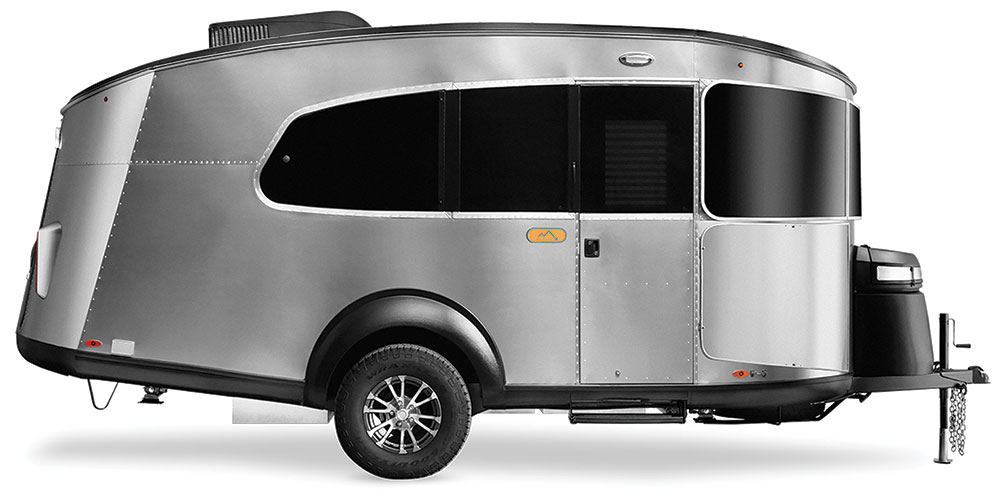 Airstream's latest evolution aims to go off road.
There is probably no other travel trailer as iconic as the ones produced by Airstream. Believe it or not, their sleek, aluminum alloy skinned trailers have been spearheading the road trip movement since as far back as 1935. Airstream's latest evolution, the Basecamp 20X single axle trailer, aims to go where previous Airstreams were limited in travelling to: Off road. In this edition of Toy Bin, see if the Basecamp 20X will be a good fit for your next adventure.
The Basecamp 20X is based on Airstream's best-selling travel trailer, the Basecamp 16. The Basecamp series of trailers offer a compact shape and plenty of features that road trippers and campers alike want in a travel trailer, all without having to invest in the bulk and money of a full-sized model. The original Basecamp, the Basecamp 16, features a 16-ft. overall length and sleeps two. The newer Basecamp 20 model measures 20 feet and is capable of sleeping up to four. Both models include features such as a freshwater tank, ducted furnace, kitchen, refrigerator, restroom with shower, and more.
The Basecamp 20 however has larger, more capable items such as a larger 4.3 cubic-feet refrigerator, 23-gallon freshwater tank and separate gray and black water tanks. The 16 has a 3.1 cubic-foot fridge, 21-gallon freshwater tank and combination gray and black water tank. There are other differences as well, but you get the idea. The Basecamp 20 is the bigger, more capable model between the two.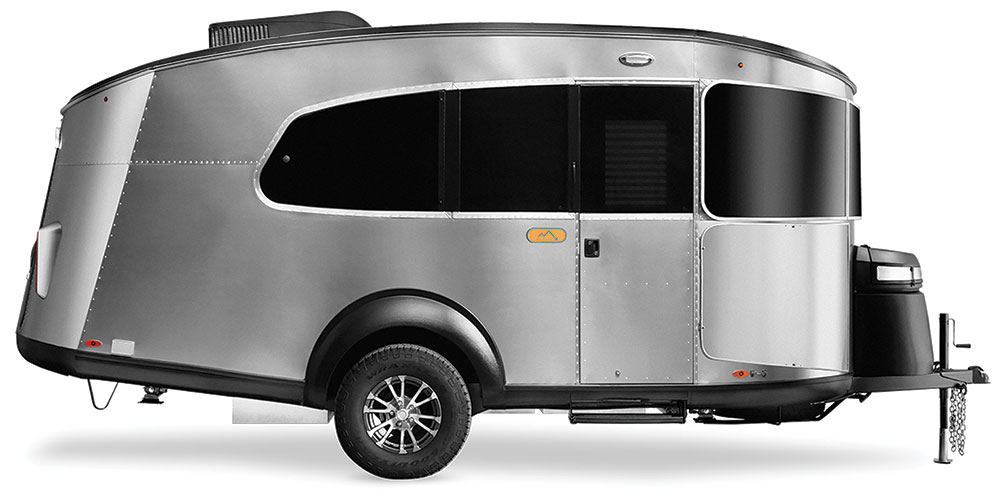 Basecamp X-Package
Now let's talk about the Basecamp's X-Package. Both Basecamps are available with the X-Package, which was developed for those who want to take their adventures farther off the beaten path. The Basecamp X-Package adds more rugged features to the travel trailer such as a 3-inch lift and all-terrain Goodyear Wrangler tires. What's more, a raised hitch jack footpad has been installed for even more road clearance. To polish it all off, the X-Package also includes stainless steel rock guards and a solar window guard to keep the trailer protected in the elements.
True to its name, the Basecamp acts as your home away from home and dedicated basecamp when you're out adventuring. After your extended hike or bike ride through the trails, clean up with Basecamp X's outdoor shower. Need power for your devices? The trailer has multiple USB and 110V charging ports and is pre-wired for solar charging panels. If you're looking for even more room, Airstream also offers an attachable tent that quickly and smoothly expands Basecamp's living and storage space. The inflatable tube frame tent attachment features two entry points and two rooms and is quick and easy to set up.
Airstream Basecamp 20X, as shown here, is a different and welcome take on enjoying the outdoors. Light enough to be towed by most pickups and SUVs, the camping trailer brings the comforts of home with you wherever you go, even on road trips that take you off paved roads.
Tech
Device Charging. With a convertible table and USB ports/110V outlets all around, you can keep your devices charged on the road.
Solar. Pre-installed wiring makes it easy to hook up solar panels to your trailer and extend the amount of time you can stay powered up off the grid.
Grill Port. Get cooking faster. The trailer is equipped with a liquefied petroleum gas low-pressure grill port on the outside for quick and easy hook up of your grill.
Performance
Lifted Suspension. The X-Package Basecamp is lifted an additional 3-inches over the traditional model Basecamp for clearance that takes this Airstream where no others have gone before.
All-Terrain Tires. Along with the lifted suspension, the X-Package adds black shadow toned wheels and all-terrain Goodyear Wrangler tires to help tackle uneven and rough terrain.
Departure Angle. The tail end of the trailer features an increased departure angle to get the trailer in and out of rough spots without damage to the underside. Protective guards in the rear fend off damage from any unintended scrapes.
Stone Guards. Since the Airstream Basecamp 20X can ride on rough and tumble off-road trails, stainless steel front stone guards protect its aluminum skin in the trailer's forward facing areas.
Comfort & Convenience
Exterior Shower. Don't track dirt or mud into the Airstream Basecamp. There's an exterior shower hook up located on the left rear side of the trailer so that you can clean up before heading inside.
Air Conditioning. For those who don't want to leave the comforts of AC at home, an optional AC unit is available for the Basecamp.
Easy Access. Aside from the main entry door on the right side, Basecamp also has a large 26" x 46" rear hatch that allows you to load and unload larger gear that otherwise would be difficult to get through the main door. With 126" of available cargo depth, hauling kayaks and bicycles is no problem.
Features
Kitchen. Outfitted with a two-burner gas stove as well as a sink, the Basecamp includes a well-configured kitchen. There's also a microwave, refrigerator, and storage space for dishes, groceries, and spices.
Wet Bath. Need to go? No problem. Basecamp is equipped with a wet bath complete with a porcelain toilet, shower wand, mirror, retractable clothesline, privacy curtain, a small roof fan, and more amenities.
Sleeping. Two benches and a seat that spans the inside of the rear hatch door make room for five people to lounge, eat, and hang out. When you're ready to get some rest, the benches become a bed that covers the whole back of the trailer.
2023 Airstream Basecamp 20X
Exterior Length
20 ft. 2 in.
Exterior Width
7 ft. 9.5 in.
Exterior Height
9 ft. 1.5 in.
Maximum Trailer Capacity (GVWR)
4,300 lbs.
Ground Clearance
12.04 in.
Net Carrying Capacity
900 lbs.
How much will it run ya?
MSRP: $57,400 (Base price for the X-Package, not including taxes, destination charges, or other fees.)
---
Editor's note: A version of this story previosuly appeared in the TREAD Jan/Feb 2023 issue.