iKamper Aioks: Kitchen in a Box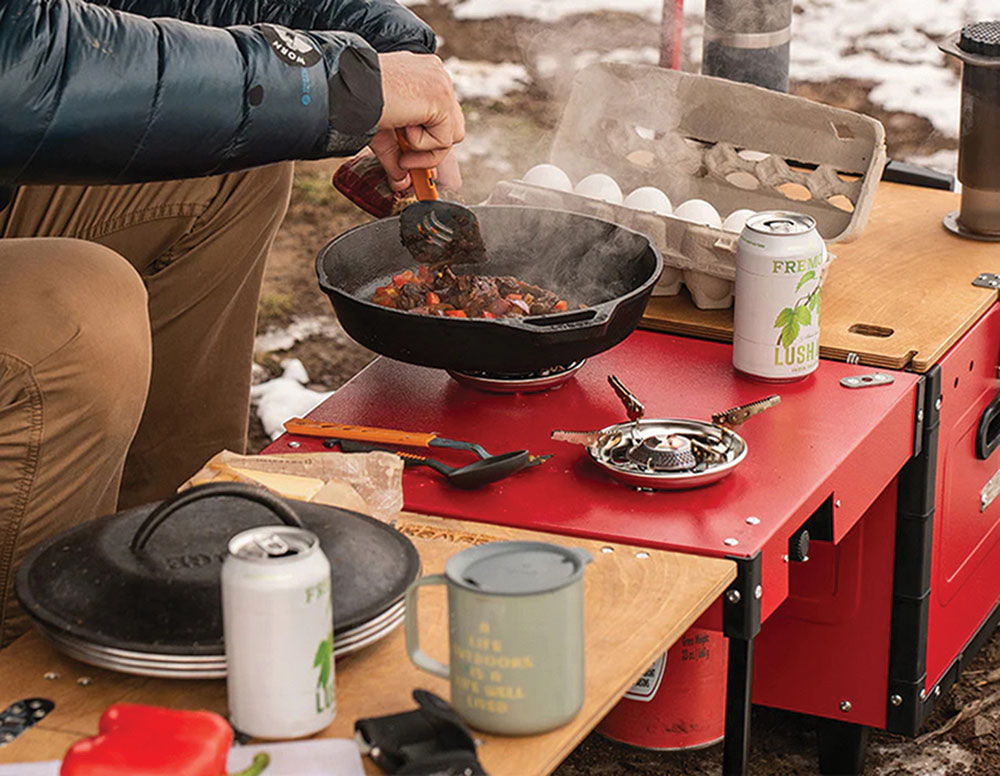 Cook, Eat, and Store All In One Place? Here's our review.
Aside from the campfire, the camp kitchen is often the other major center of activity at any given campsite. The preparation of food and the wonderful smells that cooking produces usually draw a hungry crowd, after all. For these and many other reasons, camp kitchens are fun to use and easy to enjoy. Assembling a useful, yet compact camp kitchen, however, can be a challenge. That's where the iKamper Aioks comes in.
Piecing together different cooking products and tools to create the perfect camp kitchen can quickly become a rabbit hole that's easy to slip deep into—not to mention a neverending money pit while you figure it out. Always having to balance the available space you have in your vehicle with the wants and needs of your camp kitchen can become overwhelming. Do you go for a larger more capable multi-burner stove? Or is a small, single burner all you need? What about cooking prep and dining surfaces? Do you pack extra tables? Where will you find the extra space you need to stash your plates and utensils? That's just a small part of it; as you already may know, there's a lot going on when configuring your camp kitchen.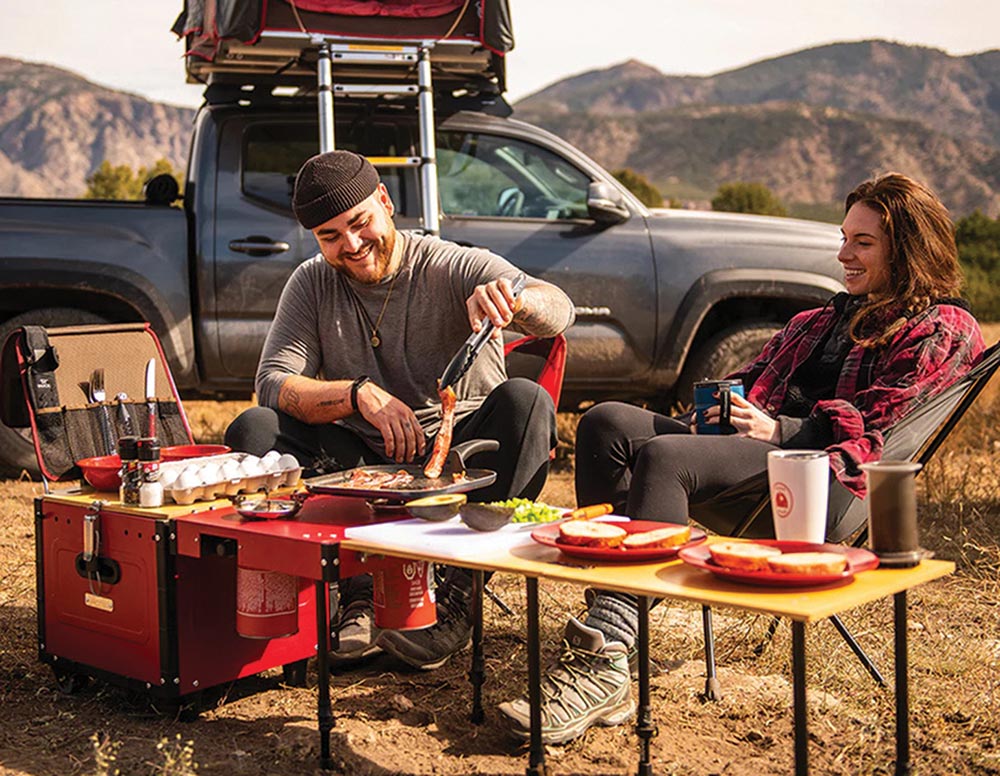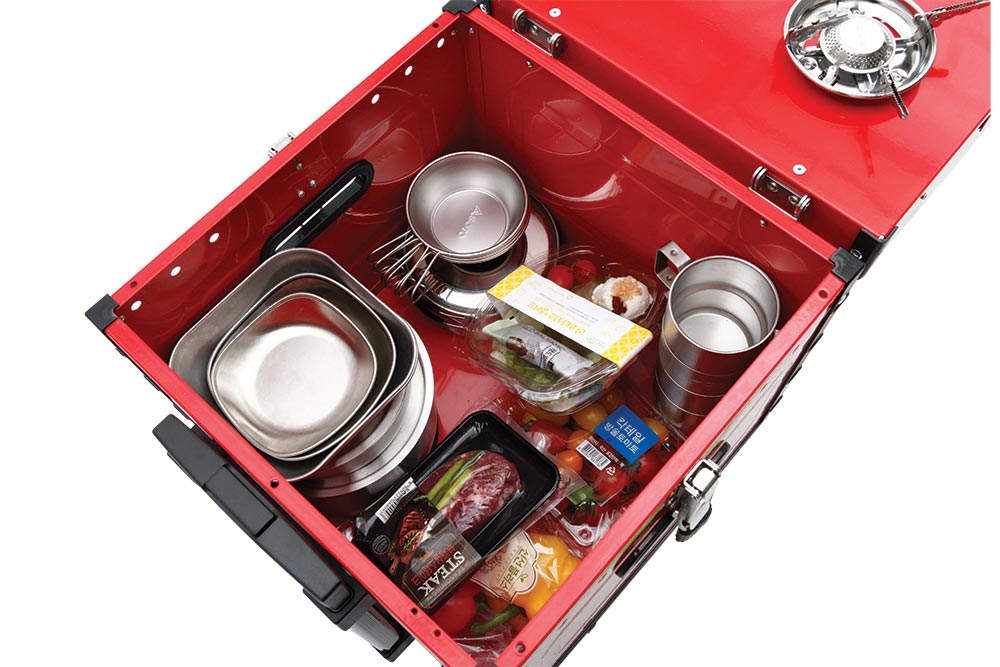 Innovative Solution
Here's where iKamper steps in with their innovative solution, the Aioks. We have had one of these for some while now and have been able to go hands on in the field with it. To sum it up, we call it a kitchen in a box. The Aioks is a self-contained kitchen that, well, fits in a box. Aioks consists of a two-burner stove along with several furniture grade birch cooking and dining tables, which all neatly fold into its metal box-shaped enclosure. The center of the box allows for the storage of everything from pots and pans to foodstuffs and even camping chairs.
Aioks' 5052 aluminum and stainless steel construction allows the kitchen to be strong yet relatively light. It weighs about 20 pounds and comes equipped with a long handle and wide rubber wheels so that it can be pulled to its destination. It also features carrying handles if you prefer to carry it to its place as well. Once in place, the legs can be deployed and adjusted for uneven ground. Twenty pounds may not sound especially lightweight but considering it's most—if not all—of your camp kitchen, it's not bad at all.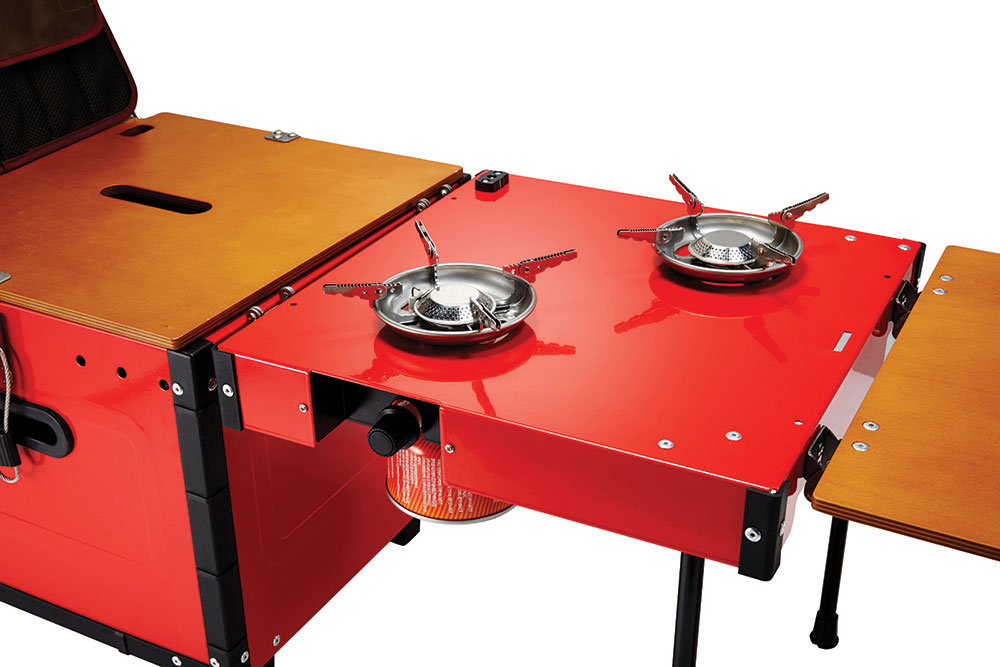 Easy Setup
Loosening two latches on either side of the powder-coated aluminum body will open up the iKamper Aioks and allow you to fold out its built-in tables. One table consists of two birch panels and the other one is made of a single panel. Together, the tables allow for not only the preparation of a meal but also meal service for four. iKamper partnered with camp burner specialists, Kovea, to engineer a stove system with two burners that each deliver 7500BTU of power. The burners are capable of running on butane and propane with the use of adapters and have variable heat control.
As mentioned earlier, we've used Aioks on several trips already and we can report that it has served its purpose well for us. Its form factor makes it incredibly easy to store in the back of our SUV and its internal storage allows us to place items that we want to protect such as everything from tablewear to bread. After it's loaded up, however, Aioks can easily weigh almost 30 pounds; so do use caution when getting it out and back into a lifted truck. Your back will thank you.
Seating Arrangements
It's also worthy to note that the iKamper Aioks isn't very tall, so you'll need to take a seat while cooking and eating. We're usually fans of standing while we cook, so sitting while we cooked was a bit of an adjustment. We suppose this is a result of keeping the Aioks compact, and it's a tradeoff we're willing to make. That said, we like having most of our camp kitchen in one unit. It also saves us from piecing together all the major parts separately, which undoubtedly can save some money and space in our truck, both of which are usually in short supply.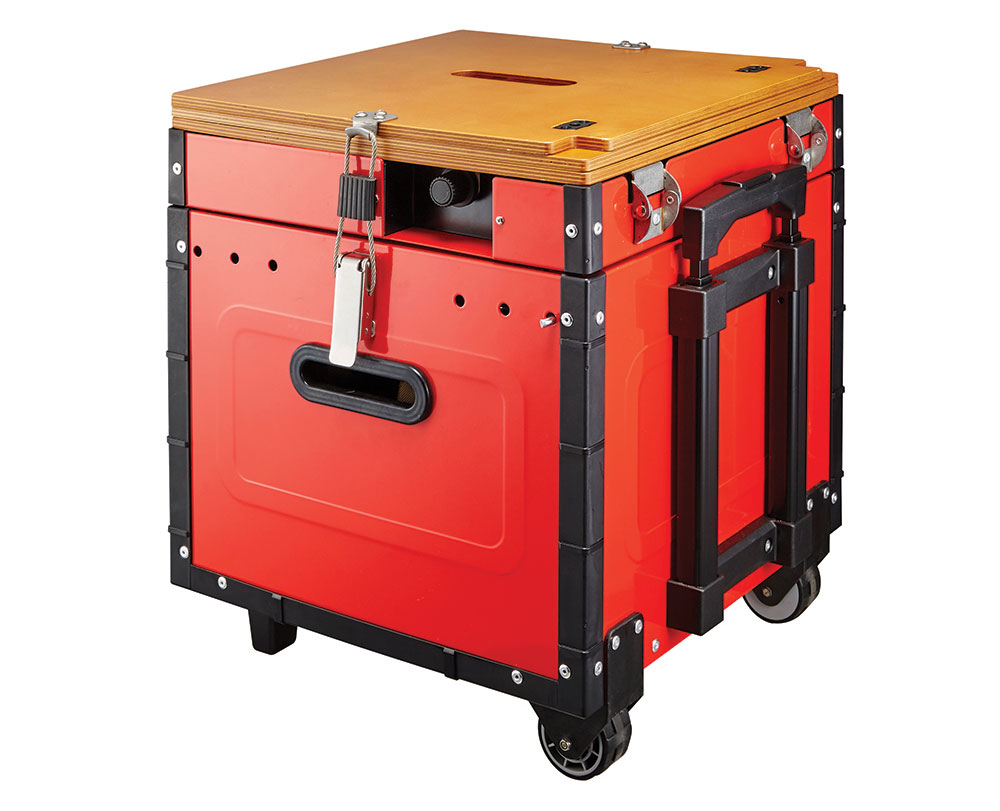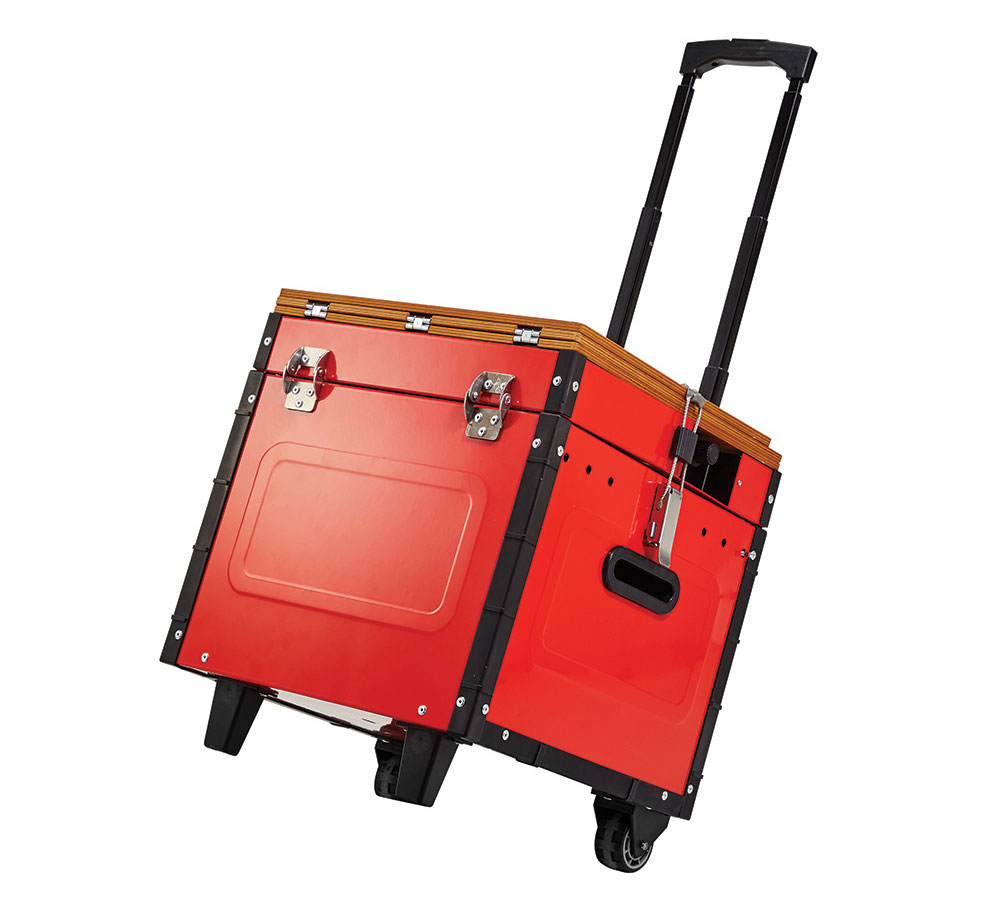 If you're looking for a compact, all-in-one camp kitchen solution, the iKamper Aioks is worth a good look at. With a retail price at the time of this article's writing in 2022 of five hundred dollars, it may not seem all that cheap but after you add up all the pieces that you would buy separately to piece together a camp kitchen, you'll find that it ends up being quite the bargain in terms of not only money but of storage space as well.
IKamper Aioks
Stove: Two 7500BTU burners engineered by Kovea
Fuel: Butane canisters, propane canisters (adapters sold separately)
Weight: 20 lbs.
MSRP: $499
---
Editor's Note: A version of this story previously appeared in the TREAD January/February 2023 issue.