Hard to Shop for Person's Gift Guide: Hike to the Holidays 2022
What to buy for the hard-to-shop-for overlander in your life who already has anything?
We all know that person. (Hint: if you don't, then you are that person.) Everybody has somebody in their life who's just impossible to shop for. There's always that person who gets daily Amazon deliveries, who doesn't waste time waiting for gift season, instead choosing to just get online and order it themselves. That's all well and good, and we appreciate the initiative, but give us a chance! Our best strategy for that one hard to shop for person: upgrade something that they might already own. Make their life easier. It's got to be something that they wouldn't buy for themselves, so we had to get creative with this one. Read on to avoid holiday heartache!
01 Aeronaut/ The Hoverquilt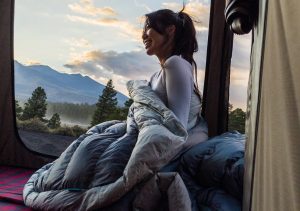 MSRP: $499.00
Hear us out here. We know it's expensive, but we never promised the perfect gift for that hard-to-shop-for person would be cheap. And this one's worth it. One 5-star reviwer commented, "After using it for several days in my roof top tent in marginal temperature (hovering right around that 30 mark) I was absolutely blown away with the comfort and warmth this blanket provided. Super impressed, I'm a convert!" With 750 Fill Power Goose Down and the softest 20D ripstop nylon fabric, the Hoverquilt is perfect for overlanding, rooftop tents, stargazing, backpacking, moto adventures, movie nights, and "all the snuggs."
Shop Hoverquilt
02 Yeti/ Loadout Gobox 30 Gear Case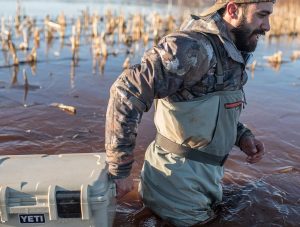 MSRP: $250.00
This is what we mean when we say to take something that your hard-to-shop-for person already has and make it better. We all know the tried and true tupperware container gearbox. It's cheap, easy, and gets the job done. On the other hand, they're also often cracked and hard to organize, as well as hard to secure and near impossible to waterproof. Enter the Gobox 30. Its tough latches and tight seal means that your gear will stay completely dry for up to 30 minutes totally submerged in water. Plus, it's designed to be pretty much unbreakable, so it'll stand up to all kinds of adventure. To top it all off, it's on crazy sale right now! It's currently going for $187.50, a 25% off deal!
03 WeBoost/ DriveReach
MSRP: $250.00
The person who already has everything is often also the person who's always doing everything. That means they need to be reachable and connected, even when getting off-road. With the DriveReach, your cell signal is boosted to the farthest cell towers, keeping you connected wherever you go. Plus, it's able to support multiple devices, making that person's rig the center of the whole campsite. You can be confident that you're spending the money on a truly high-performing product – WeBoost is the official cell signal booster of Subaru Motorsports USA.
04 HighRoad Adventure Gear/ Treadpack XL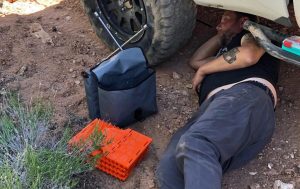 MSRP: $190
Upgrades, upgrades, upgrades… these traction boards take any overlander's setup to another level. A perfect combination of versatility and innovation, these lightweight and packable traction boards are designed to go wherever you need them to, no matter your stroage situation. The patented arched grooves help the tool stay centered under the tire while adding strength as it supports the weight of fully loaded trucks. The deep, opposing grooves grip the slippery surface and the tire to provide the necessary traction to get the vehicle moving again, safely, without damaging the tire.
05 Dometic/ GO Hydration Water Jug and Faucet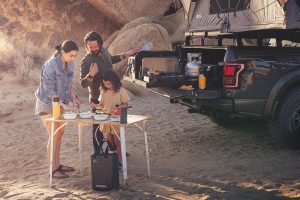 Water Jug MSRP: $69.99
Faucet MSRP: $99.99
Tread's resident product pro Jerry Tsai recently had a chance to test out these awesome products from Dometic. His thoughts? 'Perfect for a camp kitchen, as well as those self-grooming duties, this faucet is a welcomed improvement over the water dispensers of old. Whether you need to fill a pot for cooking or just need a bit of water to brush your teeth, the faucet provides the water you need." That's what makes it such a great gift for a hard to shop for overlander: it's guaranteed to step up whatever water storage system they've got.
06 Rumpl x Carhartt/ Sherpa Puffy Poncho
MSRP: $199.00
This just looks so cozy. There's not much more to say than that – the sherpa lining on this Carhartt poncho speaks for itself. This is the perfect gift for anyone who's chronically outside, not just overlanders and off-roaders. It would be great for hunters, athletes, and anybody who wants to stay nice and warm while enjoying the colder months. With all of the durability and serious warmth that we love from Carhartt products plus the fluffy Rumpl sherpa, this poncho is best way to stay cozy this holiday season and beyond.
07 Garmin/ Overlander
MSRP: $699.99
This is an investment purchase for sure, but this level of tech upgrade for a committed overlander is worth the price tag. It's one of the most advanced GPS systems on the market, with tons of features designed to fit the needs of overlanders. With a 7-inch color touchscreen, the system features turn-by-turn directions for on-road navigation and topography maps for off-road "point-to-point" guidance in both North and South America. Public land boundaries, 4×4 roads, forest service roads, waterways, trails and other land use data complete the setup on this incredible nav system.
08 ROAM Adventure Outfitters/ Rooftop Awning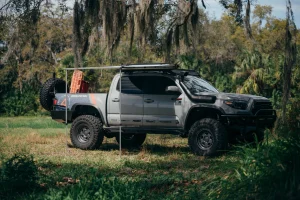 MSRP: $339 
This easy setup rooftop mounted awning has tons of awesome reviews. One user said, "I love how durable and rugged this awning feels! I was surprised how big the 6.5-foot awning is, it definitely provides lots of cover/shelter. It is also so nice and sturdy on the side of my Prinsu Roof Rack as well. Can wait to use it on my future camping trips! Definitely would recommend to anyone in the market for an awning. Roam is the way to go!" The awning will give your hard-to-shop-for overlander tons of relaxing shade for the perfect end to a tough day on a trail.
09 Ooni/ Koda 12 Gas Powered Oven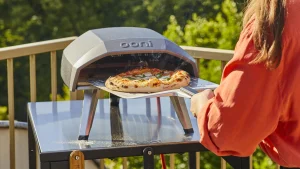 MSRP: $399.00
Sure, it'll take up some space in their rig, but what's better for the camp chef in your life than a portable gas-powered pizza oven? This model reaches an insane 950°F (500°C) in just 15 minutes, giving it the ability to cook a 12-inch pizza in just a minute. With an awesome 3-year warranty and a 60-day delicious pizza guarantee, the Ooni will make your favorite camp chef the center of attention, churning out pizzas and all kinds of deliciousness.