Yamaha YZ250 2022 Monster Energy Racing Edition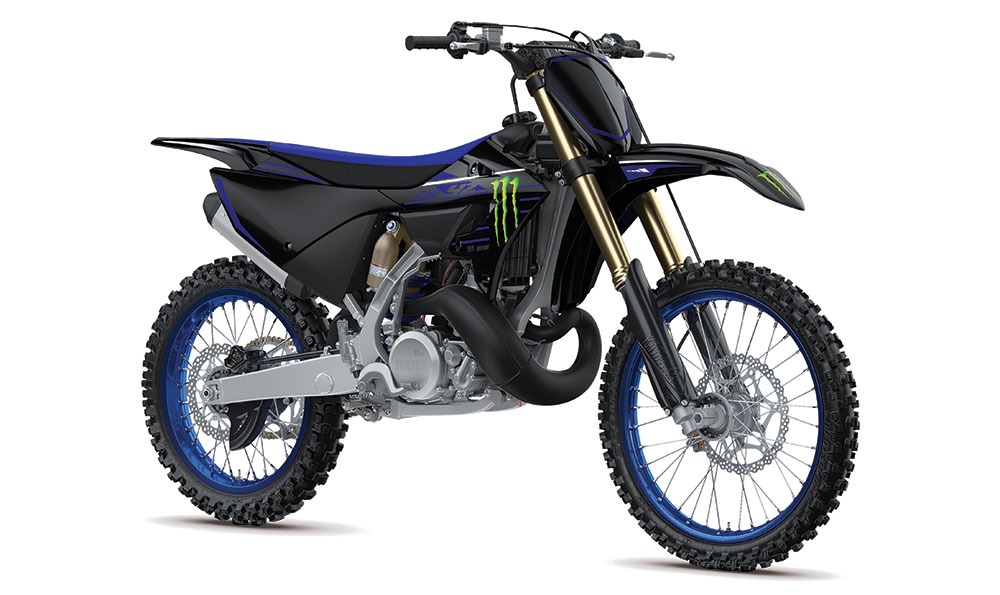 This Yamaha YZ250 bike has all the upgrades you could want.
Yamaha's all new for 2022 motocross bike, the YZ250 in Monster Energy Yamaha Racing Edition trim, is based on Yamaha's flagship YZ250 two-stroke bike. It receives an enhanced lightweight braking system, updated suspension settings and improved ergonomic design with updated, modern YZ styling and new Monster Energy Yamaha Racing graphics. Riders now have the opportunity to sport the look of Yamaha's championship-winning Monster Energy Star Yamaha Racing team.
There's nothing like ultra-capable rigs for four-wheeling and off-road exploration. They drive incredibly, and look amazing while doing it. As much as we love our four-wheeled vehicles, sometimes it takes a two-wheeled ride to get the adventure itch properly scratched. Jumping onto a nimble motorbike to take on narrow trails allows you to really feel the exhilaration of motorized adventure.
The next time you have a chance to jump out of your truck and on a two-wheeled adventure cycle, do it. If you have a choice, you'll want to check out the Yamaha YZ250 or its little brother, the YZ125. We're willing to bet that Yamaha's latest series of motocross bikes are nimble and powerful enough to effortlessly get you in and out of the backwoods, leaving a big smile on your face.
Upgraded Comfort…
The race-tested Yamaha YZ250 two-stroke is already known for its powerful engine. It's also got a plush suspension, incredible handling and rider friendly character. With the new 2022 model updates, the motorbike promises to be even better.
Yamaha improved the rider ergonomics on this bike. A narrower fuel tank, flatter seat, slimmer radiator shrouds and new side covers contribute to greater freedom of movement and easier weight transfer. These seat and bodywork changes have also enabled a new, straighter intake design. This allows for a more efficient intake path to the engine for a better feeling of power in the high rpm range.
…And Upgraded Performance
The Yamaha YZ250's already revered suspension and handling performance is further improved in the 2022 model. By way of a suite of front and rear suspension damping updates, this bike features enhanced bump absorption and cornering agility. Additionally, Yamaha  updated the bike's brake setup. Though it was great before, it now includes a more rigid front caliper, larger front pistons. A redesigned 270mm front rotor with a 30% increase in pad contact area and higher friction pad material provides exceptional braking power and feel.
Helping power the bike is a fast and fun liquid-cooled YPVS-equipped 249cc two-stroke powerplant. The engine is capable of effortlessly powering the bike up or down just about any path you choose. On top of that, its compact chassis and lightweight aluminum frame combine to endow the Yamaha YZ250 with an intuitive handling character. This bike has an all-around usability that competitive racers as well as recreational riders love.
Performance
Engine
The advanced liquid-cooled YPVS-equipped 249cc two-stroke engine is lightweight, compact and fun, with a wide, hard-hitting powerband. Additionally, a new straight intake design improves the bike's power output, letting the rider feel a strong pull in the higher revs and a sense of over-rev.
Transmission
A smooth-shifting, five-speed, close-ratio transmission ensures confident gear changes in all conditions. The YZ250 boasts both a new lightweight rear sprocket design, and was designed with a new lightweight chain.
Advanced Carburetor
An advanced Hitachi Astemo Keihin PWK38S carburetor with power jet and throttle position sensor provide the Yamaha YZ250 extra-crisp throttle response.
Suspension
Suspension
The KYB speed sensitive spring-type suspension is tuned specifically to meet the rigorous demands of uneven terrain. The bike's fully adjustable KYB fork features the Speed-Sensitive System for precise handling and superb shock absorption. A revised fully adjustable KYB rear shock features reduced-friction Kashima Coat internals.
Frame
Forged Semi-Double Cradle Frame
The YZ250 sits on a race-proven, highly developed forged aluminum semi-double cradle frame. Its removable aluminum rear subframe is constructed of square-section tubing for reduced weight. The finely tuned lightweight chassis and advanced suspension endow the Yamaha YZ250 with class-leading handling.
Brakes/Wheels and Tires
Enhanced Brakes
Lightweight braking system features larger front pistons, a more rigid caliper, a redesigned 270mm front rotor and higher friction pad material, all combining to provide exceptional braking power and feel. The redesigned rear rotor maintains the same braking power while dropping outer diameter from 245mm to 240mm, further reducing unsprung weight with no compromise on performance.
Wheels & Tires
Lightweight 21-inch front and 19-inch rear Excel rims provide the Yamaha YZ250 exceptional durability and help reduce unsprung weight. Premium Dunlop Geomax MX33 tires offer race-developed performance on a wide range of terrain.
How much will the Yamaha YZ250 run ya?
$7,999*
*Starting price. Taxes and other fees are not included.
Vehicle Stats
Overall Length
86.0 in.
Overall Width
32.5 in.
Ground Clearance
14.2 in.
Fuel Capacity
1.8 gal.
Curb Weight:
227 lbs.