1990 Toyota Pickup That Traveled The Globe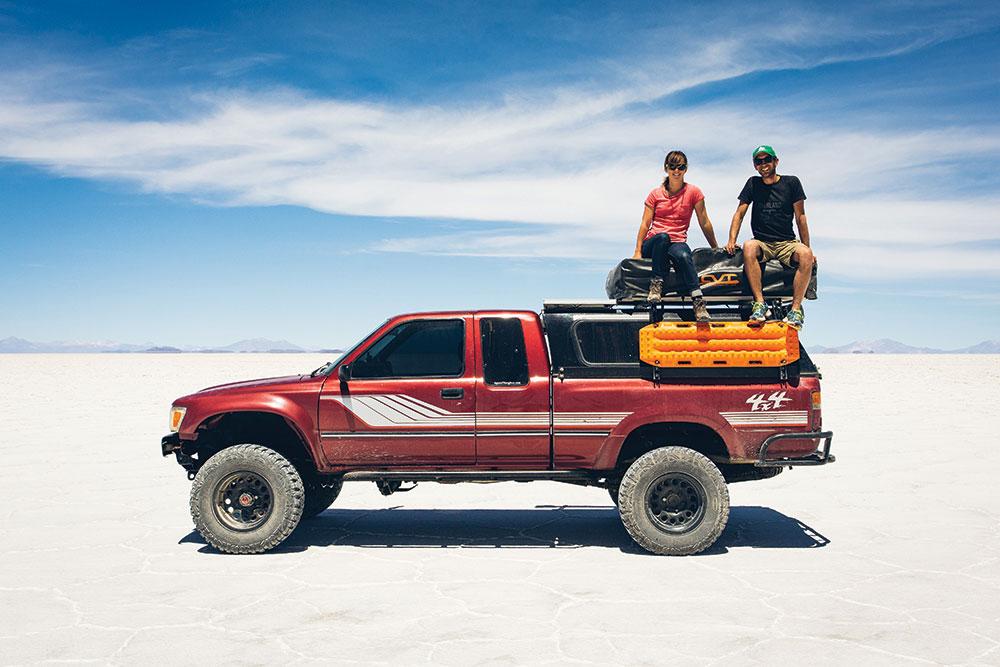 The "Little Red" Pickup That Could: This Backyard-Bound 4×4 Takes the Adventure of a Lifetime.
The first time we saw Little Red, our 1990 Toyota Pickup, the exhaust system gasped for life. The fenders were transparent from corrosion. The rear bumper was defaced by copper-colored rust, and sported a host of stickers affixed by a paddling enthusiast. ("Canadian Paddlers Kick Ass," read one). The cracked windshield welcomed the incessant rains of the Pacific Northwest inward. The seats, carpet, and dashboard looked (and smelled) of mildew and mold.
The build was simple and intentionally budget friendly. We wanted to keep aftermarket parts to a minimum, focusing on enhancing the truck's reliability and prioritizing funds for the trip itself.
Finding "Little Red"
My husband Richard popped open the hood of the 1990 Toyota Pickup and was immediately intrigued by the 22RE. These engines were highly regarded, but were becoming a rarity, even back in 2013. He turned the key in the ignition. The truck fired up immediately. The air reeked of unburned hydrocarbons, but the Pickup's solid frame and body offered a glimmer of hope. It was apparent that this vehicle had good bones.
Richard tells me that as he toured his hometown of Powell River, British Columbia, the truck's bench-seat springs imprinted into his backside. The speedometer cable squeaked, and the wheel bearing was so loose that it creaked over every bump in the road.
Prior to our possession of the 1990 Toyota Pickup, a local plumbing company used it for hauling equipment, including 300-pound heat pumps, copper pipe and scrap metal. By the time we laid eyes on it, the truck's odometer read 321,251 kilometers, and every single vital engine sensor had failed.
This was the truck we decided to drive to South America.
Getting the Bug
Our introduction to overlanding occurred by way of a Dragoman Overland sticker affixed to the wall of an Istanbul hostel in 2012. Next, we familiarized ourselves with travel blogs such as Ruined Adventures, Home on the Highway and Lost World Expedition. These folks traveled along the Pan-American Highway, from Alaska to Argentina, in old Toyotas, including 1987 4Runners and a 60-series Land Cruiser.
Richard's fond memories of his reliable 1988 4Runner instilled confidence in trucks of that vintage. Additionally, our research indicated that parts availability was decent around the globe. So, we sold our 2000 Chevy Silverado and used the funds to build Little Red.
The air reeked of unburned hydrocarbons, but the Pickup's solid frame and body offered a glimmer of hope. It was apparent that this vehicle had good bones.
1990 Toyota Pickup Reborn
Liberated from a life of weeds and neglect, our Pickup underwent a rapid transformation. Richard replaced Little Red's stock suspension with an Old Man Emu system. Its signature yellow shocks still peek from beneath the rig. He changed the brakes, and freshened up the steering components, including tie-rod ends, ball joints and idler arm.
These updates, along with the installation of a fresh 22RE motor built by Disturbed Industries, took place over several weekends. Richard also built a custom Unistrut roof rack in our apartment building's underground parking area in Vancouver. We topped the rack with a Mt. Bachelor CVT roof top tent, which we slept in for the first time on the night of our departure south.
In preparation for a 2020 departure, we began studying the Cyrillic alphabet, practicing basic Russian phrases, creating a spreadsheet with visa requirements, and making changes to Little Red based on what we learned during our Pan-American trip.
The build was simple and intentionally budget-friendly. We wanted to keep aftermarket parts to a minimum. By focusing on enhancing the truck's reliability, we were able to prioritize funds for the trip itself.
We threw tools and gear thrown into blue Rubbermaid containers and bulky plastic Action Packers. I lugged along my full-size suitcase, which in hindsight seems ridiculous. But this illustrates that Richard and I left with much of what we already owned.
Hitting The Road
We departed in early October 2013, quickly driving south to escape cool autumn temperatures. For eight months, Little Red transported us to the beaches of Baja and across mainland Mexico. We traveled into Belize and through Guatemala, and explored black sand beaches in El Salvador. We volunteered for the Honduras Child Alliance in El Porvenir, Honduras, went volcano boarding in Nicaragua and crossed the muddy rivers of Costa Rica's Nicoya Peninsula.
Road living was cheap, so we averaged around $70 USD per day. Although our living expenses were far lower than at home, our bank account was looking a bit worse for wear. So, we parked the Pickup in a government-bonded warehouse in San Jose, Costa Rica, and flew home to work in Vancouver.
One year later, we packed Little Red into a shipping container bound for Colombia via the Panama Canal. Once the truck landed on South American soil, we continued through the jungles of Ecuador. Then, we visited bountiful mountain markets in Peru. We watched flamingos glide across lakes in Bolivia's altiplano.
All the while, Little Red somehow ran better than ever on poor-quality fuel and a lack of oxygen at over 5,000 meters of elevation. It made it all the way to the city of Ushuaia, Argentina. Located at the southern edge of the archipelago of Tierra del Fuego, it marks the furthest southern point we drove by land.
Bringing This 1990 Pickup into the 21st Century
One of our favorite additions to the build was a 35-liter ARB fridge. It kept our produce fresh in the sweltering heat of the Yucatan and the humidity of the Colombian coast. An Optima Yellowtop Deep Cycle Battery charged by an 85-watt Samlex solar panel, kept the fridge, our electronics and my hair tools running.
An ARB Awning 2000 protected us from the glaring sun in the world's largest salt flat in Bolivia, and kept us dry during torrential downpours on Central America's Caribbean coast.
Little Red sported a set of ProComp 265/75R16 Xtreme Mud Terrains wrapped around Eagle Alloy Series 100 wheels. After 60,000 kilometers of hard driving over countless bone-rattling topes (speedbumps) in Mexico, steep and rutted backroads in Guatemala, and remote washboard-filled tracks in Argentina, we experienced only one flat tire.
Perhaps one of the most interesting changes to the build is the addition of a Total Chaos +3.25-inch long-travel suspension kit and Icon Vehicle Dynamics 2.5 shocks. Basically, this effectively doubles our wheel travel. The new system will support the current payload and provide us with better performance both on road and off. To avoid carrying multiple jerry cans and to allow us to be selective with where we re-fuel, Richard also installed a 125-liter Long Range Automotive fuel tank.
What's Next?
Richard and I have been back in Western Canada for several years now. However, our itch to travel the world is now stronger than ever. In preparation for a 2020 departure, we began studying the Cyrillic alphabet, and practicing basic Russian phrases. We created a spreadsheet with visa requirements, and made changes to Little Red based on what we learned during our Pan-American trip.
We investigated shipping routes from Canada to Europe, and set our sights on overlanding from Europe across Central Asia and Russia. From there, we planned to drive through to South Korea and Japan. We hope this trip along the iconic Silk Road route will come to fruition when global travel restrictions ease.
Little Red 2.0
In the meantime, Little Red Version 2.0 is well underway. With 420,000 kilometers on the odometer and some experience under our belts, we have a better idea of what is important to us.
We've replaced the canopy and roof top tent with a Go Fast Camper. It provides adequate inside living space for cooking in poor weather, working remotely or escaping the cold. We also installed two off-the-shelf Goose Gear drawer modules. These replace the bins and plywood drawer system that Richard built while we were in Ecuador. Ultimately, we decided to prioritize streamlining organization in the vehicle's rear.
A pair of 100-watt Samlex solar panels, a Redarc BCDC1225D, and two Full River AGM DC85-12 batteries will help power our gadgets and electronics, as we intend to work remotely during the next phase of our travels. We also splashed out, adding a Planar diesel heater, which will help take the edge off as temperatures cool in the fall and winter as we inch closer to the wilds of Siberia.
Upgrading Performance
People often ask us why we choose to travel in a thirty-year-old vehicle. The truck's cab is tiny, air conditioning is non-existent, and it lacks the modern bells and whistles to which we're all accustomed. Little Red is slow, loud, and outdated.
But we will continue to explore the world with this classic 1990 Toyota Pickup because it evokes smiles and stories from strangers about their old Toyota trucks. We also want to show that it's possible. You might be surprised where that vehicle resting in your driveway—or in the back forty—can take you.
UPGRADES
1990 Toyota Pickup
ENGINE / DRIVETRAIN: 22RE 2.4L and 5-Speed Manual Transmission; 22RE rebuilt by Disturbed Industries; LC Engineering Pro Torquer camshaft; LC Engineering Pro Cylinder Head valve train kit, Double Roller Timing Chain kit, Adjustable Cam Gear, High-Torque (30lb) Flywheel and 4-into-1 header; Marlin Crawler HD Clutch; Vintage Celica (1983 only!) 22RE valve cover
SUSPENSION: Total Chaos +3.25 "Caddy Kit" Long-Travel Suspension; Total Chaos idler arm; Icon Vehicle Dynamics 2.5 shocks (Emulsion coil-over and piggyback bypass with CDCV in front, remote reservoir with CDCV in rear); Eibach 500lb/in coil springs; Sky's Off-Road Design Stage 2 63" Chevy Spring Hanger Kit; Custom 63" Chevy springs; Timbren bump stops front/rear; G2 Axle 1.5" forged rear wheel spacers; Dobinsons steering stabilizer
WHEELS AND TIRES: Fifteen52 TurbomacHD Classic 16×8" wheels; Toyo Tires 285/75R16 AT3 all-terrain tires
INTERIOR: Corbeau Baja RS seats; Hold Fast steering wheel; Tuffy Series II Universal center console
EXTERIOR: Custom 2.25" Magnaflow exhaust; Full Throttle Battery FT825-78; Slee battery terminals; Long Range America TH105ER 125-liter replacement fuel tank; ARB CKMA24 Air Compressor; G2 Axle and Gear 4.88 gears front/rear; Nitro Gear and Axle torsion-style rear limited-slip; Longfield chromoly rear axles; Baja Designs LP9 Sport lights; ARB Deluxe front bumper; Warn M8000-S winch; Trail Gear rock sliders; Trail Gear rear bumper
POWER: Samlex 100W solar panels x2; Redarc BCDC1225D In-Vehicle battery charger; Full River Battery DC85-12 x2; Samlex PST-600 600W inverter; Blue Sea Systems 6-blade fuse block and USB plugs; Victron Energy Smart Shunt
CAMPER: Go Fast Camper V1; ARB Touring awning; Goose Gear drawer systems; Custom kitchen cabinet; Planar 2D-HA-PU5-(TR) diesel heater; Dometic CFX3 fridge/freezer; Dometic V8000 sink; Shurflo water pump and faucet; Baja Designs push-button dome lights