Women Overlanding Costa Rica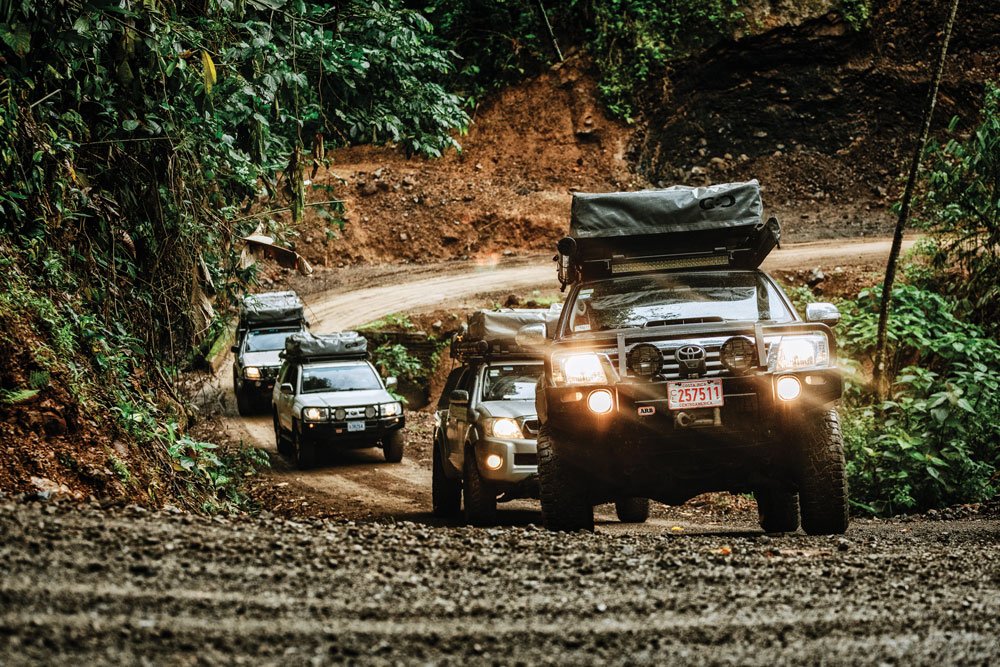 An Epic Adventure in Central America
The plan was to arrive at our accommodation in the bustling city of San José, Costa Rica before rush hour. This was no simple feat. Navigating a convoy of five Toyota Hiluxes packed with sixteen women, amidst congested traffic, with motorcycles splitting lanes, and coping with aggressive Latin American drivers wasn't ideal. Google Maps indicated our arrival time was becoming more delayed by the minute. If we didn't get through San Jose's bumper-to-bumper rush hour traffic soon, our convoy could become trapped on the highway for hours and, most concernedly, we would miss out on the two-for-one happy hour margs in Barrio Escalante. Priorities.
Karin made her way into the left lane, setting a pick and blocking all traffic behind us. The four of us slid to the left in unison, like synchronized figure skaters executing a trick. We rolled through Avenida Central (Central Avenue), where vibrant street art covered the concrete walls and the looming fortress housing the Costa Rica National Museum filled our view. "Honey Badger on the right," Sunny crackled over the radio. "That's a Texas-sized 10-4," I responded. We'd developed a colorful language of our own to run our convoy effectively and warn each other of potential road hazards. Despite a dozen red lights, assertive city drivers, and multiple lanes of traffic, we arrived at our destination in good time, with our convoy intact.
"Like time travelers we were transported and dropped back into the trip – savoring that first bite of fresh fried fish, driving mountainous backroads, the feel of blue clay painted with a brush on our skin."
It was the last full day of our women's only overland retreat in Costa Rica, where Sunny, Karin, Taylor, Ann and I spent the past nine days guiding and gallivanting around the country with twelve women guests from the United States, Canada and Germany. We camped and slept in rooftop tents, hit the dirt on off-road trails, saw the incredible native wildlife, kayaked through mangroves and tasted delicious tropical fruits. Earlier that morning we said goodbye to our Pacific beach camp and reluctantly drove back to the city for our last night together as a group.
We gathered in the common area of our boutique hostel, eager to watch the slideshow prepared by our photographer. As the images slid past on the large television screen, we reminisced about the previous nine days. The photographs were filled with tropical greens and blues, laughing faces, scarlet macaws, and some seriously sick shots of this badass group of ladies driving kitted-out overland rigs through Costa Rica. The images brought back the taste of sweet papaya, the feeling of gripping the steering wheel while turning tight corners near Monteverde, and breathing in the thick, humid air while hiking to refreshing pools beneath jungle waterfalls. Like time travelers we were transported and dropped back into the trip — savoring that first bite of fresh fried fish, driving mountainous backroads, the feel of blue clay painted with a brush on our skin. Each snapshot reminded us of the days we had long forgotten and those that were still fresh in our minds.
Day 2 in Costa Rica
I was behind the wheel of the champagne-colored Toyota Hilux, fourth in the convoy. We drove through an open steel gate, descending towards Lake Arenal on a dirt road lined with tropical greenery. I eagerly awaited the ladies' reactions as we pulled into several clearings beneath the trees – I hoped they loved this camping spot as much as I did. The camp boasted a 180-degree view of the lake, located just beyond the large grassy slope in front of us. An island covered with ceiba trees blocked most of the heavy wind that makes Lake Arenal such a stellar spot for windsurfing.
As we soaked up the view, I heard a rustle in the trees. A troop of black howler monkeys swung from branch to branch above us, some with babies on their backs, keeping a watchful eye on the intruders below. Our ladies intuitively began whispering and pointing up towards the sky.
"RRRRROOOOOOWWWWWWWWWWWWRRRRRRAAGHHHHHH!"
A piercing pterodactyl-sounding noise screeched through our tranquil camp, triggering multiple choruses of the same ear-splitting racket from the troop. These tiny fuzzy monkeys were clearly using their outside voices to inform us that this territory was already occupied. Little did we know that we had our own howler monkey amongst the group. Louise, one of our enthusiastic Canadians, proceeded to communicate back to the monkey troop with a call of her own, which was suspiciously similar to the native howler call. Back and forth they went, Louise barking with the howler monkey troop answering in response. The rest of us saluted this comedic performance with laughter and ongoing jeers of encouragement. We will never know what Louise and the howlers conversed about that afternoon, but the next morning we woke up to discover a pile of monkey crap thrown down from the treetops onto the exact spot where Louise was standing the previous evening. It was all okay, though. By the time we spotted the resident sloth up in the trees, imbibed from the build-your-own sangria bar filled with oranges, pineapple and starfruit, marveled at Ann's incredible fresh prawns for dinner and concluded the evening with a giant bonfire, the morning excrement incident was just a small detail in the story we'll all tell of that time we camped beside the lake in rooftop tents amongst a troop of Costa Rican howler monkeys.
Day 4 in Costa Rica
The ladies worked up an appetite after watching crocodiles roam around in the Tárcoles River, so we stopped by a local seafood restaurant for lunch. There's nothing like ramping up your nervous system into fight or flight mode and getting those digestive juices flowing by watching crocodiles from a narrow sidewalk on a heavily trafficked bridge. "Dos patacones, por favor," Taylor ordered from our orange-shirted server. Our group took over two large tables, soon to be filled with casados, or 'typical' Costa Rican meals. These usually consist of salad, rice, plantains, beans, tortillas and fried fish or chicken. This particular eating establishment was well-known for its massive patacones. Fried green plantains are a staple of the Latin American diet, particularly in Costa Rica. They are often sliced, pressed flat and fried individually. Our restaurant, however, binds the plantains together to form a large crunchy plantain conglomerate. This delectable banana look-alike is accompanied by several varieties of salsas and dipping sauces, including pico de gallo.
The crispy and lightly salty patacone (also known as a tostone), paired with a spicy or smoky salsa, goes perfectly with the michelada—a thirst quenching beverage that the Ticos gravitate towards in order to combat the heat of the day. The michelada is a cool concoction of soda water such as Canada Dry (true story, many restaurants in Costa Rica serve this Canadian bubbly water), lime juice and a salted glass rim. The traditional recipe calls for Imperial Beer (Cerveza Nacional Imperial) in place of soda water, but either will do the trick nicely.
After a fulfilling meal of seafood and starches we piled back into the Hiluxes, cranked up the air con, and set off in search of scarlet macaws. Spoiler alert: we found some.
Day 6 in Costa Rica
We parked the trucks in front of a large set of unmarked wooden doors, which were encased between two ten-foot high stone walls. Our guests peered inquisitively at the nondescript façade before us, a bit perplexed at where they were being led. Suddenly the gates opened, and we proceeded to a large grassy area surrounded by palms, large ferns and a caimito tree, full of waxy yellow starfruits.
Our gang of gals was approached by a gorgeous forest nymph, perfectly bronzed and glowing with long, dark hair and wrapped in a brightly-colored flowing dress. "Pura vida. Welcome." She smiled as she gave each of us a tight hug. We followed our forest nymph towards two stone figures guarding the entrance to a massive gathering area. After kicking off our shoes, we entered the space, which was beautifully adorned with an indoor waterfall and pond, a lounge with pillow-lined wooden chairs and hanging hammocks. A set of stone steps lead upstairs to an open-air yoga space. From there we continued down a narrow path lit with bamboo torches, eventually reaching a rocky beach adjacent to a fast-flowing river.
Another bikini-clad forest nymph appeared before us, equipped with a paintbrush and a large white bowl filled with green-blue clay. "Blue clay is hand-sourced from the primary rainforests of Costa Rica and has anti-tumor, antibacterial, and anti-inflammatory properties. Plus, it's great for your skin!" Our ladies stripped down to their bathing suits and jumped in line, eager to be slathered from head to toe with this magical blue clay. There is no downside to looking like a character from Avatar, as far as I'm concerned. After the clay dried on our skin, we waded into the river to rinse, shrieking as the frigid water shocked our vital organs. The sun had set, the sky was darkening, and the dinner bell clanged as we ran up to the dining room for some delicious homemade soup, salad and freshly baked empanadas. Once sufficiently suffonsified, we tucked into our bedchambers (rooftop tent or cabin in the rainforest, the choice is yours!), eagerly awaiting the following day's adventures.
Day 8 in Costa Rica
After two nights of peaceful slumber, well-earned showers, endless options at the breakfast buffet and some refreshing pool time, we checked out of the eleganza extravaganza of our luxury hotel in Manuel Antonio, pointing our convoy eastward towards the jungle. As soon as the road transitioned from pavement to dirt, I swapped the driver's seat for the passenger seat. Time for the ladies to get behind the wheel.
"To hand over the keys and offer twelve women the opportunity to get behind the wheel and tackle some off-road trails in a foreign country… that was pretty darn cool."
Lush green vegetation lined the well-marked dirt road, which switch-backed through tight turns while we continued to gain elevation. Narrow stone bridges thick with moss forded flowing creeks, which intersected much of our journey up into the forest. The foliage thickened, forming a canopy over our row of vehicles. I grabbed the handheld radio, pressing the "Talk" button, "Just so you know, you're all driving in the Costa Rican jungle right now!!!" It felt surreal. For Sunny, Taylor, Karin and Ann and me, this wasn't necessarily something out of the ordinary. We had all completed long-term overland travels throughout Latin America, Costa Rica included. But to hand over the keys and offer twelve women the opportunity to get behind the wheel and tackle some off-road trails in a foreign country—that was pretty darn cool.
We parked the vehicles and set off on foot, descending into the Río Savegre valley. Along the path we spotted Cinnamon (canela) trees, rainbow eucalyptus trees, and vanilla orchids. The trail terminated at a 120-foot high, 417-foot long suspension bridge spanning the Quebrada Arroyo.
Gulp.
One by one we crossed the bridge, trying not to look downward while the wooden deck and suspension cables swayed underfoot. As each of us safely and successfully planted our feet on the firm ground, we turned and yelled across the expanse, encouraging our fellow travel mates with their passage across the swaying bridge. Hooting and hollering, high-fives and claps on the back greeted every single woman who crossed that bridge. With a collective sigh of relief, we descended further into the jungle, crossing several trickling waterfalls by means of a fern-lined concrete footpath. This footpath led to a stellar set of falls tumbling into a large pool—the perfect place to cool our sweat-soaked bodies and tame our wild, humidity-affected hair.
I read a quote recently that reminded me of this day in Costa Rica.
"I nodded, pretending to be a hundred times more courageous than I felt. But that was the thing about courage. Sometimes you had to fake it to feel it." — Lisa Tawn Bergen
This group of women, with ages ranging from 29 to 68 years old, boarded an airplane and flew all the way to Central America to join a group of complete strangers, traveling together for ten days through a foreign country. Some of these women had never traveled solo or ventured out of their home country. Yet here they were, driving unfamiliar vehicles through the backroads of a foreign country, conquering the highest rope bridge in Costa Rica, setting up rooftop tents like professionals, leaping into jungle pools with just sufficient reckless abandon. Apparently, courage can lead you to some pretty spectacular places.