Dan Grec's Journey to Egypt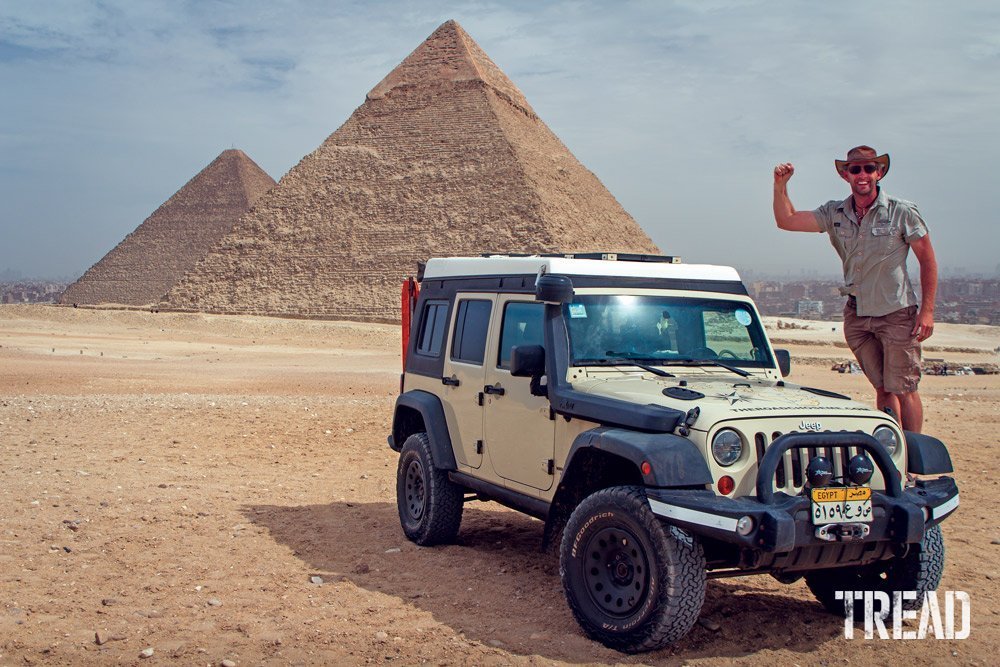 The Africa Conclusion: Egypt
In overlanding circles the border town of Wadi Halfa is about as famous as they come. For decades it's been the only land border crossing from Sudan into Egypt, and over decades it has gained a reputation for being one of the most convoluted and painful on the entire continent, maybe even in the entire world.
I've managed to talk my way through Africa without a Carnet de Passages, an international customs document many say is mandatory to drive around Africa—until now. Try as I might, and after days researching, I can't find a way around this. At $500 this will easily be the most expensive border crossing in all of Africa for me, although five times cheaper than getting one from my home country.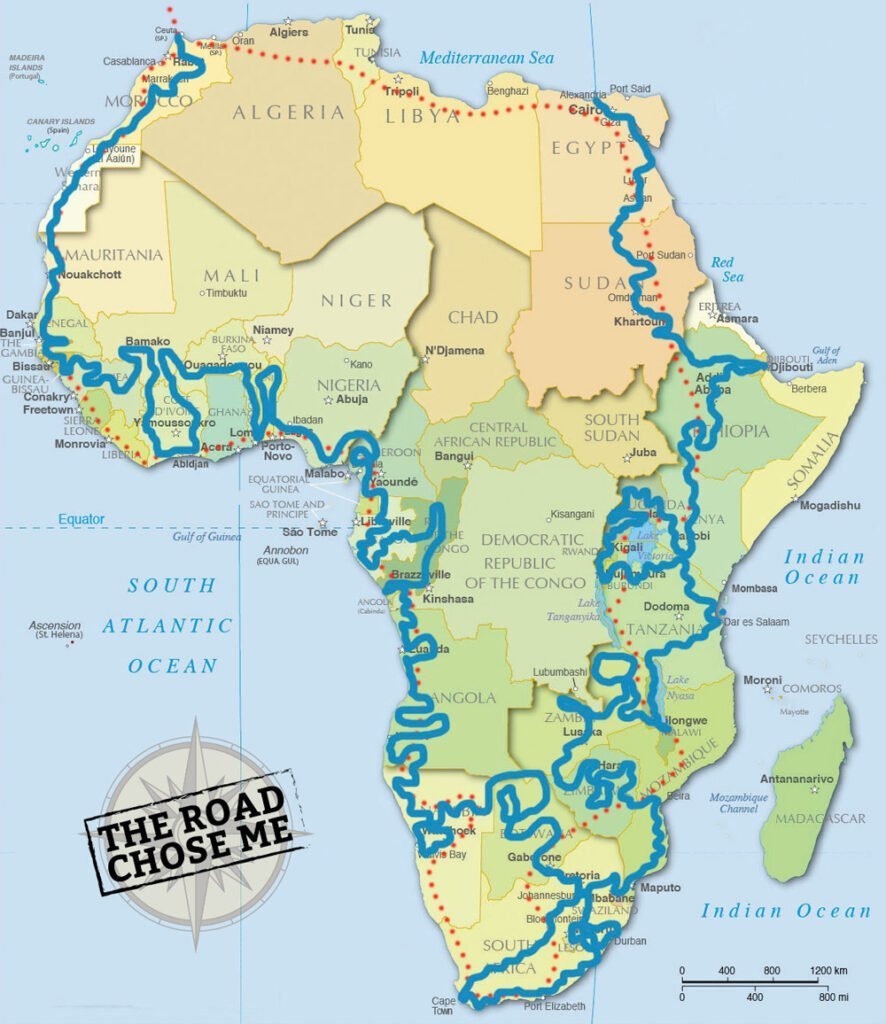 In all my border crossings I've been steadfast about not paying for a fixer, though at this border I simply can't fathom how I could cross without one. The lunacy and convoluted steps are completely insane, and all paperwork and conversation is entirely in Arabic. In the past my Spanish, French, and Portuguese have gotten me through, but at this border I have zero language skills and can barely manage to say hello. For the first time in my life I pay $5 for a fixer who quickly gets all my documents stamped and completed at immigration and customs. After driving my vehicles into 55 countries on the planet, this border stands way above any other as the most bureaucratic, convoluted, and difficult of all time.
After almost seven hours I'm given the all-clear to drive into Egypt, country number 35 in Africa for me. Driving away, I struggle to comprehend that I've just completed the last border crossing of the entire expedition. For the last three years, moving across the land and crossing borders has become my life, and it's all coming to an end.
Ancient Sights in Egypt
I camp a night at the massive temple in Abu Simbel and I'm staggered by the number of tourists I see. An endless procession of fullsize tour buses rambles by, all packed to the hilt with European travelers eagerly snapping photos and buying cheap trinkets. For the last month I had Sudan and its stunning temples entirely to myself. I struggle to understand the concept of tourists.
I walk the main street of beautiful Aswan before pushing North to Luxor, famous for its extensive ruins. The main highway in Egypt parallels the mighty Nile River to the west and slices through a barren desert tormented by endless wind. Wanting to experience more of small-town Egypt, I cross over to the east side of monster river, passing through endless small towns and villages that are all busy harvesting enormous sugar cane fields.
Right in the center of Luxor I'm granted permission to camp in the parking lot of a large hotel, and I set about exploring the city on foot. I walk to the Temple of Karnak and am staggered by the sheer size of the temple, columns, and many buildings. The entire site is so impressive it's hard to believe, and I begin to wonder if I'm actually dreaming.
I pry myself away from Luxor and move east toward the Red Sea. Unexpectedly I pass through a huge rocky mountain range before dropping down to sea level and spontaneously decide to wild camp. I simply drive off the road and then further and further into a rocky canyon. In just a handful of miles I find scores of ideal wild campsites, tucked against the rocky mountains and sheltered from the desert winds.
Again the peacefulness is all encompassing, and I enjoy a small campfire while taking in the always-breathtaking stars on display. Though I didn't know it at the time, I thoroughly enjoyed what would be the final wild camp of the African expedition.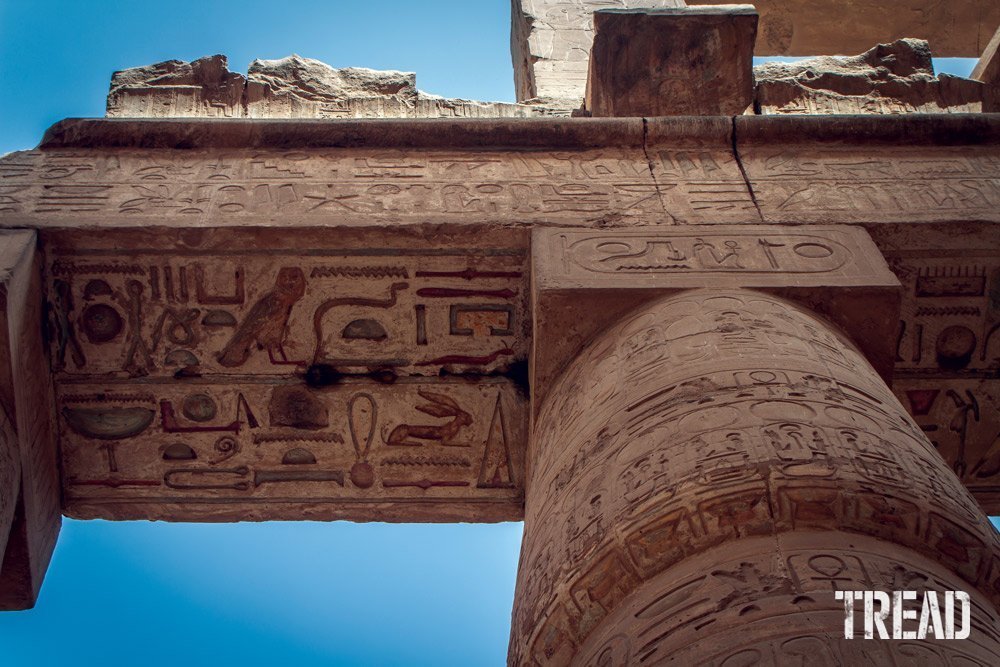 The Pyramids of Giza in Egypt
I continue North on the shores of the Red Sea to the end of the road at the Suez Canal before cutting directly inland to Cairo. Driving into the mega city is quite a shock when I find myself on an eight-lane freeway with about 12 or 14 lanes of traffic crammed in. At times we're moving along at 50 mph only inches apart before everyone slams on the brakes for a speed bump or monster pot hole. The pace and scale is insane, and I crown Cairo as clearly the craziest driving and traffic on the whole continent.
Driving through rush-hour traffic the next morning I catch glimpses of the monster pyramids of Giza between multi-story buildings. I knew they were close to the city, but I had no idea it was like this. Security is tight at the main entrance gate. After multiple searches and giving up my kitchen knives, the head of police allows me to continue, much to my relief. I drive directly up to the enormous pyramids before walking over to touch the monster stone blocks.
Over the last three years, through all the good times and the bad, I've had dreams about this moment, and it's hard to believe this is the real thing. Over a few hours I wander the entire site trying to take it all in. I find the Sphinx, and I can't help but pose the Jeep for a "victory" photo.
End of the Road
When I first dreamt of driving around Africa almost a decade ago, my ultimate route meant completing the loop all the way back to Tangier in Morocco where I began. Prior to the Arab spring in late 2010 it was common for overlanders to explore Algeria, Tunisia, and Libya, all of which contain some of the most stunning desert scenery on the planet. By the time I crossed into Africa in mid 2016 I knew those countries were off-limits, and I hoped things would calm down by the time I drove around to Egypt years later.
Unfortunately that is not the case, and Libya is still in the midst of a horrible civil war. Obtaining a tourist visa is impossible, and the kind of permits needed to drive across are even less likely. Furthermore, the government of Egypt is extremely protective of tourists, and it's very unlikely they would allow me to drive within a hundred miles of the Libyan border. I would be forced to turn back, even if I had a valid visa.
As a fallback plan I've been researching crossing the Sinai Peninsula in the northeast of Egypt into Israel. This region also suffers the occasional terrorist attack, and the various routes open and close sporadically. In a strange twist of fate I would likely be permitted to cross, though the Jeep would not. The Egyptian military are concerned about a strong 4×4 being captured by ISIS and used against them, so they won't allow a vehicle like the Jeep to cross. Given all of that turmoil, I must declare Egypt as the end of the road. Without any viable option to continue, I will ship the Jeep out of Egypt to finish the expedition.
I camp another couple of nights in Cairo and clean the Jeep top to bottom twice in the hopes of avoiding exorbitant customs fees when it arrives back in North America. The freeway from Cairo to Alexandria is an enormous toll road, and I drive into Alexandria just as the heavens let loose with a monster downpour. I can't remember the last time I saw rain, at least a few months ago.
I'm battling rush-hour traffic at 6 a.m. the next day, taking almost two hours to drive 10 miles into the heart of the city. There isn't as much traffic as Cairo, though the drivers make up for it by being even more insane. Again we drive five or six vehicles wide on a road designed for three, again the pace in frenetic, and to top it off there are now small lakes hiding in the potholes where the rain has not drained. In less than 10 minutes the Jeep is no longer clean.
In the city I meet Ayman, the agent of the shipping company I plan to use. We have a hundred hurdles to overcome, and so we get right to it, moving across town to the law courts where we need to get a Power of Attorney endorsed. For whatever reason we need to get one that says I authorize him and his company to act on my behalf for the purposes of re-exporting my Jeep out of Egypt.
After standing in lines and asking everyone we can, we learn a translator is mandatory for this process. Although Ayman speaks great English, he doesn't have an official certification as a translator, so he can't do it. We move upstairs to the official translator office where they explain there are no translators. That's right, the official office of translators in a government building has no translators.
Putting that on the backburner, we cross town to the monster shipping port where we hope to get a permit for me so I can drive the Jeep into the container myself. Ayman takes the lead, and over the next four hours he collects five of the required seven signatures on the application form. It appears the police, military, traffic police, customs, immigration, and port officials all need to have their say on if I can enter the port. All of our shipping documents are in English, while the officers only speak Arabic, which makes the confusion and waiting real.
At the end of a very long day I drive out of the city through the same traffic, and again spend almost two hours to cover the 10 miles. The Jeep must be virtually empty of gas for shipping, so I play the game where I only buy 2 gallons and carefully watch the trip meter to make sure I won't run out. I have no idea how long this is going to take, all I can do is keep at it.
I'm exhausted as I walk the streets to get a shawarma for dinner and fall into bed at 10 p.m., ready to start over the next day.
Goundhog Day
The following morning the story plays out in much the same way, and again I find myself standing at the law courts, clutching a small piece of paper with my number. It's 9:20 a.m. and I'm holding number 192.
Over the day Aymen and I drink coffee, talk strategy, and wait in a room with many hundreds of other people trying to deal with the government. It staggers me that regular Egyptians have to deal with this every day of their lives, and Ayman explains everyone has just learned to live with it, though they're obviously not happy about it. Occasionally someone blows up at the workers behind the counters, though everyone else just waits glassy eyed.
After driving my vehicles into 55 countries on the planet, this border stands way above any other as the most bureaucratic, convoluted, and difficult of all time.
At 2:50 p.m. our number is slowly approaching when we learn I need a stamp in my passport indicating I'm "legal" in the country before we can do this business with the Power of Attorney. We almost run for 10 minutes to get to another government building where the guards at the entrance won't even let us in. The boss went home 15 minutes ago and nobody but him can stamp my passport. Ayman tries to plead in Arabic, but they're having none of it.
We walk dejectedly back to the law courts and wait our turn anyway, though very quickly we're told nothing can be done without the all-important stamp.
It has been an entire day on our feet and waiting in a crowded building to achieve literally nothing.
At 5:30 a.m. the next morning when my alarm sounds, groundhog day is real. I immediately go to the law courts hoping to get a number to again wait for the day. I add my name to an informal list at position 79 and wait amongst the yelling, pushing, shoving, and smoking hundreds of others who have arrived. Eventually a man starts calling out names off the list over the loud yelling. Barely able to hear, I notice some people from the list go in and then a wave of 10 other random people. After 45 minutes where waiting is a waste of time, I play the foreigner card—not something I like to do. I push to the front and when the guard sees my passport he immediately lets me inside. Without a word of Arabic I have to insist repeatedly I need a number from a particular section, and I'm finally handed number 123, much to my relief.
I again walk across the city hoping to get the all-important stamp in my passport. I find my way to the right place, and the girl behind the counter stamps my passport without a single question in less than five minutes. It's in Arabic, so I have no idea what it says, and I just hope I've done the right thing.
Later back at the law courts a translator arrives just before our number is called, and hilariously he speaks very bad English, much worse than Ayman. At the desk, copies are made, stamps are stamped, and fees are paid before we move to another window to duplicate it all into a computer, another window to duplicate it all (I don't know why), another window to duplicate some of it, and then, finally, to the window of the boss lady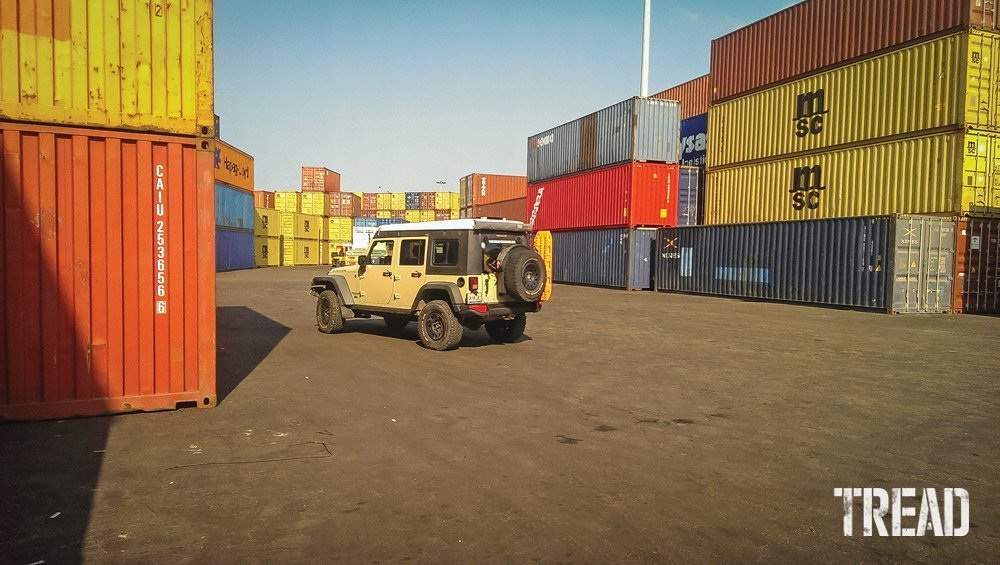 Every single action in the entire building must pass her desk, and I stare blankly for 30 minutes as she hovers her big stamp above every single document in the building, either giving the stamp, or waiving disappointed people away. I have to wonder what happens when she's away sick.
By some miracle we get what we need, pay the translator who translated nothing, and feel we have finally achieved the necessary paperwork in the law courts, after almost three full days of trying.
The following morning I'm moving before dawn, and again I'm battling traffic for longer than makes sense. I've adjusted to the driving style quickly, or I just don't care anymore.
I bring the Jeep to a car detailer who spends the next three hours meticulously cleaning it from top to bottom, inside and out. I don't think it has ever been so clean, and finally I'm satisfied. Hopefully Canadian customs will be satisfied, too.
Ayman and I head back to the port where we complete the process for my permit before we drive to the main entrance where I'm allowed to drive the Jeep in. Even with my new entry permit the guard still wants some "backsheesh" (a bribe) to let me in. We take the Jeep to the traffic police to be inspected and for some of the paperwork to be checked and canceled. Next, I drive over to the customs inspection building where more paperwork is shuffled and more inspections are completed. It's now late in the day and customs are going home, so I leave the Jeep inside the customs building deep in the shipping port and head home for the night, this time on a public bus.
The next day, I'm back in the city at 8:30 a.m., the frantic pace no different on a public bus. Back at the port, a guard makes a big deal of not letting me in, even though I have my permit. Again, he wants backsheesh and, again, I feel like telling him to stick it.
Over the last three years, through all the good times and the bad, I've had dreams about this moment …
At customs we sit about waiting and waiting and waiting until sometime after 3 p.m. when we're given the all clear. Ayman and I quickly drive deeper into the port to an area where containers are stacked high on all sides and trucks are frantically slinging them around while men on forklifts load and unload goods. Sitting all alone is a shiny 20-foot container, which I'm told is all mine.
The Jeep has new suspension, taller solar panels, and slightly different size tires than the last time it was in a container, so I measure everything four times before I'm satisfied it will fit through the door and I don't need to air down the tires.
Again the waiting begins, and the shadows are growing long before Ayman's man comes back with the all-important papers we need. I'm given the all-clear and reverse the Jeep into the container, the final time I will drive it on African soil. I manage to just squeeze out the driver side door, and while I'm disconnecting the battery a couple of guys chock the wheels and lash the Jeep to the floor of the container using massive ratchet straps. They're in such a rush they already have the door half closed before I can squeeze out and snap a quick cell-phone photo before the door is slammed shut.
Suddenly, my Jeep is gone. I've spent virtually every day of the last three years within sight of it, and I feel like a limb has been cut off. I've spent thousands of hours driving it, sleeping in it, cooking in it, and feeling safe inside my house on wheels. Now I'm not even looking at it anymore. All I can see is a nondescript steel box, among millions of identical steel boxes.
Another 30 minutes later, we're issued an official customs seal for the door of the container and our work is done. I keep my fingers crossed that the container won't get lost, or dropped, or fall off the ship as it crosses the Atlantic. There is simply nothing I can do about it. I bid farewell to my new friend Ayman and feel triumphant on the bus ride home.
Africa Ends
In the morning, I sleep in before wandering the streets on foot. I sit to enjoy a coffee, and order another as the sun starts to warm me. For the first time in a long time I can actually step back and see the forest for the trees. I feel immensely calm, and I can't help smiling at what I've achieved and new adventures that already fill my head.
At 6 p.m. I catch a taxi to the airport and say goodbye to the magic African sun for the final time. It has been almost a decade since I first dreamed of exploring Africa; now my dream is complete.
After 999 days and 53,426 miles through 35 separate countries, I step onto a plane and bid farewell to the continent that has forever changed me.
For more tales of faraway travels, follow adventurer Dan Grec on YouTube and on Instagram @theroadchoseme.
Editor's Note: A version of this article first appeared in the January/February 2021 print issue of Tread Magazine.