Upgrading My FJ40, Round Two: Creature Comforts in a Classic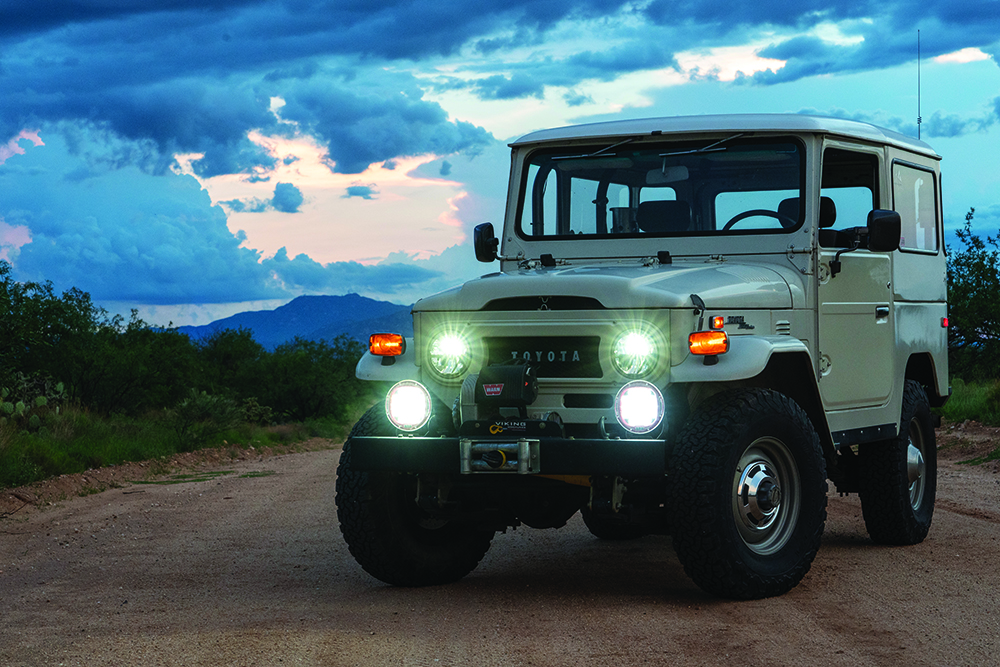 Next Set Of  Upgrades On An FJ40 To Modernize A Classic 4×4
The first time I tackled upgrading my 1973 FJ40, I brought it up to (more or less) modern safety standards thanks to a roll cage, three-point belts, head restraints, four-wheel-disc brakes, and modern lighting. With its backroad capability enhanced with OME suspension and an ARB locker, it was time to see if I could augment its practicality and comfort (the latter term being obviously relative in a naked steel box with the aerodynamics of an apartment building.).
Is it possible to infuse a 48-year-old Land Cruiser with the comfort of a modern SUV?
Well, um—no. But read on to see how close it might come.
Upgrading My FJ40
The FJ40's most critical fault was gearing. With stock tires and 4.10 differentials, the engine was turning a frantic (for an archaic 3.9-liter straight six) 3,100 rpm at 65 mph. Seventy felt like abuse, both to the engine and my ears. Yet that era's three-speed transmission and 2.3:1 transfer case resulted in a middling 26:1 low range First. Could I possibly lower highway engine speeds and at the same time improve the low-range gearing?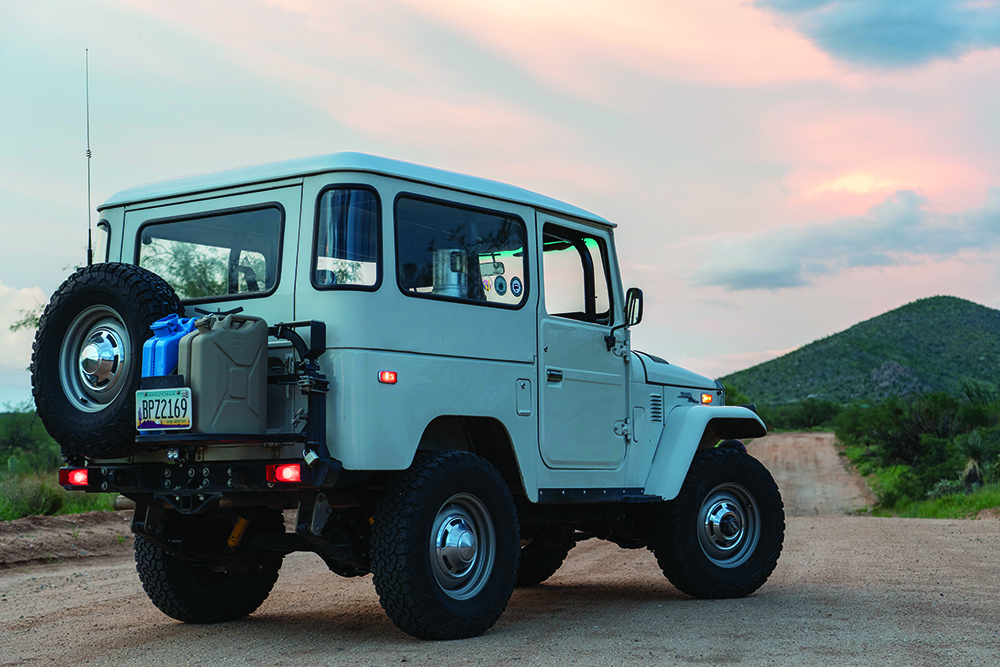 Yes. The answer was a Toyota factory H41 four-speed transmission and split transfer case. Those greatly upgraded my FJ40's performance, along with Sumo low-range gears, and 3.70 differential gears. The H41 has a 4.9:1 First gear, compared to the three-speed's 2.7:1. And, the later-production split transfer case is both stronger and quieter than the early one-piece case. Johnny Schaefer at Overland Cruisers had recently located four NOS (new old stock) H41/split case sets in Germany, and I snagged one of them.
Gearing up the FJ40
From Cruiser Outfitters in Utah, I ordered a set of Sumo low range gears 30 percent lower than stock. Master Land Cruiser mechanic Bill Lee installed the Sumo gears, which require minor clearance adjustment of the case, then installed the tranny/ transfer combo and found the right parts to keep the driveshaft-mounted parking brake. Finally, Bill installed Nitro 3.70 ring and pinion gears, also from Cruiser Outfitters, upgrading my FJ40 to a far more efficient ride.
The result? With 235/85-16 tires, the FJ40 now turns a comfortable 2,500 rpm at 65 mph—and First gear in low range is an excellent 54:1. Lower highway rpms aside, the new transmission and transfer case cut noise by a huge amount—so much, in fact, that for the first time since I owned the vehicle, I splurged on a decent audio system.
Keeping It Cool
Next, I decided to do something about southern Arizona's ever-increasing summer temperatures—windows-down "AC" doesn't cut it at 110ºF. There are aftermarket AC kits suitable for upgrading an FJ40. However, I didn't like the appearance of them. (Or the modifications necessary to the stock heater/defroster.) Instead, I did some diligent searching and found a factory AC blower unit from a later FJ40, which looks much more appropriate. Installing it required sourcing a later three-groove crankshaft pulley, along with a compressor bracket and compressor—but summer drives will no longer feel like they were imposed by the camp commander in Bridge on the River Kwai.
Creature Comforts
So, at this point I'd installed quiet gears, a stereo, and air conditioning. Finally, it was time to look into some Connolly leather upholstery and Wilton carpet. Kidding.
I did, however, cover the front footwells and transmission tunnel in Dynamat. Then covered that with one of City Racer LLC's excellent factory reproduction molded floor mats, and protected that with a set of mud mats from Husky. The combination added yet more sound deadening, as well as insulation from engine and road heat.
The reduced noise and improved comfort mean my wife and I are more likely to use the FJ40 for impromptu exploration, so I turned my attention to augmenting its role to a compact camping platform.
Keeping Gear Safe and Secure
I also took the opportunity to replace a rudimentary homemade center console with one of Tuffy Security Products' 6.5-inch-wide lockable consoles—not only more secure, but far roomier. The company makes a specific FJ40 mounting bracket for the console. However, I found it raised the unit higher than I liked. A bit of hacking (literally) and fabricating lowered it by a useful two inches.
Another extremely clever way to upgrade an FJ40 by enhancing storage in the cab is with a Dashman dash box from BTB Products. This lockable, hinged box replaces the (pointless) upper dash pad. And—in my case—it swallows gloves, safety glasses, the winch remote, vehicle documents, a map case, and more.
Improving Usability
The reduced noise and improved comfort mean my wife and I are more likely to use the FJ40 for impromptu exploration. So, I turned my attention to augmenting its role to a compact camping platform. The FJ40 doesn't have a lot of floor space in the back, but it does have a lot of height. (Just like its contemporaries such as the Land Rover 88, early Bronco, and CJ5.) Years ago, I installed a full-width storage compartment behind the seats that contains a deep-cycle battery plus the jack and other odds and ends. I also added a deck across the tops of the wheel-wells, which gave me two levels of storage.
However, getting to the gear way up under the deck was always a spelunking excursion. I took some measurements, went back to the Tuffy website, and ordered the universal 058-01, the Mid-size SUV Cargo Area Security Drawer. I bolted it to the back floor, where it barely protrudes above the wheel wells. It didn't fill the space in between them completely, though. So, I mounted it to one side to leave room for tent and awning poles and an axe to slide in next to it. A deck of half-inch Baltic birch plywood covered with ozite carpet sits on top, providing a full-width cargo platform.
Food and Water
How to exploit the space? The limiting factor in desert camping trips is not food, but water. So I had a local metalworker weld a stainless-steel tank to fit on the right side of the cargo area. Its 15-gallon capacity, plus another five gallons in a jerry can on the rear rack, gives us a full supply. I plumbed the tank down through the top of the wheel well and out the rear fender (cutting that hole hurt!) to a lockable tap from Front Runner Outfitters. A simple gravity feed provides the flow. The tank is locked down with ratchet straps attached to eyebolts.
On the driver's side of the deck is an ARB Classic Series II 37-liter fridge/ freezer. It's secured via turnbuckles to eyes bolted through steel. I don't want either of those heavy beasts coming loose on a rough trail or in an accident. Plus, I've seen way too many such potential missiles held with nothing but cinch straps. Or bungees.
I'm lucky to be the keeper of a classic 4×4 that draws attention (and cash offers) wherever it goes.
Custom Cooking Setup
With water and cold food and drink storage handled, all I needed to finish this round of upgrades to my FJ40 was cooking arrangements. I shanghaied an unused, roll-bar-mounted CO2 tank bracket and fitted it with one of Worthington's compact and lightweight aluminum 6-pound bulk propane cylinders, which gives us at least two weeks of solid use. An extension line runs to a Coleman dual-burner stove deployed on the drop-down tailgate, and a splitter runs a lantern. I also keep my old brass SVEA 123 stove in the kit for quick coffee-making—and correct period atmosphere.
Finding Storage Solutions
The bulk of the fridge and water tank take up a lot of room in my FJ40. Despite that, the deck arrangement leaves a nearly three-foot-square area for the Zarges cases I normally use for camping equipment. As an added bonus, there's also nearly three feet of vertical height we can use without obstructing rear vision. But I spied a potential for yet more storage above the level of the rear-view mirror. Using heavy-duty wire, I fabricated a full-width shelf. It attaches to the bolts securing the FJ40's signature fiberglass roof. It's perfect for light items such as sleeping bags and Thermarests.
We deploy a sil-nylon awning from Bushcraft Outfitters over the rear hatch. With it, the area behind the FJ40 becomes a shelter with both cooking and sitting area. Everything—water, food and drink, and stove—is within arm's reach. And, our Hilleberg tent tucks in right behind for a shower-proof encampment.
Enjoying The Ride
Okay, let's be honest. My time spent upgrading my FJ40 did not morph it into a Lexus GX460. Just as no CJ5 can morph into a Grand Cherokee, and no Series III Land Rover can morph into a Range Rover. But that wasn't my goal. I'm lucky to be the keeper of a classic 4×4 that draws attention (and cash offers) wherever it goes. It now just goes there more comfortably, without compromising its classic character. And within its 90 inches of wheelbase we can carry everything we need for a week or more in the backcountry. So . . . finished? Probably not. Among a few other things, there's a Holley Sniper fuel-injection kit with my Land Cruiser's name written all over it . . .