More Bite Than Bark: Cooper Tires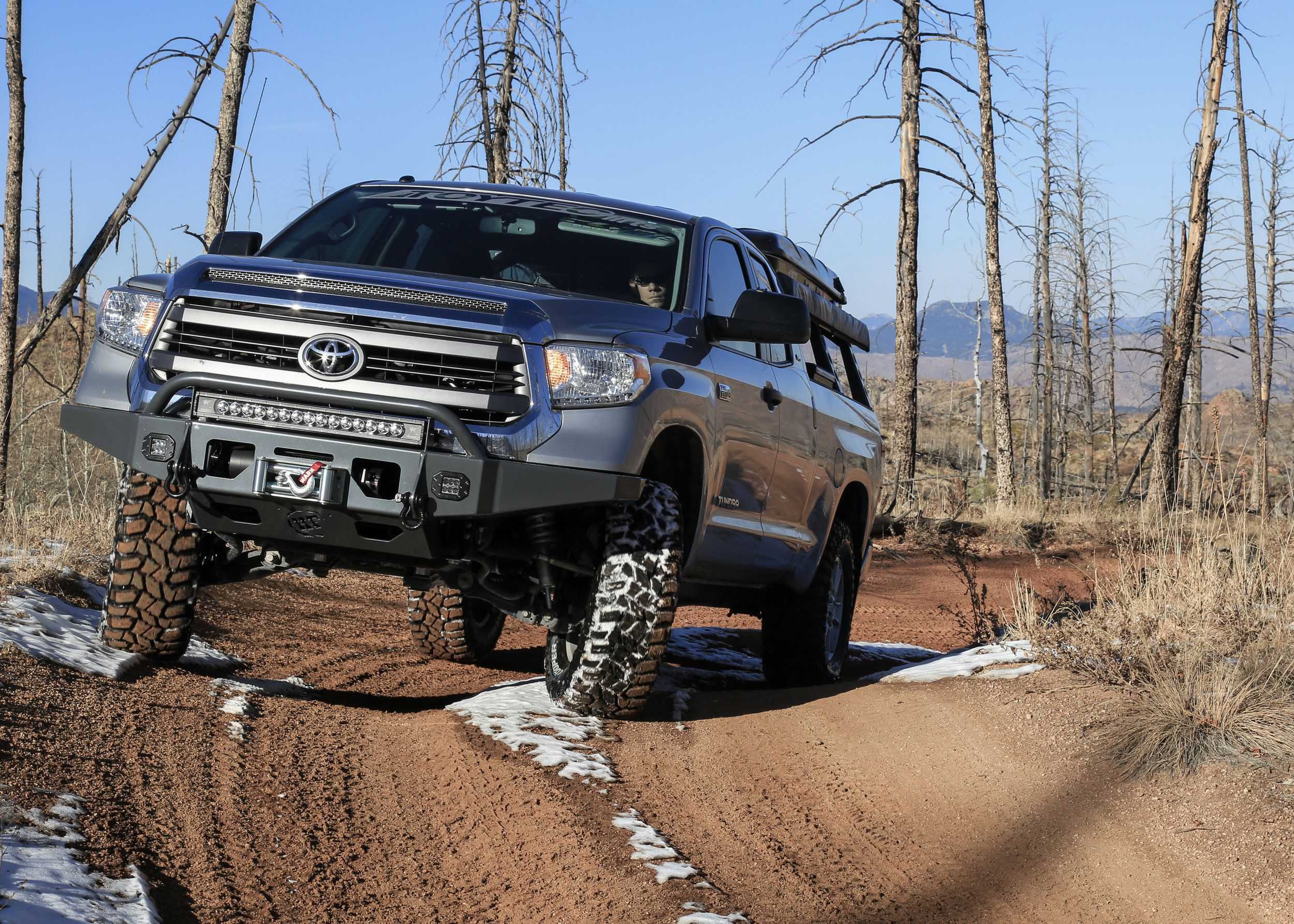 We tested some tires. Here are our thoughts.
Over the last two and a half years, I've had the opportunity to test what is, in my opinion, the "Big 3" Light Truck tire offerings from Cooper Tires… The ST MAXX, STT PRO and AT3.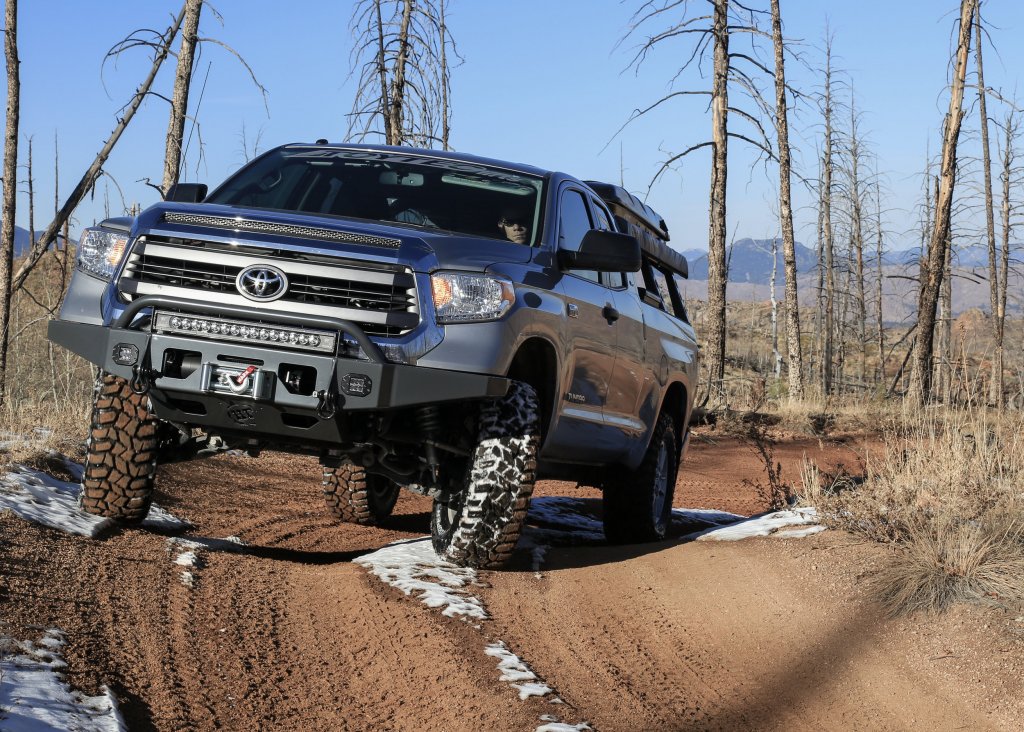 Real Reviews
While I may not be a former Camel Trophy winner, or a guy who goes rock-crawling every weekend, I have used four-wheel-drive vehicles in just about every scenario, whether through work or out on adventure. I'm no expert, but I have a pretty good idea of what works under certain conditions, and whether a tire exceeds expectations or falls short of them.
This review is simply based on my opinions, experiences and (in typical Scott fashion) absolutely no scientific evidence whatsoever. 
If you're the kind of person who uses your 4x4 as it was intended—whether it's used for hunting, fishing, camping, wheeling, overlanding, whatever—you probably already know that the tires spec'd on most vehicles from the manufacturer are garbage. They are built for longevity on normal street conditions with thin lightweight sidewalls to optimize fuel mileage, but little else. So, most of us who enjoy the backcountry generally ditch the highway treads for an All-Terrain, a Mud-Terrain or something in between for better traction and durability. It doesn't hurt that they look a bit more bad-ass, either—you know it's true.
Cooper STT Pro M/T
In no particular order, I will start with the Cooper STT Pro Mud-Terrain pictured below. The newest design of the three tested, and Cooper's most aggressive offering to date, is widely gaining traction among off-road/backcountry travel enthusiasts, and for good reason. It's 3-2 inner tread ribs and alternating shoulder lugs are every bit as aggressive in loose soil conditions as they look, and the Armor Tek3 construction and rim guards provide a great deal of durability against punctures in the tread pattern itself and in the sidewalls, adding well-earned confidence on rock/root strewn trails.
These tires perform exceedingly well in dirt, over rocks, through mud and deep wet snow, and for a Mud-Terrain… it actually does decent on ice with the bit of siping Cooper has added to the tread pattern. But don't let it fool you, MT's have and probably always will, suck on ice. It's just the nature of more aggressive tread patterns, but these are still on-par with, or better, than most.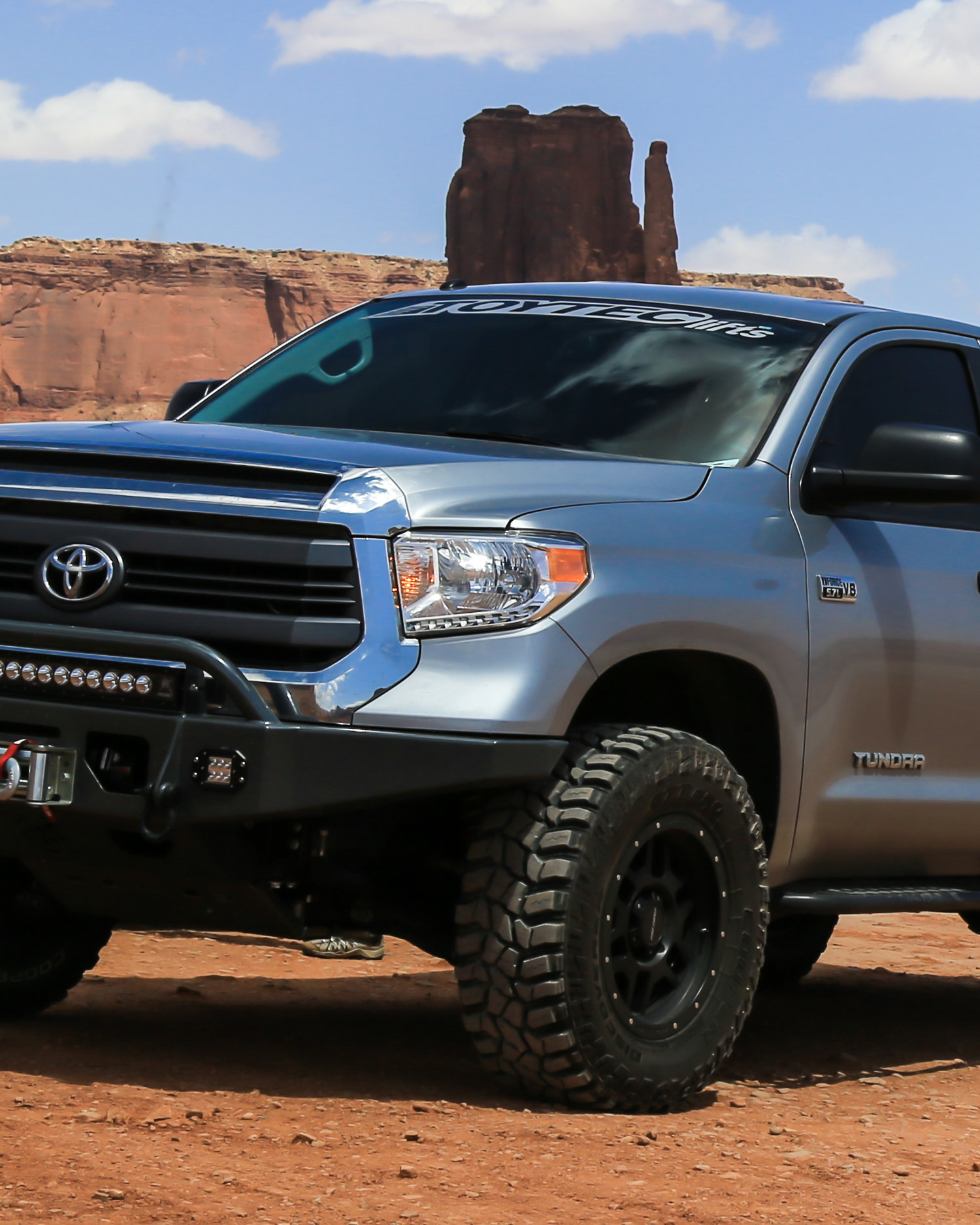 Final Thoughts
Street manners are really good. I have not experienced any loss of traction or stability on wet or dry roads, even in corners with a lead foot and exceeding highway speeds, which in my case has been known to happen. The handling characteristics never left me feeling "uneasy" on the asphalt or off. Road noise? Well, they're pretty loud… and that doesn't improve with age like someone actually said to me with a straight face once (crickets). But again, this is a Mud-Terrain tire… That's just what they do, and while we're at it, you're not going to get 80,000 miles out of them either!
Road noise and faster tread wear are the two biggest issues with MT's (shocking, I know) but still, I would say these are comparable on both accounts to the best manufacturers out there, and perhaps even leading the class. And as far as looks go, I think they speak for themselves. Bad ass.  I have used a lot of different Mud-Terrains over the years, and these are by far my favorite. Would I buy them again? Yes, I would.
The AT3
The AT3 pictured below made its debut in 2011. This All-Season, All-Terrain tire is a very popular choice among Light Truck and SUV drivers for its higher-mileage tread-wear warranties, excellent handling and exceptional grip on the road. This tire's ability to keep you well planted and in control in wet or dry conditions, while providing a very smooth and quiet ride, explains its vast popularity. I was actually quite surprised how much traction there is in dry dirt and on rocks, though I have to admit, I haven't used a traditional all-terrain in many years.
That said, I was expecting some sort of super-hero grip on ice and snow, and I just did not experience the difference I was hoping for. The thing is this; I've driven in the snow more than most 10 people combined will ever in their lifetimes, but most of it was done with an 800-pound snowplow hanging off the front and driving the front wheels into the snow, providing a lot more traction for stopping and accelerating while in four-wheel drive.
Pros and Cons
While I chose this tire for a more comfortable, quiet ride and longer lasting tread wear after the purchase of a small travel trailer, I have some issues with it that a lot of daily drivers/weekend warriors may not. The lack of a rim guard means that airing down for rougher terrain, can present a stronger opportunity for debris to easily get lodged between the rim and tire, creating an air leak. The lack of Armor Tek3 carcass means it is far more susceptible to punctures (particularly in the sidewall) while in the thick of adventure.
And as far as looks go, it is very unimpressive. It looks like something you would not want to run on while travelling to Prudhoe Bay, but you can't fault it for that. That is not exactly the target audience for a tire like this. Would I buy it again? For my wife's SUV that gets around town, and actually gets to the woods once in a while? Absolutely. Choosing it again for the adventure truck, when I want to be as confident on the beaches of Baja as driving to the local grocery store? Of course not… and that's okay. It's not what they were made for, but there are many things the AT3 does better than the other two reviewed here.
Cooper ST Maxx
Last, but certainly not least, is the Cooper ST Maxx and the focus of my first "More Bite than Bark" review. Rated as a mud and snow tire just like the other two, this is very much an in-between tire that does a mix of most attributes extremely well. With the Armor Tek3 construction, rim guard, shoulder lugs and a more aggressive all-terrain tread, this is truly a jack of all trades as the first article suggests. I have personally put this tire through more testing than the other 2 in this review by quite a bit. That is not to say that my other opinions are incomplete, simply that I had more time with these, in a wider range of adverse situations and different conditions.
As often as I can, I drive a couple of thousand miles to spend a week in the back country. Occasionally, that means towing a trailer, or loading up heavy for RTT camping and wanting reliable capability for the highway along the way, as well as the road less traveled when I get there and getting back home again. This tire is very tough, reliable and has exceptional traction in all conditions tested, and it is my first choice of the three. Would I buy it again? If these AT3s ever wear out?! Most definitely!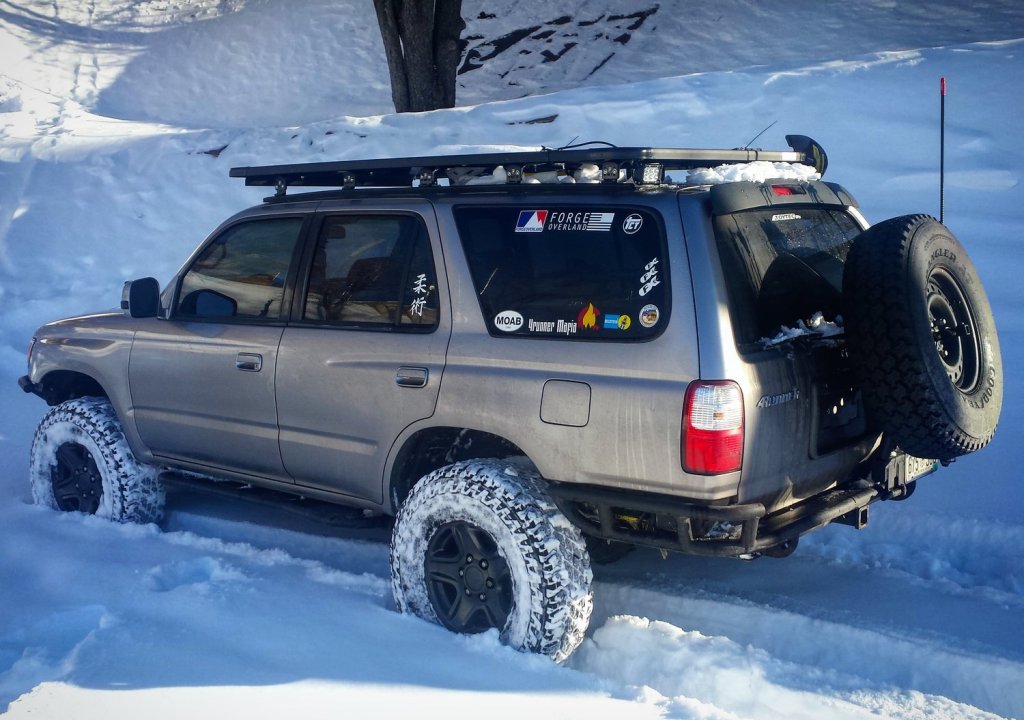 ---
Editor's Note: A version of this story first appeared on treadmagazine.com in May 2018.