2016 Toyota Tacoma Ready For Anything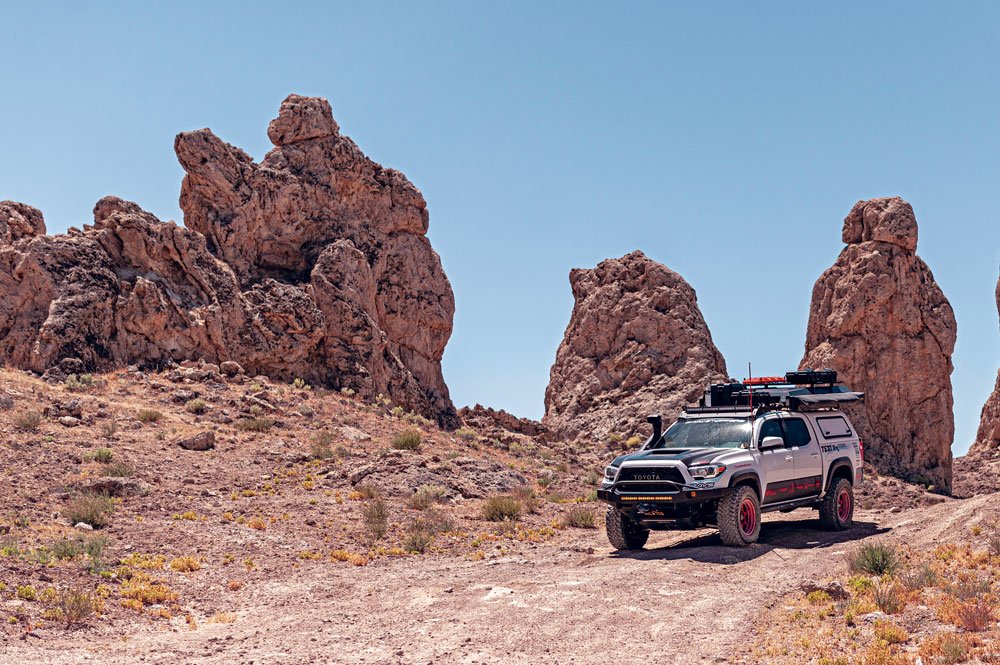 Bugout Ready
The transformation of a stock vehicle to a heavily modified rig is unique for every owner. Whether it is brand new or used, at some point a decision is made to add a couple of parts here and there, and before you know it, the vehicle barely resembles its former self. For some, the build concludes with a few modifications, but for a handful of owners the customization continues, and they find themselves with their masterpiece displayed at the Specialty Equipment Market Association (SEMA) Show, the world's largest aftermarket trade show. For Chris Luansing, his Toyota Tacoma's journey began as he started a new chapter of his life.
Like many truck owners, Luansing had purchased his truck brand new with no intention of modifying it. His then fiancée had always wanted a Tacoma, so he decided to place an order on a new third-generation Tacoma TRD Off-Road 4×4 before the big day. The 2016 Tacoma was chosen for its reliability, performance, and with the goal of starting a family it provided the comfort and, most importantly, safety the couple desired. After waiting close to a month, the vehicle arrived at a local Southern California dealership and their adventures together would begin.
"IF SOMETHING WERE TO HAPPEN, IT'S NICE KNOWING THAT WE HAVE A VEHICLE THAT CAN TAKE US ALMOST ANYWHERE SAFELY."
Luansing's wife had the travel bug and helped open him to new experiences. His new love for exploration gave the truck a purpose as a vehicle to travel with the family. Even with their two daughters still being young, his goal was to build it so once they were old enough to truly enjoy it they could go on extended family vacations.
The plans for keeping the truck stock soon changed after the couple's first camping trip.
"'BUY ONCE, CRY ONCE' OR 'DO IT NICE, OR DO IT TWICE.' WITH OVERLAND VEHICLES ALMOST EVERY MOD AFFECTS ANOTHER SO IT REALLY NEEDS TO BE DONE DILIGENTLY."
On that trip, they used a tent in the bed along with a blow-up mattress. This setup was a better experience than Luansing previously had with ground tents due to the cold, hard Earth and proximity to little critters, but he knew that there were even better solutions available. Upon returning home he researched online and found just what he was looking for in an RTT.
Luansing went through various iterations on his way to fine-tuning the parts he needed for the truck over the course of two years. A few trips during that time helped inspire the next upgrade and then the next. Yet the real change to the truck occurred recently when he was invited to display at SEMA 2019. A close friend of his, Chuck of Showstoppers Off-Road, secured a coveted spot at the trade show, and in a matter of three months the truck underwent a full revamp with the help of his cousin Armand Gatdula from KREstyle.
"THEN I HAD ADDED SO MUCH WEIGHT THAT I NEEDED A LIFT, AND THEN MIGHT AS WELL GET WHEELS AND TIRES WHILE I'M AT IT."
Their Tuff Stuff Overland fold-out tent and awning had served its purpose, but over time became a burden with set up and packing it away, especially as the couple likes to move campsites frequently during trips to experience new locations. This was swapped out for an AluCab Gen 3 RTT that sits on top of a Prinsu Habitat roof rack and helps save precious time between campsites. The setup is complete with the 270-degree Shadow Awning and Shower Cube. "Then I had added so much weight that I needed a lift, and then might as well get wheels and tires while I'm at it."
The initial suspension he had installed was an Icon Stage 4 kit, but with even more weight added to the truck he decided to make a switch to King 2.5 shocks with an external reservoir and adjusters paired with a Deaver Expedition Stage 3 leaf pack. With this combination, he felt that he is prepared for any situation that he may find himself in. Eventually, he also beefed up the suspension with Dirt King Fabrication upper and lower control arms.
The first set of wheels and tires consisted of Toyota TRD Pro wheels wrapped with BFGoodrich KO2 All-Terrains, but as they began to hit more serious trails he wanted something a bit more aggressive to handle the terrain. He installed a set of 17×8 Rays TE37xT wheels in red to stand out from the crowd—reminiscent of his old Honda S2000 that shared a similar color theme. A partial wrap by Beyond Wraps helps the truck stand out from the other Tacomas. The wheels were then wrapped with 285/70-17 Yokohama Geolander G003 Mud-Terrain tires.
His truck doubles as a bugout vehicle and is packed with essentials for survival. He built the truck for solo trips, as it becomes difficult to always have schedules align with other friends and family. He wanted to make sure that the truck was well-equipped and prepared, even if alone. "If something were to happen, it's nice knowing that we have a vehicle that can take us almost anywhere safely," Luansing says.
Ensuring they are prepared for anything to occur, a host of parts and accessories help outfit the Tacoma. These include a Warn Zeon 10-S winch, a MyFAK First Aid Kit, Warn Recovery Kit, Shoveltec Chromoly Shovel, a pair of Rotopax 3.5-gallon containers, an Adventure Tool Company Tool Roll, a Deadman Offroad Earth Anchor, a pair of USA Actiontrax mounted for quick access, and a collection of Baja Designs lighting to help illuminate the road, controlled with a Switch-Pros 8100.
Helping protect and beef up the vehicle is a Demello Off-Road Overlander Aluminum front bumper and Off-Road Sliders, Mobtown Aluminum Skidplates, and a rear Mobtown Off- Road bumper, which houses a Rotopax Mount and Tire Carrier. To help lighten the load, a Seibon Carbon TR-Style hood was installed and wrapped to t the vehicle's theme.
An ARE CX-HD Camper Shell with toolbox helps protect the contents of his bed and helps organize and store his gear; a Mobilestrong HDP drawer system was added and sits atop of a Bedrug bedliner. Additional storage is provided in the interior of the Tacoma from Blue Ridge Overland that includes an attic, door pouch kit, visor organizers, roll-up dump pouch, headrest pouch, and a Taco tray organizer. Rounding out the interior are Katzkin leather seat covers. For additional exterior storage, a Pelican iM3200 case is mounted to the tent rack, while a Pelican iM2600 is mounted on the roof rack. With the added weight, Luansing elected to add a Wilwood Big Brake kit to ensure full control and stopping power of the truck.
"MY INSPIRATION FOR THIS BUILD WAS REALLY TO SPEND GOOD QUALITY TIME WITH MY FAMILY BY TAKING ROAD TRIPS AND GOING TO PLACES WE COULD NEVER GET TO IN AN AVERAGE VEHICLE."
To keep beverages and perishables cold while on road trips or while camping is an ARB Elements 63-quart fridge. A Mountain Hatch tailgate cutting board is close by for camp cookouts, while a Proforce pressurized water system helps keep things clean. Extra accessories include a Front Runner Outfitters water tank, propane bottle mount, and a pair of chairs.
The truck was successfully finished for SEMA and caught the attention of many people.
Luansing had a great experience at the trade show but also learned a few valuable lessons through the process of building the truck. If he had to do it all over, he would elect to install the higher-quality parts the first time to avoid spending the extra time, money, and headache in replacing other parts. Luansing says, "Buy once, cry once," or "Do it nice or do it twice. With overland vehicles almost every mod effects another so it really needs to be done diligently."
Now with the trade show behind him he hopes to create new memories with the entire family, much like his first memorable experience when he went on a weeklong road trip with his wife, visiting places such as Zion National Park, Antelope Canyon, Horseshoe Bend, and the Grand Canyon. These scenic places even gave him the courage to hike Angels Landing, a popular and strenuous hike that has a high elevation, despite his fear of heights.
"If I am on the road or trail then that means I'm going somewhere with people I like to be around, and it always means a good time will be had. I'm always excited to go somewhere … anywhere, actually," Luansing exclaims.
With a growing family and their two young daughters, Luansing's plans for the truck are ever-evolving. Eventually, he plans on a full camper setup for more sleeping space. The truck has recently been retired as a daily driver and is now reserved for road trips and hitting the trails. As Luansing shares, "My inspiration for this build was really to spend good quality time with my family by taking road trips and going to places we could never get to in an average vehicle." At this point, he doesn't have to worry about not getting to places less traveled. The exploring opportunities now afforded to him through his Tacoma are endless.
Luansing would like to give a big "thank you" to everyone who helped support the build. A huge shoutout goes to his wife, Marj, and their two daughters, Brooklyn and Nyla.
UPGRADES
2016 Toyota Tacoma TRD Off -Road
ENGINE: 3.7L V-6 WITH BORLA EXHAUST
SUSPENSION: KING 2.5-INCH COILOVERS WITH EXTERNAL RESERVOIR AND ADJUSTERS (FRONT AND REAR), 700-POUND SPRINGS, DIRT KING FABRICATION BUSHING UPPER CONTROL ARMS AND DIRT KING FABRICATION PERFORMANCE LOWER CONTROL ARMS; DEAVER SUSPENSION EXPEDITION STAGE 3 LEAF SPRINGS (REAR)
WHEELS & TIRES: VOLK RACING TE37XT 17X8, -10 OFFSET WITH 4.5 BACKSPACING; YOKOHAMA GEOLANDER G003 M/T 285/18-17 (FRONT AND REAR)
ARMOR: DEMELLO OFFROAD OVERLANDER ALUMINUM FRONT BUMPER, SLIDERS; MOBTOWN OFFROAD ALUMINUM SKID PLATES, REAR BUMPER WITH ROTOPAX MOUNT AND TIRE CARRIER
INTERIOR ACCESSORIES: KATZKIN SEAT COVERS; BLUE RIDGE OVERLAND ATTIC, DOOR POUCH KIT, VISOR ORGANIZERS (X2), ROLL-UP DUMP POUCH, HEADREST POUCH KIT (X2), TACO TRAY ORGANIZER; UNIDEN PRO520XL; MIDLAND 75-822; OFF-GRID ENGINEERING DUAL BATTERY KIT; SWITCH PROS 8100 SWITCH PANEL; BLUE SEA BELOW DECK POWER PANEL
EXTERIOR ACCESSORIES: SEIBON CARBON TR-STYLE HOOD; BAJA DESIGNS ONX6+ 40-INCH COMBO ON ROOF, S8 30-INCH COMBO AMBER (FRONT BUMPER), S2 PRO WIDE AMBER (X2) ON REAR BUMPER, S2PRO WORK (X4) ON ROOF RACK, S2 PRO WIDE (X2) ON DITCH BRACKETS, S2 PRO SPOT RED (X2) ON REAR CANOPY RACK, ROCK LIGHTS (X6) ON UNDERCARRIAGE; WARN ZEON 10-S WITH SYNTHETIC LINE AND SIDEWINDER; PRINSU HABITAT RACK; MOBILESTRONG HDP DRAWERS; PELICAN IM3200 AND IM2600; PARTIAL WRAP AND DECALS BY BEYOND WRAPS; WILWOOD BIG BRAKE KIT; ALU-CAB GEN 3 RTT, SHADOW AWNING, SHOWER CUBE; ARB ELEMENTS 63-QUART FRIDGE, DUAL COMPRESSOR; KC ACTIONTRAX WITH METAL TEETH; ARE CX-HD CAMPER SHELL WITH TOOLBOX; BEDRUG; MOUNTAIN HATCH TAILGATE CUTTING BOARD; PROFORCE PRESSURIZED WATER SYSTEM; WARN RECOVERY KIT; FRONT RUNNER OUTFITTERS WATER TANK, PROPANE BOTTLE MOUNTS, CHAIRS; MYFAK FIRST AID KIT; ADVENTURE TOOL CO. TOOL ROLL, KITCHEN BAG; DEADMAN OFFROAD EARTH ANCHOR; SHOVELTEC CHROMOLY SHOVEL; ROTOPAX 3.5 GALLON
Editor's Note: A version of this article first appeared in the September/October 2020 print issue of Tread Magazine.