Overland Expo's Ultimate Overland Vehicle 2023: Overland News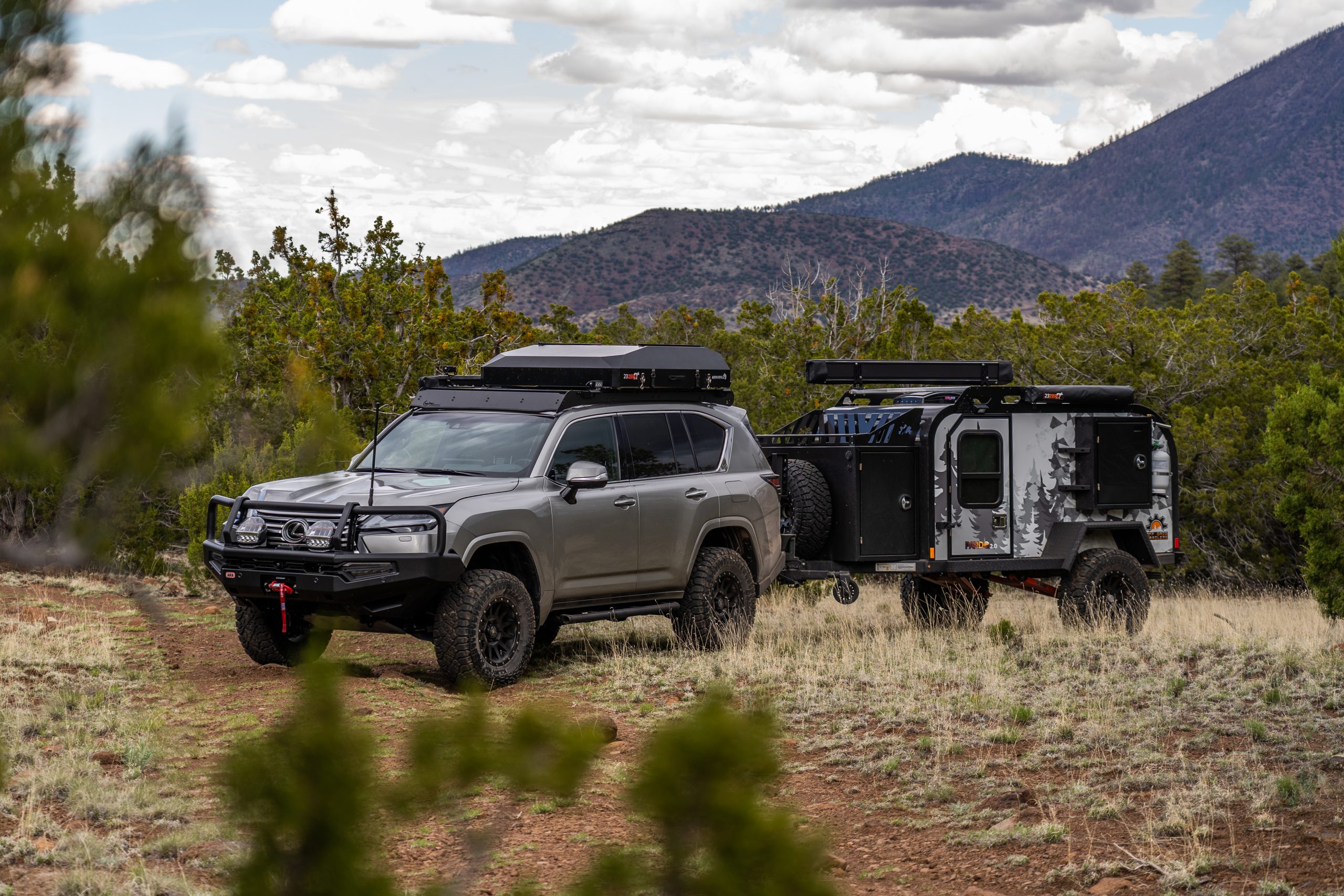 Overland Expo reveals the Ultimate Overland Vehicle 2023 at Overland Expo West.
A major must-see at Overland Expo West 2023 is the newly-revealed Ultimate Overland Vehicle, the most modified LX600 ever. That's right – ever. In addition to all of its accessories and mods, it also pulls a Pando 2.0, supplied by Off Grid Trailers. Together, the LX600 and Pando 2.0 combine to create this year's Ultimate Overland Vehicle. MULE Expedition Outfitters was the official build partner for this vehicle.
"LX nameplate has been a leading brand in the American overlanding market for years. With the all-new LX600, we saw an opportunity to work with our exhibitors to develop world-class overlanding products for the pinnacle full-size 4×4 SUV platform in the U.S.," said Emerald Consumer Events Marketing SVP Linday Hubley. "Furthermore, off-road trailers have become a significant part of the overland segment. We knew the Ultimate Overland Vehicle wouldn't be complete without an Off Grid Trailer in tow. The result is a vehicle and trailer combination truly worthy of its 'ultimate' moniker."

Geared Up
Based upon the all-new 2022 LX600, the Ultimate Overland Vehicle 2023 build debuts first-ever components for the LX600. The fully kitted build includes accessories from much-loved brands such as CBI Offroad, Goose Gear, MagnaFlow, Prinsu, Radflo, and Total Chaos. Many of the parts were developed in partnership with Overland Expo, purpose-built and designed for this build.
"This year's Ultimate Overland Vehicle was created for a family of four to explore deep into the backcountry and stay there for a week or more at a time. The LX600, as it is built, can alone support an extended overland trip. However, adding Pando 2.0 enables overlanders to set up basecamp and extend their journey and enjoyment," said Emerald Consumer Events Marketing SVP Jessica Kirchner. "More than simply building a flagship vehicle for the overland industry, it was important to us to support the community and our exhibitors. Our partners developed all- new components for the LX600 for this build. That means, starting today, LX600 owners now have aftermarket support from leading brands in the overland industry to build their dream overland rig."

Official Partners & Gear
23 Zero — Armadillo A2 Rooftop Tent
23 Zero — Peregrine 270 and Shower Awning
ARB — Summit MKII
ARB — Intensity IQ front Auxiliary Lights
BOXO USA — Off Road Tool Bag with Tool Roll
CBI — Rear Dual-Swing Out Bumper
Prinsu — Roof Rack
Comeup — SOLO Series 12.5 Winch
Forrest Tool — Max Tool Kit
Goose Gear — Ultimate Chef Package
Helinox — Tactical Chair
Helinox — Tactical Table
ICON Alloys — Compression wheels
Kenda — Klever R/T Tires
Off Grid Trailers — Pando 2.0
MagnaFlow — Overland Series Cat-Back Performance Exhaust System
Midland — MXT575 GMRS Radio
MULE Expedition Outfitters — Official Builder
Optima Batteries — Yellowtop DH7
Radflo — 2.5 Diameter Remote Reservoir Shocks & Struts
Self-Reliance Medical — OTK 1450 First-Aid Kit
Solo Stove — Pi Duale Pizza Oven
Total Chaos — Upper & Lower Control Arms + Rear Links
Victron Energy — Smart BMS CL 12/100
Vision X — Overland Area Scene Lighting
Zero Breeze — Mark 2 A/C
Find more details about the build and follow along on its travels on social media via #ultimatebuild2023 and on the official webpage.
For more information on the event series, visit overlandexpo.com.
---