Jeep Wagoneer: Return of a Legend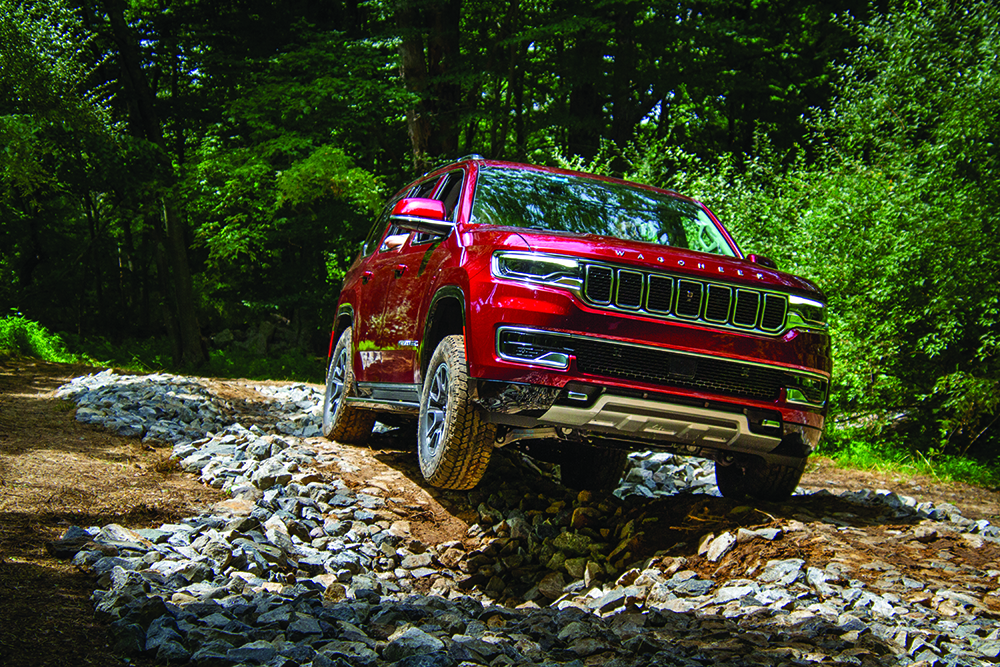 Luxury, performance and capability … this is not your granddaddy's Jeep Wagoneer.
Story and photos by Chris Collard
If we rolled back the calendar to fall 1962, we'd find Kaiser-Willys releasing a vehicle that would change the future of backcountry travel.
Designed by the famous Brooks Stevens, it was large and had an automatic transmission and single-speed transfer case. Equipped with the new Tornado inline 230 six-cylinder, it was also powerful—propelled down the road by 140 hp. The defined body lines and ample glass rendered it easily recognizable, but a little-known (and dirty) secret was hidden beneath: an independent front suspension.
"If grandpa were around to get behind the wheel of this new Waggy, he'd probably drop his dentures … and then flip on the back massager and take a nap."
Our granddaddies loved the Wagoneer, because it drove down the road like a car but tackled the backcountry like their Willys wagons. Hands down, it was ahead of its time.
As much as America loved the timeless "Waggy," the platform remained basically unchanged for 30 years, and this timelessness was the basis for its retirement in 1991.
Flash forward three decades, and the Wagoneer will be making a grand return.
We'll start by saying that this is not your grandpa's Wagoneer—and that's a beautiful thing. However, it retains the core principles of its predecessor as a luxury SUV with solid trail capability.
A walk-around reveals a wide stance and lower belt line, which, as in the Wagoneer of lore, allows for considerably more glass and better visibility from within. It doesn't have a forward-leaning grill, but its stylish body lines have defined, chiseled edges along the fender wells, rocker panels and center of hood, thus differentiating it from so many of the wind-tunnel-designed SUVs out there. Exterior lights are color-perfect LEDs; legitimate recovery points (1.5 times GVW) are tucked into the bumpers; and Jeep's traditional seven slots adorn the grill. What you don't see are full-length, retractable access steps that drop down from beneath the door sills.
Two models will grace the lineup—the Wagoneer and Grand Wagoneer—upping the ante in all categories.
Under the Skin
Understanding that beauty can be skin deep, lifting the hood reveals the base, 5.7-liter HEMI V8. It produces 392 hp, 404 lb/ft of torque and features a 48V eTorque hybrid motor—an additional 130 lb/ft of torque on initial throttle-up. Step up to the Grand model, and you get the 6.4-liter HEMI and a whopping 471 hp and 455 lb/ft of torque. Both options feature cylinder deactivation and variable cam timing. When power isn't needed, such as when cruising down the highway, the computer simply turns off a few cylinders and adjusts the timing to further reduce drag on the engine. The net result is better fuel economy. Backing both mills is the TorqueFlite 8HP75 eight-speed automatic transmission.
I had a chance to examine a stand-alone chassis and was impressed with the amount of forethought that went into its design.
The first thing to mention is that it has true body-on-frame construction … just like an original Wagoneer. Crafted from high-strength steel, it's not only stronger and more rigid, it's also lighter. Many components, including A-arms fore and aft, are forged aluminum, and the Quadra-Lift air suspension features two separate systems, each fully sealed from the environment. Electronically controlled, they work in conjunction with driver input, monitoring load distribution and making millisecond adjustments based on conditions.
The Cabin
Slipping behind the wheel is nothing short of sublime. The handcrafted Palermo leather seat cradles you like a warm glove. The 24-way controls will please the most discerning driver, and the programmable back massager will have them purring like a kitten. Looking forward through the two-spoke wheel (as on a 1962), the instrument cluster blends into the 12-inch, articulating Uconnect screen and console. Glancing up, you'll find the heads-up display on the windshield, as well as a digital rearview mirror.
There are separate HVAC systems for each of the three rows of seating (I might also add that an adult can comfortably ride in the third row). Stitched leather, walnut hardwoods and ambient LED lighting are found throughout, and above are three separate sunroofs with power shade screens.
Audiophiles will love the 1,375-watt (no, this isn't a typo), 23-speaker McIntosh surround-sound system. And, of course, you can get your tunes via Apple CarPlay, Android Auto or SiriusXM 360L. There's a plethora of USB ports, second-row, programmable entertainment systems and 4G Wi-Fi for up to eight users.
Tired of turning around to see what the kids are doing? The 360-degree Surround View system not only provides a view of the vehicle's surroundings, it also features a rear-seat camera so you can witness the kids flinging PB&J sandwiches in real time.
Road and Trail
I'll start with saying that this is a very stable vehicle on the road. If you switch to "sport" mode (there are five), shift points are higher, the throttle is more sensitive, and shocks firm up. This mode, along with the electric power steering, performed well, adjusting seamlessly between straight-line cruising and hard cornering.
The Quadra-Lift suspension really comes into play when towing a load (the maximum tow capacity is 10,000 pounds), because it constantly tweaks damping at all corners. Power from either engine option is more than sufficient, but I'd lean toward the 6.4-liter, because this is a big girl.
Our test vehicle wasn't equipped with Hands-free Active Driving Assist (Stellantis's new AI technology), but it did have drowsy-driver assist, blind-spot monitoring and pedestrian/animal detection. Night vision, an IR feature of the forward camera, is pretty cool and provides a clear view of anything the headlights don't illuminate. With Emergency Brake Assist and Active Cruise Control, the darned thing just about drives itself.
Now for the question on everyone's mind: How does the new Grand do off-road? Well, before you toss me under the bus for saying I was impressed (which I was), I must put this in context: This vehicle wasn't built for the Rubicon Trail, so comparing it to a Wrangler would be like comparing a 1962 Wagoneer to the CJ-5.
With a limited-slip differential (or optional electronic version), Quadra-Drive II transfer case and multiple off-road modes that manage torque bias and traction control sensitivity, there was no issue with cross-axle scenarios or loose terrain. In the highest suspension setting, you'll have 10 inches of ground clearance and water-fording capability of 24 inches. While this isn't as much as a Wrangler offers, the Wagoneer rises above most of the competition in both categories. Hill descent and assent allow you to select a speed for greater control and comfort. The 360-degree cameras let you view hazards in close proximity.
"Because it provides room for a gaggle of kids and swag and offers superb road manners, luxurious trimmings and respectable off-road prowess, it's clear that the engineering team did its homework."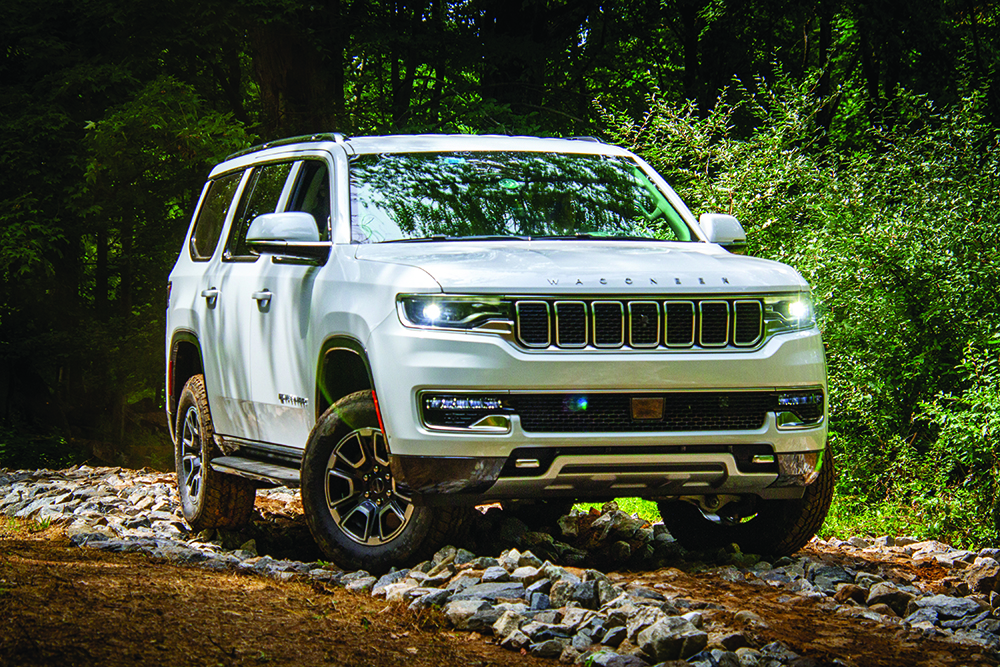 Finish Line
We're excited to see the Wagoneer back in Jeep's corral as America's newest full-sized SUV. It provides room for a gaggle of kids and swag and offers superb road manners, luxurious trimmings and respectable off-road prowess. Because of this,  it's clear that the engineering team did its homework.
If Grandpa were around to get behind the wheel of this new Waggy, he'd probably drop his dentures … and then flip on the back massager and take a nap.
SPECS
The New Jeep Wagoneer
Engine: 5.7-L or 6.4-L HEMI V8
Output (hp/lb/ft): 5.7L: 392hp/404 lb/ft; 6.4L: 471hp/455 lb/ft
Performance (6.4L): 0–60 in 6.0 seconds
Transmission: TorqueFlite 8-speed automatic
Transfer case: Quadra-Drive II two-speed
Suspension: Four-wheel independent, Quadra-Lift air
Brakes: 14.88 inches (front); 14.76 inches (rear); disc
Wheelbase: 123 inches
Length/width: 214/83 inches
Wheels/tires: 18- to 22-inch alloys
Approach/departure/breakover: 25/24/22
Turning circle: 38 feet
Clearance/fording: 10/24 inches
Fuel cell: 26.5 gallons
Built in Warren, Michigan
MSRP: $57,995–$103,995
---