BBQ Anywhere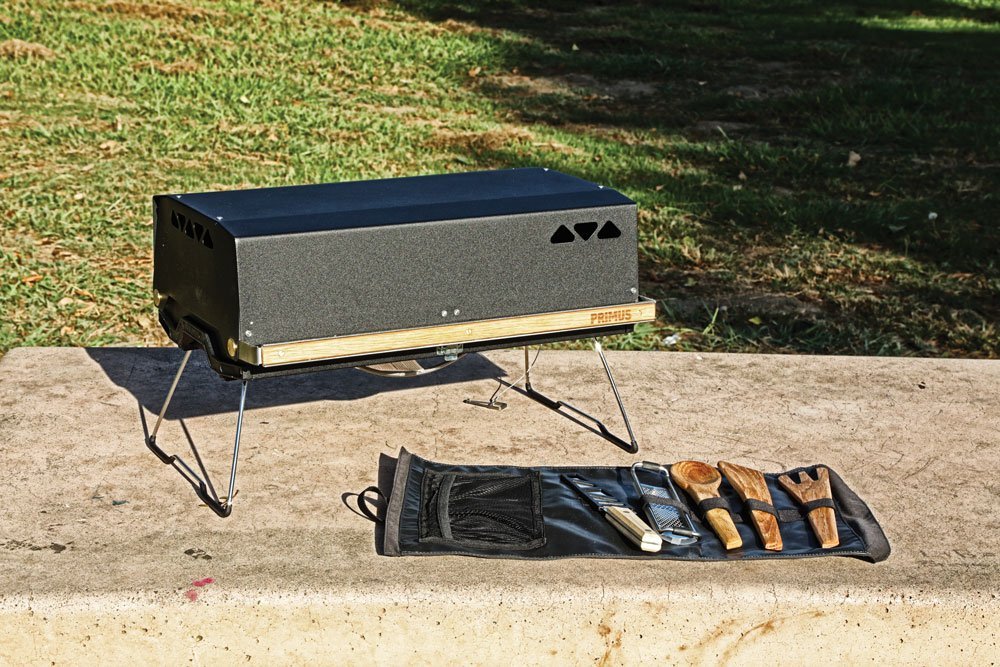 Primus Kuchoma Grill
Some of the best moments you can have in life are usually centered around family, friends and great food; taking our adventures to the great outdoors oftentimes enhances the experience.
Primus, a Swedish company that is staffed full of engineers that love nothing more than to cook outdoors, has been perfecting the tools that allow us to prepare fresh meals without a roof over our heads since 1892. Now that's some respectable longevity.
What else is amazing is their latest portable grill, the aptly named Kuchoma Grill. Created as a means to transport your backyard BBQ to any location you wish, the grill was made to be light and portable, yet retain a useful size cooking surface and ease of use and cleaning. From what we understand, "kuchoma" is a Swahili word that roughly translates to broil, roast and from what we read, even grill, which makes it a perfect name for Primus' latest outdoor appliance.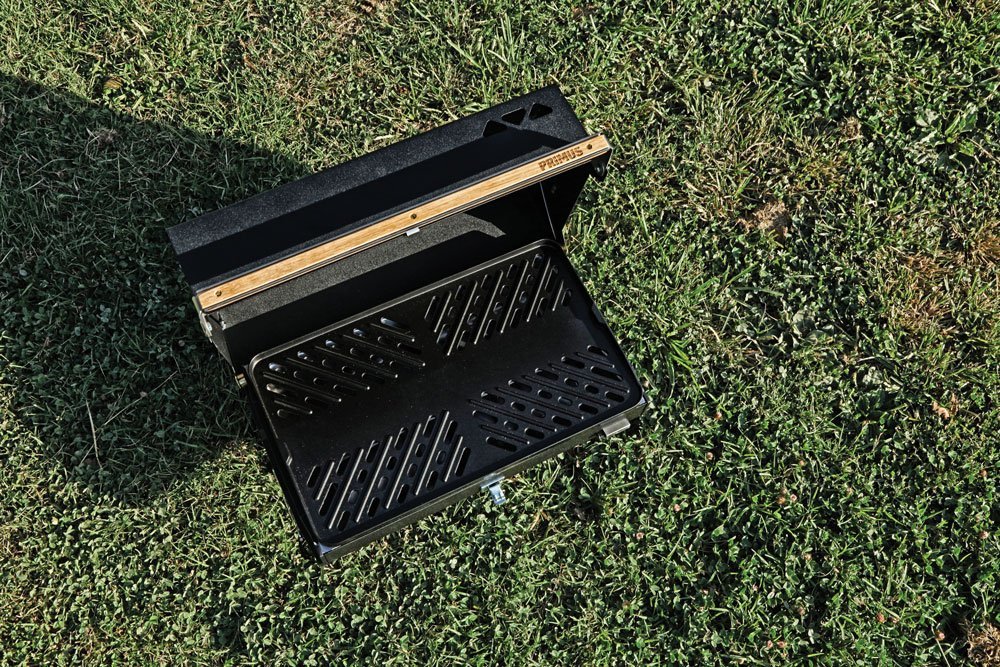 Although there may be smaller stoves and grills on the market, this grill is still very portable; in fact, it fits in an optional roll top-style backpack made specifically for the Kuchoma Grill. Weighing only ten pounds, the grill can easily be transported to any outdoor kitchen and set up in seconds. The Kuchoma sets up by flipping its wire legs downward and attaching its propane canister. That's it; no assembly is required.
The grill is equipped with an easy to start push-button Piezo ignition that makes getting the grill going just as simple. Rotate the gas supply knob, push the ignition button and there you have it. A horizontal burner tube in the grill's cavity transports the heat throughout the grill evenly. It's even heat that won't leave you with dreaded hot and not-so-hot spots that even full-sized home BBQs oftentimes have.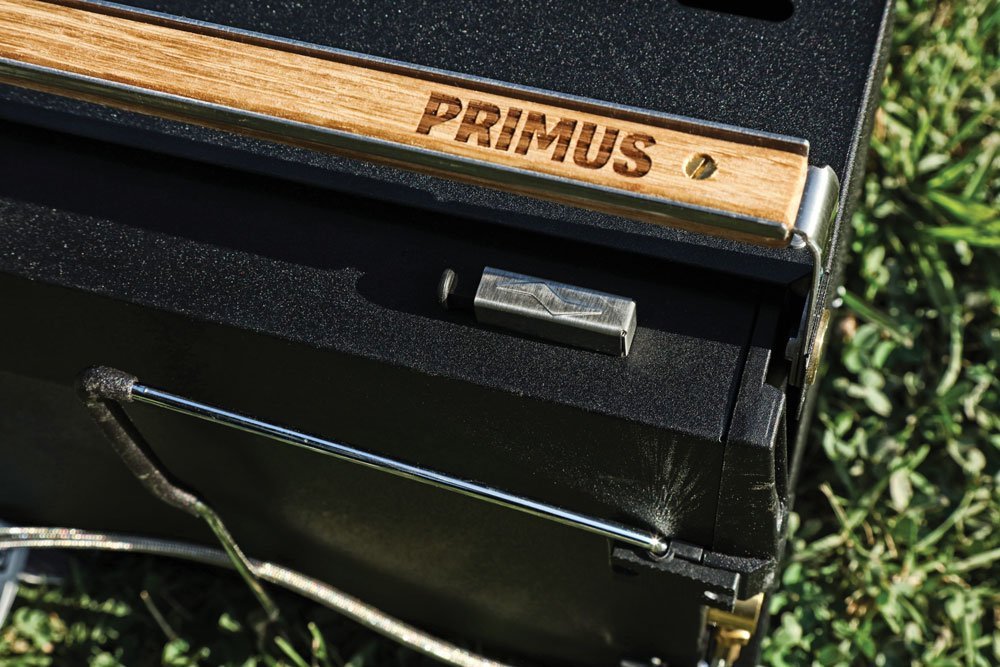 Kuchoma Grill features a tall and deep hood that allows for effective indirect heat cooking. The steel hood seals in enough heat to get the job done for you. Its non-stick grill grate is large enough to cook about four steaks or burgers on it comfortably. A drip tray sits just underneath the grate and allows the entire unit to be easily cleaned.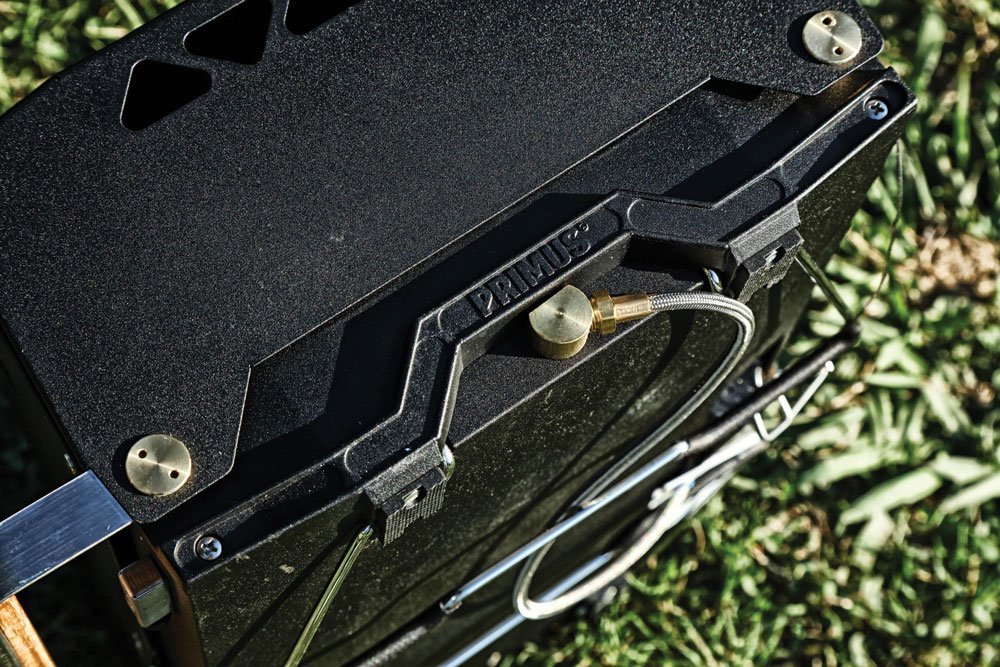 Clean up is easy, it can be cleaned at the campsite with some water and a good wiping down, but being that the grate is dishwasher safe, a thorough hands-free cleaning can be done by your dishwasher at home.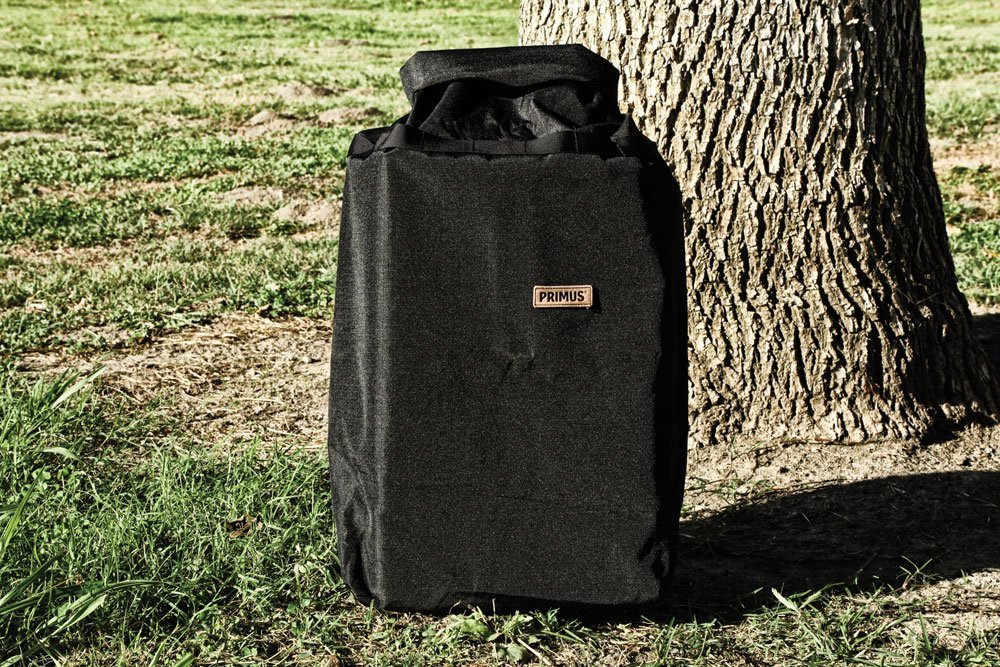 We found the Kuchoma Grill to be well crafted and its design to be clean and efficient. We also thought that its wood trimmed metal handle was a stylish touch. The gas system's brass fittings and braided hose fit perfectly and look to be well made; the grill looks and feels like it will be able to hold up for a long time on the trail. If you're looking to bring your backyard BBQ to the beach, to the mountains or even to your tailgate at a Rigs & Coffee event, the Kuchoma Grill looks to be the perfect way to get your BBQ going.
Primus Kuchoma Grill
MSRP: $190 Grill / $80 CampFire Prep Set