Snow Crusher: Polaris Switchback Adventure 800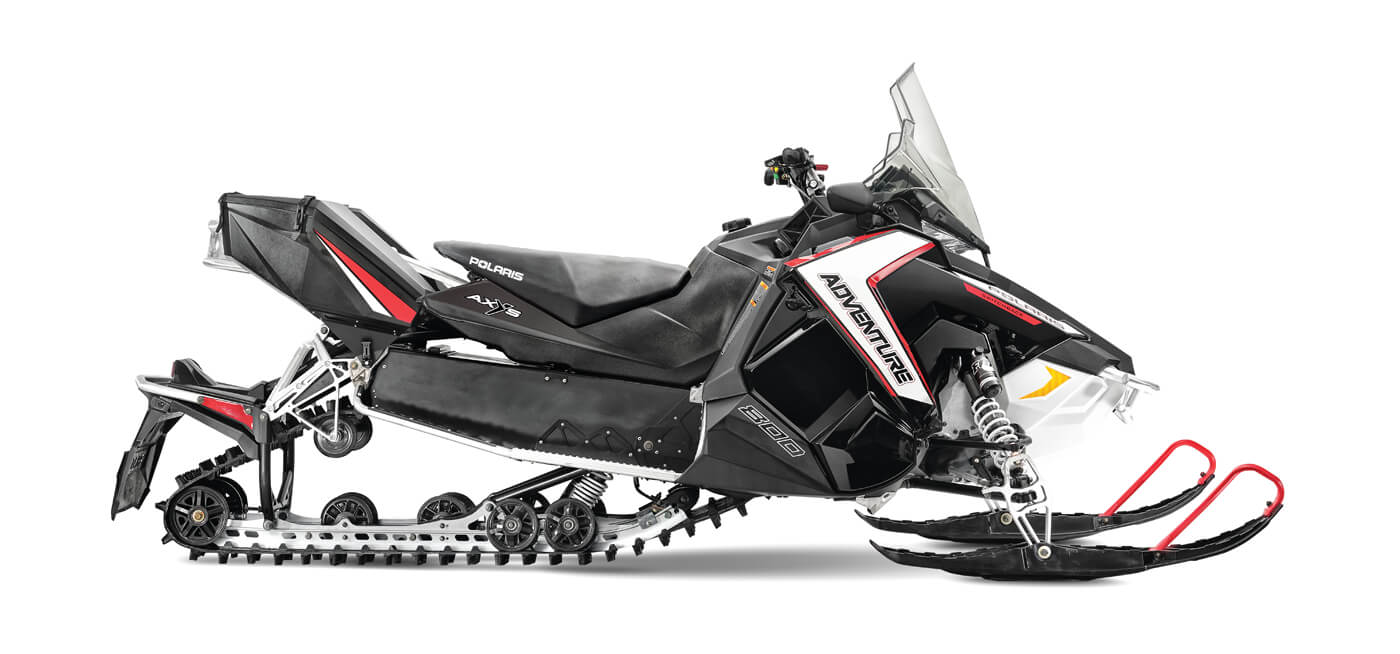 When choosing the perfect snowmobile, you want to know the sled between your legs has all the angles covered. Picking the right snow monster is exciting, but challenging, because there are many great options on the market.
We wanted to find that "anytime, anywhere" premium sled that has the duality of brute force when needed, as well as the comfort to ride all day without fatigue. We looked to none other than the $4.7-billion global motorsports leader, Polaris. Its Switchback Adventure models are high-performance, premium crossover sleds, designed and equipped for riders that want to go anywhere and do anything. The Polaris Switchback Adventure 800 is the daddy of those sleds.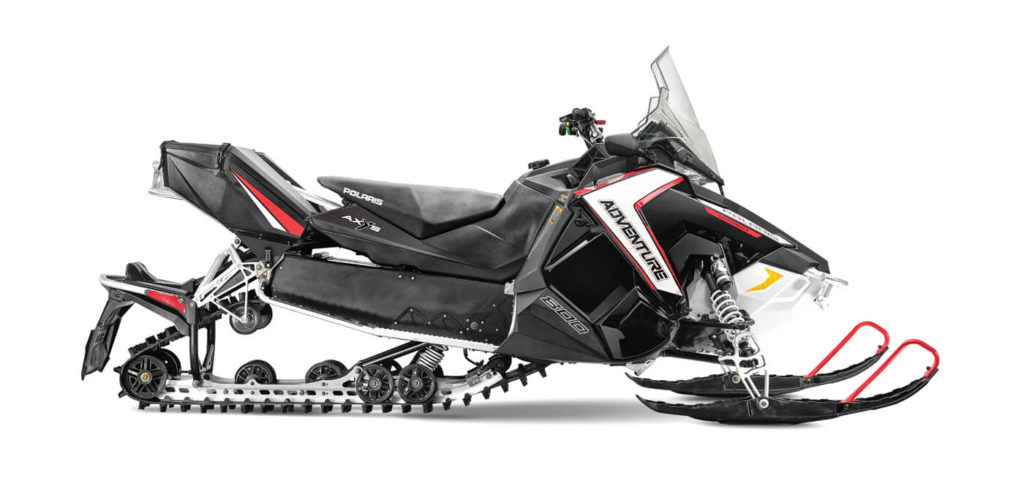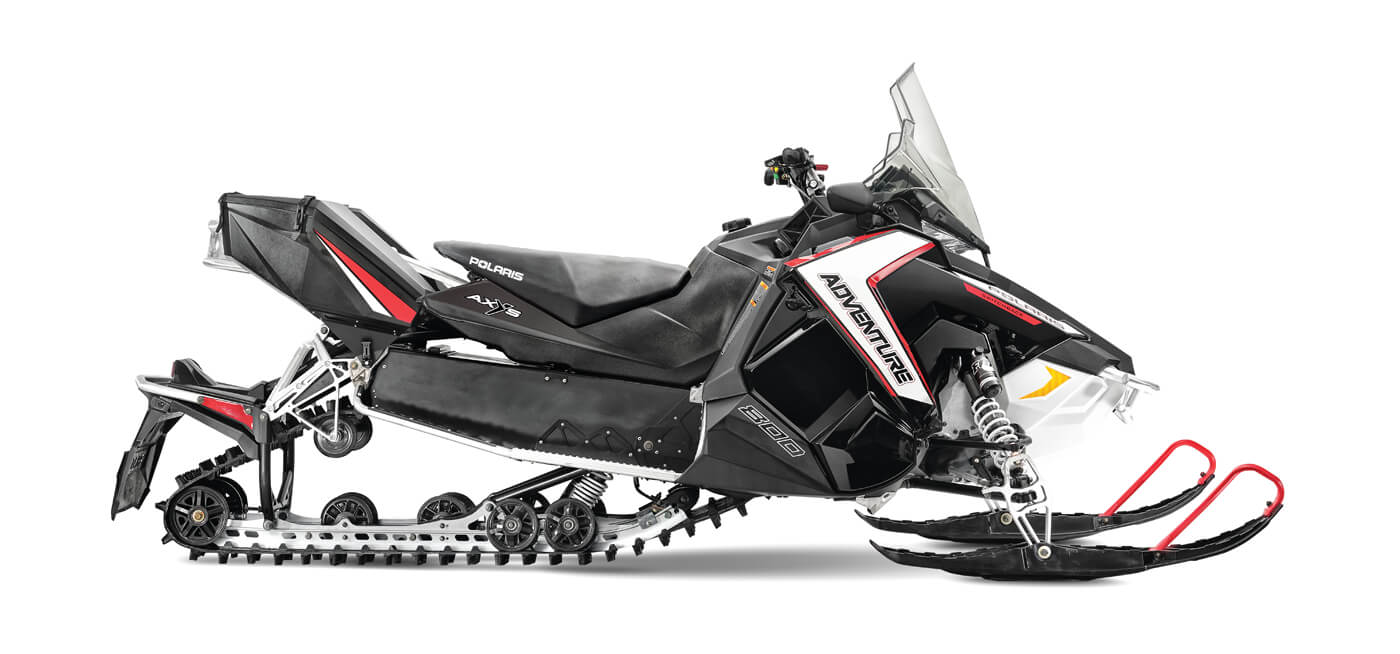 TECH
DIGITAL DISPLAY
We all need a little more tech to stay connected and informed in the wild. So for 2017, a 4.3-inch high-resolution, full-color, LCD digital display provides the rider with critical information, such as: engine/trip hours, odometer, fuel level, coolant temperature, speedometer, tachometer, dual trip meters, average speed, max speed, iagnostics, and maintenance alerts.
BLUETOOTH
Stay connected and receive text and call notifications through this system. The battery life and signal are also displayed. While you're at it, continue to receive streamedmusic details, like artist and song information, which are on display, as well.
GPS/MAPPING CAPABILITY
Customize your route and never get lost with the fully featured GPS system. With the inclusion of the Polaris RiderX snow-trails app, you can upload your favorite routes and pinpoint gas stations and restaurants along the way.
SUSPENSION/FRAME
FRAME
The Adventure 800's AXYS chassis is built around the rider, with an aluminum over-structure. The rider's hands,  feet, knees and seat are positioned forward on the chassis for better body control, while providing excellent ride comfort.
SUSPENSION
The PRO-XC progressive-rate suspension is a really trick setup for a sled. It's fully adjustable to keep both rider and passenger safe, as well as comfortable and stable—giving you the confidence to rail it just a bit harder on the turns, and making life easier on your own rear end for those long-haul rides. Active Pitch Control keeps the sled stable, with flat turning and low rise in the front. Paired with the Walker Evans Needle Shocks, you will have complete comfort and control while blasting through the trails. The Adventure 800 was designed for adventure, so be sure to explore on and off trail runs!
POWER
ENGINE
The Polaris Adventure 800 comes with Polaris' proven fuel-injected 800 Cleanfire H.O. two-cylinder, two-stroke engine, which gets you 150+ horsepower across a broad rpm range. Advanced fuel injection; three-stage, electronically-controlled exhaust valves; a lightweight crankshaft; and an electronic oil pump conspire to guarantee quick throttle response and quiet engine operation, while making fuel refills a little easier on the wallet. Don't be fooled by the gas-saving tech, though—the Adventure 800 is no slouch. Clocking in with the fastest quarter mile in the industry for its class, the phrase "when in doubt, throttle out" has never been more appropriate.
LIGHTING/CONVENIENCER
LIGHTS
With the 5000k daylight color-temp LED lighting technology standard on all Adventure models, you won't have trouble lighting the trail ahead.The weight savings from the new housings, and durability of the LED technology, means these lights are designed to blaze trails for the lifetime of the sled, without the fear of going dark in the woods.
LEFT-HAND CONTROLS
The left-hand controls feature improved ergonomics, better looks and steamy hand and thumb warmers. With a more tactile feel, the controls are easy to navigate with gloves on or off.
STORAGE/SEATING
RACK CAPACITIES
The adventure Cargo System features an aluminum rack and dual-locking saddle bags to give you the flexibility to pack for short trips or for the long haul. There are more than 90 different combinations for the compression-molded, super tough, integrated storage.
TWO-UP SEATING
The X2 Seat, Cargo Rack and X2 backrest with handholds are optional. The Lock & Ride system easily detaches from the rear of the sled with two clicks of the passenger handles, transforming it back to single-rider mode.
[divider]Polaris Switchback Adventure 800[/divider]
Overall Height: 49 inches
Overall Width: 47 inches
Overall Length: 121 inches
Tank Capacity: 12 gallons
Dry Weight: 491 pounds
MSRP: $14,999 (Base Price, Plus Freight & Setup)
Editor's Note: A version of this article first appeared in the Winter 2016 print issue of Tread Magazine.