Can-Am Commander XT-P Adventure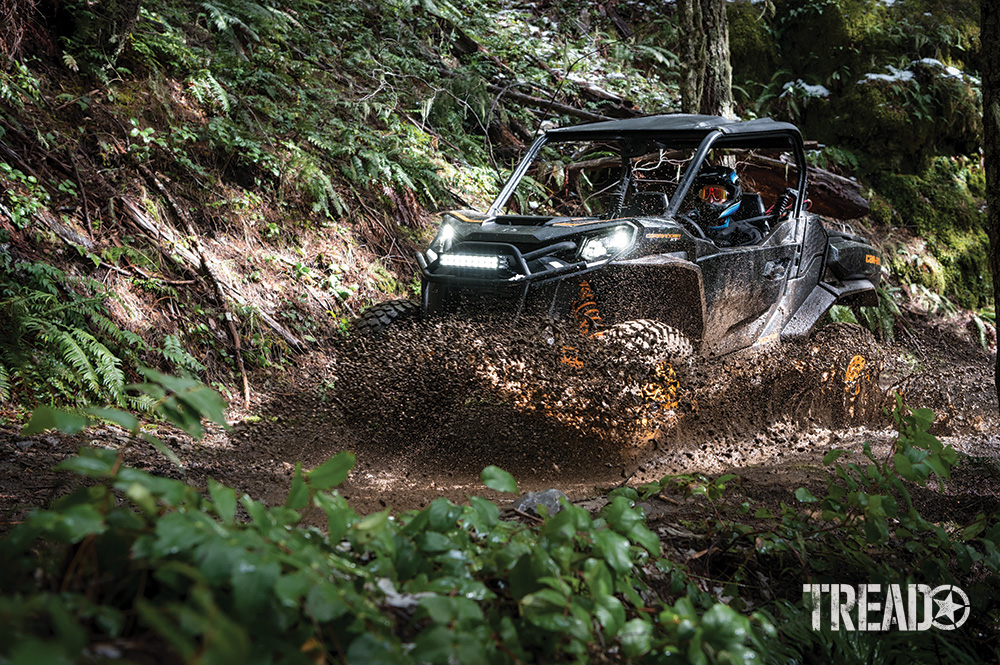 THE UTV OFF-ROAD EXPERIENCE
Have you ever wondered about the best way to explore that off-road terrain we all love traversing? I think about it relatively often. I have an overland-style Lexus GX460 build and a KTM 950 adventure motorcycle. Both are amazing at long-distance adventure travel, and both are quite capable in technical, off-road terrain.
But which one is best for the next off-road adventure? Is there something better and/or more fun out there?
The GX is a really versatile tool, because it's fully locked, on 34s, is well-armored and has all the recovery gear you might need. It's also just a bit too nice—as my daily driver—to truly beat up on super-aggressive terrain.
The 950 Adv is a big, heavy, powerful, street-legal rally bike that easily tackles harder terrain than it should, but it's also a nightmare to pick up when I put it down. I often think about getting a smaller motorcycle and/or a more dedicated off-road 4×4.
Where I live in Portland, Oregon, it doesn't make much sense to own a dedicated rock-crawler. There just isn't that much terrain nearby to utilize one. Besides, I also don't enjoy wrenching enough to want to keep a crawler working properly after beating it up each weekend.
Sporty, go-fast, off-road-capable UTVs have piqued my interest lately, because the few times I've gotten to pilot one, I've been extremely impressed with their capabilities straight off the showroom floor … especially for the money.
Can-Am Commander XT-P
I recently got the chance to play with the just-released 2021 Can-Am Commander XT-P 1000R UTV over a long weekend locally (western Oregon) with my good friend, Nick Schoeps. Over three days, we were able to log more than 12 hours behind the wheel on tight, technical forest trails, fast gravel roads, over muddy, rocky terrain, through deep snow, in big sand dunes, on the beach and even on a bit of pavement. Not only did we learn a bunch about this new machine, we also learned about the usefulness of a UTV in my life of off-road adventure.
First, let's chat about what this particular UTV is all about, because UTVs come in all sorts of "flavors." The Commander is the "Swiss Army Knife" of the Can-Am UTV lineup, and The XT-P model is the off-road performance version of this versatile machine.
Sporty, go-fast, off-road-capable UTVs have piqued my interest lately, because the few times I've gotten to pilot one, I've been extremely impressed with their capabilities straight off the showroom floor … especially for the money.
You get 100 hp to play with; you also get 13.5 inches of suspension travel with piggyback Fox 2.5 shocks—not to mention a whole host of off-road capability accessories: beadlock wheels wrapped in aggressive, 30-inch tiires, full skid plates, a front tube bumper and even a winch. Add in selectable, high- and low-range 4WD, front and rear lockers, off-road driving modes and hill-descent control, and you know this machine is built for off-road action.
While this UTV doesn't have the largest tire size, the most suspension travel, ground clearance or the highest power output in the sport UTV world, it's a super-sporty machine that can also do work: The Can-Am Commander XT-P can haul more than 1,000 pounds of payload and tow up to 2,000 pounds with its integrated, 2-inch receiver. You can put up to 600 pounds of that payload in its cargo dump bed with a tailgate. Whether moving supplies around your property or hitting the trails, this UTV is ready for action.
Because I own a house in the city with nearly no yard, I took this fun machine off into the wilderness to see how sporty it really is.
UTV Off-Road Adventures in Can-Am Commander XT-P
After much frustration researching where Nick and I could legally take a UTV within a few hours of Portland and that would offer a diverse testing ground, we settled on some mountain UTV trails near Eugene that would offer forest trails and rocks, as well as the big sand dunes on the coast near Florence. We also needed to rent a trailer, buy an OHV (off-highway vehicle) sticker and get a dune flag with appropriate mount. Surprisingly, everything except getting the necessary $10 annual sticker was quite an ordeal.
Once out on the trail, nothing could stop this very capable machine, whether it was mud, snow, sand or rocks. Okay, that's a lie: We did get it quite stuck multiple times in deep snow on the very first day of use. We didn't expect to encounter snow on this trip but found lots of it, which was quite fun and provided quite a bit of recovery practice. The Can-Am Commander XT-P handled the snow amazingly well … that is, until it eventually dug big enough ruts that the belly pan was resting on the berm in the middle of the trail. A bit of digging and added traction from some Maxtrax made for quick recoveries each time the soft, crusty snow got too deep. Sadly, we didn't even get to use the winch—but it wasn't for lack of trying.
We had an absolute blast ripping around tight technical shelf forest trails, gravel backroads and even some quick, high-speed, curvy pavement along a creek on the first day of testing. We left tired, covered in mud and quite cold from all the quickly melting snow that had sprayed all over the place. Even so, we both left realizing how impressive this UTV was in a wide range of conditions, both at slow and high speeds.
The next day was full of exploring dunes, tight, grassy trails and beaches. We were worried that this more-utility-oriented UTV might struggle in the deep and steep sand dunes, but we were very, very wrong: The Can-Am Commander XT-P instantly plastered a massive smile across our faces as we carved arcs around sandy bowls, ripped across wide-open spaces and took flight off steep wind lips. The butter-smooth landings after serious airtime are what impressed us the most.
Still grinning from our day of dune-carving and high-speed beach runs, we awoke the final morning to put this UTV to the test in the rocks. We found a rocky, rutted and muddy Jeep trail built with logs and boulders to test full-sized rigs. All the big, rocky sections had go-arounds, and we only had to use one of them (I'm pretty positive the Commander would have tackled the obstacle, but I'm also positive I would have scraped a bit more paint off it than was acceptable on a loaner). These boulder and log piles required some technical driving skills, as well as the use of "low range" and all the lockers; but overall, the Commander styled everything we threw at it.
Again, the only time the Can-Am Commander got stuck is when it high-centered on a berm and the wheels were no longer touching solid ground. This time, the snow was replaced by mud. With the prodigious use of the skinny pedal, both front and rear lockers and some creative line choices, there wasn't a single recovery needed on this entire trail.
Adventure Equipped Can-Am Commander XT-P
On all these off-road adventures, we basically needed the same gear as you take when off-road in your 4×4. We brought a set of Maxtrax, an air compressor and a STEP 22 recovery kit with a recovery strap, soft-shackles, tree-saver, winch extension and pressure gauge/deflator. We also brought snacks, a Garmin inReach satellite communicator and downloaded topo maps onto our cell phones.
"UTVs can be outfitted with rooftop tents, they can jump, they can crawl and, in some states, they can even drive on the roadways."
Just as on adventure motorcycle trips, you'll need some riding gear to get comfortable behind the wheel of a UTV. The most important items are a helmet and eye protection, because most UTVs don't have windshields. I also wore motorcycle gloves, a jacket and pants with the armor removed. These cut the wind and kept the puddle splashes, spraying snow and flying mud at bay.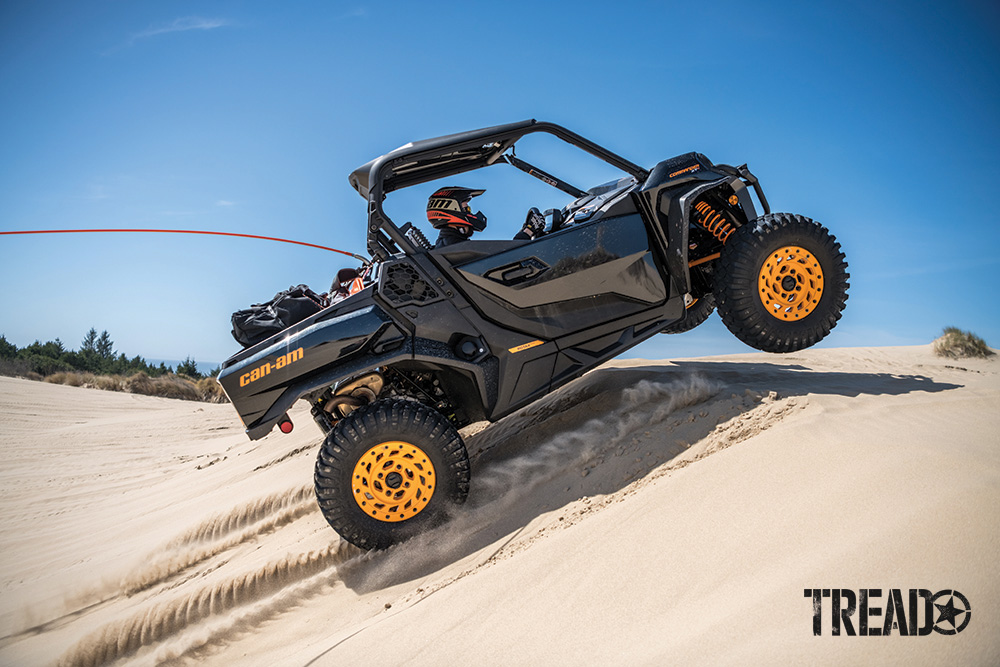 The big, glove box-like storage bins in the cabin held most of the snacks, water bottles and small items, while bigger recovery items and my camera bag were strapped into the bed. Optional Linq accessory boxes in the cargo bed kept a Giant Loop spare fuel bladder, hatchet and paper maps secure, dry and easily accessible.
UTV Pros
Let's dive into why you'd consider a sporty UTV such as the Can-Am Commander XT-P as opposed to a 4×4 or adventure motorcycle.
First, it's considerably safer than a motorcycle while also providing the open-air freedom that comes with a motorcycle or Jeep with its doors off. Next, a UTV such as this has a truly impressive performance and capability envelope well-suited for off-road adventures. You wouldn't want to jump your big adventure rig off dunes as I did with this UTV.
And that brings me to the most important (most important to me, at least) reason to adventure with a UTV—the race vehicle feeling. When driving a UTV such as this, it's hard not to have a heavy foot on the skinny pedal and get in the go-fast groove. These machines just soak up big bumps, accelerate quickly, stop relatively quickly and are incredibly nimble. They feel like purpose-built "smile machines"—and they are. The feeling of speed is always there in these vehicles, even if you never top 60 mph.
UTV Cons
The "elephant in the room," in most states at least, is that UTVs aren't street legal, because they don't have the safety systems or emissions systems required for road-going vehicles. What that means is that you'll need to have a tow vehicle and trailer to get your UTV to the trailhead.
"The Commander is the 'Swiss Army Knife' of the Can-Am UTV lineup, and The XT-P model is the off-road performance version of this versatile machine."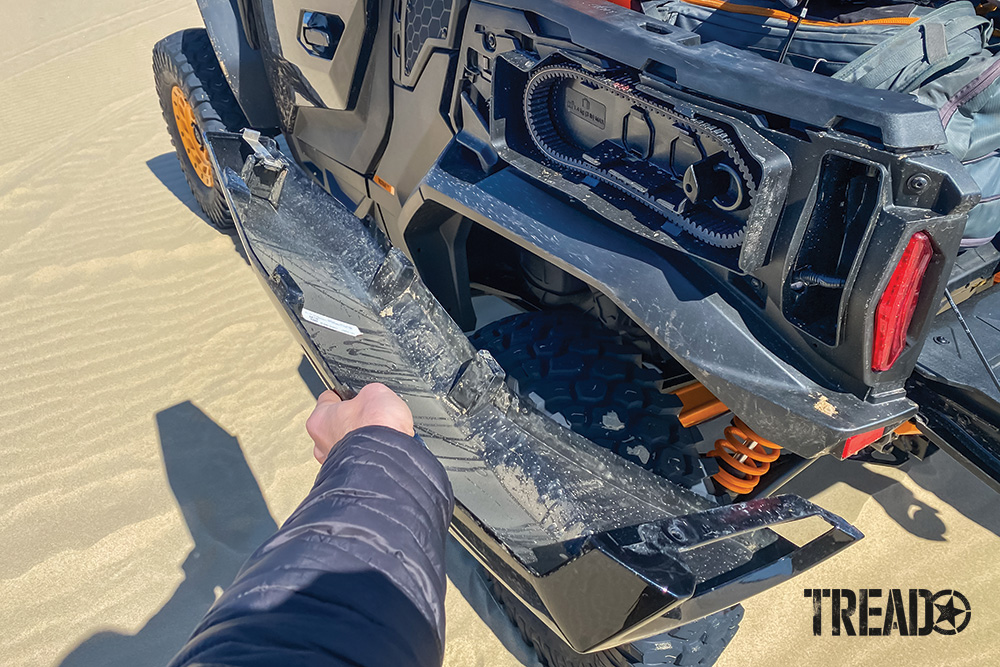 For me, that's a big downside, because I don't have a good place to store a trailer. I also generally like the challenge of driving to and from the off-road adventure with the same vehicle I take on the adventure itself. This also means you're very limited on where you can use the machine—again, depending on where you live. Here, in western Oregon, there are only a few OHV areas that allow UTVs.
UTVs also have belt drives that break pretty regularly; they aren't particularly quiet; and they have a limited carrying capacity (mostly limited by size, not payload). Sure, UTVs can carry more than motorcycles, but they also expose you to the elements as a motorcycle does—something I actually count as a pro, because I love to truly interact with the environment I'm traveling through. And, as when on a motorcycle, you'll need to bury your head in a helmet, which can get tiring after a long day bouncing around the trail.
UTV Costs
Sporty, off-road UTVs aren't inexpensive. For instance, the Can-Am Commander XT-P will set you back more than $22,000. That's less than a big BMW GS motorcycle and an all-new, street-legal 4×4, but it's also considerably more than a lot of great adventure/dual-sport motorcycles and used 4x4s.
To UTV or Not to UTV?
Is a UTV your next off-road adventuremobile? UTVs can be outfitted with rooftop tents, they can jump, they can crawl and, in some states, they can even drive on the roadways. Because I'm a current city-dweller who loves to travel long distances across the full spectrum of terrain, a UTV isn't generally the right tool for most of my adventures.
"Not only did we learn a bunch about this new machine, we also learned about the usefulness of a UTV in my life of off-road adventure."
However, with all of that said … I want one. I want one to tackle off-road terrain at speed while keeping me safer than a motorcycle ever can. I want one to use as a "budget" off-road race vehicle to tackle Baja and the best-in-the-desert race series in the southwestern United States. I want one to scare inexperienced friends and family while I stay in complete control and keep them safe. (Yes, I really do want one, but I'm probably going to buy a dirt bike instead.)
(Author's note: A big thanks to Can-Am for the early test loaner and to my good friend, Nick Schoeps, for being my stunt driver, photography assistant and adventure partner during this testing.)
SPECS
2021 Can-Am Commander XT-P 1000R
MSRP: $22,199
Dimensions: 130"x64"x75.3" and 90.6" wheelbase
Dry Weight: 1,725 lbs.
Capacities: Payload: 1,030 lbs. (600 lbs. for cargo box); towing: 2,000 lbs.; towing, fuel: 10 gal.
Power: 100 hp
Suspension: Fox 2.5 Piggyback Podium Shocks
Brakes: Twin-piston, 220mm disc brakes at all four corners
Tires & Wheels: 30" tires on 14" beadlock wheels
Accessories: Front & rear selectable locking diffs.; 4,500-lb. winch; tubular front bumper; LED headlights; half-doors; full skid-plates; full roof; rearview mirror
The Can-Am Commander UTV starts at $16,400 and comes in two- and four-door models. The XT-P is the top-spec two-door performance model in the lineup. It offers a 976cc, V-twin, liquid-cooled, fuel-injected engine backed by a CVT. You get 2WD, 4WD, Sport and Eco driving modes and even power steering.
With 13.5" of ground clearance, 14" of suspension travel, full skid plates, and impressive entry and departure angles, you get a very capable machine. Hill descent control, push button start and a 7.6" driver display make it easy to strap in and go anywhere in this UTV.
Tons of versatile cargo capacity are on offer via the dump bed with tailgate. Optional Linq storage boxes offer up convenient and secure dry storage beyond the 7.3 gallons of built-in storage (split between the dual front glove boxes, center console, cup holders and cargo box side storage compartments).