Sixth-Gen Ford Bronco: Apart From The Herd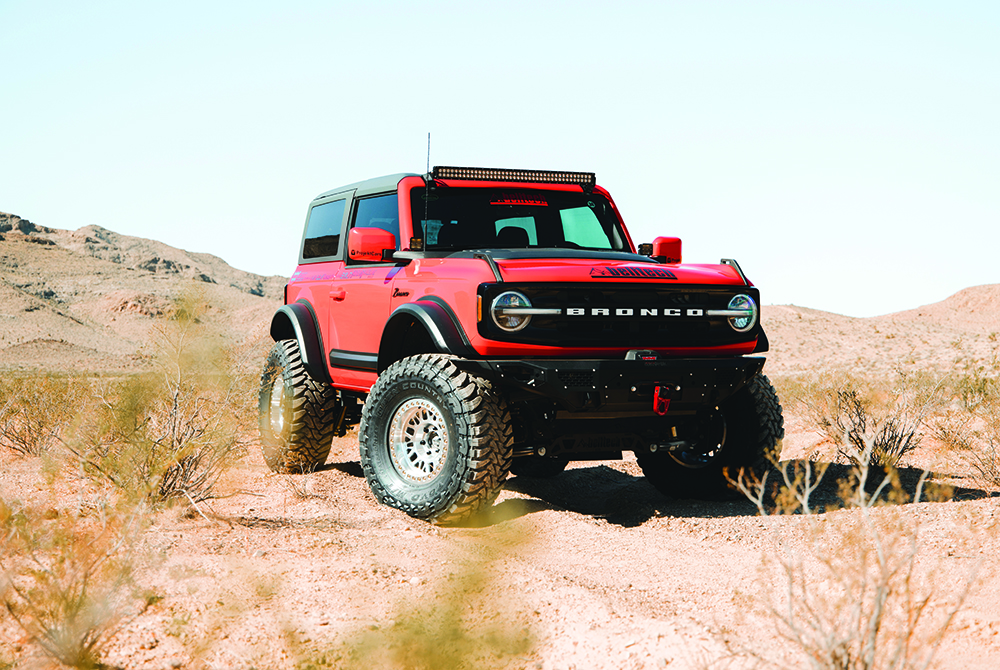 Striking Custom Sixth-Gen Ford Bronco Gets 7.5-Inch Lift
Despite delays and complications that affected everyone in the auto industry in 2021, Ford Motor Company went ahead and released a totally redesigned, off-road oriented sixth generation Bronco. The new release targets brand loyalists and thrill seekers who want to venture out of the city and beyond.
The new Bronco is a versatile, mid-sized 2- and 4-door SUV equipped with a powerful V6 turbo engine, manual shifter or a 10-speed automatic transmission, fully boxed frame, selectable 4WD, heavy duty differentials and transfer case, a solid rear axle, and independent front suspension. It has a clean design with attractive retro styling, and incorporates serious off-road capability. It has already proven to be popular and in high demand with proud owners now cruising the streets and highways, and thousands of potential buyers lining up to buy one.
Enter the Auto Aftermarket
With the help from our friends at Belltech (who we recently visited with at the SEMA show), we sourced this standout 2021 Ford Bronco Badlands to highlight upgrades one can immediately make to their new Bronco. While the stock suspension is mighty capable, those looking to take it up a notch further may find the options from aftermarket manufacturers appealing.
Because of its instant popularity, the new Bronco makes a perfect palette for the ingenuity of automotive aftermarket companies that design, engineer, and produce innovative products and accessories. It is also enticing for owners and specialty auto shops to upgrade their vehicles. Forward looking manufacturers like Belltech, based in Clovis, California, jumped at the opportunity to expand their offerings to the Bronco. They have strong, proven engineering expertise, and a history of producing high quality lift kits, modified suspension systems, body armor and other accessories. It comes as no surprise that they have designed, built, tested, and even released an extremely well-thought out lift kit and suspension package designed specifically for the Ford Bronco.
Updating A Brand New Ford Bronco
Jacob Fuller, owner of Fuller Off-Road, located in Heflin, Alabama, has been involved in the automotive industry his whole life. He eagerly anticipated the release of the new Bronco, along with many thousands of everyday people. When he first saw the new Bronco, he decided it was a fine piece of machinery but, as many shop owners would think, it needed an upgrade. With a SEMA Show 2021 debut as the goal, Jacob and his team got to work on upgrading the Bronco Badlands. He ordered a Belltech lift kit, and other parts and accessories for his bright red original 2021 Bronco build. After three months of hard work in his family-owned and operated auto shop, he had an innovative, eye-catching 2021 Bronco Badlands build with an Belltech lift kit raised up 7.5 inches to support 42-inch tires.
Lift and Protection
Belltech's combination suspension lift greatly improved the look and off-road capability and handling of his ride, which he says is designed for mild off-roading, and off-roading in general. Based on videos we have seen of Broncos in action driving off road over large boulder covered terrain, it should also be able to handle more extreme terrain with ease.
The difference between this Belltech-lifted Bronco and a stock vehicle is like the difference between sleeping in a sleeping bag on the ground and sleeping on a 10-inch TempurPedic mattress.
Protection from obstacles doing damage on the trail is important, especially when your rig is new and as gorgeous as this one. A massive Belltech front crossmember provides rigidity, and connects to the two-piece skid plate that protect the differential and oil pan. Bodyguard Baja front and rear bumpers provide front and rear body protection, with the front bumper concealing an integrated hidden Warn Zeon 12,000-lb. winch. Bodyguard Baja rock sliders protect the sides and bottom where trail damage is most likely to occur. Also, a Spare Tire Delete by Bodyguard is used to keep the rear end of this custom Bronco looking clean and simple. Extra special protection to the paint job is added with an Xpel full body protection film completed by Glasslife in Atlanta.
Rounding Out The Upgrades
To round out the look, Jacob also added a curved Rigid 40-inch light bar on the roof, 4-inch round cowl lights, a 20-inch straight bumper light on the front, and Ignite front and rear floods, a combination that will ensure excellent visibility in the back country, even on dark remote trails.
The Bronco's Ford Ecoboost 2.7-liter V6 turbocharged engine, puts out 315 hp and 350 lb.-ft. of torque. Coupled with a 10-speed automatic transmission and stock 4:L46 gearing, it proves more than adequate performance to turn the 22-inch KGI Trident wheels with OMF Similock and Nitto Trail Grappler 42×15.5×22 tires on a trips Jacob took on the highway between Paris, Texas and Alabama, and while navigating favorite desert trails surrounding Las Vegas, Nevada. (Ford states that using only synthetic oil is a must for this small-displacement, high-performance engine. It can run on regular gas, but horsepower may increase when using premium fuel.)
To highlight the red paint job, parts were powder coated to accent and add personalization. Powder coating by Warriors Powder Coating was applied to the suspension for extra protection and a pop of color. Meanwhile, the wheel powder coating was done by BCC Customs in Cleburne, Texas.
Standing Out From The Herd
We chose to showcase Jacob's Bronco because this is no ordinary looking Bronco. It's a unique, custom-built, highly functional, eye-catching vehicle that will put its owner into an elite group of Bronco owners who want to stand out from the crowd. They expect the best combination of looks, style, quality, toughness, off-road performance, reliability, serviceability, and safety available—Jacob is no different. The difference between this Belltech-lifted Bronco and a stock vehicle is like the difference between sleeping in a sleeping bag on the ground and sleeping on a 10-inch TempurPedic mattress.
"[This Bronco is] a unique, custom-built, highly functional, eye-catching vehicle that will put its owner into an elite group of Bronco owners who want to stand out from the crowd."
A well-designed high quality suspension system is mandatory for any well-modified 4WD vehicle, because it's where the vehicle meets and interacts with the road or terrain. A high quality lift kit like Belltech's will ensure peace of mind, provide an enjoyable off-road experience and eliminate potentially expensive problems later on. The installation of the Belltech lift kit on the 2021 Ford Bronco improves handling, and adds clearance for larger tires that will increase traction and contact patch both on and off road, something Jacob knew was necessary.
Final Thoughts
Overall, we think Belltech has designed and produced an excellent suspension upgrade option for the Ford Bronco. It is one that any owner would be proud to install or have professionally installed by their local off-road performance builder. Many thanks to Jacob Fuller for building and sharing his striking custom one-of-a-kind Ruby Red lifted Bronco with us and our readers. We look forward to seeing it out on the trail and hearing how these upgrades heighten the already exciting Bronco driving experience.
---
BELLTECH 4"-7.5" LIFT KIT
Taking it higher, Belltech came out with a 4- to 7 ½ -inch lift kit for the all-new Bronco. The Belltech lift kit is designed with great attention to fine tuning and detail. It maintains factory OEM front end suspension specifications and enhances the strength of the major components, while protecting the vulnerable brake lines and hoses. It positions the brake lines and hoses up high and out of the way where they will not be damaged by the articulation of the lifted suspension system, even on the toughest and most challenging roads and trails. The two-piece skid plate also does not interfere with the articulation of the suspension system, which can always move freely during difficult off-road maneuvers.
A major factor of how the Belltech lift kit excels over the average kit lies in being able to preserve factory OEM suspension geometry and performance characteristics with as much as a 7 ½ -inch lift and up to 42-inch tires. The coil over shocks are easily adjustable with a provided spanner wrench to adjust ride height as needed on the road, in the field, or at the trailhead, depending upon the type of road or terrain you are planning to be driving on. Keeping OEM geometry helps to maintain alignment, reduce increase suspension wearability, and reduce tire wear on expensive all-terrain or mud-terrain tires.
Maintaining Vehicle Performance
A roll center correction bracket, custom spindles, a differential drop, and massive 2-inch sway bars ensure that the inherent OEM drive-ability, durability, longevity, safety, and overall performance of your vehicle is maintained. Real-world testing of all the installed components was done off road by Belltech in Moab. Steep inclines, rugged, sandy boulder strewn terrain, and difficult obstacles were driven over repeatedly to fine tune how every part of the lift system was manufactured. Two-inch thick control arms and track bars are used to protect factory parts from damage and costly repairs. They also greatly enhance the off-road capability and roll resistance of the Bronco on steeply angled terrain and in various challenging conditions. The newest version of the Belltech lift kit is limited to a maximum of 7 ½ inches, which will accommodate 35-inch wheels up to 42-inch wheels.
Belltech engineers safety and excellent ride quality into all their products, ensuring that you will not be disappointed by poor handling. No cutting, welding, or bending is required to install all of the Belltech components, preserving the value and integrity of your investment. The Belltech lift kit keeps the factory track width and turning radius, which is advantageous and safer when exploring narrow back country trails where turning around is often difficult, or can be almost impossible. Belltech stands firmly behind their products, and the lift package features a lifetime warranty that covers you no matter what. Planned to release in March 2022, the lift kit is available now on presale.
Editors Note: This story originally appeared in the March/April 2022 Issue of Tread Magazine. 
---