Deadman Offroad Tundra in the Desert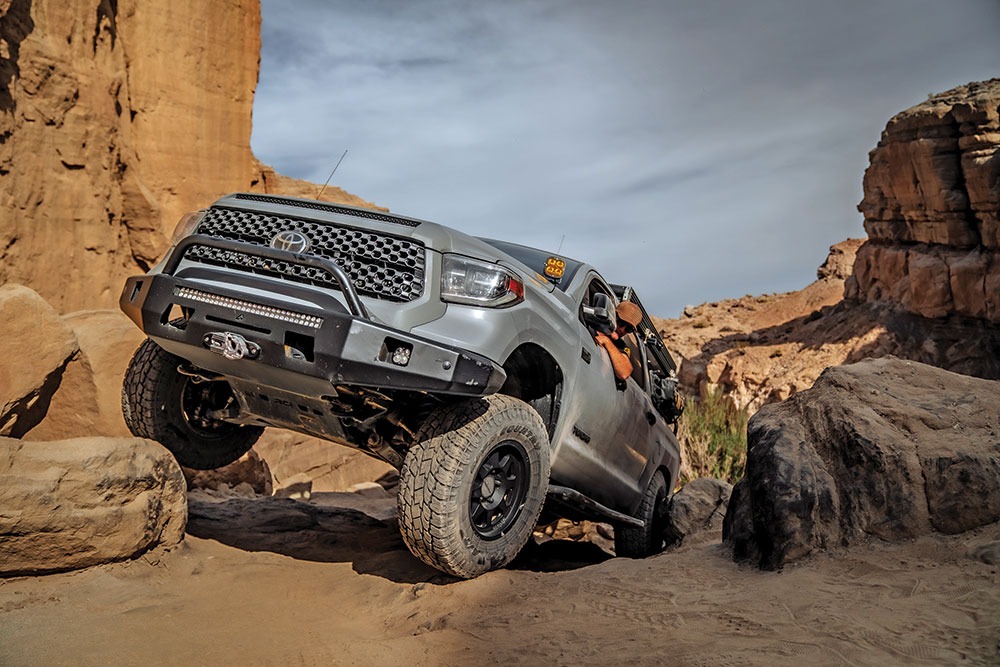 Samuel Dean's Deadman Offroad 2018 Toyota Tundra SR5 takes control of desert challenges.
Many times, the foundations of one's life, dreams, and ambitions for himself and his family have roots in  memories of his youth. That's certainly true for Samuel Dean. He started taking his six kids camping in a minivan, but in 2016, he bought a 2014 Tundra. It was much better for hauling a 30-foot trailer and carting along the kids' bikes and extra gear. It was kismet that one day, while at his daughter's dance class, he met Bryant White. His first-gen Sequoia, parked in the lot on 35s, sporting KC Lights and a snorkel, caught Samuel's attention. Bryant also had six kids, and they also enjoyed camping and all things wilderness adventure. A friendship sparked and, soon, wheels were turning, figuratively and literally.  Samuel and Bryant become good friends, with Samuel joining Bryant at Deadman Offroad; after that, the rest, including Samuel's 2018 Tundra, was history.
Samuel adds: "As cliché as it sounds, I feel I owe an obligation to my family and my kids to help make the same memories possible for them." From these camping adventures as a kid came the desire to continue the tradition with Samuel's own children. "Despite the challenges of coordinating busy schedules, we make it a priority to take at least one two-week trip every summer and as many weekend trips as we can to the local mountains and deserts."
Making Cherished Memories
The Siskiyou Mountains sit perched at the feet of the Klamath Mountains that straddle the California-Oregon border. It's a cold and wet range of coastline, but it's home to many memories for Samuel. Interstate 5 cuts through these hills at Siskiyou Summit, with Oregon and the Pacific Northwest on the distant horizon. Many consider this stretch of freeway the most treacherous in the Interstate highway system.
That's where Samuel Dean developed his first memories of his dad's truck. "Growing up in the Bay Area, I was fortunate enough to be able to go on annual camping trips into the Sierras and throughout the Pacific Northwest. My dad had an old Chevy K5 Blazer that faithfully got us and our boat up over the Siskiyou Mountains into southern Oregon year after year."
From these camping adventures as a kid came the desire to continue the tradition with Samuel's own children.
Holiday Inn Amenities
The impetus behind Samuel Dean's build was to have a trophy truck able to surmount the dunes of the Baja 1000 while offering the hospitality of a five-star hotel. "I've since come to terms with the fact that long-travel suspension likely isn't a necessity," admits Samuel, "but having the ability to crawl a little and still have fun in the whoops is a requirement for me." Like most overlanders, having a vehicle that can handle moderate off-road duties is paramount. Samuel adds, "The trips we go on most often are just a weekend in the deserts of SoCal, so being able to be off-grid for a night or two without sacrificing too much comfort is important."
As cliché as it sounds, I feel I owe an obligation to my family and my kids to help make the same memories possible for them.
Building the Deadman Tundra
The 2018 Toyota Tundra SR5 you see here combines true comfort with the offroad capability we've come to expect from Deadman. Samuel began modifications soon after he purchased it and, for the last four years, has been steadily making additions to increase efficiency, mobility, and comfort for him and his family. The big changes came after a particularly disastrous trip to Plaster City in the south end of California's Anza-Borrego Desert.
In an attempt to keep pace with friends in trucks with long-travel suspensions, Samuel pushed his three-month-old truck further than he should have. "Twenty minutes later, the fast pace on the whoops took its toll on my stock shocks—exacerbated by the spacer lift—and both front shocks failed from the stress.  Now we were driving a severely disabled truck, miles from pavement with no comms to reach anyone for help. I learned a lot as a driver, but the parent in me realized how quickly a few bad decisions can turn into a potentially life-threatening situation despite being with a group in a brand-new vehicle."
Modifications were necessary if Samuel was to keep up with his friends on their next adventure.
Over the Bumps
One of the great things about Toyotas is their bulletproof engines, so it is no surprise that most overlanders who own Toyotas leave their engines and transmissions relatively stock. There is no sense messing with a proven setup. The 5.7-liter V8 is much too new to require a rebuild or an upgrade to eek out more horsepower than the stock 381 it was born with. As well, the six-speed auto and differentials still have plenty of perk left in their gears. Instead, Samuel shifted his focus from power to strength and maneuverability by upgrading the suspension.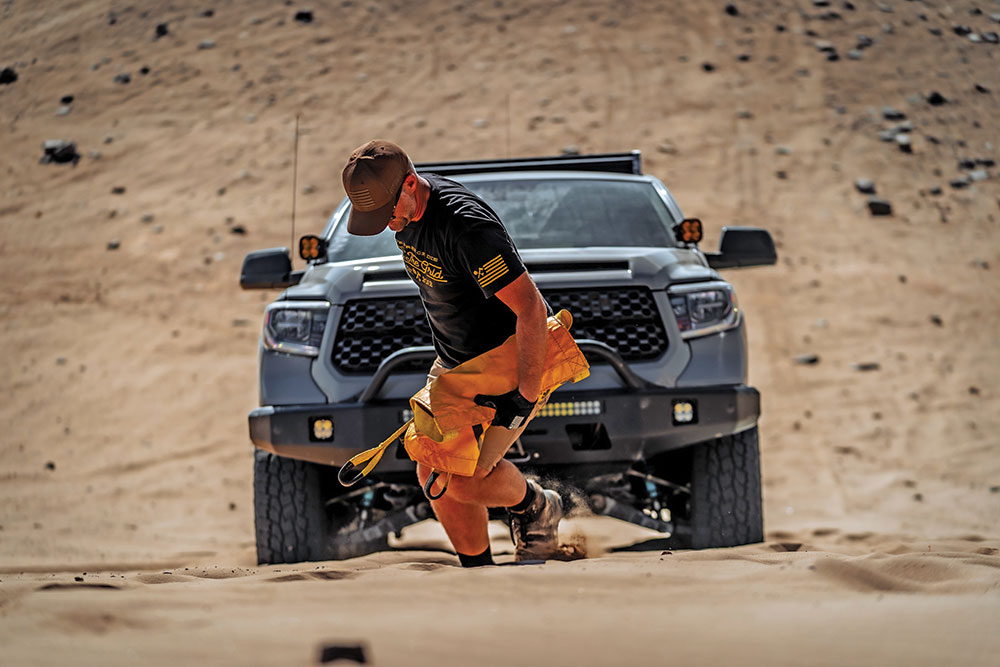 Getting Stronger
With help from Matt at SoCal Fabrication, Samuel had the stock suspension systems on all four corners removed in exchange for ones that can better handle what he had planned to throw at this Tundra. On the front were fitted King 3.0 coilovers with 2.5-inch, three-tube, bypass piggyback shocks that feature one compression tube and two rebound tubes for full control of travel in both directions. To help with more clearance and to make room for the larger-diameter coilover shocks, Samuel upgraded the upper and lower control arms with units from Total Chaos Fabrication in Corona, California. SoCal Fabrication also did the custom hoops.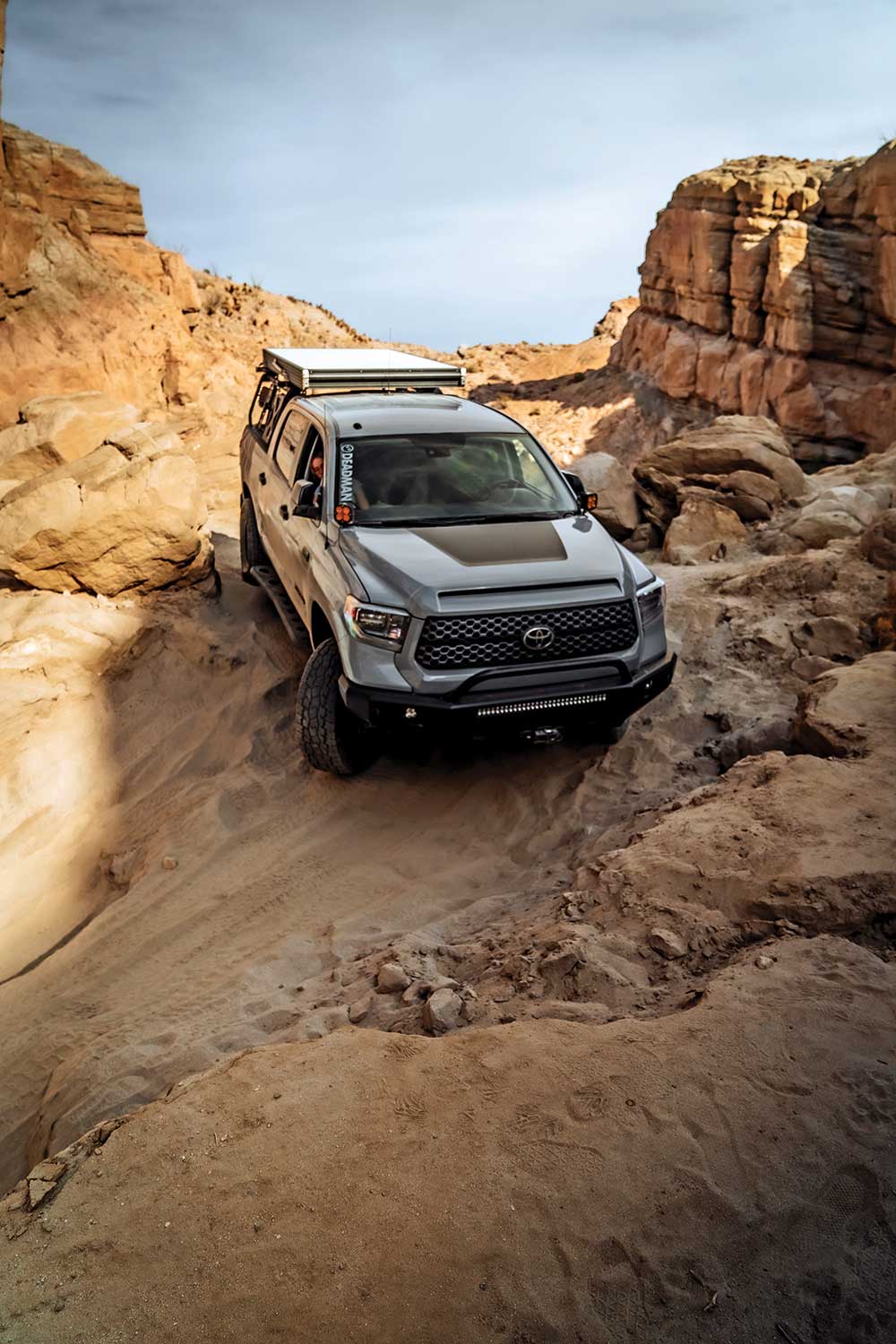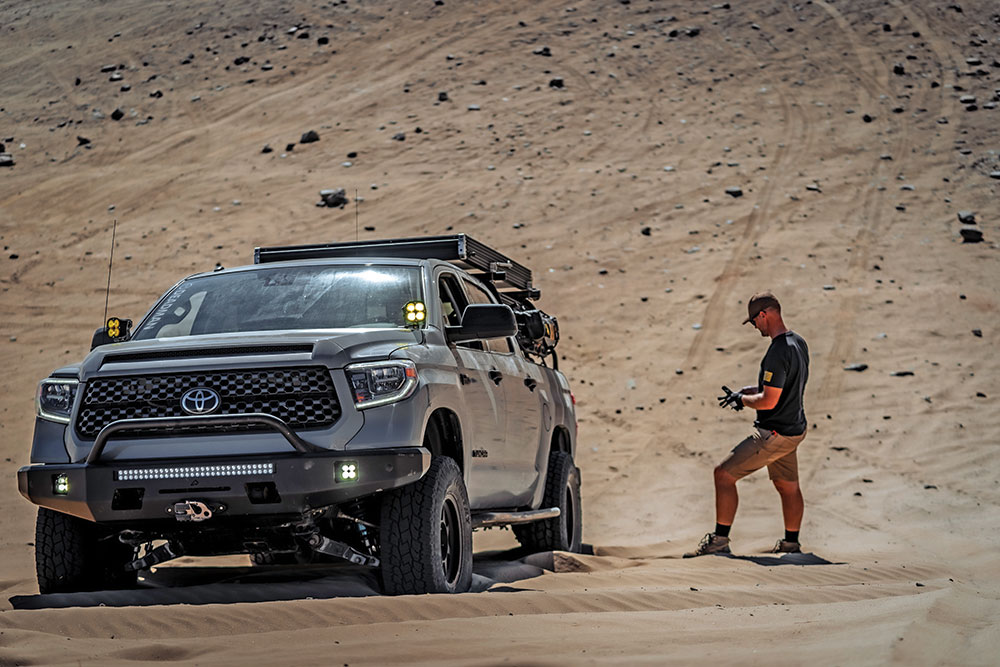 In the rear replacing the stock, beefier model leaf springs handle the extra weight of the camping gear and the off-road/recovery equipment necessary for successful excursions. In their place was a set of Deaver Suspension leaf springs from their Progressive Series. The nine-leaf springs allow for more flexibility and a smoother spring rate. Paired with a set of King shocks, this Tundra will have no problem hitting the trails and navigating whatever obstacles are in its path.
Tires/Wheels
It goes without saying that ditching the stock tire/wheel setup is a must for serious overlanders. This is even more true if you plan to upgrade the suspension. To match the new stance and lifted profile, Samuel contacted Method Race Wheels to obtain a set of Trail Series 701 wheels, sized in 17 x 8.5 with -17 backspacing for the 5 x 150 bolt pattern. In Matte Black, the 701s are perfect for airing down the tires to pressures that would normally require a beadlock, but these feature Method's Bead Grip which keep the tires from debeading.
The trips we go on most often are just a weekend in the deserts of SoCal, so being able to be off-grid for a night or two without sacrificing too much comfort is important.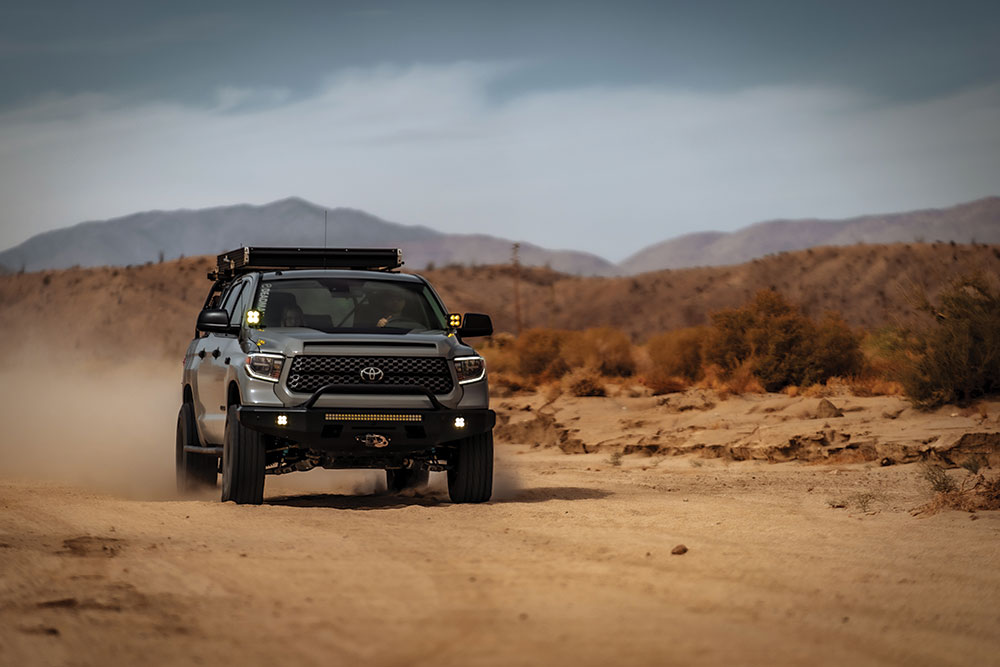 Speaking of tires, the Trail Series 701s are wrapped in Milestar Tires Patagonia M/T, which feature off-center tread blocks and biting sidewall tread. The 37 x 12.5s are perfect for casual mountain paths, sandy deserts, and even occasional dips in the mud.
Armoring Up
The point of an off-road beast is to experience the vistas visited by few. In doing so, you're more likely to find yourself stuck, or push the envelope farther than your vehicle's capabilities. In that case, the Deadman Tundra has all the equipment it needs to protect itself from high-centering and soft terrain. The RCI Off Road skid plates attached under the frame keeps errant rocks and trail hindrances from causing havoc with any sensitive underbelly components. RCI Off Road's Engine Skid Plate protects the full front of the engine, from the diff to the oil pan to the radiator cross-member.
Replacing Toyota's stock bumper up front is paramount if a truck is going to see any crawling action or if there are plans to include a winch. Samuel was able to score the very last set of PelfreyBilt bumpers for a Toyota Tundra ever made. The company filed for bankruptcy in 2018, and since then, several companies have been selling off the last of its inventory. Samuel was able to snag the last of the last, a fully-enclosed steel bumper with an integrated bullbar and cutouts for spots, a lightbar, and the ComeUp USA winch. Samuel was also able to grab a pair of PelfreyBilt sliders to protect those vulnerable rocker panels.
To turn the darkness into light, a C-series KC HiLites 30-inch light bar was fitted into the bumper and a pair of Baja Designs XL-80 ditch lights were mounted on the A-pillars.
Comfort and Accommodations
A weekend in the dunes or a holiday spent on the desert trails wouldn't be comfortable or as enjoyable if it weren't for a few creature comforts Samuel has brought along the way. Adventure Power Solutions provided the design and installation of the solar system to keep the lights on when unplugged and disconnected from the real world. A Goal Zero power pack is kept topped off by a SunFlare solar panel system. The rig's multimedia and navigation duties are managed by a Kenwood 1037dx head unit, while the auxiliary equipment, such as the lights, are controlled by Switch Pros' SP-8100 eight-switch power system.
Since Southern California is well known for its year-round sunshine that can sometimes be a little overbearing, a Kinsmen Hardware awning has been employed on the Deadman Tundra. The 270-degree awning provides shade in all directions. When night falls and the Sandman comes, the family can settle down in the GFC platform tent mounted on top of a Leitner first-generation Active Cargo System. The sliding load bar and gear pods provide a cornucopia for his gear. And if that wasn't enough, Samuel bolted into the bed of the Tundra ROAM Adventure Company's 95L and 83L rugged cases for even more storage.
Wrapping Up
What started as a boy going on traditional camping trips with his family in the Pacific Northwest has evolved, as it does, to a man with his own family heading out into the outdoors. Samuel Dean has built a truck that withstands what nature can throw at it with style and comfort.
Samuel couldn't be happier with his setup. "The tent/awning combo is just awesome. Both the GFC and Kinsmen awning deploy within a couple of minutes of arriving at camp, so they allow me to set up and tear down very quickly and move on to more critical things like food prep. After a long day on the trail, my back is usually in knots, so easy camp setup is key."
---
Deadman Tundra Upgrades
2018 Toyota Tundra SR5
Engine: 5.7-liter, iForce V8, 381hp; six-speed auto transmission
Suspension: King 3.0 coilovers, 2.5-inch, three-tube bypass shocks, Total Chaos Fabrication upper and lower control arms, Deaver U748 rear leaf springs
Wheels & Tires: Method Race Wheels Trail Series 701, 17 x 8.5, -17 backspacing, 5 x 150 bolt pattern; Milestar Patagonia M/T tires, 37 x 12.5
Interior Accessories: Kenwood 1037dx head unit, Switch Pro SP-8100 eight-switch power system, Goal Zero power pack, SunFlar solar panels
Exterior Accessories: KC HiLites C-series 30-inch light bar, Baja Designs XL-80 ditch lights, ComeUp USA winch, Leitner Designs first-gen. ACS, ROAM Adventures Company 95-liter and 83-liter storage boxes, PelfreyBilt bumpers and skid plates, GFC platform tent, Kinsmen Hardware awning
---
Editor's note: A version of this story previously appeared in the Tread July/August 2022 issue.