American Tacoma: A Purpose-Built Adventure Machine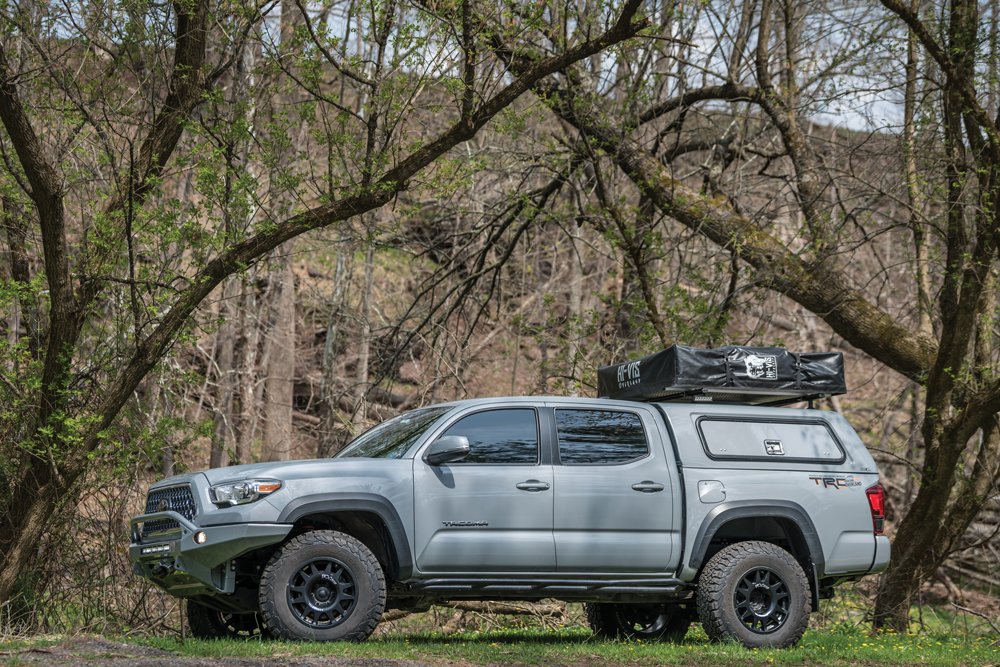 Big Adventures Ahead for This Clean and Functional Tacoma Build
Ed Hanna plans to cross America on dirt with his wife Michele and his trusty Tacoma this summer. He's already done the TransAmerica Trail (TAT) on an adventure motorcycle, but wants to share its American treasures with his wife. A major back injury, recent retirement from the police force, sale of his house, and a proven and well-sorted Tacoma have readied Hanna for the overland adventure of a lifetime.
Devastation
One night in the Fall of 2014 Hanna had a career-ending back injury while making an arrest as a police officer. He had been researching a big motorcycle adventure to South America, but this injury stopped those plans before they could get rolling down the road.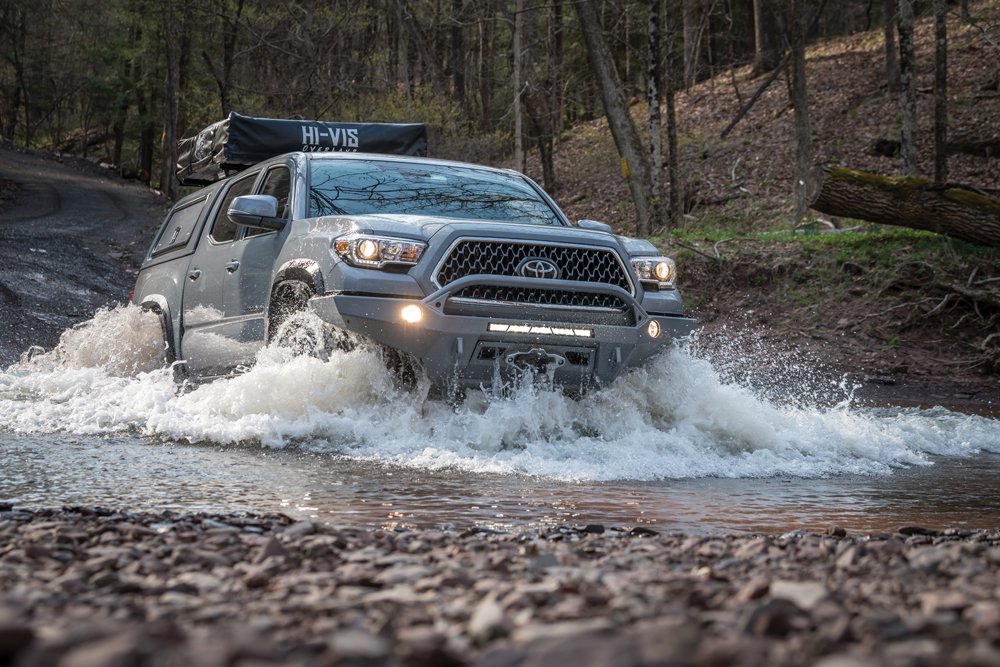 A year's worth of physical therapy, medications, and spinal injections had little effect on Hanna's disabling back injury. The whole time confined to a recliner to alleviate the pressure from his lower back. The sedentary life was driving him mad. Eventually, he went the surgery route. After only a few more weeks, and more focused PT, he was feeling much better. He promised his wife, and himself, that big positive life changes were coming soon.
Adventure Calls
By spring of 2017, Hanna was starting to feel his normal adventure-ready self. He decided that the time had come to realize his epic overland adventure dreams. He figured that a good start would be a two-wheeled adventure on the TAT, from Tennessee to Oregon on dirt. He kitted out a new Honda Africa Twin, took some off-road riding lessons with Pine Barrens Adventure Camp, and took off on a two-month cross-country solo adventure.
Without even realizing it, the trip became more about the experiences than the riding itself. This is the overland adventure Hanna was craving all those years. After the trip, all he could think about was finding a way for his wife to get the experience he did on those remote dirt roads and tiny American towns, and get more of the same for himself.
Four-Wheeled Answer
There was no way Hanna was going to get his wife on a motorcycle for that long of a trip. After evaluating the options, he settled on doing nearly the same trip, but on four wheels instead of two.
Hanna already owned an F-150, but figured it was just too wide for the off-road trails around his home in Pennsylvania. Because of that, their legendary reliability, and Hanna's experience owning a 1990 22RE powered pickup, a new Toyota Tacoma was the obvious choice.
In April of 2018, Hanna traded in his F-150 for a brand-new Tacoma TRD Off Road Double Cab. The truck is not only his adventure rig, but his daily driver in the congested urban landscape around Philadelphia. An automatic transmission was the answer to the stop-and-go traffic, and Hanna's back and knee issues. The Cement color paint on the truck offered a clean look, and would better hide the inevitable pinstriping from the tight off-road trails ahead.
The Build-Out Begins
The first order of business for this new adventure rig was to create secure storage out of the weather and a comfortable place to sleep. A color-matched ARE CX series bed cap, with a roof top tent (RTT) on top, was a great solution to accomplish these tasks.
The ARE cap features an internal metal skeleton that connects to the rack on top. This allows it to securely handle more weight, as the rack weight isn't on the fiberglass cap itself. Hanna ordered the cap with a solid door on the driver side, to easily access items in the back of the bed, and a built-in toolbox on the passenger side, which houses all the essentials for off-road recovery and repairs.
A RTT was the next order of business. The tent would mount atop the solid rack on the ARE cap. After extensive research, Hanna went with a Hi-Vis Overland Crag2 RTT. He chose this tent for its value price, durable construction, integrated annex, and because a portion of the profits from each tent sale goes toward military veteran non-profits.
Call In the Experts
At this point in the build, Hanna knew he needed help to make the right choices. He turned to the brothers at Main Line Overland (MLO) for their expert advice, impressive product selection and quality service.
Hanna had met Tom Henwood back in 2016 while taking the off-road motorcycle course with Pine Barrens Adventure Camp, which is held on the Henwood family farm. That event was Hanna's first introduction to overland vehicles in general. To top it off, MLO's main shop in West Chester, Pennsylvania, was only a mile from Hanna's house.
After a few meetings at the shop with Matt and Pete Henwood, the other two brothers of the trio, a comprehensive-build program was put together for the Tacoma. The first order of business was to sort out the suspension, wheels, and tires. The custom MLO GTS suspension system was installed to both handle the extra weight of everything going on the Tacoma and improve the ride quality when off road. The suspension also raises the truck a few inches, which allowed the fitment of 17×8 Evo Corse Dakar Zero wheels wrapped in 32.7×11.2 BFGoodrich KO2 E-rated tires. To make sure the alignment stayed true, SPC upper control arms were also fitted up front.
An aluminum CBI T3 front bumper with short center grille guard was next. Hanna color-matched the bumper to the truck in his home shop before MLO finished the bumper install with a Warn M8000-S winch and 20-inch combo LED light bar. MLO also installed bolt-on rock sliders from CBI.
Finishing Touches
Now that the Tacoma was ready to tackle the trails, had a place to store gear out of the weather, and had a built-in shelter, it was time to dial-in the camping systems and final touches. The first task was building out a drawer system in the truck bed. Hanna just couldn't justify the price of the units on the market, so he built his own out of plywood. The system features one large deep drawer on the passenger side and a fridge/stove combo slide on the driver side.
For the fridge, Hanna went with a Whynter FM/45G unit, which he actually chose because of the fridge comparison article in the July/August 2018 Issue of this magazine. It was the right price point, and a much better option for overland travel than a traditional cooler that requires ice.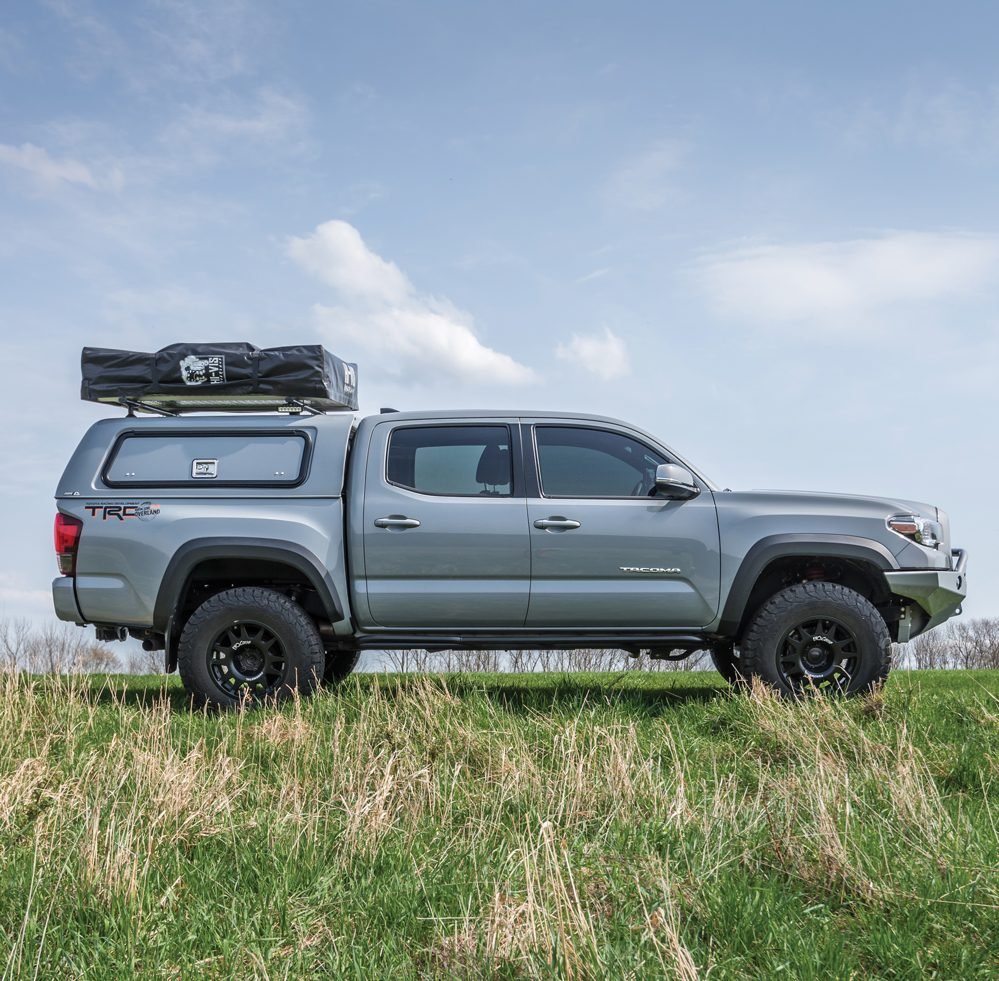 For the stove, Hanna refurbished a unit that his father gifted him many years ago. It is a 1978 Coleman 425e, with propane conversion. Hanna stripped it down and repainted it orange to match the accents on the truck. The propane conversion was done to make life easier on the road, as the white gas/pump system was just too messy to deal with in the back of the truck.
Next up on the to-do list was addressing the electrical system. With the fridge and auxiliary lighting, more power would be needed. Hanna built a dual-battery system utilizing an Odyssey Xtreme series group 35 starter battery, Odyssey Xtreme series group 31 house battery, and Off-Grid Engineering battery tray. The batteries are all on their own circuit breakers, and the auxiliary lighting is switched via a relay system underhood.
Nav and coms were the finishing touches. Navigation duties are handled via an 8-inch Samsung Tablet running GAIA software. The tracking details are handled by a Garmin InReach. Both are mounted to a RAM mount system on the dash. Communications are handled through Midland X-talker GMRS handheld radios, with a Yaesu 2 meter HAM radio system on stand-by once Hanna takes his HAM radio test.
Adventure-Tested Tacoma
After some local explorations and big guided off-road adventures in both Vermont and New Hampshire, Hanna is confident that his Tacoma is up for the adventures ahead. The MLO GTS suspension and BFGoodrich KO2 tires are a great setup that soaked up everything he could throw at the truck. Smooth and controlled on the highway and super capable off road.
Big boulders and slick trails couldn't stop this Tacoma. Hanna has already tackled things he never thought a truck of this size and build could handle, but it took everything in stride and hasn't been stuck yet. Hanna says the factory rear e-locker is an impressive and useful tool to have at your disposal, to use just before you truly get stuck.
TAT On Four Wheels
Hanna is hoping to start his four-wheel TAT adventure in mid-July. He's been keeping an eye on the alpine passes in Colorado and knows that they will be closed for some time, as this was a big snow year. Since he's done the TAT already, he's planning a highlight tour of sorts with his wife.
He'll first show her the beautiful fields and rolling hills of Tennessee and Arkansas, and then move on to the remote New Mexico desert and towering mountains of Colorado. After a stop in Los Angeles to visit their son, they hope to head north to Alaska and beyond.
The Future For Hanna's Tacoma
While already well-appointed, adventure builds are never truly complete. The big upgrade coming soon for this Tacoma is a rear high-clearance bumper with a swing-out spare tire carrier and fuel and water storage. A roof rack and awning atop the truck are also future aspirations.
There are big adventures ahead for this clean and functional Tacoma build!
Editor's Note: A version of this article first appeared in the July/August 2019 print issue of Tread Magazine.