Hummer EV: Off-Road Supertruck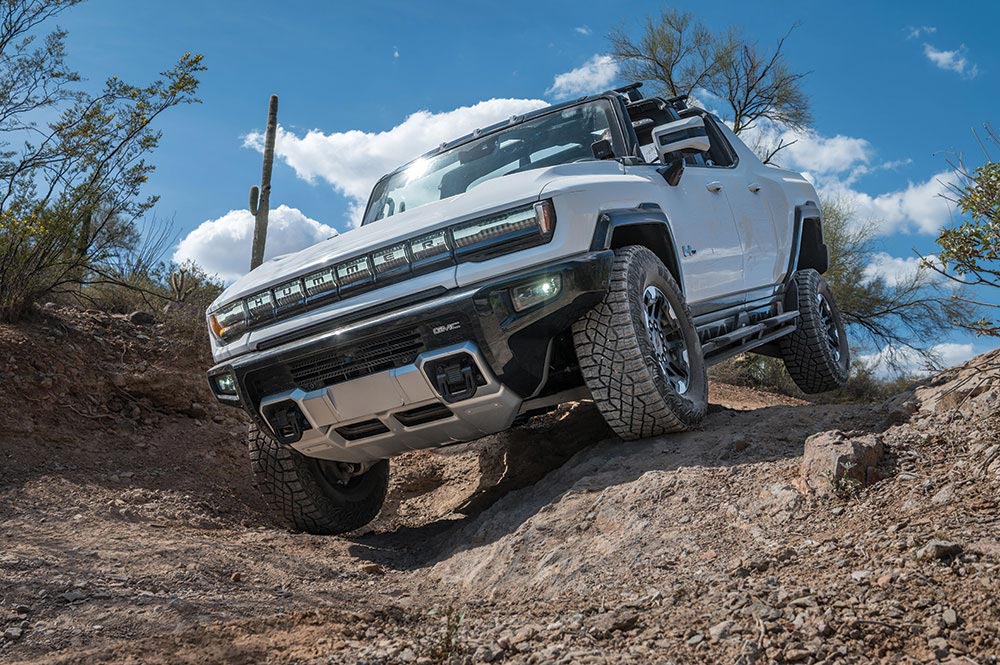 Testing the GMC Hummer EV off-road
We got to spend two days in Phoenix, Arizona, with the GMC Hummer EV Edition 1 truck at the media drive event. Not only did we get to play with it off-road in the desert for a few hours, but we also experienced it on two groomed off-road courses, a small drag strip, and a variety of roads, from city streets to an interstate highway.
In that time, we played with all the buttons, sat in all the seats, crawled in and under it, and spoke with its designers and engineers about all the details of what GMC calls the first "supertruck." We learned a lot about its off-road and overland worthiness through this experience. Let's dive in.
Important Numbers
First off, you can't put a camper on this truck, both because of its bed design and because it says so on a sticker in the glove box. While it weighs in at 9,243 pounds and is 86.7 inches wide and 135.6 inches long, it can only carry 1,307 pounds and tow 7,500 pounds. Besides its massive curb weight and size, those are tiny numbers for such a big vehicle.
Where the Hummer EV shines is with its electric powertrain, which offers up 1,000 hp, 11,500 lb.-ft. of torque, and 329 miles of range. Even with its heft and 35-inch A/T tires, all that power motivates the truck from a standstill to 60 mph in an astonishingly fast 3 seconds. Yes, we tried the Watts To Freedom (WTF) launch control, and it is like launching into hyperdrive.
And yes, 37s will fit without a lift.
Driving Modes
Since this vehicle is full to the brim with tech, especially in the powertrain and drivetrain, we need to talk about the various off-road driving modes on offer, as they greatly change the driving dynamics of the truck.
Off-Road Mode
This mode is oriented towards higher speed loose surface off-pavement excursions, something this truck is very proficient at. Terrain Mode, on the other hand, is for use in technical terrain where speeds are slower.
Off-Road Mode is oriented towards higher speed loose surface off-pavement excursions, something this truck is very proficient at.
Terrain Mode
When traveling below 8 mph, the truck drags its friction brakes aggressively for a near one-pedal driving experience, which offers up impressive low-speed crawling control. Think of it as automatic left-foot braking, while impressively this truck also allows you to actually left-foot brake in any drive mode without cutting power.
Also, in Terrain Mode you get the most aggressive four-wheel steering, with the rear tires turning 1.2x the front, up to 10 degrees. Four-wheel steering is active in all modes and makes this big, long wheelbase truck very maneuverable. The system does take some getting used to, though, as the path of the tires is considerably different than a vehicle without the rear-steering.
Crab Walk Mode
Because of the four-wheel-steering system, GMC can also offer the much-talked-about Crab Walk Mode. While very amusing to experience, it really only has one practical application off-road—climbing back onto a road/trail when a soft shoulder sucks your tires off the hardpack.
The truck does have a full-time AWD system, with two motors in the rear and one up front.  While there is no two-speed transfer case to shift into low range, there is an "L" drive selection that simulates low gearing by heavily dragging the friction brakes. While it sounds hoaky, it actually works quite well.
Off-Road Capability
One of our favorite features of the Hummer EV is the fully independent suspension with adaptive dampers and adjustable ride height airbags. The system not only offers four ride heights but also impressively smooths out the ride over all but the harshest of terrains.
Hard goods for off-road adventures include Boron steel skid plates, proper rock sliders, front and rear recovery shackles, and front and rear selectable lockers. While the front locker is an e-locker, the rear is a virtual locker, which keeps the rear axles, one from each rear motor, spinning at the same time.
Tech Infusion
With a tall hood, short greenhouse, and chunky roof pillars, the Hummer EV isn't an easy vehicle to see the trail from. Luckily it offers up to 18 camera angles, which display on the 13.4-inch infotainment touchscreen at any speed when in Terrain or Off-Road driving modes. The undercarriage cameras even have sprayers that keep the mud and dust off for a clear view.
Off-Road Upgrades
Don't worry about water either, as the Hummer EV offers a solid 32-inch water-fording depth, which shows just how waterproof and dust-proof all the electrical systems are. The battery pack even uses a waterproof, breathable membrane pressure valve to let air vent when temps and altitude change and to keep out water.
A fun and useful built-in feature is the Air Down Mode in the infotainment system. Just set your desired tire pressure on the screen and the truck honks at you when that pressure is reached.
Open-Air Driving
While removable roof panels aren't new to off-road vehicles—Wrangler, Gladiator, and Bronco all have them—they haven't been found on a fullsize truck before. Open-air off roading is all kinds of good fun, and the removable infinity roof panels offer that option.
While we're not a fan of the smoked panels without a shade option which lets midday sun glare into the cabin, we are a fan of the tidy E-trunk storage program for the panels that is quick and easy to use. Sadly, the roof panels can also offer up a bit of a wind whistle to an otherwise very quiet cabin. GMC also offers roof rack crossbars which work with the roof panels removed.
Another very cool open-air motoring feature of the Hummer EV truck is the retractable rear window, just like you'd find on a Tundra or old Avalanche.
While the truck bed is puny, at only 5-feet long, it has the super cool and useful GMC MultiPro tailgate system. The tailgate can even be optioned with a Bluetooth Kicker sound system to keep the tunes pumping when you get to camp.
Poor Driver Ergonomics
While the super tall floor is disguised well in the design, it is very noticeable from the driver's seat. It is so tall because there is a double stacked battery system in it, which sadly makes for a really poor driver seating position—dare we say worse than a Tacoma—but luckily still offers plenty of legroom.
The other big fail is the plastic Hummer EV logo and raised stitch seam that seems to run right across your shoulder blades, no matter your torso height. The bottom seat cushion is also quite firm, although the driver's seat adjustability is satisfactory. Tall drivers also won't like that the steering wheel doesn't telescope out very far from the dash.
Annoying Computer Overlords
While all the tech is great, it can also be very annoying. Here are a few examples of supertruck tech gone wrong when off roading.
If the truck is on and you open the driver's door, even when in Park, there is a loud beep. While a smart safety item in most situations, it gets very annoying when getting in and out of the truck, something you might do often when off road to check trail conditions, take photos, and so on.
When the Auto Park Assist system—basically auto parallel parking—is active, which is the default setting, then the driver's seat vibrates any time the truck gets near a bush or big rock when off road. You will probably want to disable this feature each time you leave the trail, like we did, which is easy through one touch of a piano key on the center stack.
Maybe the most annoying safety nanny of them all is the low-speed, outside pedestrian warning noise that is a requirement on all EVs. Sure it's a good idea in the city, but when off roading at slow speeds it gets really annoying super quick, and probably won't help you sneak up on any wildlife either.
Edition 1 & More Hummers
Deliveries of the Edition 1 trucks started in the Spring of 2022. This white and black pickup comes fully loaded, with the only real options being an appearance package —Red, Tech Bronze, or Black. A few bolt-on accessories are available, as well, like Pizza Box roof panel cases, in-bed spare tire racks, bed rack systems, an in-tailgate stereo system, and more.
One of our favorite features of the Hummer EV is the fully independent suspension with adaptive dampers and adjustable ride height airbags.
The GMC Hummer SUV is next up in the new electrified Hummer lineup. We also know there will be more truck variants, and at lower price points, but we're unsure of when we might see those or what features they might include.
While GMC is still accepting reservations on both the Hummer pickup and SUV, the Edition 1 trucks are sold out (and have been for some time now), and the first SUV deliveries to customers won't be until early 2023.
GMC told us that they have received over 66,000 reservations so far, split evenly between trucks and SUVs, and currently have less than a 5-percent cancellation rate. It also said that 30 percent of reservations are from California, Florida, and Texas, and 70 percent of reservation holders are new to EVs.
Our best guess, based on reservations and production capacity, is that if you put in an order now for a Hummer, you might see your vehicle in late 2024—and even that is being optimistic.
Pros and Cons
The GMC Hummer EV Edition 1 truck is a lifestyle vehicle that is impressively capable off road and gives us a glimpse of the massive benefits an electric vehicle has over an internal combustion-powered vehicle. It is also obvious that GMC spent the money on the tech and not the build materials or driver ergonomics.
This $100,000-plus—current auction prices are way north of $200,000—pickup is also insanely heavy and has a tiny truck bed that is pretty much reserved for carrying spare tires and not a whole lot more. Yes, range is always a consideration with an off-road adventure vehicle, but the Hummer EV offers enough electrons to have a very fun weekend on the trail without the need to recharge.
In Summary
Reality is this vehicle is a technology demonstrator that carries a hefty price tag that will prevent most from using it for proper off-road adventures. It's so large that pinstripes the paint if you drive down any trail with vegetation are almost a guarantee. For big off-road adventures, you'll probably also want to mount a winch, which would require an aftermarket bumper, something that would be near impossible to design with the integrated headlights and other features on this truck.
The GMC Hummer EV truck is just the beginning of the electric off-road vehicle revolution that is already upon us. We're excited to see how far this new crop of electron-powered adventure vehicles can take us off the beaten path.
---
Editor's note: A version of this story previously appeared in the TREAD July/August 2022 issue.