Grill On The Go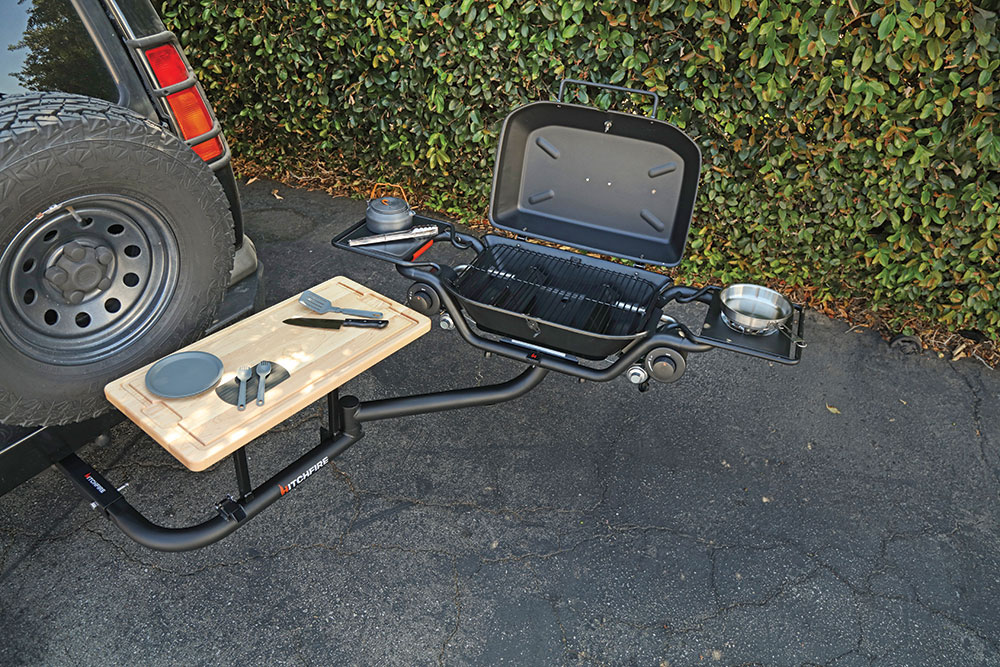 Go anywhere and Grill with the HitchFire Ultimate Grill Station.
There probably aren't any grills faster to get up and running than the models offered by HitchFire, makers of full-sized barbeque grills that mount to the rear of your vehicle. As their name implies, these grills are similar to the types you'd find at a backyard cookout, but you mount them directly on your rig's tow hitch.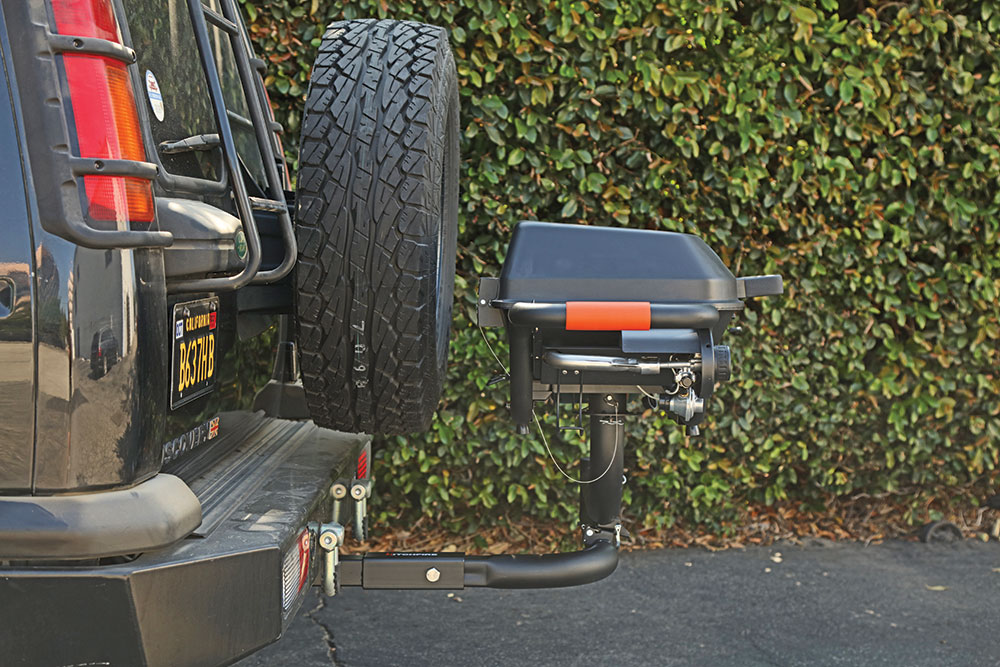 Instant Field Kitchen
I recently had the chance to try out the company's most feature-rich package, the Ultimate Grill Station. At the heart of the Ultimate Grill Station is the Forge 15 Grill. Unlike most compact camping cooktops, which have limited cooking space, the Forge 15 boasts a generously sized, 18×22-inch cooking surface that's rated to serve up to 10 people all at once. Powered by propane, the dual-burner grill can take two 1-pound propane canisters or use a larger, refillable propane tank with an adapter hose. The Ultimate Grill Station comes with HitchFire's own 20-pound propane tank that's perfect for this use.
Also, unlike the base Forge 15 Grill (available for purchase as a separate unit), the version of the grill included with the Ultimate Grill Station also includes a side burner powered by its own 1-pound propane tank. This additional burner gives you an added means to cook food while grilling. A large, 15×30-inch combination wood side table and cutting board also mounts to the grill's tubular swing arm base. What with the grill, side burner and table, you can turn your vehicle into an instant field kitchen.
Installation
The grill attaches to a standard, 2-inch hitch via an included swing arm mount that articulates widely and can lock at 90 and 180 degrees. The swing arm allows you to position the grill where you need it while still providing access to your vehicle's trunk or bed. For those with a rear-mounted spare tire or other equipment, HitchFire offers a hitch extender that brings the swing arm mount away from your rear bumper an additional 12 inches. The extender worked perfectly for my truck, easily clearing the rear-mounted spare. Once mounted, you can manipulate the grill however you see fit — it can rotate 360 degrees on its pedestal mount; the arm can swing out as much as 180 degrees.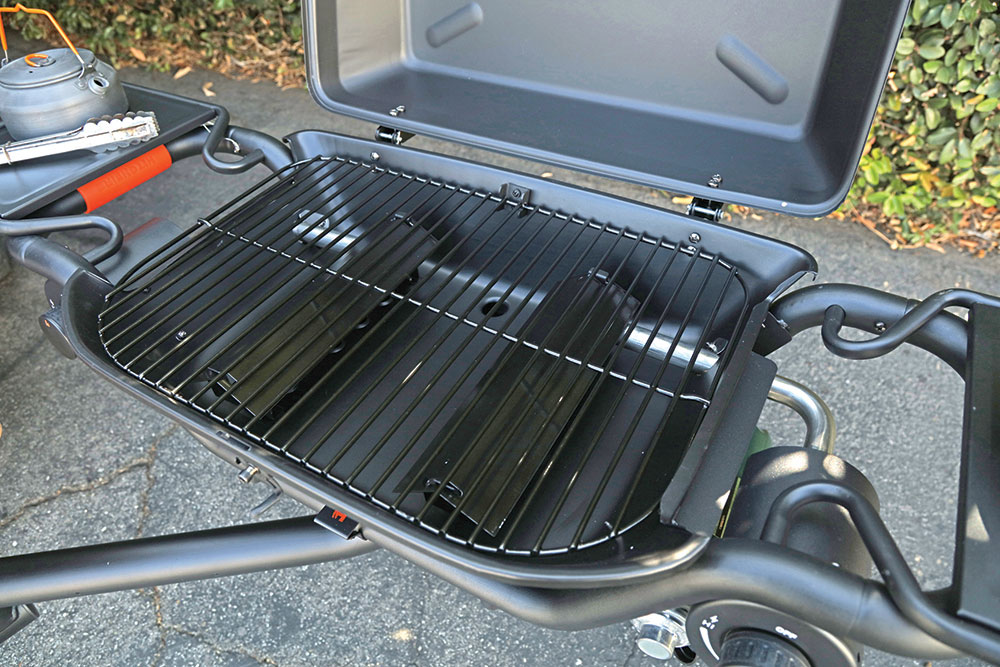 Although my unit didn't come with an instruction sheet, I found installation easy enough. Curiously, I couldn't find one on HitchFire's website either. I ultimately located it elsewhere online. An assembled series of pins secures the grill and allow it to be transported while mounted to the vehicle's hitch.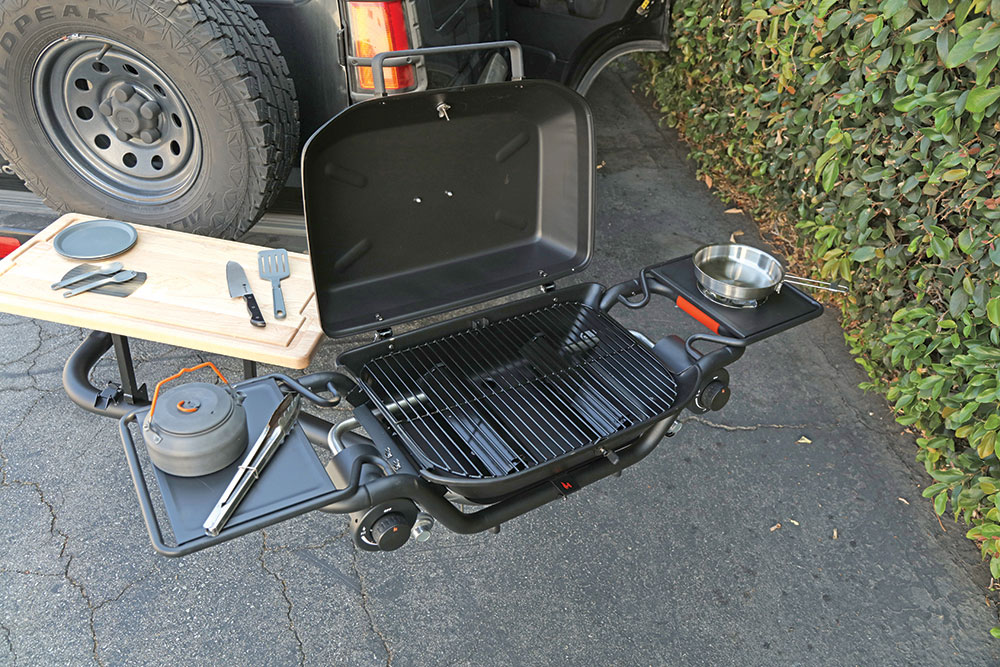 At the Cook Site
After setting up the grill, I took it out for some outdoor cooking. I made sure I locked everything down and then drove to a cooking spot we often use to see what it could do. I noticed lack tolerances in the hitch and extender's mounting points, which made it wobble around while I was driving. Nevertheless, because HitchFire did a good job of making sure nothing was actually loose on the assembly, nothing was in real danger of coming off; it just jostled around a bit while on the road. As a result, I don't believe this product would work for any kind of off-roading. However, it's well-suited for car camping or serious tailgating sessions.
The grill with the hitch extender hung off the rear of my truck about 2½ feet, so it does add an appreciable amount of length to the vehicle. For smaller vehicles or ones without a rear-mounted spare tire, the hitch extender might not be required and would shorten the overall length by a foot. The extra weight hanging well past the rear of the truck did make the rear suspension droop about ½ inch.
Once I arrived at the cooking spot, it only took a few minutes to set up the grill and attach its side table and fuel canisters. Setup was completely hassle-free; I was cooking in just minutes after arriving. Thanks to separate 1-pound propane tanks powering each of the heat sources, the grill got to temperature expeditiously and economically. My family and I stayed out for lunch and dinner, eventually cooking for a party of five by the end of the day. Even so, we still had plenty of fuel left.
It's notable to mention that the grill detaches from the swing arm for tabletop use when desired. After allowing it to cool down, I covered it with a cover that comes with the Ultimate Grill Station package. The cover keeps it free of dust and morning condensation when it isn't in use. Each of the items that come with the Ultimate Grill Station is available separately from HitchFire.
Final Thoughts
All things considered, I was pleased with the HitchFire Ultimate Grill Station. It gives us the ability to cook for a large number of hungry travelers wherever the road takes us. Without having to pack it up in the vehicle, it also frees up valuable cargo space for more gear. Additionally, it keeps the post-cooking smell and mess out of the vehicle's cabin for easy hose-down to degrease and clean after returning home. However, that won't be for a while, because we're already headed out to the beach for another outdoor cookout.
HITCHFIRE ULTIMATE GRILL STATION 
Included:
Forge 15 Grill
Side Burner
Forge 15 Grill Cover
Side Cutting Table
Refillable Ignik Gas Growler Kit
MSRP: $899
*Hitch Extender available   MSRP: $56.