2020 Suzuki KingQuad 400ASi SE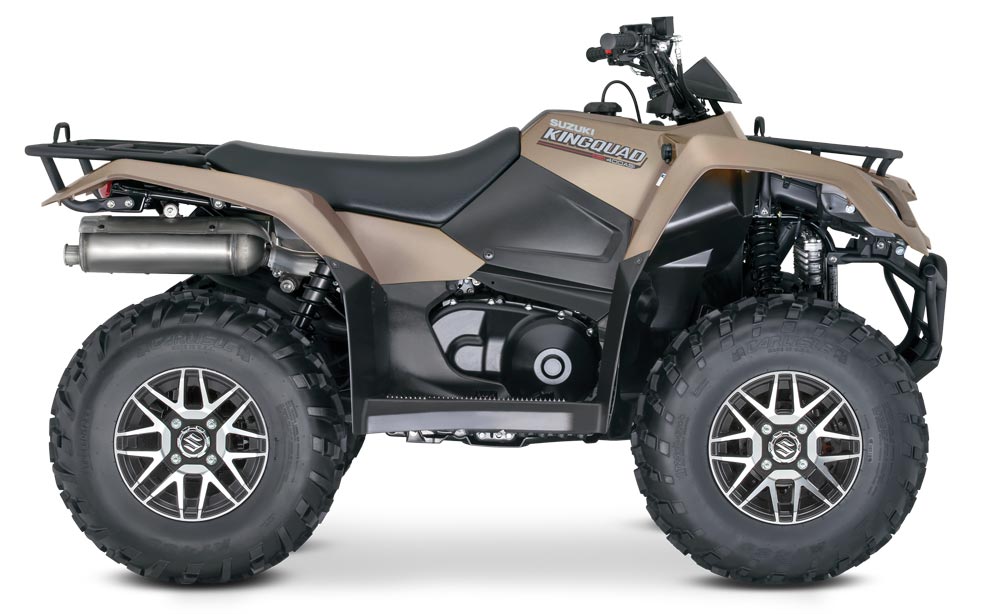 King of the Hill
Built as much for work as for play, all-terrain vehicles, more commonly known as ATVs, have been roving dirt trails and rugged off-road terrain for decades. In fact, Suzuki pioneered the four-wheel ATV back in 1983 and has been improving this thrilling mode of transportation ever since. Today, Suzuki ATVs can be found in use just about everyplace on Earth. Utilized in rolls from everyday tasks to just-for-fun rides, Suzuki's KingQuad series of ATVs are the choice of riders worldwide.
Suzuki's 2020 model year KingQuad carries on the torch of its capable predecessors by offering rider capable power and user selectable 2WD and 4WD drive modes. Its fully automatic Quadmatic transmission can handle rugged trails while giving the rider confident drive characteristics. Coupled with the transmission is a reliable, performance-orientated engine that features a smooth power band across the board.
The 400ASi SE's engine's high-performance iridium spark plug and Pulsed-secondary AIR-injection (PAIR) system helps provide outstanding fuel efficiency and clean emissions. The KingQuad's sporty look features stylish and aggressive bodywork with high-clearance fenders. As good as it looks, it's comfortable to ride, too. Suzuki's plush T-shaped seat delivers rider comfort for both sport and more difficult technical-terrain riding.
Whether you're tooting around the campsite or exploring some narrow trails, the ATV's suspension performance is critical and Suzuki has you covered. The KingQuad is fitted with independent front and rear A-arm suspension that offers smooth performance and a very capable 6.7 inches of wheel travel. The rear suspension is designed with twin shock absorbers that help provide agile handling and a plush ride.
With its large, aggressive, 25-inch tires and strong yet lightweight plastic skid plates, the KingQuad 400ASi SE is clearly built for life on the trail. It's been well over three decades since Suzuki introduced the first four-wheeled ATV. Built for work and for play, the designers and engineers at Suzuki never stop innovating and that's great for us riders.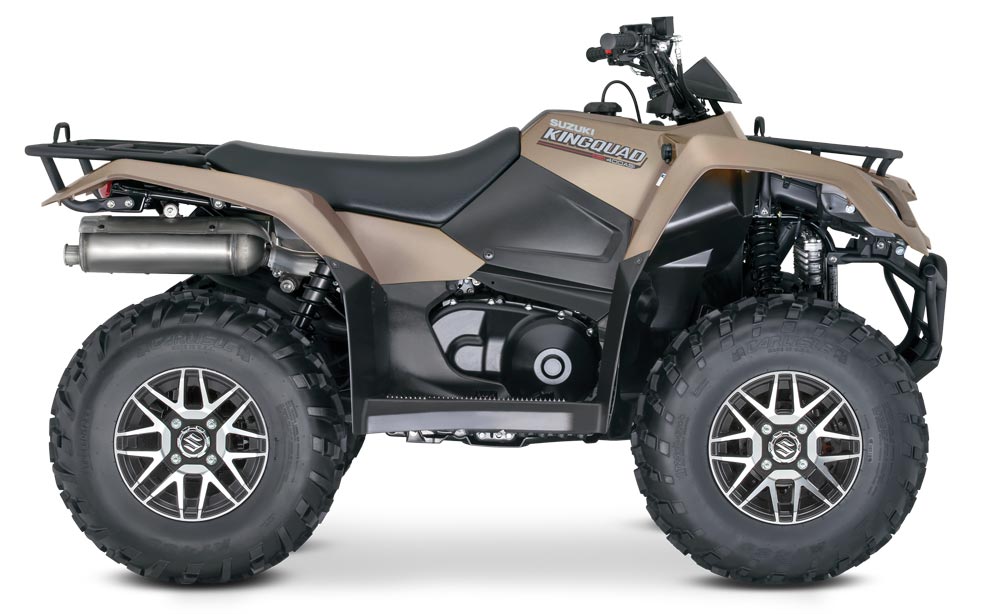 Performance
Engine
The 400ASi is powered by an efficient fuel-injected 376cc four-stroke, four-valve engine.
Transmission
The KingQuad's fully automatic variable ratio (V-belt) Quadmatic transmission has 2WD and 4WD modes to handle various trail conditions.
Drive
An automotive gate-type gearshift lever allows you to easily choose high or low range, neutral, or reverse. Select two- or four-wheel drive with the flip of a handlebar-mounted lever.
Suspension/Frame
Suspension
Independent front and rear A-arm suspension offers a smooth ride and an impressive 6.7 inches of wheel travel. Twin rear shock absorbers provide agile handling and a plush ride.
Tires/Brakes
The KingQuad's dual front hydraulic disc brakes feature calipers with large 34mm pistons and wide brake-pad surface area for increased stopping power and outstanding durability. The 25-inch Carlisle tires offer consistent traction in wet and dry conditions.
Tech
Instrument Panel
Fully informed. A fully loaded LCD instrumentation includes speedometer, odometer, trip meter, hour meter, clock, fuel gauge, and indicators for reverse, neutral, oil, and FI.
Lighting
Light up the trails. Dual 35-watt headlights with high- and low-beam settings are part of the distinctive KingQuad grille appearance. For safety, bright taillights help make the ATV visible in dark conditions.
Features
Cargo Racks
Space for the long haul. Heavy-duty front and rear cargo racks let you take advantage of the ATV's superb load capabilities. Wrinkle paint finish on the racks and front bumper is durable and scratch resistance.
Storage Compartments
The KingQuad 400ASi's winch-ready mounts and wire conduit make winch installation a breeze. A large 4.2-gallon fuel tank provides plenty of range.
Length 81.1 in.
Width 45.1 in.
Clearance 9.8 in.
Fuel Capacity 4.2 gal.
Weight 628 lbs.
Editor's Note: A version of this article first appeared in the September/October 2019 print issue of Tread Magazine.