Supplies for Life Off the Beaten Path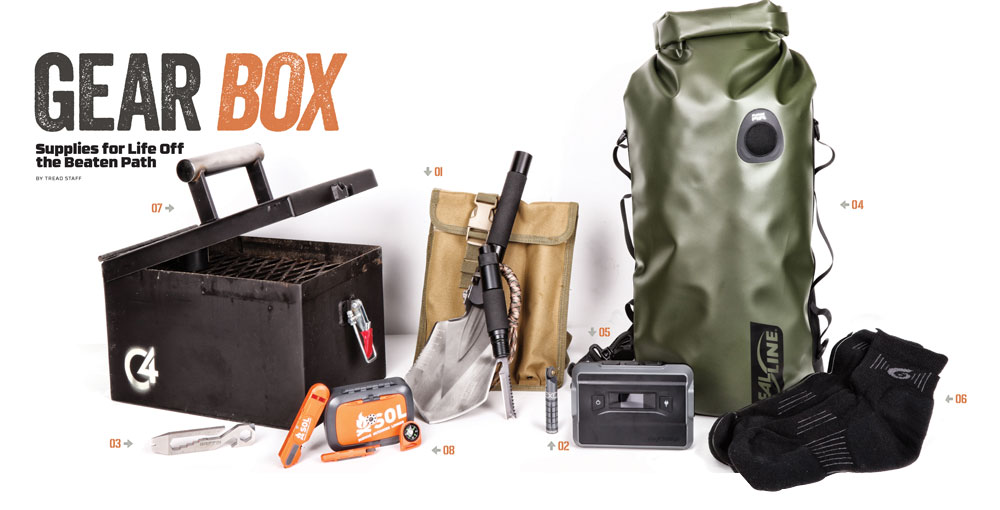 1. ENGO Multifunction Shovel Survival Tool
The MST Shovel is equipped to take on whatever you dish at it. It has a handle made of aircraft hardened aluminum and is equipped with an impressive list of tools including a stainless steel blade that chops and saws, paracord, whistle, knife, bottle opener, wire cutter, magnesium fire starter, hoe and measuring tool.
ENGO's MST is perfect to take on your next off-road or outdoor adventure. It weighs just over two pounds and includes a durable storage bag.
MSRP: $70
engoindustries.com
2. Exotac nanoSPARK
Being able to start a fire is crucial in any survival or camping situation. The nanoSPARK easily generates sparks to do just that. Designed to function with the use of only one hand, all you need to do to get a fire started is to aim the nanoSPARK towards your tinder and spin the flint wheel to ignite it. Made of CNC-machined aluminum, the unit features a waterproof tinder storage capsule and also has room for an additional flint or two.
MSRP: $27
exotac.com
3. Griffin Pocket Tool XL
Availble in three different sizes, the Griffin Pocket Tool featured here is their XL size. Available with your choice of a ½-inch or 13mm wrench in polished or sand blasted finishes, is machined from a single piece of metal that features 16 useful tools. Tool includes a bottle opener, pocket clip, flat head screwdriver, scoring tool, pry tool, nail pry tool, rulers in inches and mm, ¼-inch bit driver, ¼-inch hex wrench, 5/16-inch hex wrench, 3/8-inch hex wrench, 7/16-inch hex wrench, 1/2-inch hex wrench, keyring.
MSRP: $40
griffinpockettool.com
4. Seal Line Discovery Deck Dry Bag
This feature-rich dry bag offers waterproof protection for day trips to longer multi-day expeditions­­—whether in a boat, slung over a shoulder with its shoulder strap, or lashed to a SUP board, truck, or burro via its multiple lash points. The bag has a waterproof valve that helps it compress further once it's been sealed. Made of rugged, flexible, and fully waterproof materials with a light-colored interior that make it easier to find contents within. Available in 10L and 20L (shown) sizes in multiple colors.
MSRP: $50
seallinegear.com
5. myCharge  Adventure Ultra
Designed to replace the heavy and bulky generators used when tailgating or camping, the AdventureUltra is a streamlined 13400mAh capacity power source powerful enough that it can run a 42-inch television for up to three hours. With a maximum power output of 45 watts, it can even run a fan or recharge a drone battery. It can also be used with 2-in 1-laptops and new laptops, such as the 12-inch MacBook.
MSRP: $130
mycharge.com
6. Point 6 37.5 Light  Mini Crew
The best wool socks ever just got better. Made for outdoor adventuring, the Light Mini Crew with 37.5 Technology maximizes evaporation and accelerates dry time for unmatched comfort and performance. 37.5 active particles supercharge wool's natural abilities by attracting moisture while still in vapor form, before it even forms to be a sweat droplet. This allows your feet to stay drier longer and improves comfort. It has a 2 ½-inch cuff  and is made of wool, spandex, and nylon.
MSRP: $20
point6.com
7. M Grills C4  Portable Grill
It's small, it's mighty, and it's designed to go with you camping, fishing, tailgating—wherever. The C4 Portable Grill is made by M Grills in Mesquite, Texas (If you're not familiar with M Grills, here's a quick summary: They're quietly becoming the best small-batch grills manufacturer in Texas). Yes, the C4 looks like an ammo box and in fact, it's designed to be just as tough. Made from 12 gauge steel with a solid 304 stainless steel handle and 304 stainless steel hinges, this grill will survive more than a few hot fires and nights in the woods.
MSRP: $120
fourstjames.com
Editor's Note: A version of this article first appeared in the November/December 2017 print issue of Tread Magazine.