The Wildlife of Acadia National Park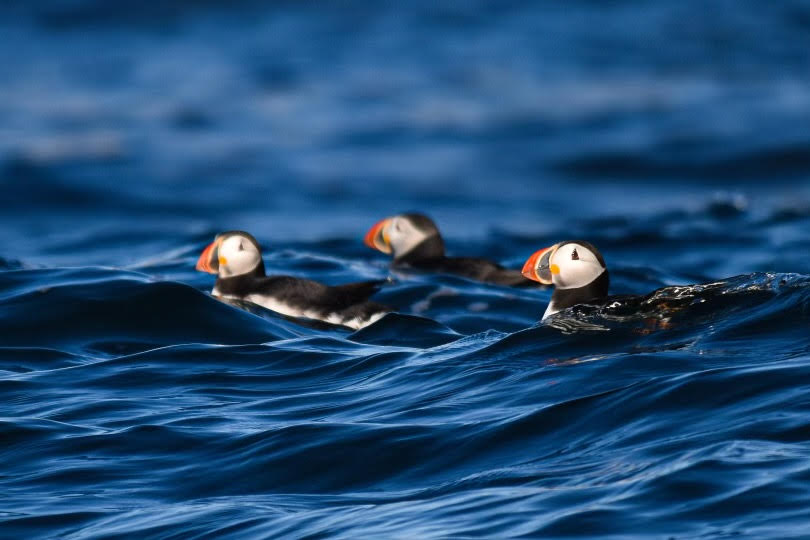 Birds, Whales, and Much More
Overlanding isn't just about the drive, and many of those who enjoy it have interests that perfectly pair with life in the wilderness. Beyond vistas and natural formations, an interest in wildlife goes hand in hand with a love of the outdoors. At Acadia National Park, you can find the best of both worlds. Acadia and the sea beyond it encompass everything from marine life, to land warblers to Atlantic Puffins. If you decide to include Maine in your next overlanding trip, here's a run-down of the wildlife you can expect to find.
Puffin Colonies
The small islands around Maine that border Acadia National park serve as nesting islands and habitats for Atlantic Puffins throughout the summer months. These islands are the only sites where puffins nest in the United States. The puffin is more solitary in winter and remains far from land. Because of this, birding enthusiasts flock to Maine during the nesting season to add the puffin to their life list of spotted birds. Also viewable on Acadia's coast line are other shore birds like the Arctic Tern, whose migration from Antarctica to the Arctic covers an astonishing 25,000 miles!
Watch out for Sea Sickness!
Unlike many of the National Parks in the United States, the only way to see the most famous wildlife in Acadia is by hopping on a boat tour. There are many puffin tours in the area that take visitors out to see the nesting islands. With the right binoculars or camera, you can catch these beautiful birds in their natural habitat.
The same goes for the various whale species that can be found in the waters around Maine. Several times a day whale tours head out to see humpback, finback and minke whales. You can also spot harbor seals basking on the rocks of nearby islands, and porpoises playing in the wake behind the boat. While the boating excursions can run the risk of sea sickness, it can all be worth it when exceptional wildlife is the goal.
Turning Inland into Acadia National Park
Acadia doesn't just have coastline to offer to visitors. With lakes, mountains and pine forests to explore, there's no shortage of inland animals to take in. For bird enthusiasts, one only needs to stop for a minute and listen to notice the myriad of species who call the park home, or migrate there in order to raise their young.
One such bird, the Blackburnian Warbler, migrates up to Acadia National Park (and other areas of the Northern US and Canada) to breed. It spends its days in the park tirelessly hunting for food in order to meet the demands of extremely hungry fledglings.
The Elusive Owl
Acadia National Park is also home beautiful Barred Owls, who nest in the park to raise their young. For visitors who are quiet and respectful of wildlife, it's possible to see juvenile owls like the one pictured below. During the day, these birds are more subdued. They roost in trees through the daylight hours, but can still occasionally be heard calling before nightfall. At night, they like to hunt small mammals. Unlike the Blackburnian Warblers and Arctic Terns, Barred Owls don't migrate. They'll often be found within the same few miles with very little overall movement.
Acadia National Park Awaits
For birders, wildlife enthusiasts and anyone who appreciates nature, Acadia National Park is the destination of a lifetime. Cooler in the summer than many travel destinations, and offering a wide range of habitats, this National Park is like no other. With a little patience and respect for wildlife, you can see and photograph many of the nearly 300 species who call this park home.
All photos were taken by Christopher Gutierrez (instagram: @c.gutierrez_photography ) using a Nikon d-5600 camera, with a Sigma 150-500mm lens.