Truck Vaults: Secure Storage on the Trail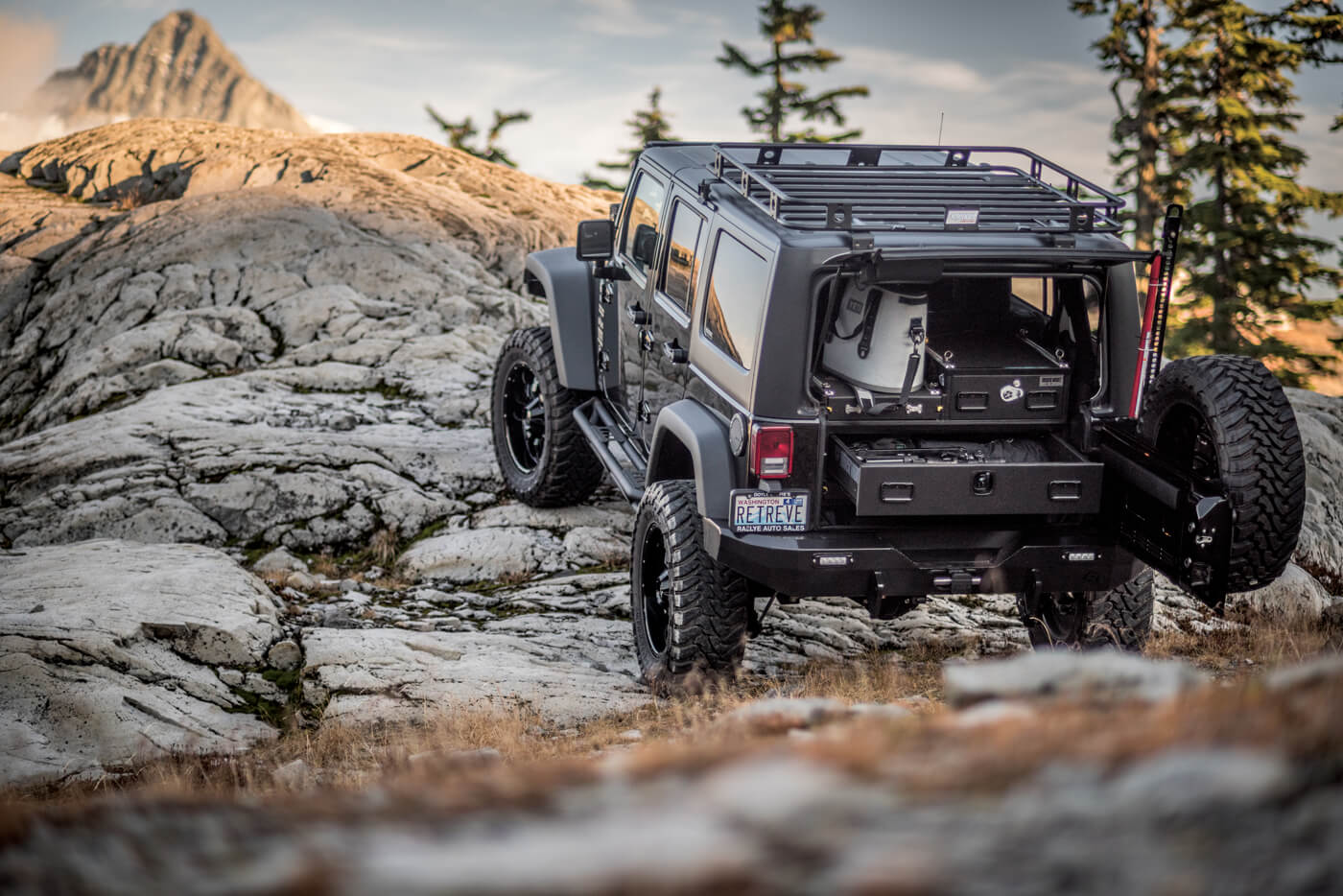 Confidence is key.
Whether you're leaving camp for a day of kayaking or you're getting a kick out of shooting in the open wild, you don't want to think about your valuables being stolen or having your firearms unsecured around children. Knowing that your property is safe and secure removes that worry. It doesn't matter if it's fishing gear, sporting equipment or recreational firearms, there's a truck vault option for every application. Mounted inside the trunk, installed within the cab, or extending from the bed, selecting the right option depends on what you want to secure and how you want to access it.
The following page is full of the industry's best vaults and console safes. We suggest you explore your options. Then lock up your gear and experience a confidence that adds to your adventures.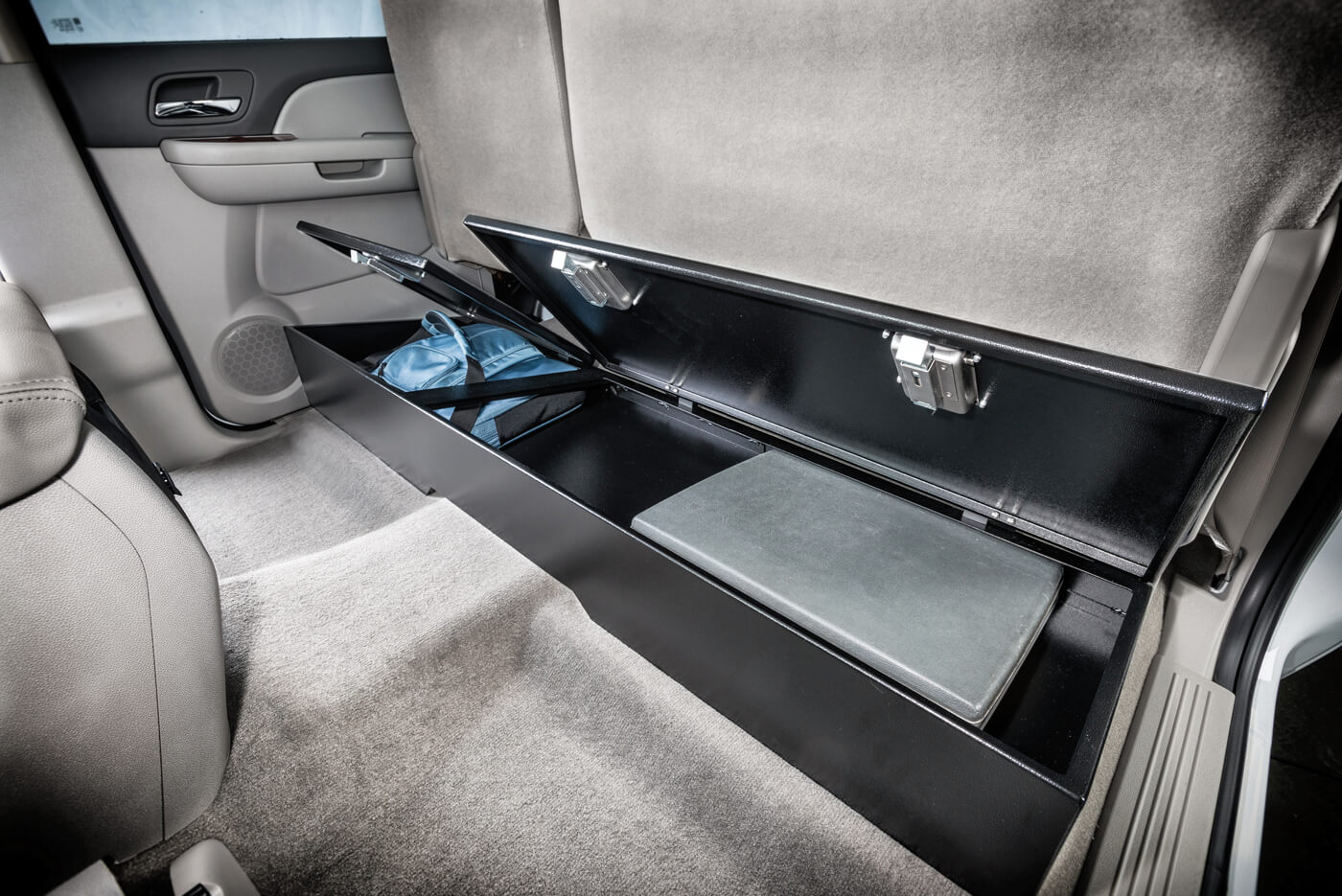 TRUCKBUNKER/HERACLES RESEARCH CORP.
OVERVIEW:
Constructed from aluminum with stainless steel hardware, the TruckBunker provides the same quality protection of Heracles Research's home safes. It not only secures and conceals any kind of valuables inside the cab of your truck—it can accommodate firearms of all sizes, including scoped rifles. The TruckBunker is fastened to the existing seatbelt bolts under the rear seat of most trucks. Installation can be done in less than 10 minutes, and there is no need for drilling. In addition to TruckBunker's well designed use of interior space, it has two doors—one large and one smaller—so it can be accessed on either side of the truck. It is 100-percent American made and fits all Ford and Chevy Crew Cabs as well as 2007-2016 GMC Extended Cabs and Crew Cabs.
DIMENSIONS:
56 X 15-3/4 X 7-3/8 inches, left door: 19 1/2 inches, right door: 35 inches
MSRP: $1,399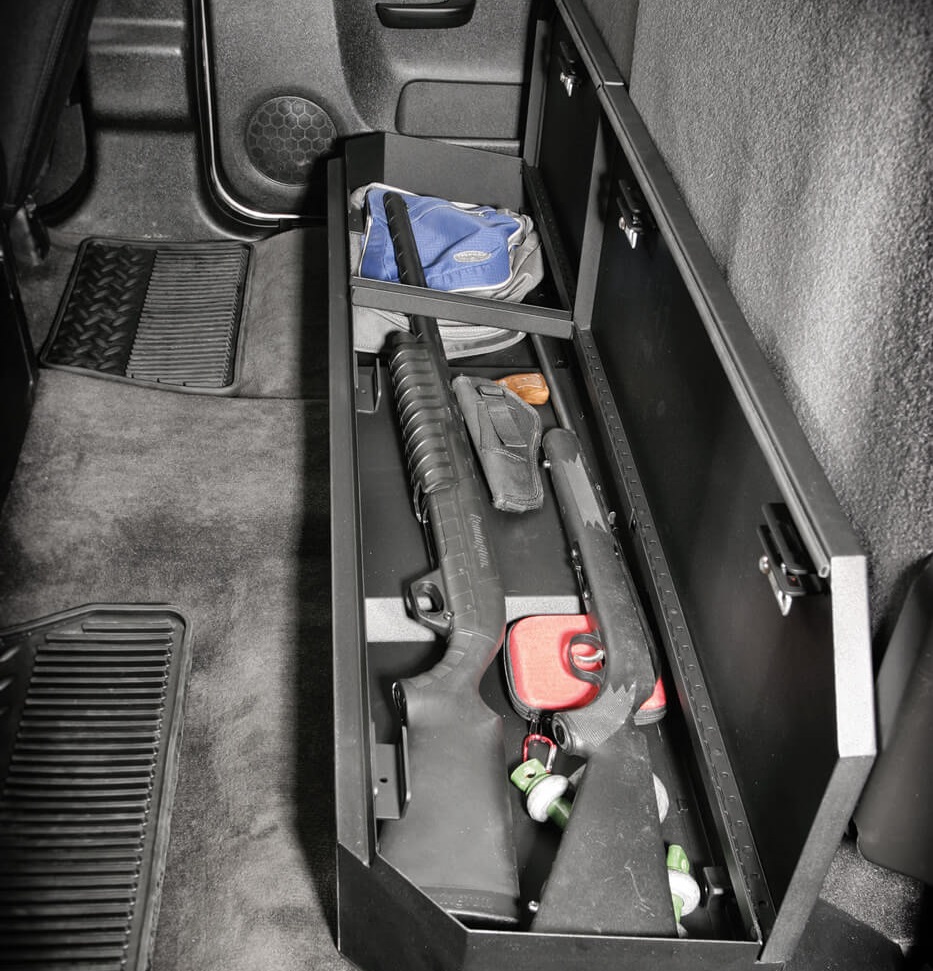 CREW CAB UNDER REAR SEAT LOCKBOX / TUFFY SECURITY PRODUCTS
OVERVIEW:
The Tuffy lockbox featured here is specifically made for Chevrolet Silverado and GMC Sierra Crew Cabs (2007 to current). However, Tuffy Security Products offers a wide variety of under-the-rear-seat lockboxes for most full-size trucks with crew cabs. Made from 16-gauge steel, the lockbox mounts under the rear seat, offering over 3,500 cubic inches of storage. Its secured contents are easily accessed by flipping either or both of the rear seats and opening the corresponding lid. The unique design allows the full width to be used to stow firearms or other long items and features a 10-tumbler double-bitted security lock with built-in weather seals. When additional floor space is needed, the entire lockbox can be removed without the use of any tools. It's quick and easy installation; no drilling required.
DIMENSIONS:
13 X 55-7/8 X 7 inches
MSRP: Starts at $365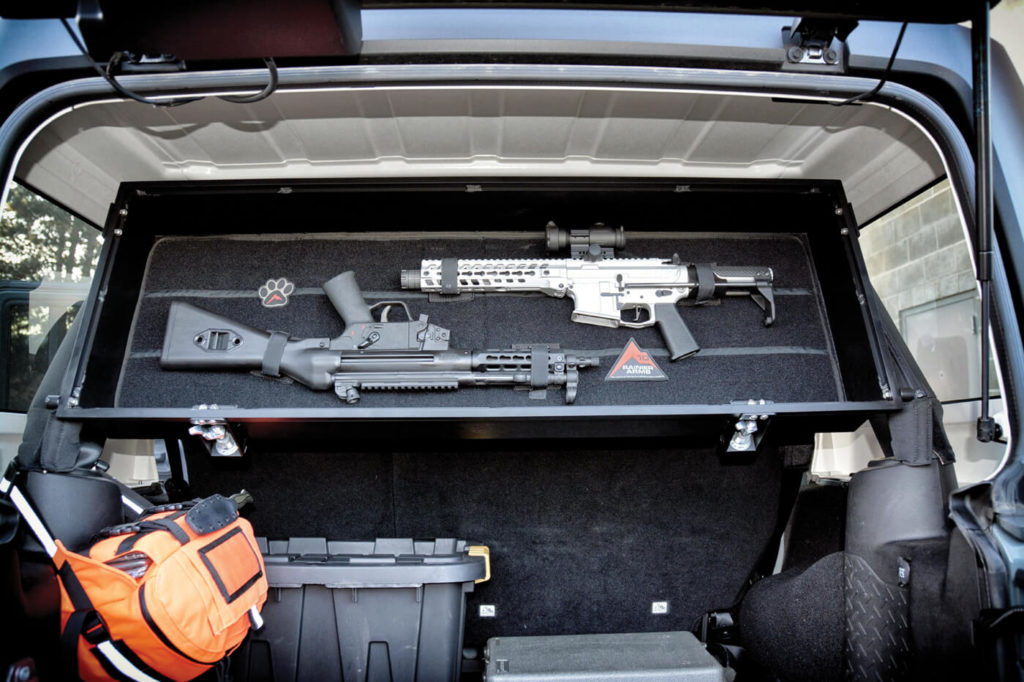 GCP-1 LOCKING STORAGE SYSTEM / GRENADEA CORP
OVERVIEW:
Made specifically for the Jeep JK hardtop, the GCP-1 is the only sub-roof concealed locking storage system on the market. Constructed of aluminum with steel hinges and locking hardware, the GCP-1 fits snugly against the hardtop's roof but doesn't block the driver's rear view thanks to its slim design. With internal dimensions of 15 x 45.5 x 5 inches, the GCP-1 is perfect for firearms, recovery gear, first aid, camera equipment, fishing and hunting equipment. The dual locks are easy to open for quick access, and the unit is easily installed; however, the rear headliner will have to be trimmed for clearance. When switching to a soft top, the GCP-1 can be removed in under two minutes.
DIMENSIONS:
15 X 45-1/2 X 5 inches
MSRP: $695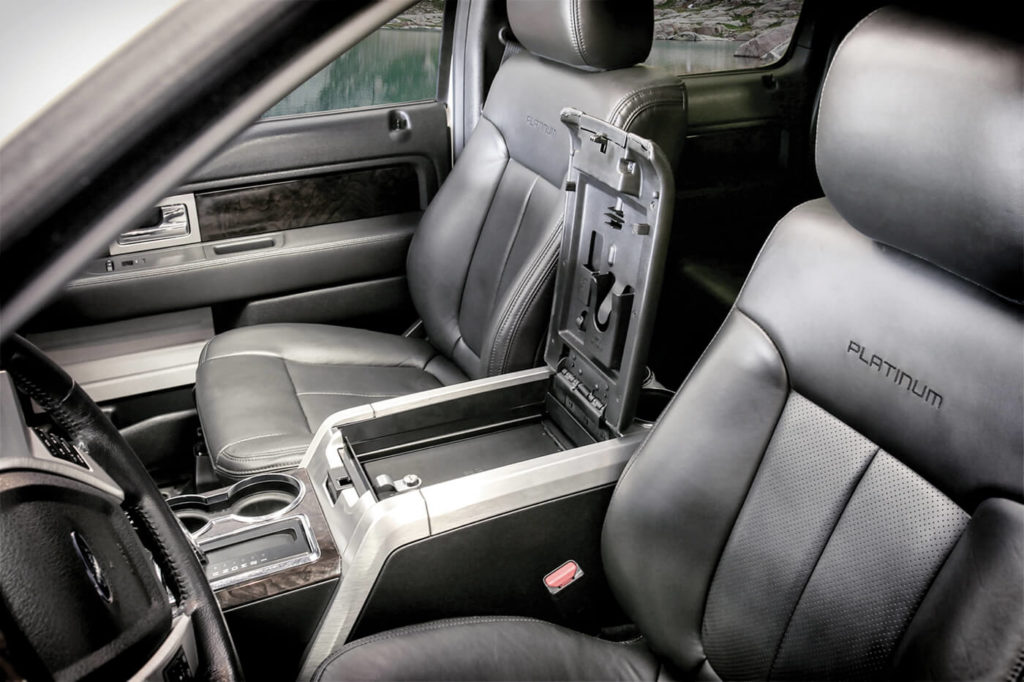 SECURITY CONSOLE INSERT / TUFFY SECURITY PRODUCTS
OVERVIEW:
Built for most Chevrolet, Ford, GMC, Toyota truck and Jeep applications, the Security Console Insert maintains a complete stock look. The stock armrest and lid remains in place, adding to concealable features of this insert, while any OEM USB and power outlets are still accessible. With Tuffy's PryGuard locking system and 1/8-inch welded steel components, the insert is protected by a durable and textured powdercoating and is big enough to accommodate a handgun or two with the appropriate ammo and accessories. The unit is easy to install and doesn't require drilling, while the 10-tumbler double-bitted lock with built-in weather seals keeps out burglars and the elements.
DIMENSIONS:
12-1/8 X 12 X 8-1/2 inches
MSRP: $149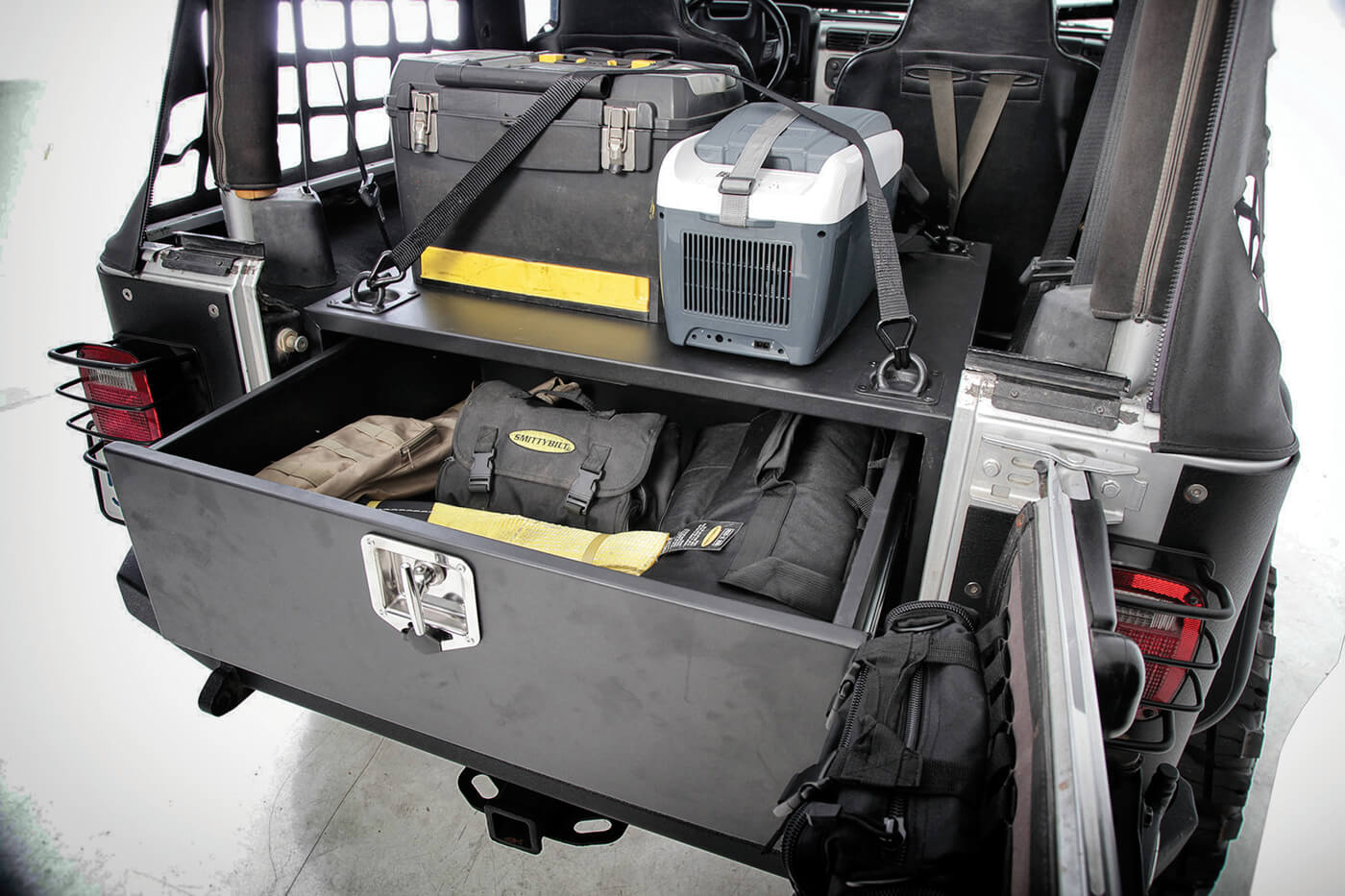 SECURITY STORAGE VAULTS / SMITTYBILT
OVERVIEW:
The newly designed storage vault is manufactured out of 16-gauge cold-rolled steel and treated with a two-stage black powdercoat. The solidly built drawer supports up to 350 pounds and has highgrade steel slides that offer smooth, quiet operation. A positive stop prevents drawers from accidentally rolling open, while the "trigger disconnect" allows for simple drawer removal. The drawer is lockable, features a t-hand that is recessed into the drawer face, and is available for Wranglers from 1997 to 2015. It can be mounted directly to the body via included L brackets or through the mounting holes inside the vault.
DIMENSIONS:
34-1/2 X 13 X 28 inches, 35 X 13 X 30 inches
MSRP: $350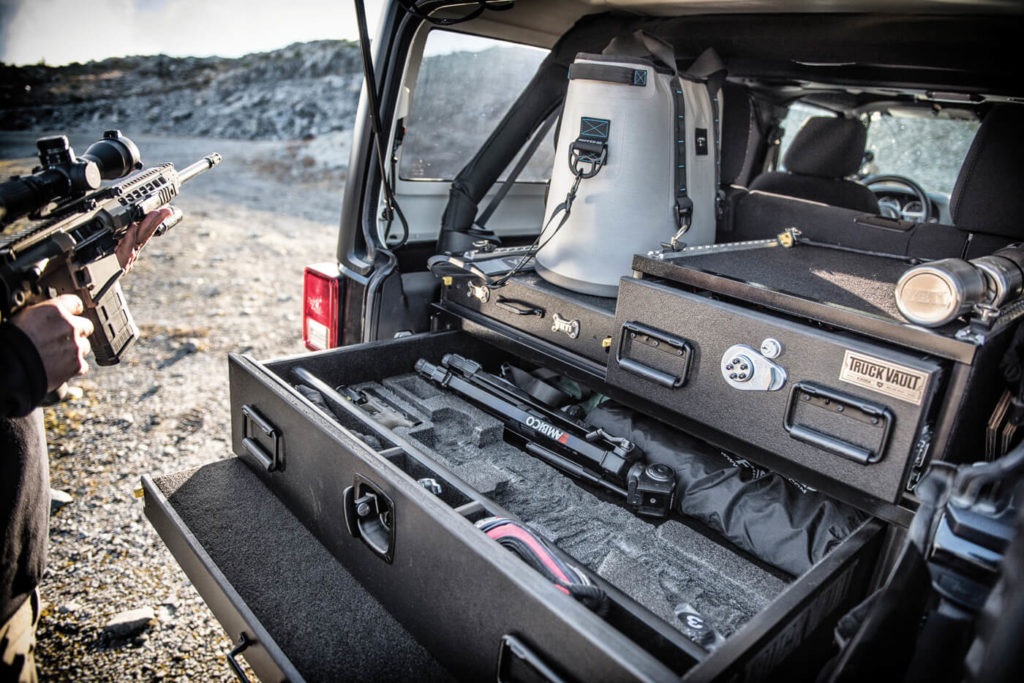 SECURE STORAGE FOR JEEP / TRUCK VAULT
OVERVIEW:
TruckVault's line of Secure Storage boxes come in two main height configurations: Standard and Magnum, each available with one drawer, two side-by-side drawers, or two side-by-side drawers slightly offset (one wider than the other). The Standard drawer depth is 6 1/8 inches and can accommodate most standard size rifles and shotguns stored vertically, while four additional inches of headroom is available in the Magnum size, which allows for scoped rifles up to 10-1/8 inches in height. Designed to be fitted in SUVs and eight-foot-long pickup beds, the Truck Vaults are available at 33 inches and depending on need, can be custom made to increase length. Several lock options are available, from a simple t-handle to a lighted keyless entry fob, while five colors of carpet adorn the interior. A host of upgrades are available, from custom drawer faces in a variety of woods, foam inserts, rubber mats and armor coating to in-drawer lighting and extension tables.
DIMENSIONS:
MINIMUM: 39 X 31 X 6-1/8 inches, MAXIMUM: 48 X unlimited X 10-
1/8 inches
MSRP: $1,495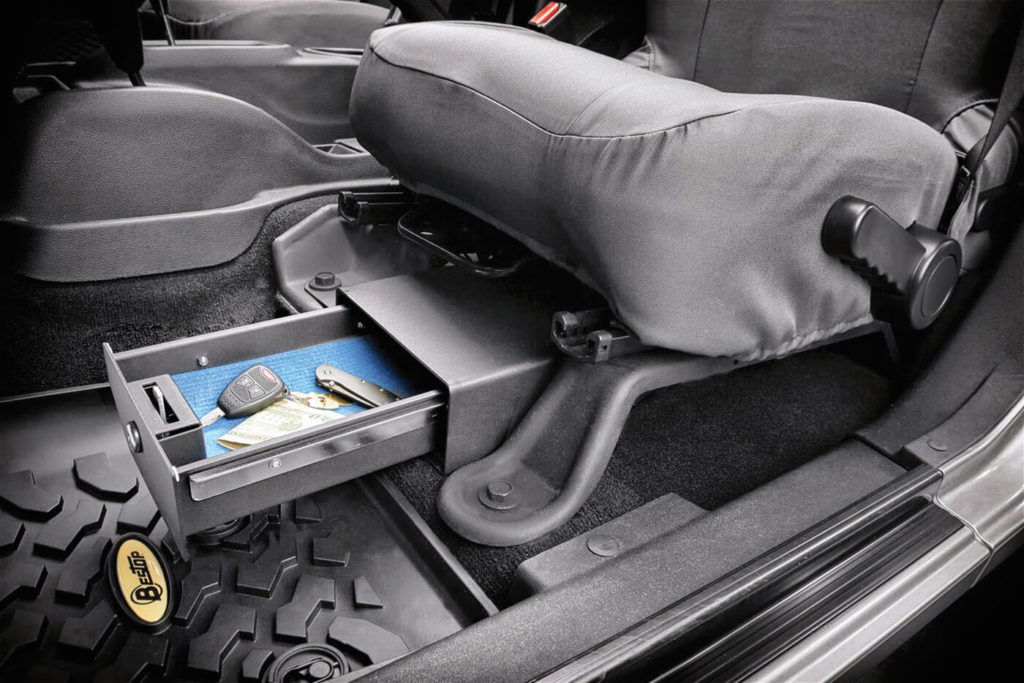 UNDERSEAT STORAGE BOX / BESTOP
OVERVIEW:
The Storage Box from Bestop securely locks up valuables and handguns, and will mount out-of-sight conveniently beneath the driver's seat. Made with heavyduty 16-gauge carbon steel, the welded construction offers up to 205 cubic inches of storage space in a sliding drawer; the heavy-duty, plated slides assure dependable, durable operation. The drawer is secured with a pick-resistant lock. The Storage Box is finished in textured black powdercoat. Providing critical protection against theft, the Storage Box comes with two keys for
the stainless steel lock. Different models are available for various TJ and JK Wranglers; however, if your Wrangler is equipped with the fold-and-tumble front seat or comes with an under-seat electrical box, the mechanism will prevent this product from working on your Jeep.
DIMENSIONS:
17 X 7-3/8 X 3-3/4 inches
MSRP: $60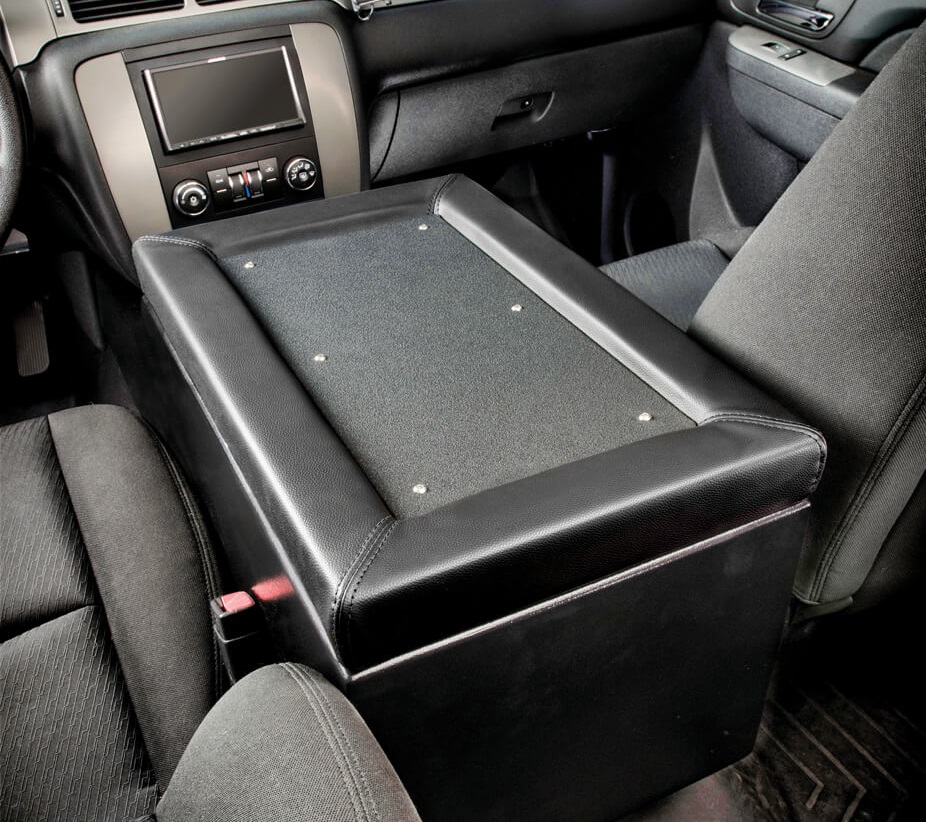 CONSOLE BUNKER / HERACLES RESEARCH CORP.
OVERVIEW:
The Console Bunker is an all-steel console that replaces your current console without taking up additional passenger space. At 43 inches in length, the Console Bunker has a storage capacity that accommodates all sizes and types of firearms, such as, an M-4, a shotgun and a handgun. The forward portion has ample storage for a large first aid kit and a fire extinguisher. The lid has a non-slip surface and acts as an armrest for the
front passenger and driver. It is tied into your factory door locks and has a timing mechanism that prevents unauthorized access. It weighs less than 75 pounds empty and utilizes the factory seat bolts to secure it (no drilling involved). This mount design is the industry standard in law enforcement, and the Console Bunker is available for all 2007 and newer American full size trucks and SUVs, while other vehicles are available upon request.
DIMENSIONS:
43 X 14 X 13 inches
MRSP: $1,199
UNDER SEAT CONSOLE / CONSOLE VAULT
OVERVIEW:
Console Vault provides under seat models for a host of truck and Jeep applications that can be installed underneath the center armrest or securely fitted in a lower seat storage area. Its location provides secure storage and fast access just under a seat or under the center console/armrest. As with Console Vault's other products, it's made with 12-gauge cold rolled plate steel, welded tabs and notched seams, has bank vault-style hinge latch pins and comes in three available models: one featuring a high-security barrel key lock; one featuring a unique three-digit keyless lock, and the other a four-digit keyless lock. installation is simple and requires only a few minutes.
DIMENSIONS:
Varies depending on model
MRSP: $269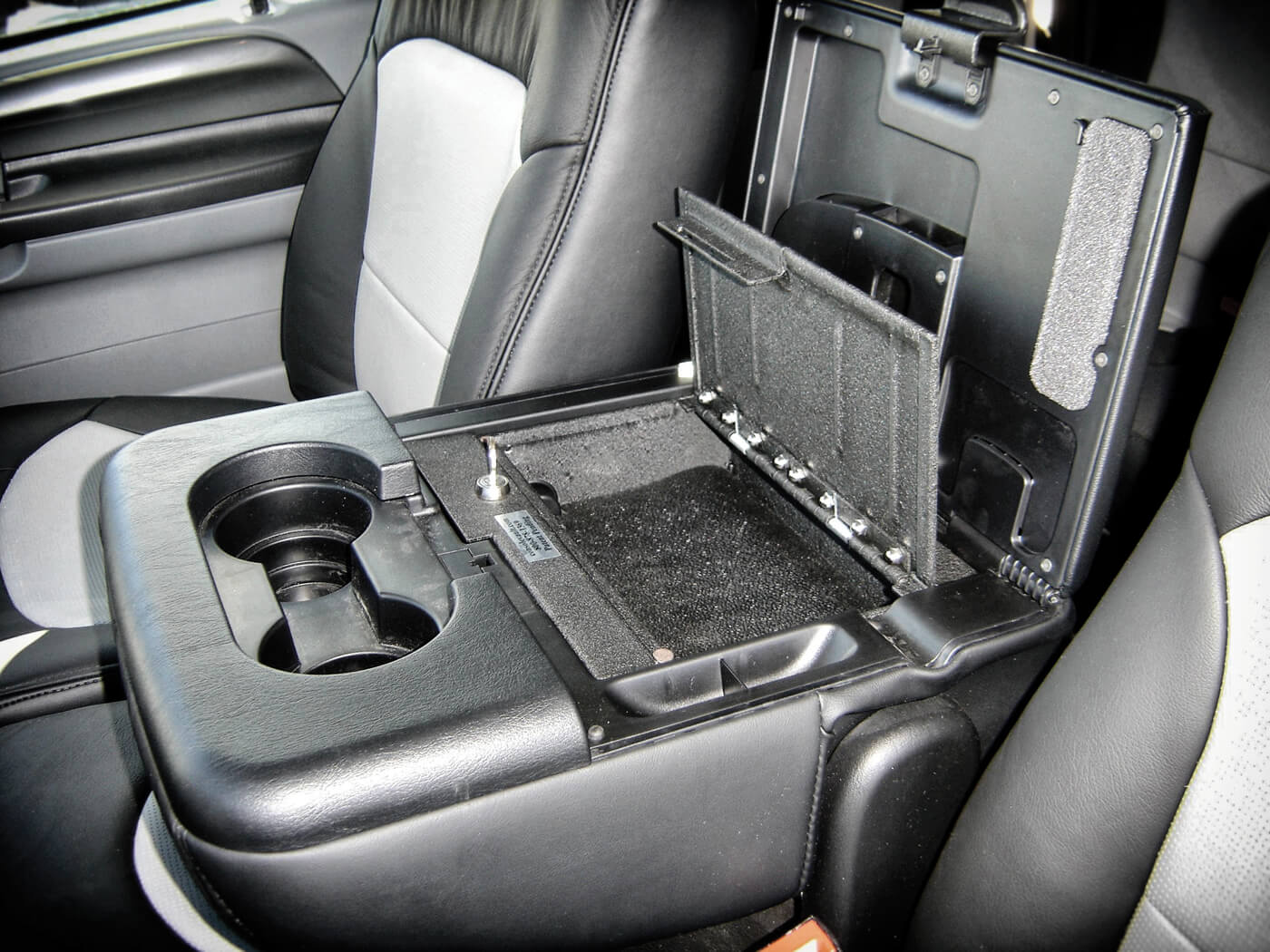 THE VEHICLE VAULT / CONSOLE VAULT
OVERVIEW:
The Vehicle Vault from Console Vault's product line is available for most all full-size American trucks and Jeeps. They have been designed to provide owners with the utmost in security without requiring
a sacrifice in space. The vault utilizes the space provided in the original console and provides a forward and rear trim that gives it a snug and factory-original appearance when installed. They come in two available models: one featuring a high-security barrel key lock and the other, a unique keyless lock. It features a three-point locking system, bank vault-style hinge latch pins and offers optional lock types (barrel key lock, keyless three-combo lock, and a four-digit lock). When left in the unlock position, the lid springs open and stays in position until it is manually closed and locked, providing you both convenience and security. Installation takes only a few minutes and uses the factory console bolts.
DIMENSIONS:
Varies depending on model
MRSP: $269
Editor's Note: A version of this article first appeared in the Fall 2016 print issue of Tread Magazine.