The Strongest Truck Topper Ever Is Made In Montana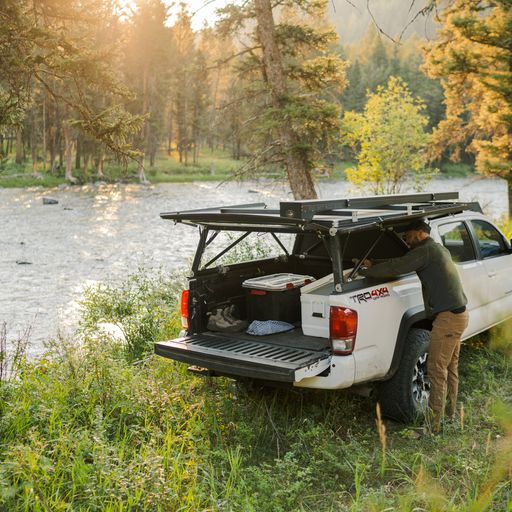 GoFastCampers are changing the market in truck toppers with the Platform Topper.
Guys, we re-ordered our wishlist today. Our new #1 item: this GFC Platform Truck Topper. It's right in mid-range for both weight and price, but outperforms the competition in every other way. This truck topper is more durable and stronger than anything else on the market. It's so strong, it exceeds the static carrying capacity of the bed rails on any pickup truck. The company had to reinforce the bed of a Toyota Tacoma with 500 pounds of steel in order to match the strength of the Topper.  To demonstrate how much stronger it is, GFC balanced a 4,500 Ford F-250 on the Topper's roof.
What Makes This The Strongest Truck Topper?
The Platform Truck Topper achieves its lightweight strength by employing a tubular aluminum space frame reinforced with billet aluminum parts. That spreads loads evenly across the entire perimeter of a pickup truck's bed. All connections in that space frame are bolted rather than welded, eliminating the potential for stress fractures.
The load halo includes T-track accessory mounting rails on all four sides, allowing owners to mount lights, awnings, tools, or other accessories. The T-track also supports up to four of GFC Beef Rack crossbars, which each offer 200 pounds of dynamic load, and also feature T-track on top, and underneath, enabling even more accessory mounting options.
Hinged at the top, locking aluminum panels provide total access to all areas of the bed. Open, those panels form something GFC calls, "cabana mode," providing shelter from sun and rain. A pressure-formed aluminum load halo supports a one-inch thick honeycomb thermoplastic roof panel up top. That panel is translucent, allowing light to enter the topper, while reflecting solar radiation and providing insulation, which helps keep loads from overheating.
Will It Fit Your Rig?
GFC is going to custom size their strongest Platform Topper for each specific make and model of pickup. At launch, supported trucks include the current generation Toyota Tacoma, Ford Ranger, and Jeep Gladiator. Sizing for Ford F-150 models, including Lightning, will come soon, and most other popular trucks will follow. Interested in purchasing a topper or seeing one made available for your truck? Visit GoFastCampers.com.
Made Ethically in the USA
MSRP for this super strong truck topper is $3,995. GFC makes their products in Montana with parts sourced here in the USA. All of these toppers are made by employees earning a living wage, starting at salaries of $52,000, the highest of any Montana manufacturer. GFC reports that this is achieved "by employing advanced automation tools of its own design that free employees from dangerous, repetitive tasks, allowing them to focus on work where humans add real value." They're a company we love to support here at Tread for their truck toppers, RTTs, bed racks, and campers alike.