Recipes from Overlanders, for Overlanders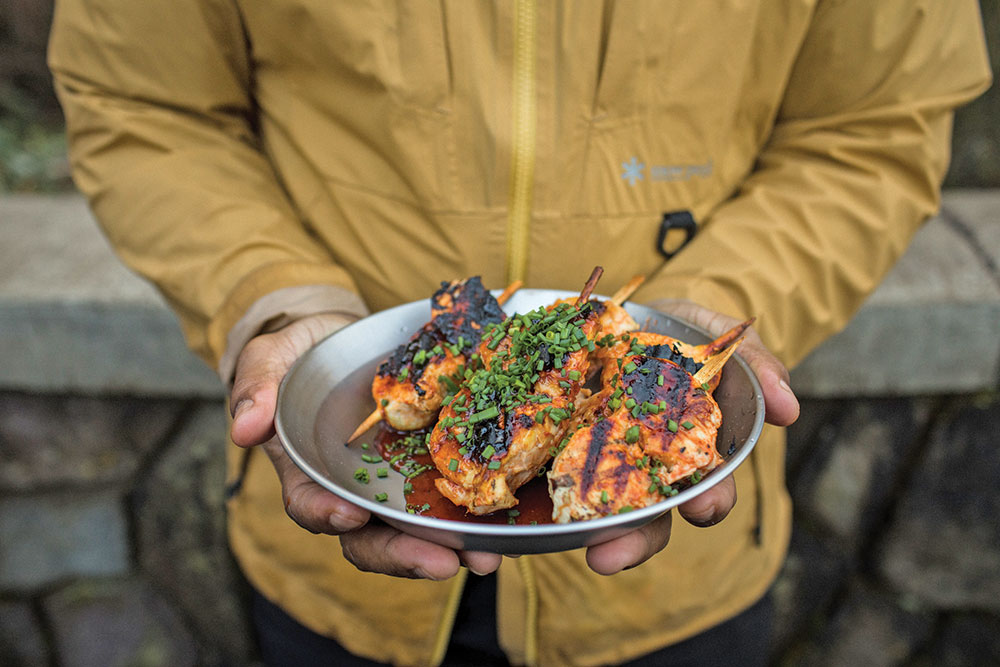 Delicious Meals Can Be Enjoyed Anywhere, Even In The Middle Of Nowhere.
No one knows camp cooking better than some of our friends in the overland community. While we may aspire to tantalize taste buds as much as they do, we prefer to turn to their expertise—and their tasty meals. We reached out to a few fellow overlanders and campers who are known for making good grub. They shared recipes of their favorite dishes when out on trips. With little to no prep at home, camp cooking can be easily stepped up a notch to bring gourmet meals to the outdoors. We're putting our trust in these recipes made by overlanders, for overlanders.
---
Marco Hernandez' Chimichurri
Used as a condiment, Marco's Argentinian-style sauce is great on meat, poultry, and fish. It can also work as a marinating base or spooned over bread as an appetizer. Easy to prep in advance, Marco's chimichurri recipe is great for overlanders who want recipes that bring the flavor off-road. Serves four.
See more of Marco's creations at his YouTube channel OVRLDNX or on Instagram @ovrlndx.
Ingredients:
3 bunches of parsley, finely chopped
2 cups olive oil
1/3 cups red wine vinegar
8 garlic cloves, finely chopped
2 tbsp. dried oregano
1 tbsp. paprika
1 tbsp. red chili pepper flakes
A pinch of salt and pepper
Directions:
Finely chop parsley and garlic then combine parsley, garlic, red chili pepper flakes, paprika, and oregano in a bowl. Mix until well incorporated. Add salt, ground black pepper, red wine vinegar, and olive oil. Mix until all ingredients are completely incorporated, pour into a glass jar, and let sit for 24 hours.
---
Daniel Black's Campfire Paella
Though most paella is made with shrimp and mussels (which can be tricky to keep fresh in a Jeep or truck), this chicken recipe offers a variation for those that don't care for seafood and overlanders who like the convenience. Though traditionally prepared in a paella pan, it works just as well in a cast iron Dutch oven, making a dual purpose recipe that's as delicious at dinner parties as it is out of the bed of a truck for overlanders.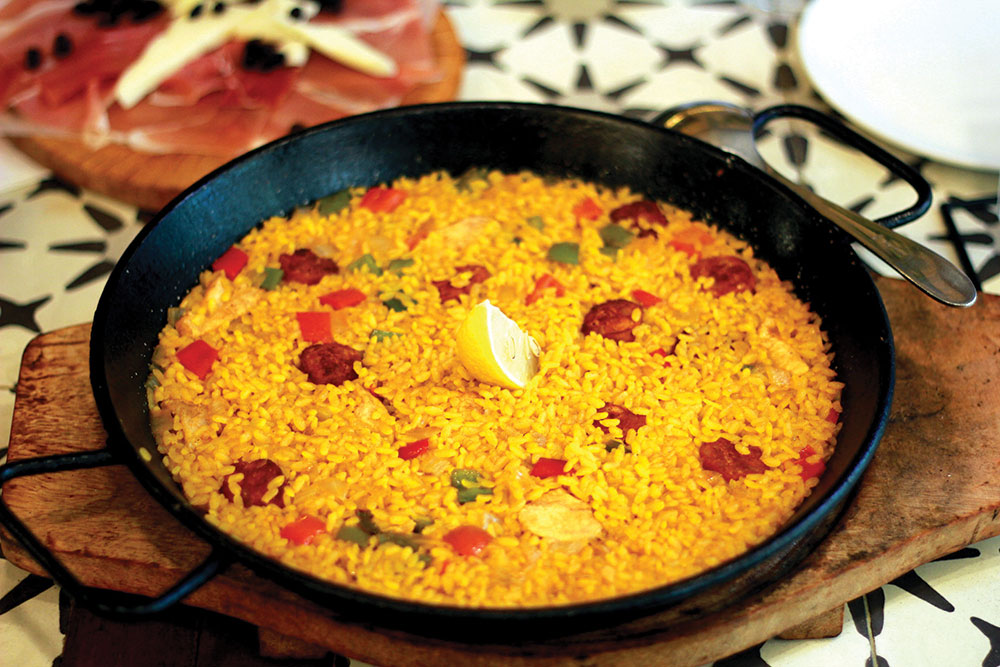 Ingredients:
2-3 tbsp. olive or vegetable oil
1 cup (dry) paella rice (can substitute with Arborio risotto rice)
8 oz. dried, Spanish-style chorizo diced
1 yellow onion diced
1 red bell pepper diced
4 cloves garlic chopped
1 14.5-oz. can diced tomatoes
1 lbs. boneless chicken thighs, diced
3 cups chicken stock
1 tbsp. of smokey paprika
1 cup frozen peas
Lemon wedges, for serving
Directions:
Heat olive oil in cast iron or paella pan and add chorizo, cook for about 5 minutes until slightly crispy. Add the diced onions and bell peppers and cook till softened and slightly browned (for about 5 minutes). Then, add tomatoes and garlic and cook for another 10 minutes, until mixture has thickened slightly. Finally, add the rice, chicken, paprika, peas and stir to combine. Add the chicken broth and mix ingredients together so there is an even layer of paella.
Let the paella cook, uncovered, for about another 20 minutes, rotating the pan occasionally to make sure the bottom cooks evenly. Cook until all the liquid has been absorbed. If rice is not done and is still chewy, add a little more broth and continue to cook until softened or "al dente". When it's done, remove the pan from the heat, cover it with foil and let it sit for 10 minutes before serving.
---
Rashad Frazier's Grilled Chicken with Honey Sriracha Sauce
This dish gets its flavor from a simple marinade of honey, sriracha, and lime juice, making it a little sweet and a little spicy. It pairs best with grilled cauliflower or grilled red potatoes. Because the chicken itself has so much flavor, it's an ideal recipe for overlanders that can be paired with whatever starch or carb you have on hand. Serves 4.
Rashad and his other recipes can be found @camp.yoshi on Instagram.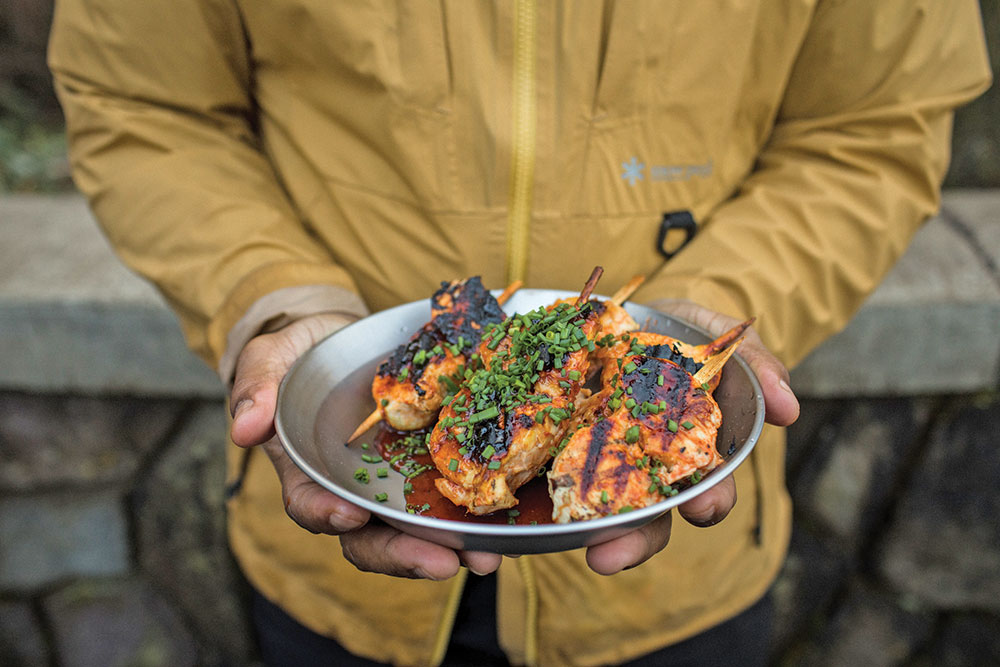 Ingredients:
2 lbs. boneless chicken thighs
3 tbsp. vegetable oil
2 tbsp. butter
1 tbsp. minced fresh ginger
2 garlic cloves, minced
4 tbsp. honey
6 tbsp. sriracha sauce
1 tbsp. lime juice
2 tbsp. fresh chives chopped
Directions:
In a small saucepan, add butter. Once melted add in fresh ginger and garlic. Stir until fragrant, about 1 minute. Add in honey, sriracha and lime juice. Stir to combine and let simmer for 4-5 minutes. Let cool and set aside the container with a lid. Pat chicken thighs dry. Cut into 1 inch pieces. In a bowl, mix 1 tbsp of oil, then season with salt and pepper. Skewer chicken pieces evenly amongst skewers. Once the grill is ready, oil grate. Place chicken thighs on the grill for 5 to 6 minutes on each side. During the last 3 minutes of grilling, brush the honey sriracha glaze on both sides of the chicken. Remove from the grill. Brush on more sauce. Sprinkle chives over skewers.
---
Yeti Norvell's Sweet Whiskey Roots & Bacon-Wrapped Medallions
One of Yeti's favorite camping meals, this can be cooked over an open flame or prepared on a camp stove. Whether he's cooking for other overlanders or at the shop, Yeti has the recipes to make good eats with minimal fuss. These Whiskey Roots and Bacon-Wrapped Medallions are served over a bed of wild rice to make a well-rounded meal. "A little sweet, a little smoky, and just the right amount of crisp makes these cast iron carrots the perfect campfire side dish," says Yeti.
He also prefers to source his food from local farmer's markets and butcher shops for premium flavor and taste. As Yeti shares, "Simply seasoned and beautifully cooked with fresh ingredients, render tender chunks of mouth-watering steak." In fact, these medallions were freshly harvested locally by his wonderful partner, Miss Yolo. Serves 4.
See more of what Yeti is cooking up on YouTube and Instagram @themancalledyeti.
Bacon-Wrapped Medallions
Ingredients:
4 – 1 ½ – 2-inch thick cut venison backstrap medallion steaks (substitute with 1 ½ – 2-inch prime beef filet mignon)
4 slices thick cut butcher bacon
Coarse ground salt, kosher preferred
Coarse cracked black pepper
Cayenne pepper
White sage
Directions:
Rest medallions at room temperature 30 to 35 minutes prior to cooking, one of the most important steps. This helps raise the internal temperature of the meat to help get to desired cooking doneness quicker. (If cooking in extreme cold temps, disregard resting instructions.) While resting the meat, get the grill temperature to approximately 450° to 475° or medium high. Be sure to clean and oil grill grate. Wrap each cut of meat in one piece of bacon and pin with a toothpick or skewer. Give the medallions a nice seasoning of freshly ground coarse salt, freshly ground coarse black pepper, cayenne pepper and fresh white sage. Season it just before grilling for ideal flavoring.
Place the medallions on the grill, away from direct flame and close the lid. Grill on the first side for about 4 minutes (more for medium). Rotate halfway through for nice grill cross marks. Flip and grill until you reach your desired internal temperature. Important note: It's good practice to cook to the desired internal temperature of the lower desired "cooked doneness" and let it rest before serving.
For a perfect medium rare, cook to an internal temperature of 125° – 130° (rare). Then pull the medallions from the grill and let them rest for a minimum of 5 minutes while wrapped in a foil tent. The internal temperature will often rise 5° to 10° while resting and bring a rare cooked medallion up to a perfectly moist medium rare.
Sweet Whiskey Roots
Ingredients:
1 lb. carrots
2 oz. bourbon
½-1 lb. thick cut butcher bacon
4-8 tbsp. butter
¾–1 cup brown sugar
Coarse ground salt (Kosher preferred)
Coarse ground black pepper
Chives or green onions, for garnish
Directions:
Preheat cast iron skillet or pan over BBQ grill or open fire on medium-high heat. Add your favorite bacon. Cook bacon to desired crispness. While bacon is cooking, scrub and split carrots long wise down the middle. When done, pull bacon off but leave the drippings in the skillet.
Add half stick to full stick of butter to the hot skillet. (Butter amount depends on size of skillet and amount of carrots being cooked. You want about a ¼ inch to ½ inch of melted butter and bacon drippings in the bottom of the pan.) Once the butter and bacon drippings start to bubble, add a splash of your favorite whiskey (about a shot or so), brown sugar, coarse black pepper, and coarse salt. Mix and toss spices in with the already sizzling butter and bacon drippings. Cook for about 15 minutes before tossing/flipping the carrots.  Cover the skillet and let carrots cook for another 10 to 15 minutes. Keep an eye on them as they start to caramelize. You'll know the carrots are perfectly done when fork tender and sticky with the candied brown sugar and whiskey glaze.
Fine chop chives/green onions and garnish carrots. Pull them aside and cover to let them rest or serve directly from the skillet, depending on the timing of your main dish.
---
Camp Cocktail Complement
By Kelly Nomura
As we settle into spring and approach summer, finding the right camp cocktail masterpiece can make you the hit of your next expedition. A nice cold drink to recap the fun of a long day off-road with friends is one of our favorite parts of camping. When we're together with other overlanders, sharing a new drink recipe aroud the campfire is a great way to make friends. We connected with Devil Acres Distillery last year and had the chance to play amateur mixologist with their Jigger & Jones gin. While a classic gin & tonic may hit the spot for some, others may prefer something a bit fancier.
We took our bottle of Jigger & Jones out to Moab in early July, when temps exceeded 100 degrees F every day. The light gin flavor was refreshing and a cocktail certainly cooled us down during happy hour out on the trail. Depending on real estate in your fridge or cooler, you can whip up a fancy drink or keep things simple.
Here are two variations on a gin cocktail that perked our taste buds and seemed perfect for spring and summer.
Blushing Strawberry Gin

and Tonic



1-1/2 ounces Jigger and Jones gin
1/2 ounce freshly squeezed lime juice
1/2 ounce strawberry syrup (or four smashed strawberries)
1 dash orange bitters
4 to 5 ounces tonic water, to taste
Strawberries or limes, for garnish
In a tall glass, mix all ingredients and garnish with a strawberry or lime.
Strawberry Syrup:
2 lbs. strawberries (stems removed, halved)
2 cups water
1 cup sugar
1 tbs. lemon juice
Bring to boil. Reduce heat and let the mixture cook for 10 to 15 minutes. Let cool. Strain the strawberry mixture through cheesecloth. Stir in 1 tbs. lemon juice. Place in a covered container in fridge.
Camping Hack:
We picked up some strawberry lemonade at the store and used that instead of lime juice and strawberry syrup. While not exactly the same, it was an easy replacement and added another beverage option to the fridge.
---