Photos by Mercedes Lilienthal
In the first Alcan 5000 Rally Prep article, we talked about the rally and the challenges my husband, Andy, and I will face by competing in it. We discussed the harsh climate, potentially treacherous wildlife and traffic, and how our '91 right-hand-drive Mitsubishi Pajero will fair during the event. The 2020 Alcan 5000 Rally will showcase over 5,000 miles of snow, ice—and excitement.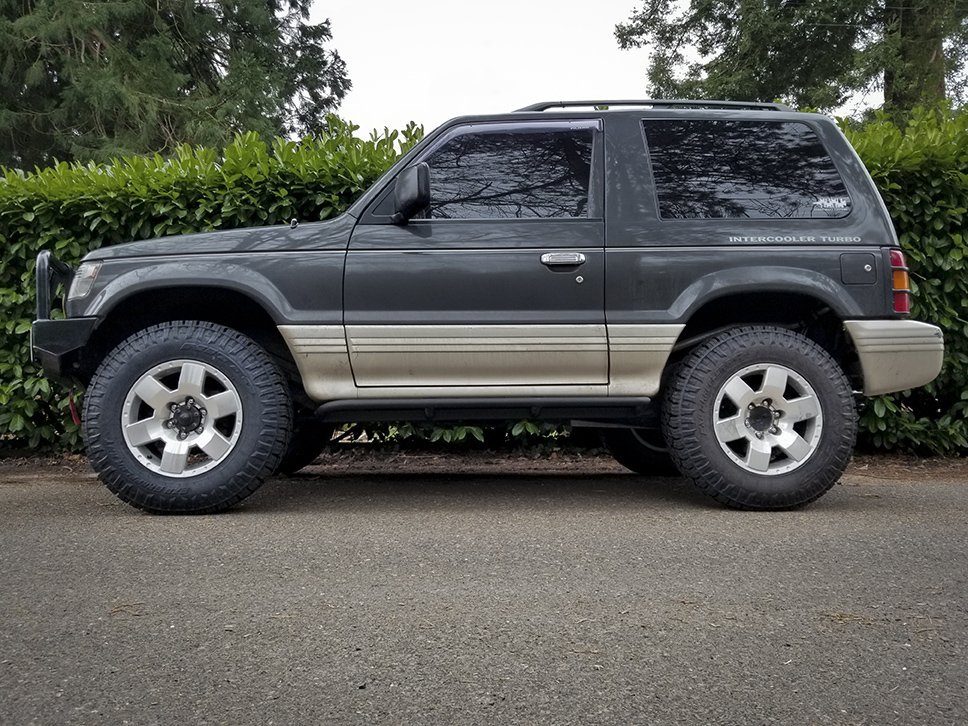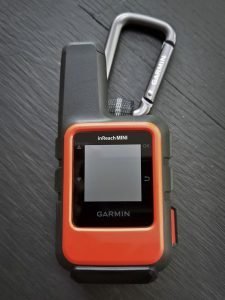 Our Pajero, aka the Terra Tractor, got a lot of love since the first TREAD story went live. In addition to the previous upgrades and mechanical fixes, we've been working hard to finish up the build, get ourselves prepped, and being prepared during unexpected happenings, like using our Garmin inReach Mini for emergency communications. We're in the height of Alcan 5000 rally prep and are excited to get underway.
Rod Hall Tribute
This rally has been in existence in 1984 and many notable ralliers have competed in it over the last few decades. This included the late great racer Rod Hall. Hall, who passed in 2019, rallied the 1986 Alcan 5000 Rally in a Mitsubishi-built Dodge Raider, but, he is best known for being the only person who raced 50 consecutive Baja 1000's. His racing career crossed over half a century, with around 180 race wins that included a streak of 35 back-to-back victories in the 1980s.
We're extremely honored to have been asked by the Alcan 5000 Rally organization to run our Pajero in Rod's honor, as a tribute vehicle to his 1986 Alcan run. The Dodge Raider (same as a gen 1 short-wheelbase Mitsubishi Montero or Pajero) was a predecessor to our Mitsubishi Pajero; both are fairly rare in terms of readily available SUVs. We're humbled by this request and graciously accepted the offer. We'll be running the historical class in Rod's honor.
Tires and Wheels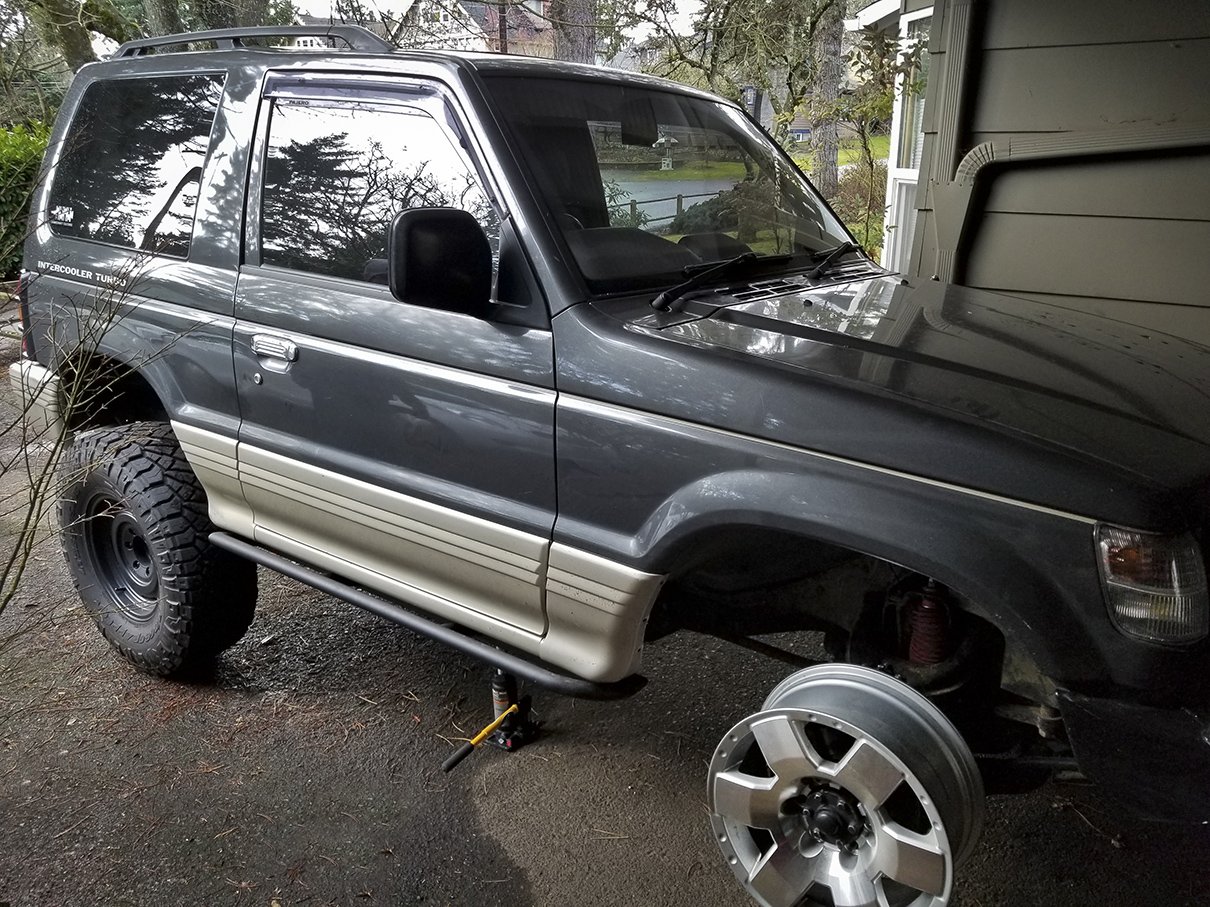 Several important items were installed or swapped out to make the Terra Tractor Arctic ready. First up? We switched our meaty Nitto Ridge Grapplers and fifteen52 Analog wheels for a skinnier, studdable setup. Whereas my main set of rubber is wholly capable off-road, rally officials mandate all participants run three-peak-rated all-terrain or snow tires. We decided upon Nitto Exo Grapplers. Not only are they rated with the mountain snowflake for winter driving conditions, the Exo Grappler's sipes and tire tread pattern provide grabby edges and push out water, snow, and slush better than other models. These features are combined with a durable compound, allowing for greater grab in freezing temperatures—critical for below zero rally action.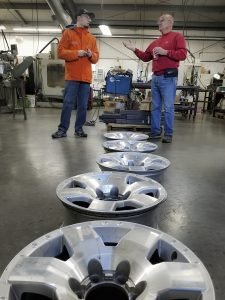 Since Exo Grapplers didn't come in sizes to match our Analogs, we searched extensively to find rims to fit the Pajero. Andy spent countless hours researching which wheels would equal the odd-ball offset and tire size we required. Additionally, we needed to have the center bores machined two millimeters to permit fitment over our large 4WD front hubs. Did I mention this was a needle in a haystack type of search? Long story short, we found a set of used '07 Toyota FJ Cruiser wheels that worked. We rolled through a few different sets of lug nuts before finding a style that worked. Who knew there were different kinds of FJ lug nuts?!
Heated Adjustable Seats
One of the most critical upgrades to ease occupant fatigue in our rig was switching the stock seats for orthopedic Scheel-Mann Vario F seats. Not only does this model offer up two settings for full-seat heating capability, the Vario Fs are 10-way adjustable. The bottom seat cushion adjusts in and out to accommodate various thigh lengths whereas upper bolsters support the sides of our torsos, adjusting in and out for a customized fit.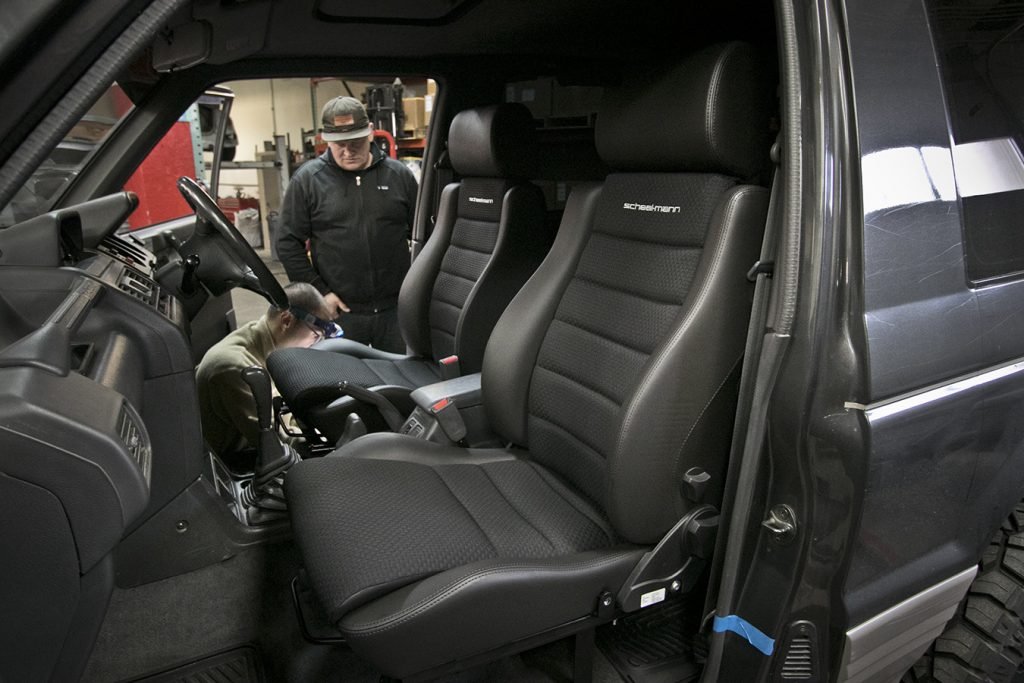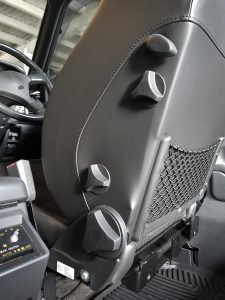 In addition to seat bottom and upper bolster adjustments, Vario F seats allow for a four-way lumbar support—perfect for securing our backs during long off-road adventures. The lumbar feature offers up the chance to change the intensity of the support, as well as fine tuning the height of where occupants prefer it. The Vario F has smaller side bolsters on the bottom cushion, too, allowing us to get in and out of our lifted Pajero easily. These Scheel-Mann Vario Fs will save our backs and butts, literally.
Programmable Coolant Heater
Along with keeping our bodies warm, our #1 concern was keeping the Terra Tractor's engine warm—especially when turned off. With temps potentially dipping below -40, along with driving an early 1990's old diesel, we did a lot of research before installing a Webasto Thermo Top Evo diesel coolant heater.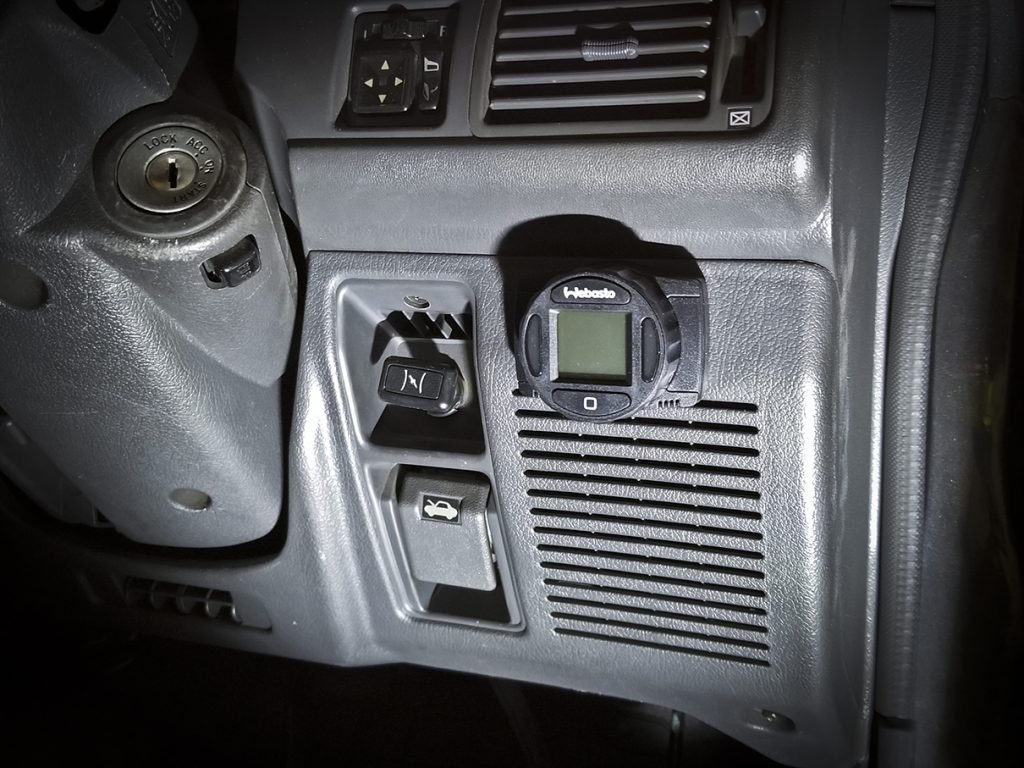 Andy and I are from the Midwest, where standing temps can be well below zero with wind chills tormenting residents of -20, -40, or even worse. Folks have block heaters and plug their vehicles in overnight but you just don't see many old diesels during the winter—the fuel will gel up and prevent them from running.
Although block heaters work for the average person, running a winter rally in the Arctic for 5,000 miles is another story. We're staying at motels, but so are all the other teams. Fuses at motels could trip, leaving everyone without a way to keep their engine warm. Additionally, we didn't want to run the Terra Tractor's engine the entire time we rallied, either.
Thanks to the Webasto Thermo Top Evo coolant heater, we won't have those issues. We worked with the fine folks at EarthCruiser to install this unit for us. As authorized Webasto installers, they showed us how the system worked. The Thermo Top Evo works on battery and diesel power—no AC electricity needed. A low draw from our batteries powers the programmable timer, while the main unit (installed in the engine bay) sips fuel from our auxiliary diesel tank. We can run the system for however long we want, from 10 minutes to even 10 hours (an overnight session will result in about one gallon of fuel used). It sounds like the Pajero has a quiet jet engine inside its bay when engaged; it whirs its way into engine-warming comfort.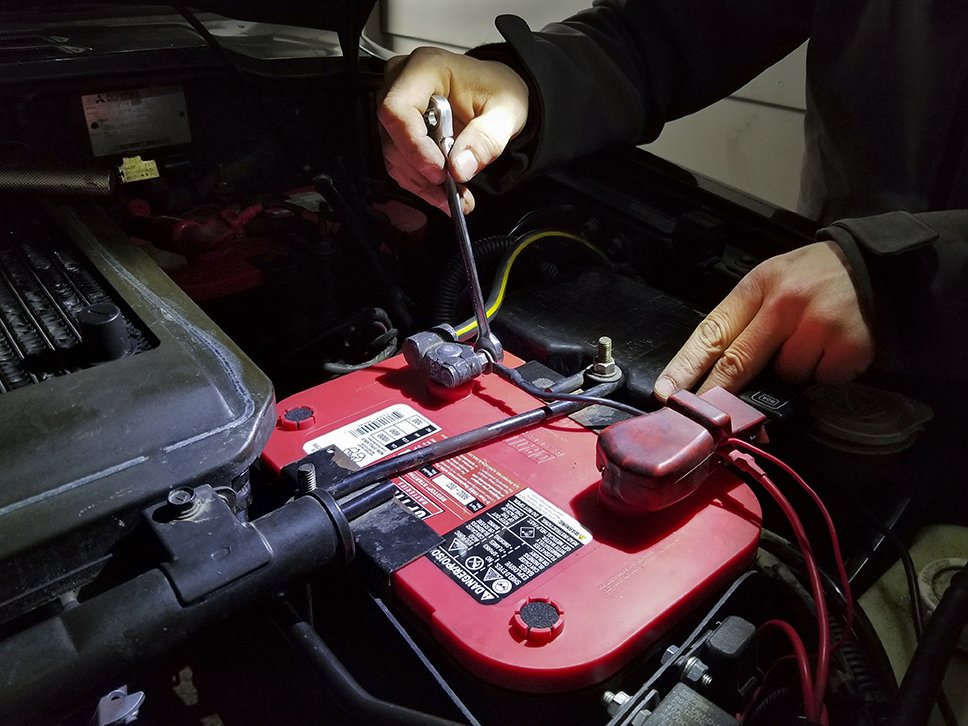 Dual Batteries
Cold cranking amps (CCA's) and optimal starting power is the name of the game when adventuring into the Arctic. We decided upon OPTIMA Batteries REDTOPs to help us start each day. We're familiar with their YELLOWTOPS (we ran them in our customized '95 Suzuki Sidekick and '01 Jeep Cherokee) and trust the brand. We opted to switch up the model, however, as the REDTOPs showcase 800 CCAs and have the strongest starting burst in their line-up.
Platform Roof Rack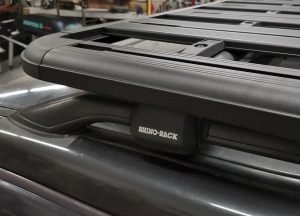 Hauling gear will be easier with a new Rhino-Rack Pioneer SX Platform rack. This 60"x49" rack fits atop our Pajero perfectly, with its low profile and sleek appearance minimizing road whistling at highway speeds. Made of heavy-duty aluminum and reinforced nylon, this platform will house our MAXTRAX and DMOS Delta shovel during the rally. This system also boasts several other accessories options, a like spare tire mount, shovel or Hi-Lift jack provisions, or even a way to attach your awning.
Interior storage
Eons-old Sterilite totes are good for some things, but not when you're headed on a major expedition like the Alcan 5000 Rally. That's why we upgraded our gear boxes to portable and durable ROAM Adventure Co. storage cases. These rugged totes are made from a durable LDPE shell, have a dust and waterproof gasket seal, and pre-installed gas struts for keeping lids open when in use. On top of that, ROAM cases have lockable steel latches and even a built-in bottle opener—although we may choose a warm beverage at the end of the rally.
How we stack our belongings inside the Terra Tractor is yet to be determined. For now, our gear, tools, Pajero project materials, and other miscellaneous items reside on our living room floor. We're a cross between an REI and a NAPA auto parts store at current state, but we wouldn't want to have it any other way. It's taken several months of planning, purchasing, executing, and altering to get to where we are today. We're hoping for the best during the rally, but will be prepared should the unexpected happen. That's how we roll. Stay tuned for an after-Alcan feature in our pages of Tread magazine and online.
Follow our journey via social media at Crankshaft Culture and at Tread magazine.