USDM RHD Subaru Legacy GT Wagon
Adventure Legacy: A RHD Subaru Legacy GT Wagon
This 2005 Subaru RHD Legacy GT Wagon has quite a story, and isn't at all what it looks like at first glance. The 2005 GT Wagon is a sought-after model because it is the only year Subaru made a manual turbo wagon in Legacy trim for the U.S. market. Jonny Walker bought this superclean example in 2008. Initially, he planned to do some basic bolt-on mods in a street-style build that he could daily drive and take to car shows. As you can see, Walker's plans changed drastically!
Phase One: RHD
Walker enjoyed his manual turbo wagon for about nine years before a crazy opportunity presented itself that led the car down the path you see today. In 2017 Walker found a full '06 Japanese Domestic Market (JDM) right-hand-drive Legacy GT front clip for a price that he just couldn't pass up. He'd always wanted an RHD car, but also wanted something much newer than the 25-year U.S. import laws would allow.
Just under six months later Walker had a full JDM RHD converted mid-'00s GT Wagon, which was fully legal on U.S. roads. He says he'll never again swap an LHD car to an RHD, as the process was a major task. Everything was swapped over from the JDM donor front clip. This included the firewall, dash, ECU, wiring harness, and motor. While the car was completely torn apart, Walker also upgraded and cleaned up everything inside and out on the car.
While Walker had been competing in car shows since 2008 with his clean, rare wagon, this RHD swap took it to the next level. To date, Walker believes there are only five Legacy and Outbacks from 2005-2008 that have been converted to RHD here in the states, with three of those owned by the same car guru in Texas.
Phase Two: Overland
Walker lives an adventurous personal and work life that finds him traveling all over the planet. He has worked for long stints down in Antarctica and also spends most summers traveling between Seattle and California for work. Walker would drive up and down the West Coast, often between jobs, taking a few extra days between locations to find adventure. His coworker is a more traditional camper/hiker/backpacker, which really shaped the direction the Subaru build and adventures took.
After a summer of trial and error as well as lots of research, Walker decided that he'd build a hybrid on-/off-road adventure wagon. He also wanted the car to work as his daily driver and still be clean enough to enter into car shows. The eventual goal is to drive this wagon up to the Arctic Circle, "because it's not very often you can say you've been not only to the top of the world, but also the bottom." That's a lot to ask of a single vehicle, especially a Subaru wagon!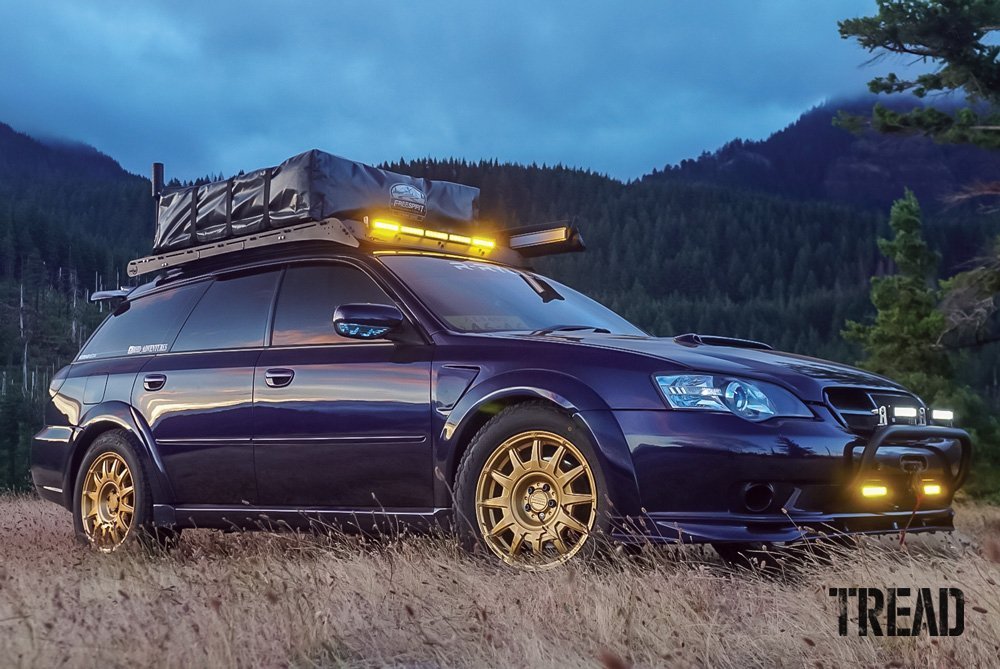 The Overland Build
The biggest challenge in building a small adventure rig is not only weight, but space. The first iteration of Walker's overland wagon was a basic setup with a hatch tent, tiny awning, and 4-gallon Roadshower. While the setup worked, Walker found that everything had to come out of the back to go to sleep, a little awning does nothing for you in the rain, and he'd wished he'd purchased a larger Roadshower.
The overland-style build transitioned from there to what you see today. The upgrades started with a first of its kind Prinsu roof rack. On that roof rack is a Freespirit rooftop tent, a 6-foot awning, and a Readylight.
Besides the RTT, living systems on board this adventure wagon include a Dometic fridge, propane campfire, and Blackstone griddle. A Front Runner 13.7-gallon freshwater tank lives behind the rear seats. A propane hot water Joolca Nomad shower/sink provides running hot water, a much-loved luxury on Walker's adventures. Staying connected to the world is many times essential in today's busy lives, and a WeBoost cell booster has saved Walker a few times, once when he was completely lost and needed a connection to find his way.
Adventure travel in our modern times requires lots of electricity to keep accessories and electronics powered up. The electrical gurus at Medlock and Sons in Seattle made two Odyssey Extreme batteries fit underhood, one in the fender behind the front bumper and the other in the factory location, in custom battery trays. The batteries were joined together with a Genesis Offroad dual-battery kit and controlled with a sPOD Bantam unit. The sPOD digital touch screen controller was then mounted in a custom fiberglass mount that replaced the ceiling sunglass holder.
Off-Road Capability Of The Subaru RHD Legacy Wagon
A big change in the build was the suspension. Switching from a street build to off-road capable build was no easy task. Walker ended up going with custom coilovers from Shockworks out of Australia. He then had Hybrid Air in Canada upgrade the coilovers with an air system that provides 2 to 4 inches of height adjustment at the touch of a button. This setup works perfectly for providing off-road clearance while also retaining the street height look and a quality ride on most terrain.
Off-road recovery was next up on the build sheet. A Primitive Racing hidden winch mount was installed by Wanderlust Overland behind the front bumper, holding a tiny Warn Axon 55s powersports winch. The little winch is just enough to help this Subaru through tough situations (and has paid for itself a few times over already). Onboard air ensures Walker can air tires up or down easily as conditions change.
In order to not need that recovery gear as often, Primitive Racing skid plates and rear diff protection were installed. Also a custom Rallitek lightbar and Diode Dynamics lighting light up the night when Walker doesn't quite make it to camp before the sun sets.
Next up was more traction, and Walker was lucky enough to get one of the early Torq Masters rear lockers for his RHD Subaru Legacy Wagon. Not to stop there, Walker is currently having an upgraded dual-range gearbox built down in Australia, with gears First through Fourth, plus the transfer gears being shot peened to take the abuse of the turbo motor. A few parts that will go in soon also include a Torsen front limited-slip differential and a DCCD five-speed controlled center differential.
Wheels & Tires For The Subaru RHD Legacy Wagon
No good overland build is complete without the proper wheel and tire package. While Walker has loved his 18-inch Work Wheels for the past six to seven years, it was time to switch them out for a setup that could take the abuse of the off-road adventures he was regularly enjoying. It was getting so bad that he was fixing one to two wheels every time he came back from an adventure.
Walker recently got his hands on a set of Raceline 401 Aero wheels, which were just released for the smaller adventure vehicle crowd. He wrapped those new bling rims in Falken Wildpeak AT3W tires. Walker says he should have prioritized this mod earlier, as the extra sidewall of the tires provides better ride quality and the ability to air down. The wheels are also much stronger and have no issues taking the abuse his adventures in the Subaru RHD Legacy Wagon have been dishing out.
Always More Mods To Do
Builds like this are never done, and a set of Maxtrax and some Factor55 parts are next up on the recovery gear to buy list. Big mods already in the works are rock sliders by Rallitek, a rear tire carrier, and a full kitchen setup being designed and fabricated by Indigo Metal Fabrication. Because space is at a premium in this little wagon, Indigo Metal Fabrication is going to also pull and replace the rear side windows with custom storage compartments.
All the extra weight in this vehicle of course also means more power is needed to get it through obstacles and down the highway. More performance parts from Japan are already on order. Because of the extra weight being added soon to the rear of the vehicle, the rear suspension will also need to be upgraded.
Sponsors & Partners
Walker wants to thank all the sponsors and partners who have helped him make this dream build a reality. Some of those companies are Prinsu Design Studio, 4×4 sPod, Torq Masters, Primitive Racing, Odyssey Battery, HybridAir, Subtle Solutions, Warn Industries, Diode Dynamics, McClean Metalworks, Gately Audio, Audio Dynamics, Medlock and Sons, Raceline Wheels, Falken Tires, Lolo Overland, and many others.
To follow the adventures of this incredible build, follow Jonny Walker on Instagram
@rhd_adventures.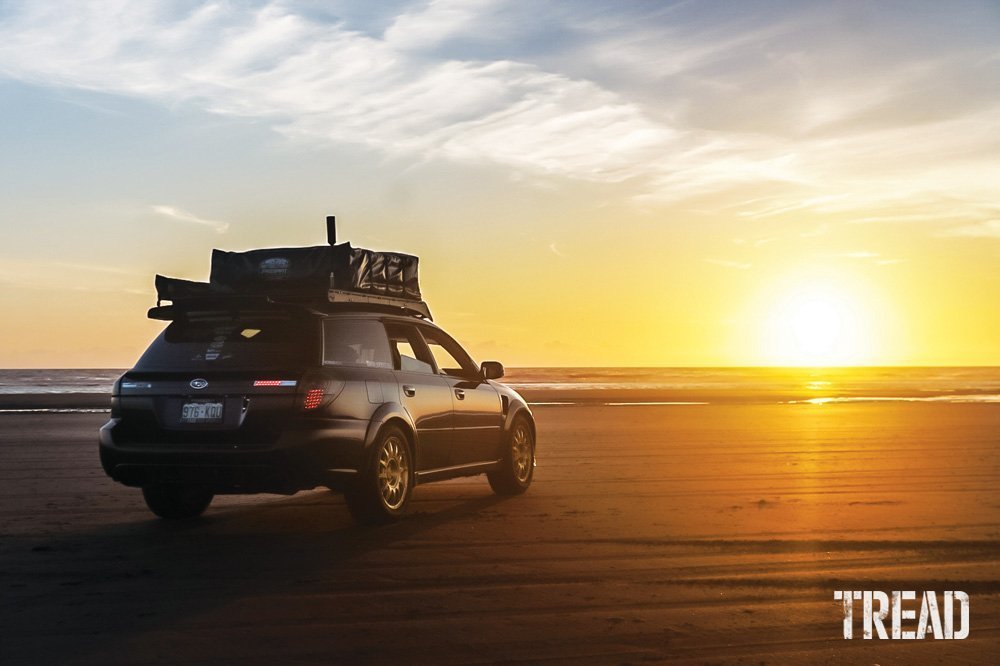 2016 USDM Subaru RHD Legacy GT Wagon
Engine/Performance: '06 JDM EJ20Y motor swap, TD04HLA-19T Twin Scroll Turbo, JDM EL Headers, JDM Zerosports intake and filter, Password JDM carbon-fiber intake duct, HKS carbon-fiber engine cover, dual JDM Liberal after-cat exhaust, Group N motor mounts, JDM Zerosports intercooler splitter, JDM OEM battery and ABS covers, JDM Prova Eifel oil cap, JDM Prova Eifel radiator cap, sPOD Bantam Power Distribution, dual Odyssey Extreme batteries, Genesis Offroad dual battery kit, Subtle Solutions radiator shroud, Subtle Solutions hood struts, Kartboy Engine Pitch Mount
Transmission: Southbend Stage 2 clutch, ACT lightweight flywheel, Kartboy Short Shifter, Kartboy Shifter Bushing combo, Kartboy transmission crossmember bushings, Perrin Performance transmission mount, custom 24-karat gold BamShifts shift knob, Torq Masters R160 rear locker, Whiteline differential rear bushings
Wheels & Tires: Custom Work Meister 18×9.5 +22, Raceline 401 17×8 +40; RK Ti Custom Titanium lug nuts, 255/45-18 Street Tires, 225/60-17 Falken Wildpeak ATs
Suspension: Custom off-road Shockworks coilovers, custom Hybrid Air coilover lift system and Hideaway air management kit, Whiteline Front Anti-Lift and Caster kit, Whiteline Roll Centre Adjust kit, Whiteline Camber Correction bushings, Whiteline rear control arm upper inner bushings, Whiteline Rear Lateral Link kit, Ultra Racing rear subframe brace, Cusco carbon-fiber front strut bar, JDM Legacy GT aluminum front control arms, JDM Laile Beatrush wagon roof bar, Primitive Racing diff skid plate, Primitive Racing skid plate
Brakes: DBA 5000 front rotors, DBA 4000 rear rotors
Exterior Accessories: Prinsu Design Studio roof rack, 02/03 WRX OEM three-piece front lip, JDM TwoHot Back9 Raised hood scoop, JDM Varis brake ducts, custom vented fenders from Japan, JDM OEM Wagon rain guards, JDM OEM front/rear Aero Spats, JDM Power folding mirrors with Grampus Blue turn signals, JDM BP5 Corazon fender flares, Audi RS4 Euro Rear Diffuser, JDM OEM mid spoiler, JDM Flatt Racing Development grille, CNC'd and water-jetted BeSpoke L7 Legacy Badge, JDM Delta Speed Wagon wing with custom-adjustable carbon-fiber insert and RK Ti Titanium Hardware, JDM Hanabi Smoked LED taillights, JDM LED rear foglight, WeBoost Drive 4G-X OTR antenna, Primitive Racing Hidden winch mount, Warn Axon 55s winch, custom lightbar by Rallitek; Aux lights: Diode Dynamics 30-inch light bar, 2x Diode Dynamics 6-inch Driving, 2x Diode Dynamics 6-inch fogs, Diode Dynamics footwell lights
Interior Accessories: Flocked RHD dash, custom suede headliner, Tuned By STi Legacy GT upper trim pieces, Tuned By STi Legacy GT center console, Tuned By STi Legacy GT lower dash pieces, Tecnocraft carbon-fiber T2 front driver seat, JDM Blitzen floormats, JDM OEM ceiling center console, sPOD Bantam control unit custom mounted in ceiling center console, JDM Information relocation kit, JDM OEM Nav Bezel with visor kit, JDM OEM double-din dash kit, JDM red hazard button, VBG1 vent gauge, JDM Prova suede steering wheel, HKS BB Tune doorsills, WeBoost Drive 4G-X OTR (cellular signal repeater); Sound: Pioneer double-din head unit, '13 Nexus 7 Carputer, 6.5 Audio Dynamics Component 3100 Series (speaker, tweeter, crossover), 5.25 Audio Dynamics 2000 Series Coaxial, Audio Dynamics 900.6 amplifier, Audio Dynamics 2100 Series 10-inch subwoofer in a custom-ported box
Overland Gear: FSR rooftop tent, FSR awning, FSR Readylight, Onboard Air, Dometic CFX35 Fridge, Front Runner 13-gallon water tank, Joolca Nomad hot water sink/shower system, Blackstone 17-inch griddle, McClean Metalworks hammock stand