sPOD HD: The Headache-Free Control Unit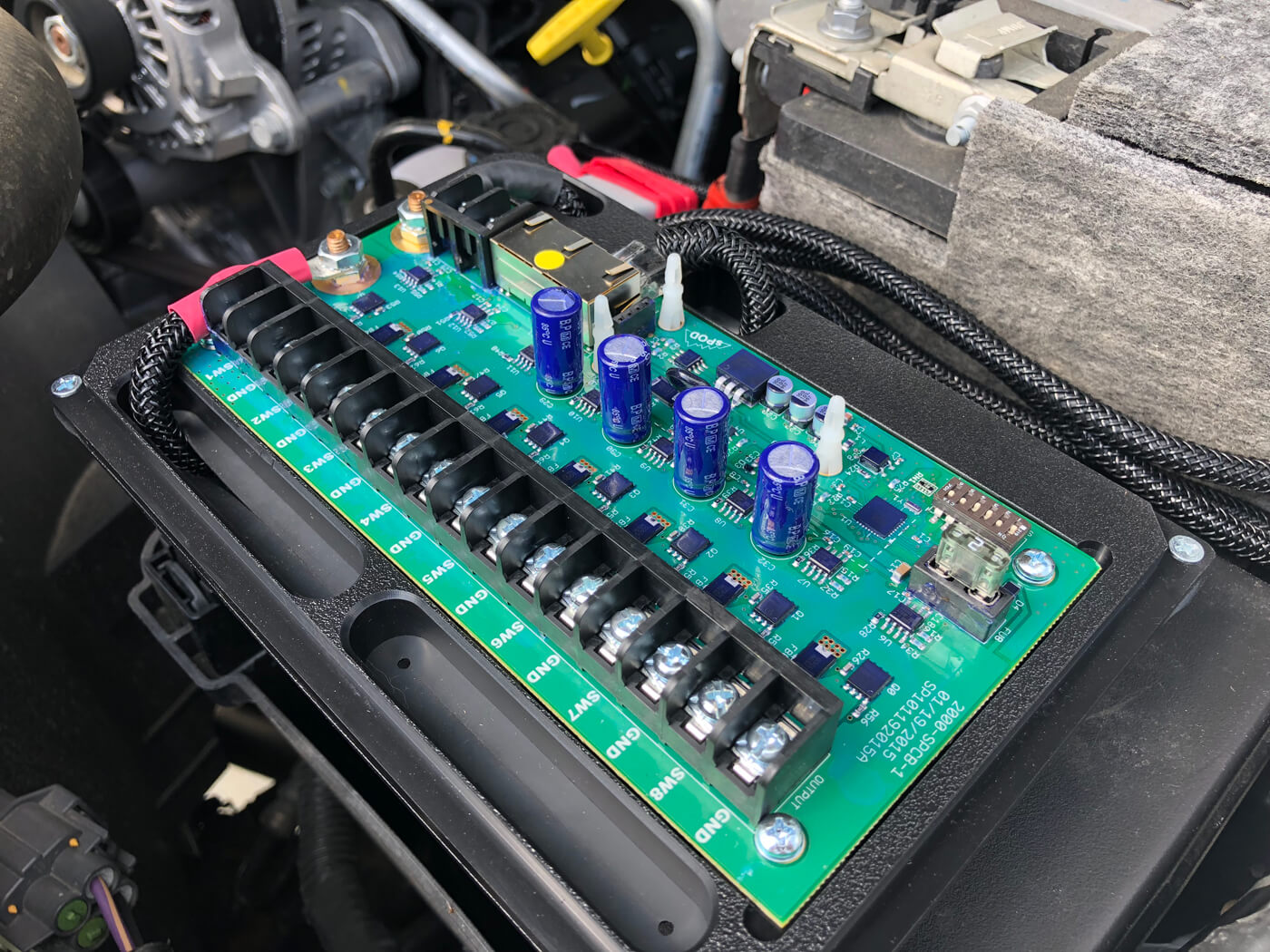 Electrical is often the nightmare of many people, and often has the result of either being a hazard, or looking and performing like complete garbage.
For the most part, most lighting kits that you can purchase for your vehicle arrive with their own little wiring harness. Wiring harnesses are relatively simple, you have the positive and negative leads that run to a relay, and onto the lights, and the switch and fuse. Unfortunately, these generic harnesses are built on a best guess basis and are not tailored to the vehicle that they are going to occupy at all. As well, each individual switch requires you pass a positive and negative lead from the engine bay, through the firewall and into the cabin for the switch set. Every time you add a new accessory, that is one more switch that needs to be mounted in the cabin.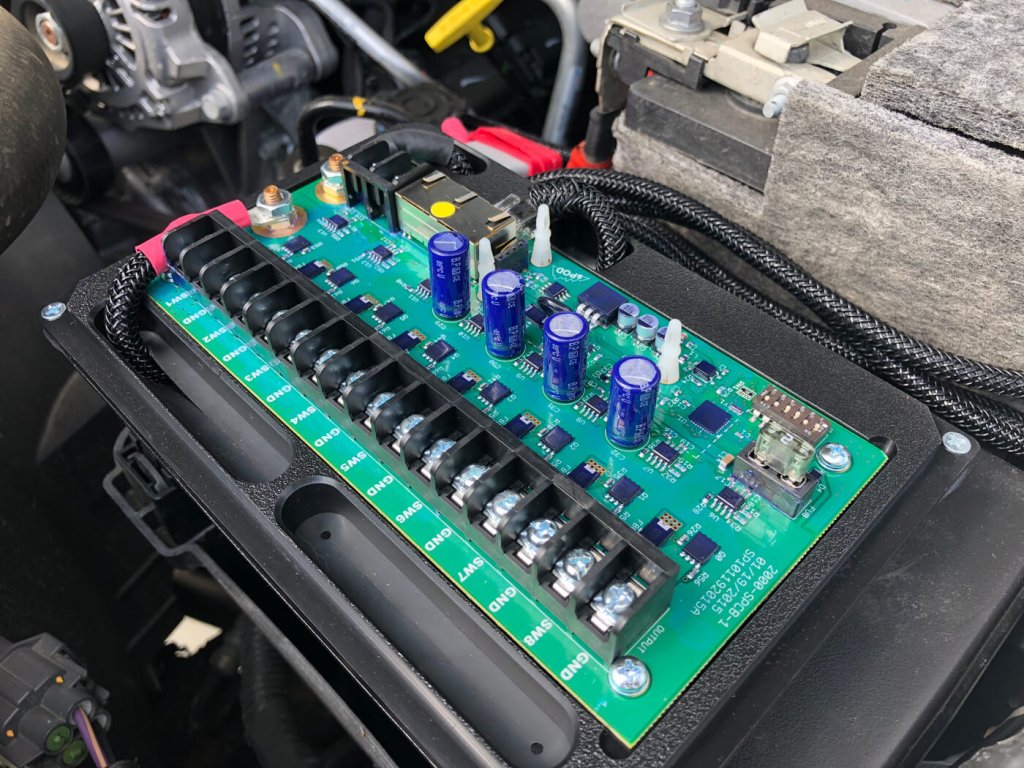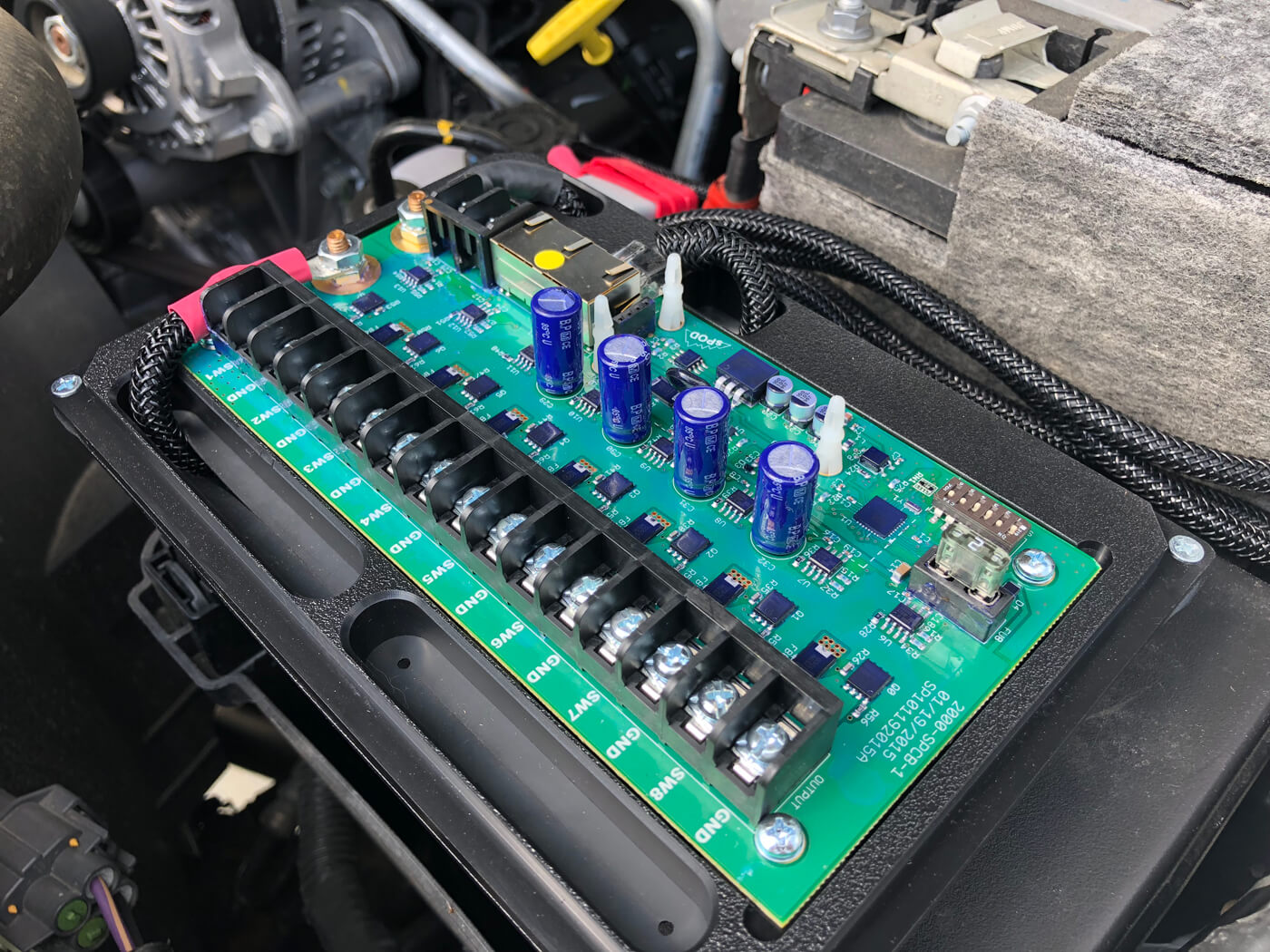 That is a pain in the ass, and is something that is going to ultimately become a rat's nest of wires if you are not an electrical harness wizard, and offers no modularity to the system. Plus, who wants to keep punching holes through your precious, irreplaceable firewall?
sPOD has been making their Source kits for years. Up until now, they have been an engine bay mounted relay box with a single switch lead to pass through the firewall and hook up six carling mechanical on/off switches. When this setup first hit the market nearly 10 years ago, it revolutionized the electrical accessory market, and now they have upgraded it entirely.
The sPOD HD is a huge leap in evolution from the original relay based design. The new HD unit features a microprocessor solid state controlled distribution box, and a fully computerized digital switchboard to be mounted in the cabin. Now with eight fully customizable circuits, you have more capability than before for controlling electrical accessories, and it has never been easier to do.
We installed the sPOD HD setup in a '17 RAM 2500 Power Wagon. As suggested by the sPOD staff, the control box was mounted securely to the lid of the stock fusebox assembly, and the CAT-5e control wire was ran through an existing hole in the firewall with a Daystar expandable firewall boot. The HD switch panel was then mounted to the dash as cleanly as possible to keep the OEM fit and finish going.
The benefits to the sPOD HD are nearly limitless. The control unit is fully electrical protected, and has a built-in voltage monitor that will disable the device if battery voltage gets too low to start the vehicle. So how easy is it? Plug in the positive and negative terminals from the lights (or any accessory) straight onto the positive and negative terminals on the sPOD control box, and then turn them on. Yes, that easy. No switches, no fuses and no relays, just plug and play — you already did all the hard work when you installed the switch panel in the cab!
Each circuit supports up to 30 amps individually, and has fault protection built in, so if a fault is detected by the microprocessor, the circuit is shut down and cannot be activated until it is resolved. The circuit board on the control box is coated in non-conductive epoxy to make sure it's totally water sealed, and the HD switch panel is waterproofed, as well.
The HD panel also allows a full suite of customization to look and function. Each switch is backlit with red, green and blue LEDs, and after downloaded to your phone, the sPOD HD app allows you to custom tailor that color to whatever you want, from lime green to deep blue — you can do whatever you want. We chose to mimic the dash lights of the Power Wagon spot on to continue the OEM look.
Further, with the Bluetooth-connected sPOD app, you can go into individual circuits and set up permissions like flash, strobe, momentary (only on while pressed) or dimmable (1-100 percent output). You can also link switches together to all come on with a single press, or set a gate that locks an individual switch out until another is pressed, like if you wanted to make sure your differential lockers were only operable once your air compressor was on.
For us, we will be running three pairs of lights, a race radio, fridge, air compressor and solar for the sPOD, and leaving the final eighth switch as an emergency/hazard switch that will activate all of the lights on a flash setting with the press of a button.
At $750, the sPOD is not cheap, but the control available, fit and finish and ease of use make it a worthy investment to your vehicle. While there are other options available on the market, and even homebrewed ones as well, there is not much like the sPOD. It really comes down to: Do you want the best? Everyone always says yes, but are willing to settle for something lesser. All we have to say to that is, you came this far wanting a professional fit and finish, what's a little more to do it right the first time?
If you would like to know more about the sPOD HD and the other variants of the Source that sPOD produces, visit their website at 4x4spod.com or visit them on Facebook.