SEMA Show 2021: A Full Day of Vehicles, Burnouts, and Walking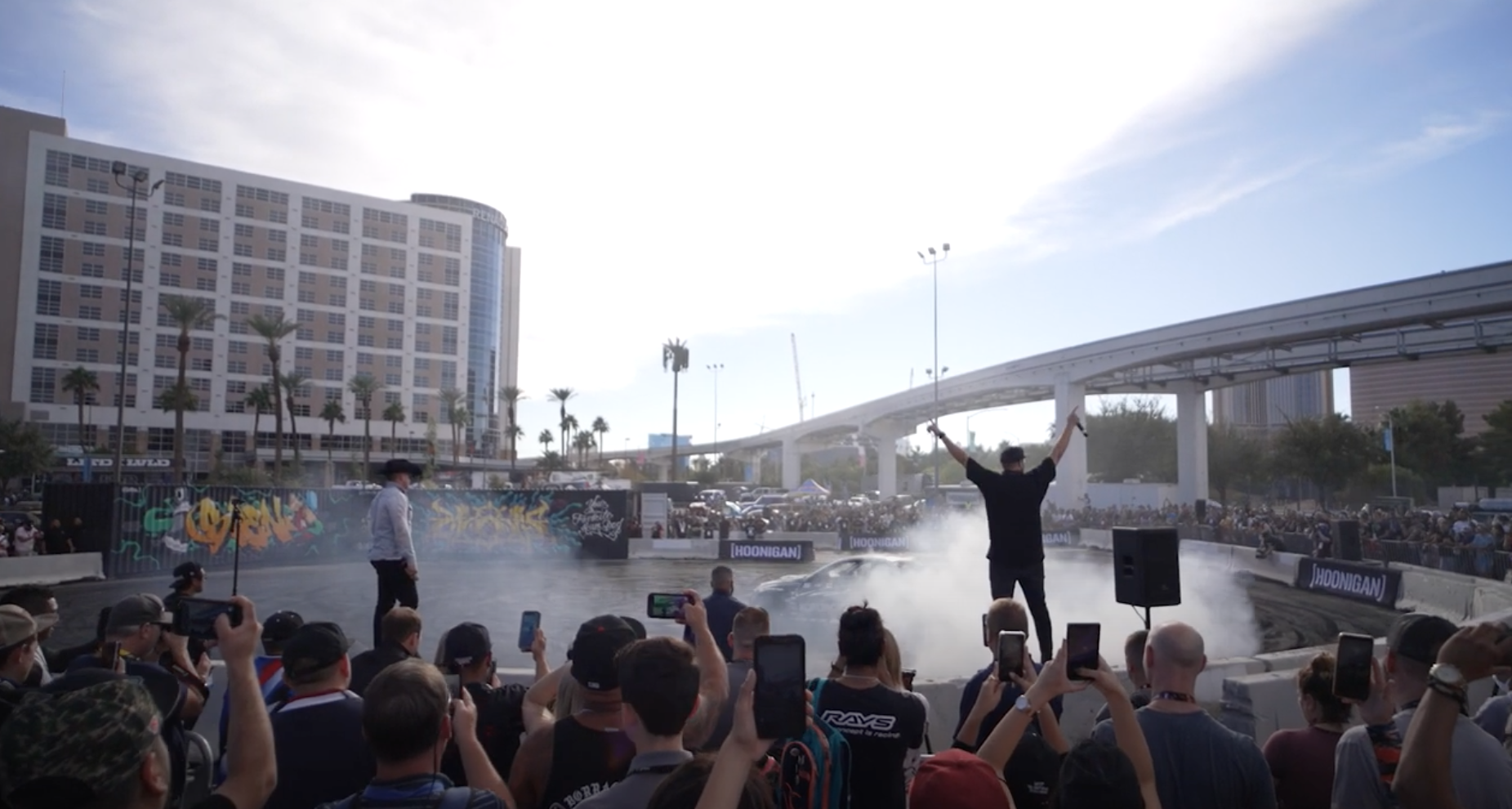 The Show must go on. SEMA Show 2021 brings the year of the Ford Bronco and more.
Questions and curiosity were on the minds of many as SEMA Show 2021 approached. How busy will it be? Will it feel empty with less exhibitors? Will there be enough people and exhibitors to make it worthwhile. To sum it up from us, SEMA 2021 did not disappoint.
SEMA Show 2021 Day 1 brought concept cars, new vehicle showings, and much more. Watch our footage of sights we took on on Tuesday, November 2, 2021.
SEMA Show 2021 Reveals and Concepts
We were in the right place at the right time to catch Toyota reveal their concepts. They included the TRD Desert Chase Tundra based off the 2022 Toyota Tundra TRD platform, the Chinook-inspired  Tacoma Tacozilla, and another Toyota Tacoma overland build in collaboration with Cruiser Outfitters. All builds impressed and left the mind wandering of the possibilities to come in the automotive aftermarket world for Toyota trucks.
Jeep had their concepts on hand, revealed earlier in the year at Easter Jeep Safari 2021, along with the impressive Jeep 4xE. Proving electric is here to stay, the mighty capable Jeep 4xE took two podium wins at Rebelle Rally 2021 a few weeks earlier, with Jeep sweeping Top 3 in the 4×4 class. Also in the Mopar booth was a RAM overland concept that stressed work to play, a common theme running through truck builds at SEMA Show 2021.
Impressive Vehicle Launches
One of the most impressive new vehicles showing was the EV Hummer. Touting an unbelievable 11,500 lb.-ft. of torque, the 1,000hp pickup with a range of over 350 miles will be unstoppable. Add in features like Crabwalk Mode, where rear wheel steering can turn up to 10 degrees, and Extraction Mode, where an extra 6″ of lift is available at the push of a button, and off-road terrain is no deterrent in a stock truck or SUV.
The New West Hall at SEMA Show 2021
The opening of the new West Hall of the Las Vegas Convention Center welcomed the truck and off-road companies and also housed the Overland Experience. The long walk to the new digs may have deterred some foot traffic on Tuesday, but the hall filled up with a constant flow by the next day and maintained through the week. We also think people finally discovered the cool Tesla underground shuttle after Tuesday. Familiar big name companies were missed, but we still found representatives from many of those companies walking the show and had a chance to catch up with them. The Overland Experience again held panels over the course of the week with experts in the field offering advice to the automotive industry. Unfortunately, we didn't get a chance to spend much time absorbing the info, but familiar faces sat in front of small crowds offering solid advice.
Tesla Underground Shuttle
The number one comment we hear each year when talking about SEMA Show is tired feet. Thankfully, the Las Vegas Convention Center took that into consideration when they opened the new West Hall. Located across the street from the North Hall, the West Hall is quite a trek if you need to get there in a hurry. A shuttle service, provided by a fleet of Teslas driving an underground tunnel system, easily takes up to 4 passengers from South Hall to the West Hall, with an option to be picked up outside of Central Hall. Teslas drove through the underground loop all day, making it much easier to get around to make meetings. We were very grateful for this hi-tech addition. We heard rumors of it expanding to Resort World and possibly be part of a larger underground system running throughout Las Vegas.
Overall Impression
While the amount of exhibitors was noticeably less, we found it to be a bit refreshing. It was easier to get around, getting decent photos of vehicles was easier, and meetings were purposeful. And there certainly was no lack of SEMA builds lining the buildings outside and scattered throughout the showroom floors. New products are great, but let's face it…we love the builds!
Stay tuned for more SEMA Show 2021 content.