Overland Eats Gathers the Overland Community With Grub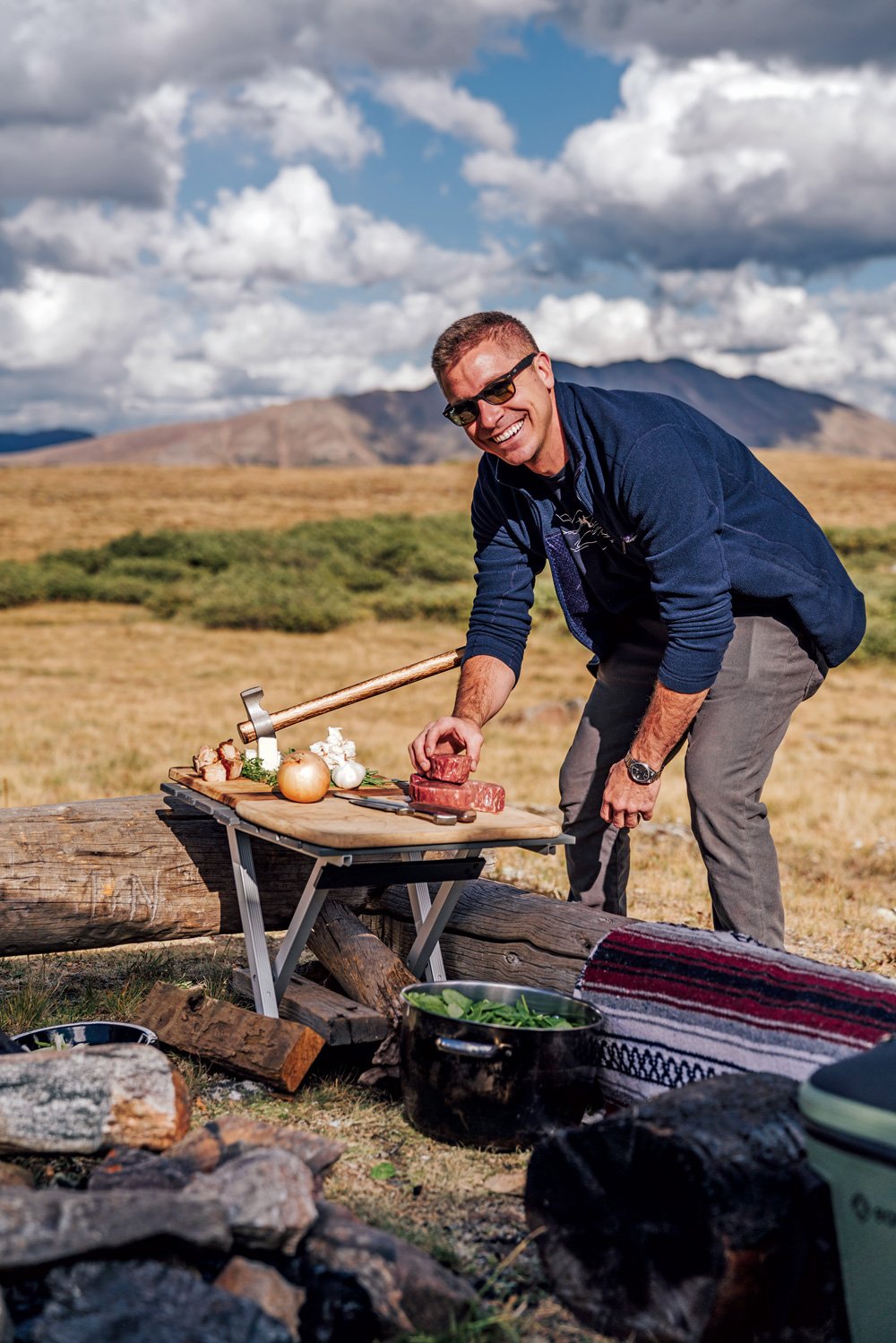 Hunting for a Tasty Meal
After a long day on the road traveling, nothing is better than a good meal. And what makes that good meal even better? Not having to cook it yourself. Imagine going on the hunt for a gourmet meal out in the wilderness. All you have are coordinates to guide your way. Upon your arrival to the designated spot, you see others looking just as perplexed as yourself. Everyone makes their way to a central campfire area and is greeted with smiles, friendly faces, and smells that make you salivate as you approach. New friendships are made and interesting conversations take place over a delicious meal. That, my friend, is what Overland Eats is all about.
Enjoying a good meal with good company is an pastime enjoyed by all for decades. Food always has a way of bringing together friends, family, and strangers. Meals enjoyed in civilization can be an experience to remember and apps like Yelp help you find new up-and-coming spots. But what about when you're out on an adventure? That doesn't stop some from enjoying a top-notch meal with others. Whether the preference is cooking over a propane stove, one burner, skottle, or open fire, people are really turning it up a notch to create better-tasting food. Perhaps it is because they are inspired by their friends or they saw someone who created a masterpiece on Instagram. Regardless of the reason, many people are getting outdoors and bringing a near Michelin-rated meal along for the experience.
Whether you adventure with your family, your friends, or solo, settling down in the late afternoon to evening to enjoy the scenery and nosh on some delicious bites is a dream. Sometimes there's a compromise to whip up something quick, and other times you get the opportunity to gather fresh ingredients for your journey and do it up right. Traveling in a group usually proves better because nothing beats a good potluck. It's the best version of trading lunches with your buddies in elementary school; you get to eat their lunch—and yours. Now take that delicious lunch-swapping experience, add in your adult-cooking know-how, a gorgeous view, and a main course that would impress any chef. Who wouldn't want to do that? Those who travel in groups know this is what happens on many trips. The anticipation and hope for someone who is a secret chef to share their delicacies with everyone else simmers within.
HIKERS COMING OFF THE ROCKY MOUNTAIN TRAIL, OFF-ROAD TRUCK ENTHUSIASTS, AND OTHERS ALL GATHERED TO SHARE STORIES AND MAKE NEW FRIENDS IN THE NAME OF ADVENTURE AND FOOD.
Jason Nicosia agrees and he wanted to create unforgettable experiences for others. He primed his Toyota Tacoma to enjoy weekend camping trips after his weekly grind in the boardroom in Denver. For two years, he spent time camping in big groups in the mountains where everyone cooked tasty food. He enjoyed it so much, he began documenting it; however, he knew he could help step it up a notch.
Thinking back on his days in New Orleans, he reminisced on the unique experience and fun had at pop-up dinners. A fan of a good scavenger hunt, he enjoyed getting the clues to figure out where his meal would be. Sometimes it was in an unknown warehouse, other times it was at the bottom of a drained pool. Each time a delicious meal was enjoyed in a new setting with new friendships formed. Nicosia decided he wanted to bring that unique experience to his new home in the Colorado Rockies. Nothing beats the opportunity to bring community together over good grub.
Catering to the adventurous side of the outdoor enthusiast, Nicosia knew people would show up if he simply presented the opportunity. Thinking back on a recent pop-up dinner, Nicosia shared with us, "I announced the coordinates of a location and told everyone that the first 15 people get a delicious meal. And believe it or not, about 50 showed up."
While cooking is something Nicosia enjoys, the communal experience that everyone gets to share is what he deems the true reward. He beamed as he told us how his last pop-up dinner brought backpackers from nearby, overlanders as expected, and other campers in the area. They all ventured into the unknown, guided only by coordinates, to find out what Nicosia was cooking up and who else would be there. "I wanted to create a communal experience that everyone gets to share. It's fun to see this hobby turn into so much more," Nicosia says.
"What makes these dinners so special is that it's a one-time experience that will never happen again," Nicosia explains. One dinner he had was last year in the mountains where he made a big gumbo, no doubt pulling from his Louisiana roots. Hikers coming off the Rocky Mountain Trail, off-road truck enthusiasts, and others all gathered to share stories and make new friends in the name of adventure and food. Excursions to destinations far off are even more fun when you get to enjoy it with good company. And as Nicosia says, "Who doesn't love exploring new places?"
And the fun doesn't stop there. Keeping to his theme, Nicosia also likes to have giveaways, but with a twist. He sends his followers on scavenger hunts to find items. By dropping clues or coordinates on his Instagram page, he sends people out in the Colorado mountains to find cast-iron skillets, chef knives, and more.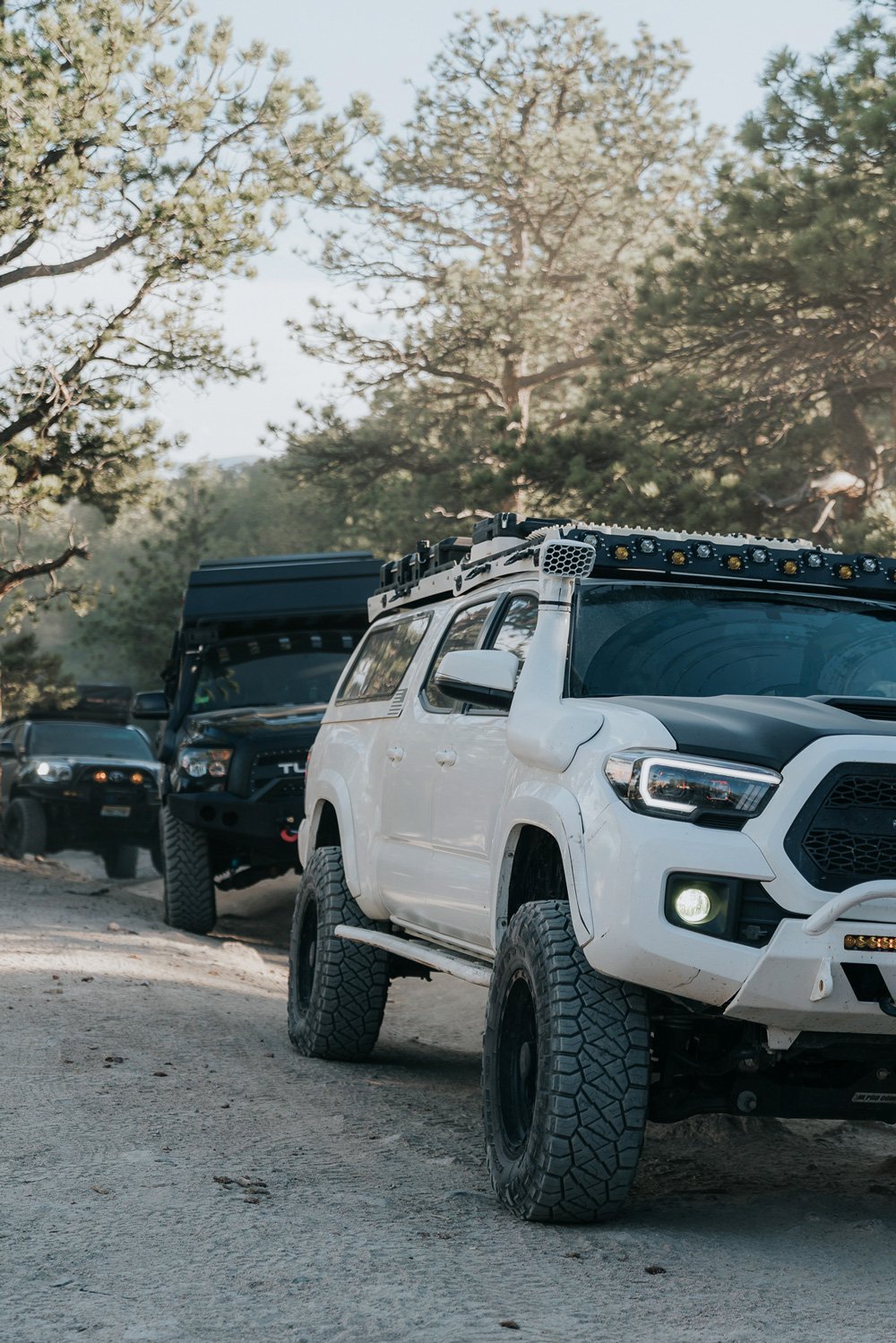 Often cooking over an open fire to get the most authentic camp meal, there are times when you also must switch it up. Nicosia relies on his Camp Chef Pro 60X two-burner setup. Nicosia shares, "With all the wildfires around the country, and also here in Colorado, there are widespread burn bans. A traditional campfire for cooking isn't always an option." And that's when he turns to his propane stove. Not only is it safer, but it also has a ton of accessories, like a griddle, pizza oven, and barbecue that fit on top for a variety of cooking options.
When we asked him about any future plans with Overland Eats, Nicosia said how excited he was for an upcoming collaboration with Messermeister Knives. He also looks forward to doing more with the outdoor and off-road community across the country next year. Of course, you'll still be able to find him in the mountains of Colorado most weekends. He invites you to stop by his camp. "If you see me camped out, stop in to see what's cookin'."
The trifecta of an unforgettable camping trip is usually spectacular food, good company, and jaw-dropping scenery. We think Nicosia hit the nail on the head with finding an opportunity to make this happen in a fun and unique way. We celebrate his desire to bring together the outdoor and off-road community over a common enjoyment: food. We hope to run into him on the trails or just so happen to be in Colorado during one of his pop-up dinners. We're sure it'll be a one-of-a-kind experience to be talked about for years to come.
To follow along on Jason Nicosia's adventures or join a pop-up dinner, visit him online or on social media @OverlandEats.
Editor's Note: A version of this article first appeared in the Winter 2020 print issue of YOTA Magazine.