Omnia Ovenless Baking System: The Muffin Test
This Omnia Stove Top Oven Makes Ovenless Baking At Camp Easy
When it comes to making food, we have observed that there are generally three types of people; those who do not cook, those who love to cook, and those who are born bakers. We love to do both, but it's usually easier to cook at the campsite than bake, for obvious reasons. We can't bring our oven with us. In comes the Omnia ovenless baking system, which we had the chance to bring on the trail with us to test out.
Anyone who finds themselves exploring the outdoors would find it near impossible to bring an oven with them for some fireside baking. We've seen some technically "portable" ovens, but they tend to be heavy, cumbersome, and take up a lot of valuable in-vehicle storage space.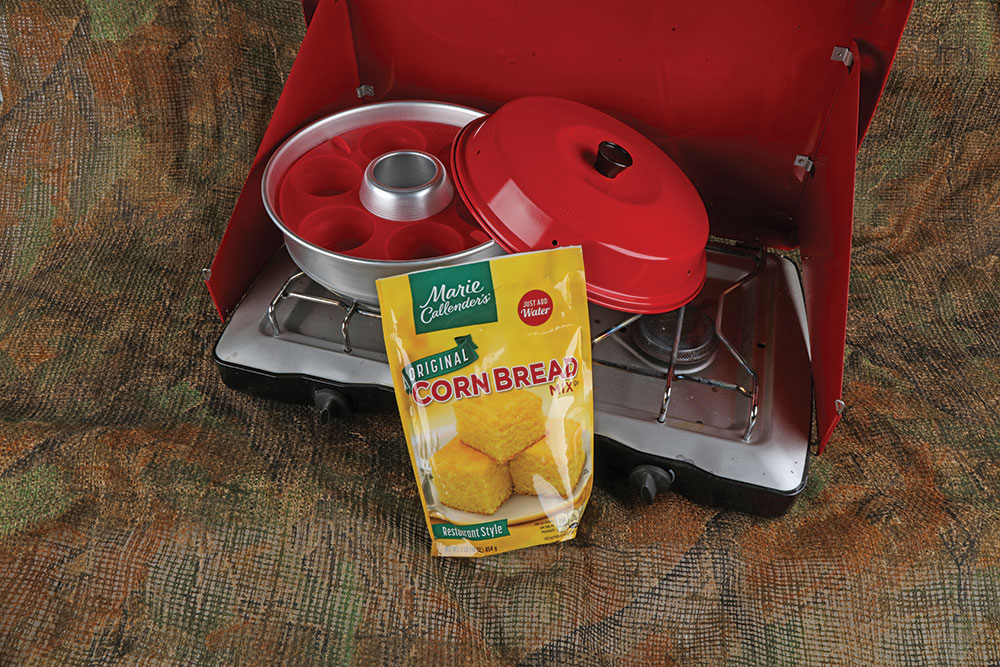 Ovenless Baking
Omnia, a brand from Sweden, has produced an ovenless baking system that can make your favorite baked goods anywhere you set up your portable stove. In fact, the Omnia Stovetop Oven isn't limited to camping; you can use it at home on your stovetop as well.
We got to try the Omnia Stovetop Oven for ourselves and have to point out that it exceeded our expectations. Hearing about a pan that can evenly bake items over a single burner had us quite skeptical. We immediately had thoughts of muffins that were burnt at the bottom but not yet done up top. We were intrigued by this invention and quickly set out to try it for ourselves.
How It Works
Omnia Stovetop Oven is a three-part system that uses the heat from the stove and distributes it to both the top and bottom of the item you're baking. Omnia consists of a circular aluminium food container with center hole, sort of like a Bundt cake mold, that sits on a stainless steel base that is placed over the heat source. The heat spreads along the bottom of the food container and as it rises, its specially designed lid diverts the heat over the top of the container. The lid features ventilation holes that help circulate the heated air over the top of the baking mixture to create the oven-baking effect.
Omnia offers plenty of optional accessories to help you bake just about anything you can think of. We had the choice of using a baking ring, muffin ring, a cake-shaped silicon mold, and a carrying case. There is even an Omnia specific recipe book.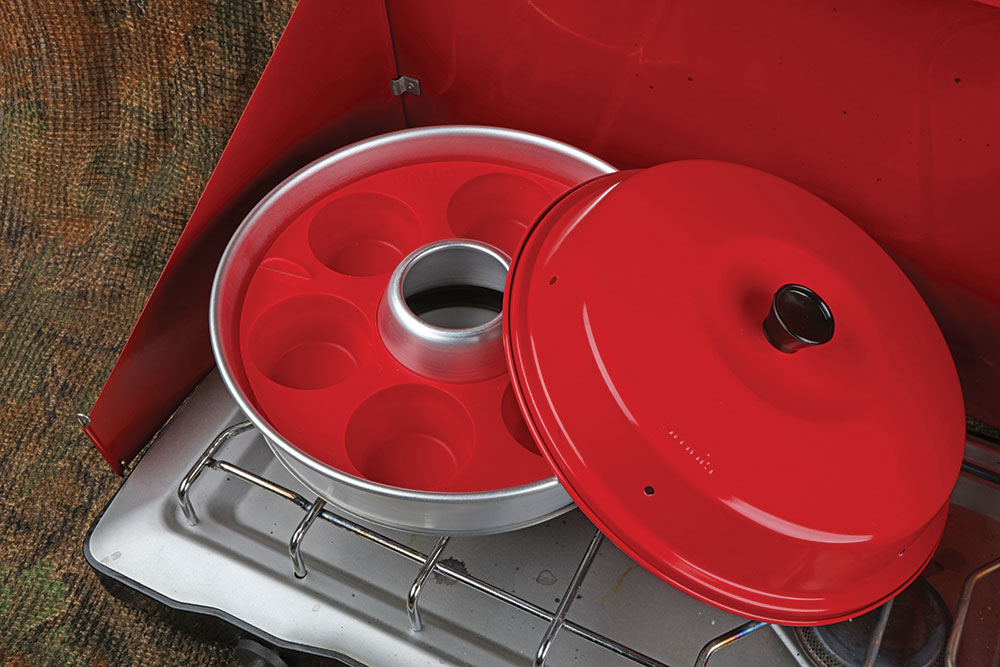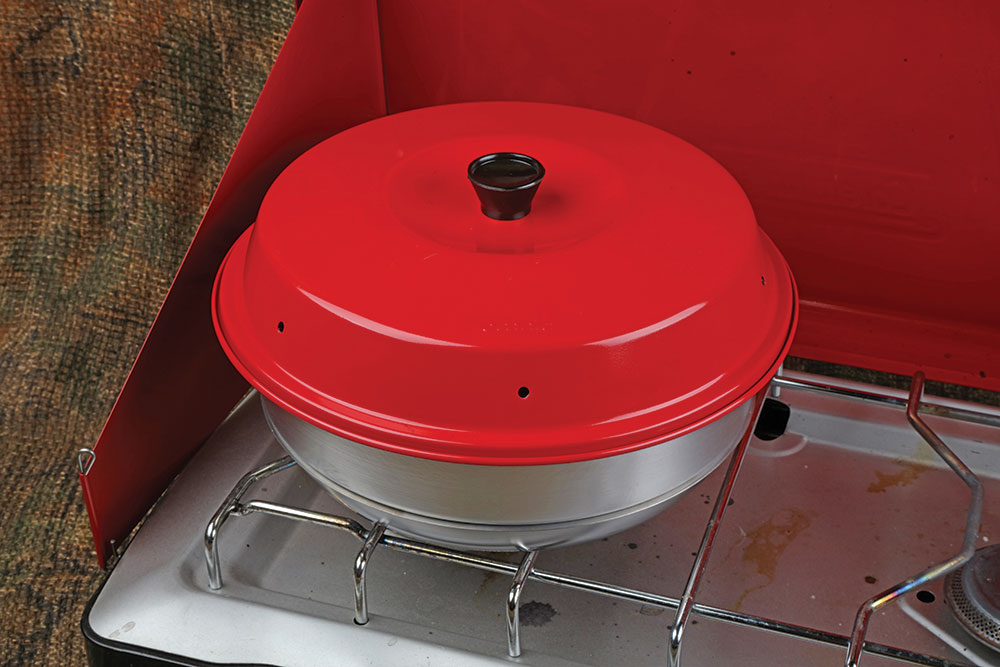 We Tried It
Omnia's instruction booklet recommends testing the stovetop oven and the stove of your choice by using a simple baking mix just to get the hang of how it works before you get into more complicated recipes. Since everyone's situation is different (stove, altitude, baked good), the experience of trial and error will get you familiar with using the Omnia to great effect. We chose to use an instant cornbread mix to make cornbread muffins using Omnia's Muffin Ring for our first time out.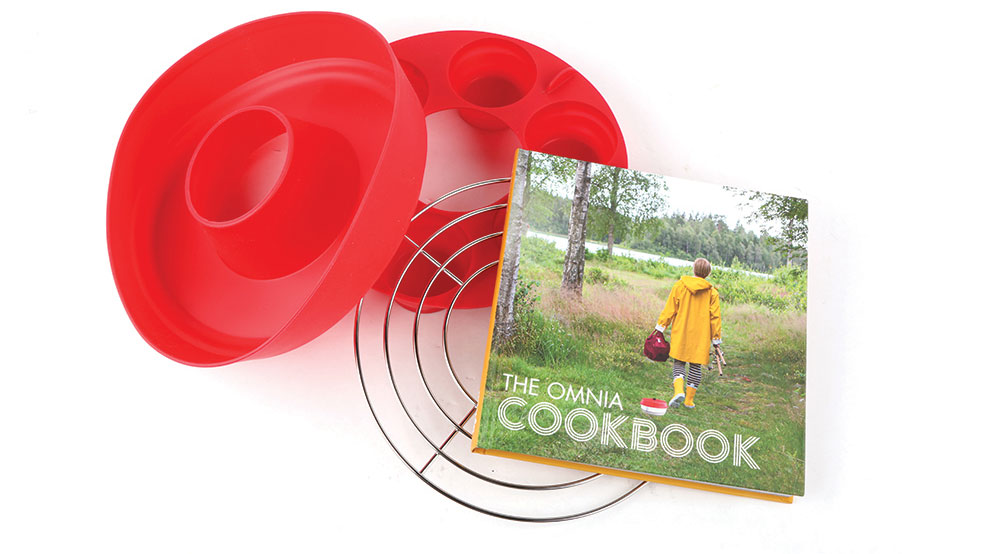 Baking at Camp
All we needed to do was mix in water with the cornbread mix. Then, voila; our batter was ready to pour. Omnia says that although most stoves don't have precise temperature control, go ahead and follow the baking time called out in the baking instructions. In our case, the instructions stated that the muffins should be baked between 15 to 20 minutes. Omnia suggests preheating the ovenless aluminum food container a few minutes then reducing the heat to a level that would equate to a simmer to bake evenly. Using an older stove that we've used for countless camping trips, we already knew what level to adjust our flame to for a simmer.

Before turning the heat on, we sprayed both the aluminum container and the silicone muffin ring with non-stick baking spray. This will allow easy muffin released from the mold, and make clean up quick too.
We poured the cornbread batter into the muffin ring and placed the lid on. Checking at the 10-minute mark, it looked like the muffins were rising just as they should. Another five minutes later, we took another quick peek and they looked just about done. We turned off the stove and let it sit a few minutes before removing the lid for good.
The Results
The muffins smelled great as we removed them from the ring. To our pleasant surprise, they baked evenly with a slight crust at the bottom. The insides were moist and baked all the way through, too. The entire process was pretty easy, and the results were impressive and delicious.
As mentioned earlier, we were skeptical about ovenless baking. However, after our problem-free time with Omnia, we are now true believers in the concept. The Omnia Ovenless Baking System is compact, lightweight and brings baking to wherever you want to go. Imagine the smell of freshly baked bread wafting through the air of your campsite. Or even being able to have fresh brownies in the middle of nowhere. How cool and yummy is that?
---
Omnia

Stove Top Oven



MSRP: $69
Muffin Ring



MSRP: $27
omniasweden.com/us
---