Pants Engineered for Everyday Adventure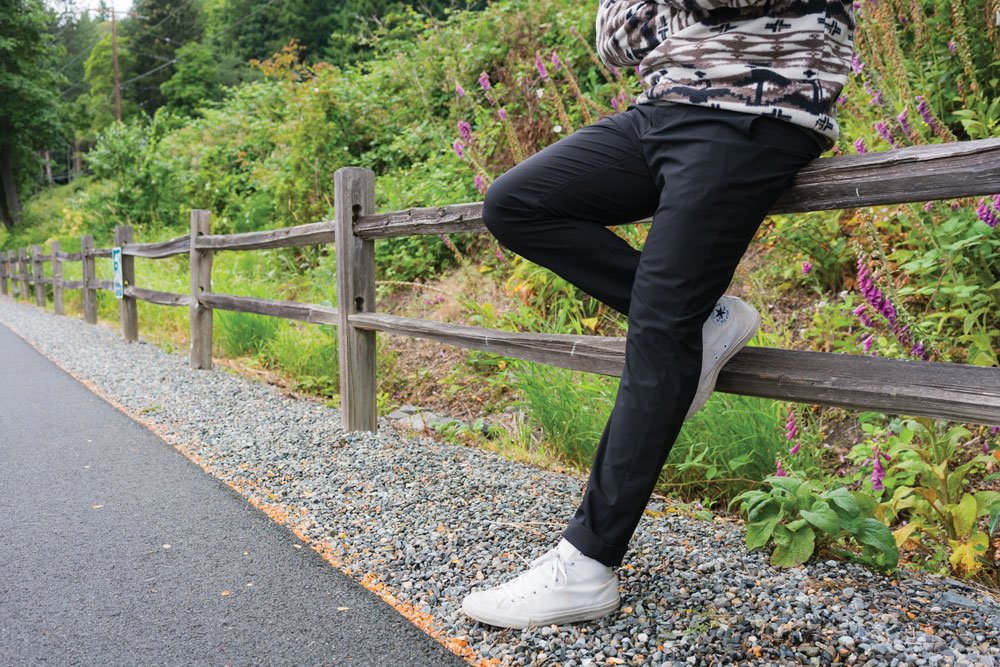 From the tarmac to the trail, pants have made long strides in their versatility and design. For years the most groundbreaking design for travel and the outdoors were convertible pants that zip-off into shorts, which by today's standards could be considered a pair of "dad pants." Today when it comes to traveling and adventuring in the wild, there's a whole new host of options for pants that are built to perform with stylish good looks.
Innovation with fabrics and technology have been paired with functional modern design to help create this new category of pants over the past few years. New materials and durable water-repellent (DWR) treatments help the performance of these pants due to their water-shedding and quick-drying properties, as well as the overall protection and durability they provide. These pants are more comfortable than ever due to their lightweight nature, breathability, added flexibility, and overall design with gussets and articulated knees that provide a wider range of motion for movement.
Many of these pants offer additional organization and security often with extra, hidden, or zippered pockets to protect your belongings from falling out or theft. Many are also built tough with top-of-the-line zippers, reinforced stitching, and rivets and bartack support. Some are even UPF rated, which is a rating system designed to measure clothing and the amount of UVA and UVB radiation from the sun that penetrates the fabric and reaches the skin.
Designed to be multi-functional, travel and outdoor pants are now designed with modern fits and styling. Versatile enough to provide protection in the outdoors, comfortable for long drives, and fashionable enough for the workplace. We put some pants through the paces and here is what we came to find.
686 Anything Multi Cargo Pants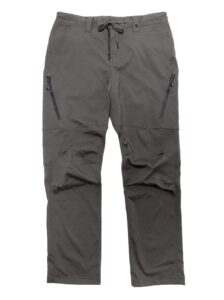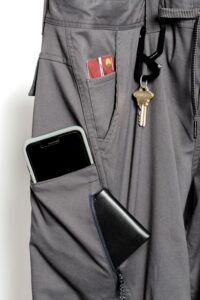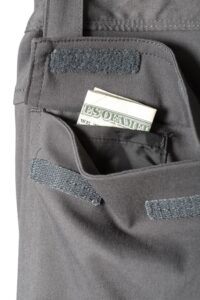 Highlights: A feature-packed travel pant with four-way stretch, that is breathable, water-resistant and uses stain-resistant fabric. A looser, modern fit with integrated back and side secured pockets, dedicated phone pocket, card/coin/pen pockets, venting, and a removable shoelace belt. Available in several colors.
Material: 92% Nylon, 8% Spandex Stretch Fabric with Duracore Thread + DWR
MSRP: $110
Tread's Take: These pants are fully loaded from the 13-pocket design to the durable water-repellant, anti-microbial, and stain-resistant fabric. The storage is well thought out with RFID pocket, back loop mini stash pocket, and a secure velcro back pocket with internal card pocket. Both legs feature a zippered cargo pocket, which unlike traditional cargo pants have leg venting for warmer days. The pants fit true to size, are lightweight, and allow for a lot of movement via the articulated knees and stretch fabric. The built-in shoelace belt makes it easy to adjust on the go and not need a regular belt, although there are belt loops in place. One last unique feature that stood out is the ability to pack the pants in its own zippered pocket, making it convenient to not only pack, but have a spare pair of pants with you on any adventure.
URL: 686.com
Boundary The Chase Pants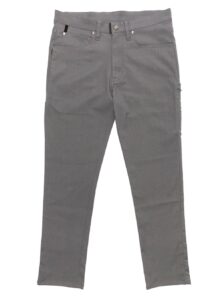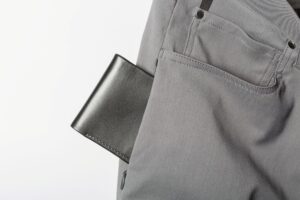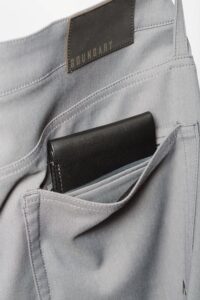 Highlights: Designed with performance and sustainability in mind, utilizing Bluesign Factories and Mills. The pants are constructed with a proprietary and innovative fabric, TT-1, a premium-combination of combat wool, T-400 Lycra, and Nylon 6,6. The material is highly durable, lightweight, moisture wicking, temperature regulating, and offers odor resistance and UV-ray protection. The eight pocket-design is complete with intuitive storage, secure, and even hidden pockets. Currently available in three colors, with more to come, and in both a slim and regular fit, as well as an option for women.
Material: 20% wool, 76% nylon 6,6, and 4% t400 Lycra.
MSRP: $120
Tread's Take: These pants are robust with features and details, including hidden security pockets, lightweight construction, and durable fabrics that are water and stain resistant. Highlights include the magnetic organization on the back pocket, which keeps a smart phone upright and centered, reflective tape on the outer seam for visibility at night, and a RIRI button snap. For everyday carry, there is the nylon keyloop to keep your keys attached and securely hidden in the front pocket. The pants are very comfortable due to the stretch and non-itch properties of the material. These are a great pair of pants for the daily commute and travel.
URL: boundarysupply.com
DUER Live Lite Pant (Straight)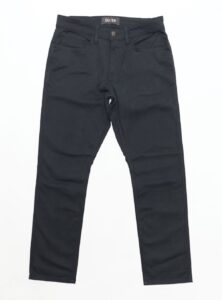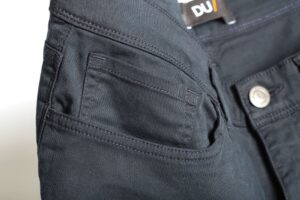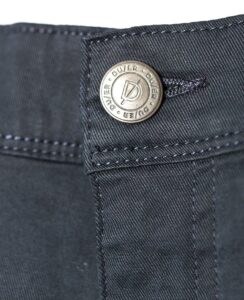 Highlights: The Live Lite Pant Straight Fit is highly versatile with the ability to wear them from the office to the plane and to your final destination. This is an update to their original and popular Live Lite Pant, but in a new silhouette that offers more room throughout the leg. The pants are light and strong due to the signature T2X fabric, which provides moisture control and naturally occuring odor-control properties. The signature invisible DUER seat gusset offers a greater range of motion while preventing crotch blow outs. Available in multiple colors and fits.
Material: 62% cotton, 30% lyocell, 6% polyester, and 2% lycra
MSRP: $129
Tread's Take: Our favorite pair of universal pants that can be worn daily just as easily as on the trails or for long stretches while on the road. The fit and comfort is what makes this pant special possibly due to the stretch properties in the fabric paired with their signature seat gusset that gives great mobility and overall soft feel against the skin. We particularly like the modern style of the pant, which can be worn with hiking boots as easily as a pair of sneakers. The pants feature a nice blend of performance and technical aspects without going over the top. These pants have quickly become a staple for daily use.
URL: shopduer.com
Marmot Gunsight Pant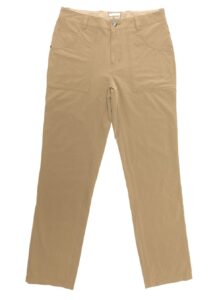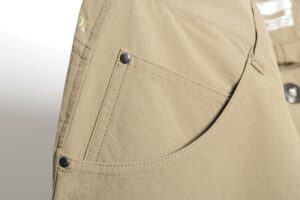 Highlights: Lightweight and packable, these trail-ready pants feature abrasion-resistant nylon and are constructed with a stretch fabric and an inseam gusset to make the trek easier. The pants are UPF 50-rated to protect from harmful rays. The fabric is quick-drying and water-repellent due to the DWR finish. Available in three colors.
Material: 94% Nylon, 6% Elastane Plain Weave Peached PFC Free DWR 3.8oz/yd
MSRP: $80
Tread's Take: These are ultra lightweight and comfortable with a standard fit. They feature four standard pockets, but no additional security, such as a zipper, to keep belongings in place. Easy to pack, these are a good option for travel.
URL: marmot.com
Mission Workshop Division Chino: Storm Cotton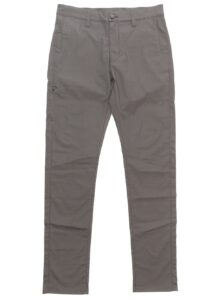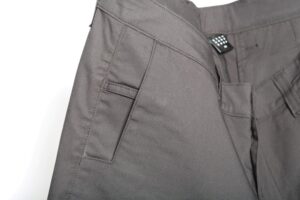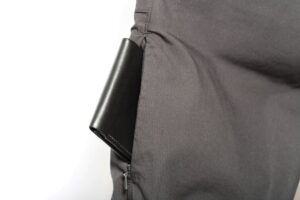 Highlights: An extremely lightweight pant made from a stretch textile featuring Storm Cotton technology, which is highly breathable and soft. They shed water and dry quickly due to the DWR treatment that lasts up to 30 washings. The pant features shaped hand pocket entries, accessory pocket, two back pockets, and a zippered thigh pocket. Available in two color options.
Material: 8 oz.; 98% cotton, 2% spandex canvas
MSRP: $205
Tread's Take: These are versatile pants that can be worn daily from the workplace to the outdoors. The technical fabric provides not only comfort but also a level of protection from the rain. As the pants are lightweight and breathable they work well in warmer weather. The zippered thigh pocket is large enough for a medium-sized wallet or a large cell phone, although an iPhone 7 Plus with a case fit a bit snug. The fit is more modern and slim, so those on the heftier side may want to find an alternative option. One of the more expensive options we tested, but quality and innovation often come at a price.
URL: missionworkshop.com
Walls Ditch Digger Double Knee Pants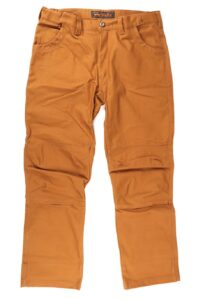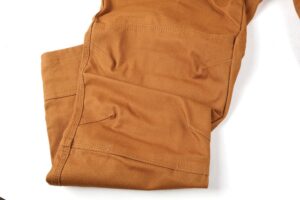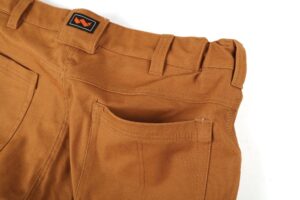 Highlights: With brushed duck cotton, a little spandex, and Wall's unique comfort waistband, this work pant is made for outdoor use while delivering plenty of comfort. Convenience features include a cell phone pocket, as well as double and triple stitching combined with reinforced kick plates at the back leg hem and articulated double knees to ensure built-tough durability.
Material: 11 oz.; 98% Cotton, 2% Spandex brushed duck
MSRP: $45
Tread's Take: If you like the look and feel of a traditional, wide-legged work pant, this is a great choice. It's made of ultra-thick, yet not stiff, duck cotton canvas that feels like it can shrug off scrapes from asphault and rocky surfaces without any issue. Its pockets are plenty deep and feature a reinforcement layer over their entry points for longer wear, if you clip tools to them like a pocket knife. We especailly like the double-padded knees, which are usually the areas that wear out for us first.
URL: walls.com
Carhartt Rugged Flex Rigby Double-Front Pant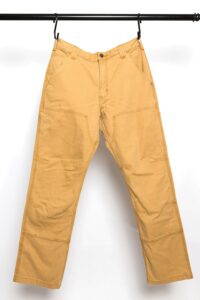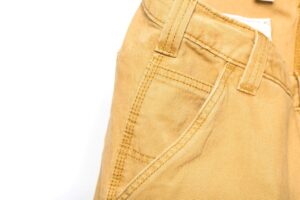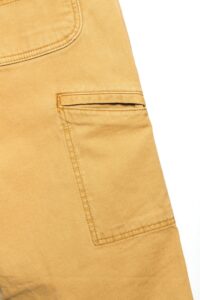 Highlights: A mid-weight work pant that offers full range of motion to help get the work done. These purpose-built pants feature added durability with the double front design and are knee pad compatible for extra comfort. Traditional jean pockets are deep and a right thigh phone pocket keeps your phone secure, while a left thigh utility pocket fits a knife. Available in three colors.
Material: 8 oz., 98% cotton, 2% spandex canvas
MSRP: $50
Tread's Take: You can't go wrong with a classic and these traditional-style work pants have lasted the test of time, but are packed with modern features. We found the pants to be extremely comfortable with the soft, yet durable canvas and provided agile mobility with their Rugged Flex stretch technology and a gusseted crotch for more stretch between the legs. The hidden zippered pocket ensures that you won't lose your wallet while traveling in the outdoors, or at the job site. These are a great value for the price.
URL: carhartt.com
Coast Denim Signature Straight Taper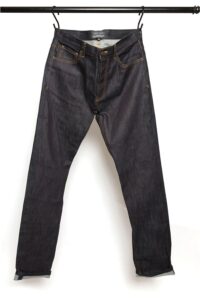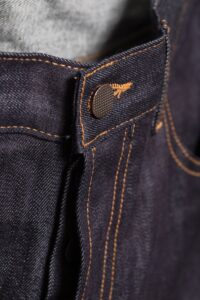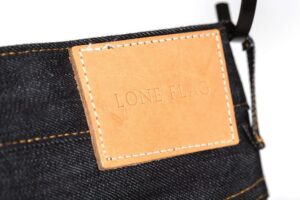 Highlights: Features ultra-premium denim from the Candiani Mill in Italy, the world's greenest denim producer, and assembled in Los Angeles. Five years in the making, these jeans are made to be worn in multiple ways both cuffed and non-cuffed. The jeans feature a straight taper with a mid-to-high rise with lots of top block room with a tapered knee down, more tapered than a traditional straight leg. A heavy leather patch is made by Bradley Mountain and each is individually hand stamped for a personal touch. Available in other fits and colors.
Material: 12 oz. premium Italian Candiani denim
MSRP: $148
Tread's Take: The only pair of denim jeans featured in this guide. This pair stood out for its modern styling and lightweight feel. We appreciate the clean design approach with no additional pocket designs, branded buttons, or rivets. The versatility of jeans is what has made them a staple for all wardrobes and activities. We found these to be comfortable with a 2% stretch, and the fit itself was nice, especially for those of us with slightly larger thighs. These locally made jeans are a value under $150 and will become part of our daily rotation.
URL: coastdenim.com
Filson Buckhorn Cargo Pants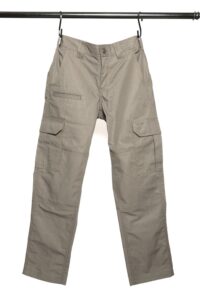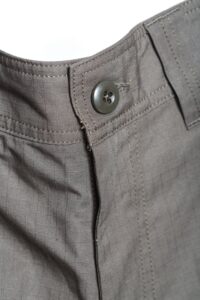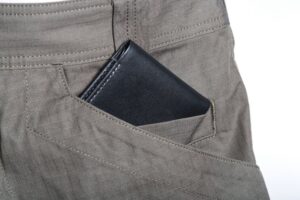 Highlights: Rugged with reinforced knees and seat for added durability. A total of seven easy-access pockets keep your essentials within reach. The 6-ounce cotton/Cordura nylon blend ripstop fabric is breathable and quick-drying.
Material: 6-oz.; Ripstop: 75% cotton, 25% Cordura nylon
MSRP: $165
Tread's Take: These pants feature the legendary quality that Filson is known for—extremely tough pants built to withstand the demands of the outdoors. The ripstop fabric is strong yet breathable and quick-drying. The fit is regular and the overall construction is top notch. The two front and back, thigh, and cargo pockets provide ample storage when needed and are easy to access and secure via the snap enclosures. These pants, due to the quality and construction, are a little on the higher price scale, yet should last you a lifetime.
URL: filson.com
Foehn Brise Pant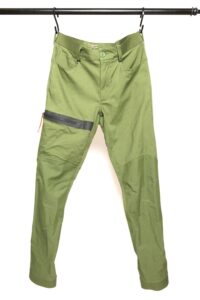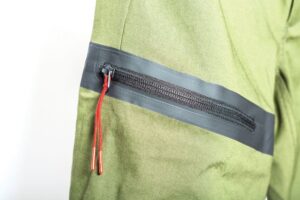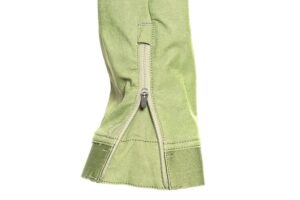 Highlights: A performance rock climbing pant that combines style and function by merging technical performance with a modern fit. Features articulated knees and a crotch gusset for more movement, an engineered thigh pocket that sits below a climbing harness, and a stretch waistband and cuff. The pants are made with a Bluesign approved, durable stretch fabric with a DWR treatment to wick away moisture and dirt. Available in four colors.
Material: 96% Nylon, 4% Spandex + DWR
MSRP: $130
Tread's Take: Despite being designed for rock climbing, these pants are stylish and comfortable enough to wear anywhere. The fit is slim, but the stretch fabric make it quite easy to move around in. The pants are lightweight and durable. The zippered ankle gusset is reminiscent of a jogger style, but the zipper allows ease of sliding your foot through the leg opening and keeps your pants out of the way while climbing, riding a bike, and other activities. We love how these are built with performance in mind, but have just enough style to make a statement.
URL: wearfoehn.com
Patagonia Stonycroft Pants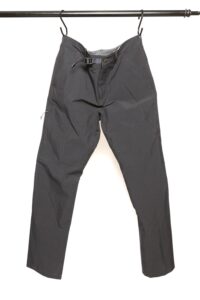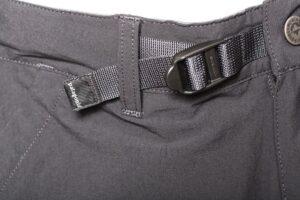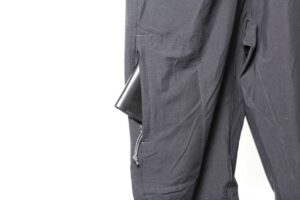 Highlights: A lightweight, stretchy technical pant that is made for hiking. The fabric has four-way stretch and a DWR finish along with 40-UPF sun protection. A gusseted crotch and articulated knees provide more mobility. The two front, two rear pockets, and thigh pocket all feature a security zipper. A built-in adjustable waist belt is included for quick size adjustments on the go. Available in several colors, as well as in long and short lengths.
Material: 4.4 oz., 95% nylon (67% recycled), 5% spandex with four-way stretch, a DWR finish and 40-UPF sun protection
MSRP: $89
Tread's Take: Technical pants that look good on and off the trail. We appreciate the security zippers and ample storage provided by the pockets, as well as the adjustable waist. The fabric is ultra-lightweight and comfortable. The fit is slim and not recommended for those with larger thighs, built for lean to medium builds. From a distance, you'd be hard pressed to notice that these are built for the outdoors. These are a great value for the price.
URL: patagonia.com
Prana Stretch Zion Pant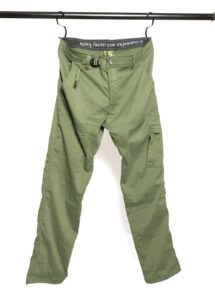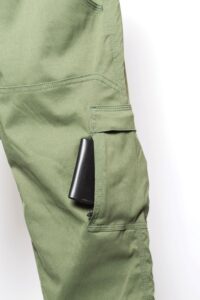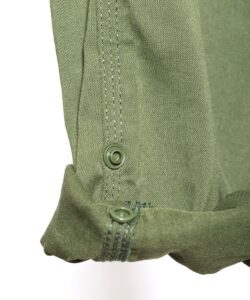 Highlights: Built to perform in the outdoors with stylish good looks, these pants feature an angled dual entry cargo pocket, a streamlined adjustable waistband, and ventilated inseam gusset. Available in several colors.
Material: 97% Nylon, 3% Spandex
MSRP: $85
Tread's Take: A great-fitting pair of pants. They are slim but the stretch fabric provides ample mobility. The adjustable waistband is nice to tighten up while on the go without the need for a belt. The zippered cargo pocket has dual access entry, which is nice and convenient. We also like the built-in roll-up snaps on the legs to keep the cuffs in place. This is a great option under $100.
URL: prana.com
United by Blue Cartwright Pant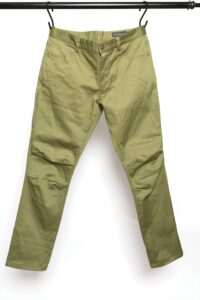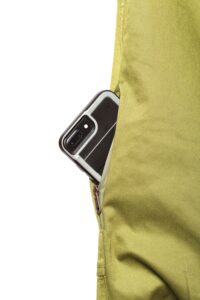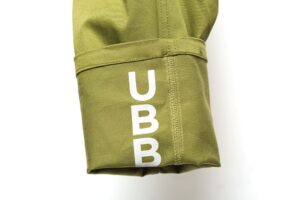 Highlights: A commuter pant with movement-friendly articulated knee, roll-up cuff reflector, easy-access phone pocket, and a water-repellent DWR finish. Available in four colors.
Material: 8 oz.; woven twill
MSRP: $88
Tread's Take: A solid pair of pants with a nice fit. After a day of wearing, the pant seemed to mold to the body similar to jeans. The zippered thigh pocket is nice and deep to easily fit a phone or wallet. The reflective detail on the right leg is a nice touch for those who ride bikes, although a little more stretch would be nice while pedaling through the city. These pants have a nice fashion-forward look that can complement most outfits.
URL: unitedbyblue.com
Western Rise Evolution Pants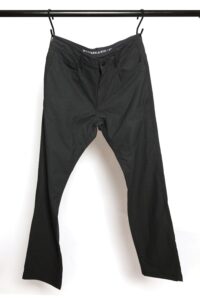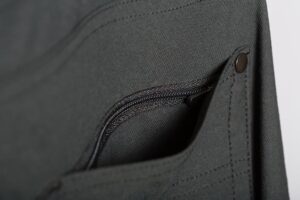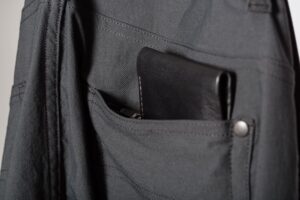 Highlights: The Evolution Pant features Swedish-made nylon Supplex fabric, which is durable and strong, yet soft, making for one pair of versatile and dynamic pants. The fabric is abrasion-resistant with the perfect drape with two-way stretch, highly breathable, and features a DWR treatment for water repellency. The pants have six pockets, a double-hemmed cuff for an extendable inseam, and flat felled reinforced stitching. Available in three colors.
Material: 96% nylon, 4% elastene
MSRP: $149
Tread's Take: An incredibly lightweight and comforable pair of pants with great looks to boot. The hidden zippered back pocket make it great for traveling or adventuring to help keep a wallet safe and sound. We found the pants to be incredibly comfortable with just the right amount of stretch and a modern fit. The material makes it easy to pack up tightly without the worry of wrinkles. The pants are thin and we suggest wearing in warmer weather to help stay cool. Great for all occassions and easy enough to dress up or down.
URL: westernrise.com
Editor's Note: A version of this article first appeared in the September/October 2019 print issue of Tread Magazine.