Budget-Friendly Gifts: Hike to the Holidays 2022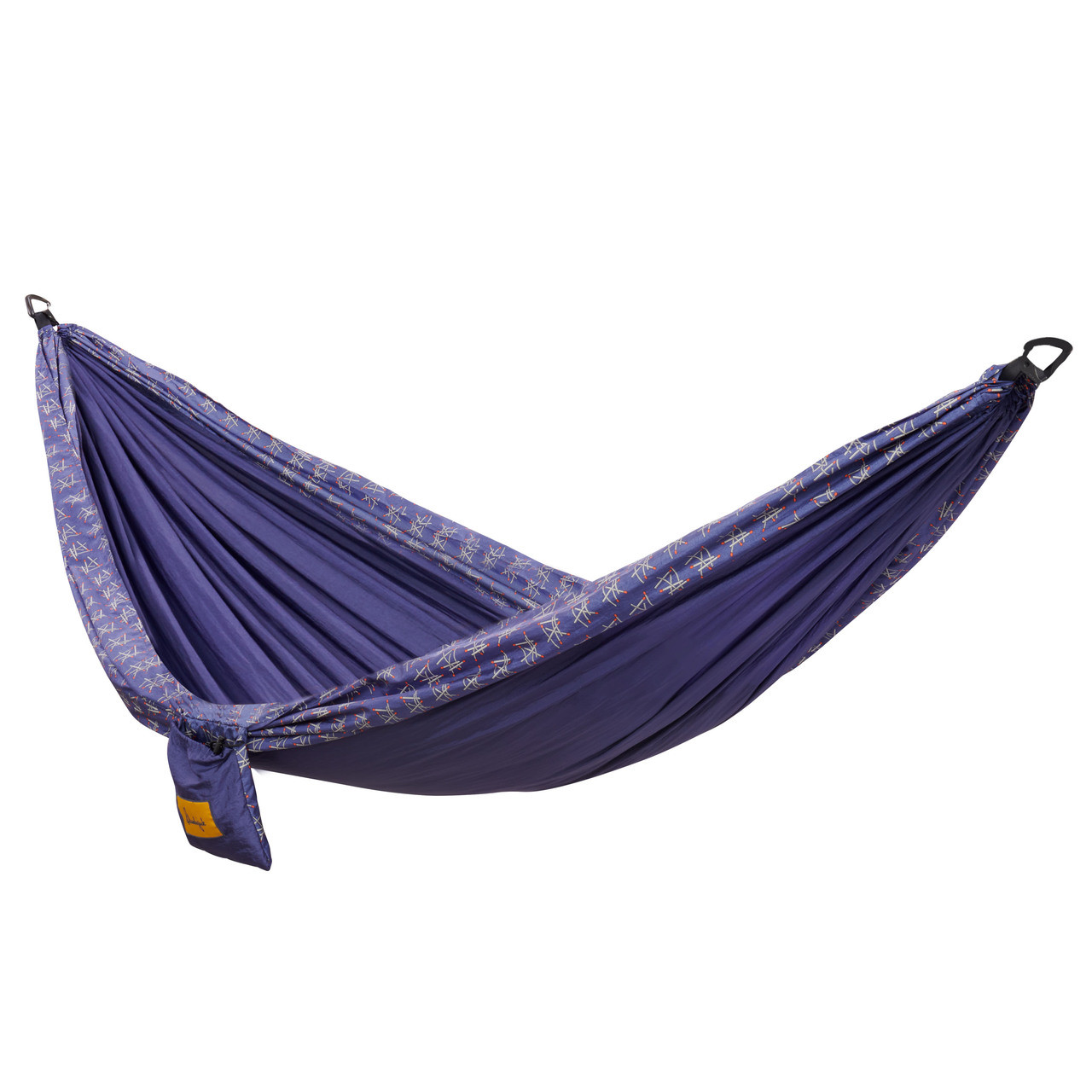 Saving Money this Year? Here are Some Top Budget-Friendly Gifts for Outdoor Lovers
Enjoying the outdoors is a great pastime, mainly because you can do it on any budget. No matter your spending limit for this year, we've got recommendations for great gifts. Every item on this list has a price tag of 60$ or lower so you don't have to break the bank. Our list of budget-friendly gifts has great options from great companies.
1) Propane Gas Camping Stove from Coleman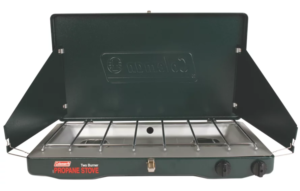 Coleman camping stoves are a classic and sturdy option that has been trusted by campers for many years. This two burner stove is run by propane, and it folds up conveniently when not in use. The wind panels block out interfering air flow, making it easy to cook in the great outdoors; no matter the weather.  This model fits perfectly on our list of budget-friendly gifts, but doesn't sacrifice quality and power.
Price: $56.00
Find out more about the Coleman camping stove.
2) Dee Zee Truck Tailgate Assist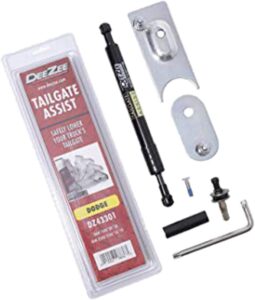 The Dee Zee Truck Tailgate Assist is a great gift option for any truck owner. This handy tool eliminates that jarring thud of a tailgate slamming down. It's easy to install with no drilling requires and comes with all the hardware you need. Instead of free falling when opened, the tailgate opens so smoothly that you can use a single finger to bring it down. This Tailgate Assist also has the added benefit of taking weight  to increase the longevity of the tailgate. It also keeps hands and fingers safe around the trunk of the vehicle! This tool is specific to make and model, so you know it'll fit any truck correctly.
Price: $30.89
Find out more about the Dee Zee Truck Tailgate Assist
3) EcoNour Car Steering Wheel Desk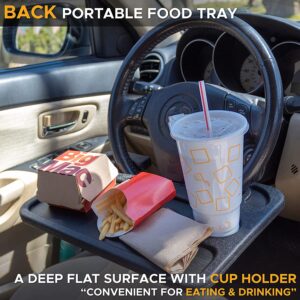 If you're an overlander or someone working while you travel, the EcoNour Car Steering Wheel Desk is probably a great option. It's not to be used while driving, but the steering will desk provides a great place to work or eat while taking a break during long drives. If you've only got a few minutes to send out that work email or get a meal in before moving on, it's a hassle to find a cafe or restaurant to set yourself up. The EcoNour Steering Wheel Desk can hold up to eleven pounds, meaning it can hold a laptop to work on, a book, or your next meal. It also has a cupholder to make sure there aren't any spills!
Price: $15.99
Find out more about the EcoNour Car Steering Wheel Desk
4) Saucemoto Dip Clip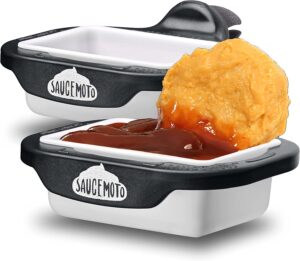 If you're sold on the Steering Wheel Desk above, we've got the perfect add-on! Most food on the go is better with sauces, and we all know how much of a hassle that can be in the car. Rather than taking up the space on your Steering Wheel Desk, use the handy Saucemoto Dip Clip! This clip attaches to the vents in your car, and can fit those prepackages sauce containers for most chain restaurants. It also comes with a reusable sauce holder for anyone using ketchup. Never eat dry fries and nuggets in the car again!
Price: $10.95
Learn more about the Saucemoto Dip Clip
5) The Road Chose Me, by Dan Grec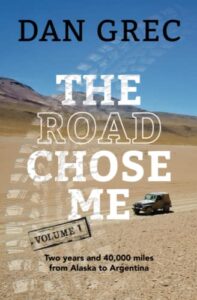 If you're looking for a great read or inspiration for your next adventure, look no further. Tread Magazine's very own Dan Grec has written just the book for you. The Road Chose Me, Volume 1 is a chronicle of Grec's travels over a two-year span. In his incredible 40,000 mile expedition, Dan drove his Jeep from the Northern tip of Alaska to Tierra del Fuego. This journey was truly a solo undertaking, with no GPS and no sponsorships. Dan's adventure was truly transformative, and you'll be inspired too! Best of all, the second volume of this book is even more packed with adventure!
Price: $16.95
Learn more about Dan Grec's The Road Chose Me 
6) Ultra-Sil Dry Sack from Sea to Summit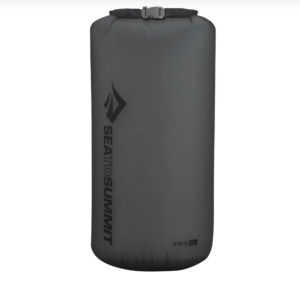 This dry sack is the prefect addition to our list of budget-friendly gifts. Let's face it, sometimes our adventures can get a little soggy. When the rain is coming down in your campsite, you need a reliable way to keep your belongings dry and safe. Keeping things dry can really make or break a trip. Sea to Summit's Ultra-Sil Dry Sack has won the Backpacker Editor's Choice award for it's ideal design. It's roll top closure and taped seams do the hard work in keeping moisture out so your belongings don't get damaged. Best of all, the different sizes come in a range of prices, all below $40.00.
Price: $15.95-$34.95
Learn more about the Ultra-Sil Dry Sack
7) Patagonia Ultralight Black Hole Mini Hip Pack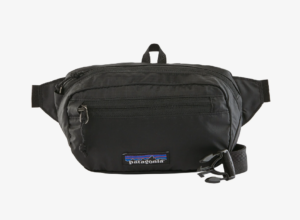 Fanny packs are making a comeback! This hip pack from Patagonia is the perfect bag for all of your essentials. Made from recycled materials with an adjustable strap, you can bring this pack on the go on any terrain. Fanny packs are a classic staple that's making a comeback, and they're conveniently sized so that you can carry the most important stuff, without having to lug a huge backpack around. This pack comes in a range of colors to match any outfit.
Price: $35.00
Learn more about the Ultralight Black Hole Mini Hip Pack
8) Slumberjack Fireside 1 Person Hammock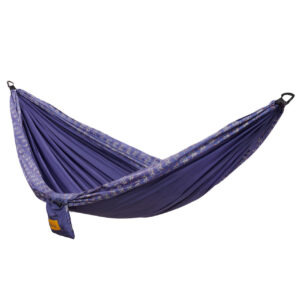 The perfect campsite has a couple of key elements, and we'd argue that a great hammock is one of them. If you've got the right trees nearby, a hammock by the fire is the most relaxing way to end a fun day in the wilderness. With an easy set up and sturdy straps that don't harm the trees, you'll be napping in no time. With it's triple-stitch seams, this hammock will stand up to your toughest treatment, giving you the most for your money. Best of all, it folds up neatly in a compact bag to take along with you.
Price: $34.95
Learn more about the Fireside 1 Person Hammock
9) Goal Zero Torch 500 Multi-Purpose Light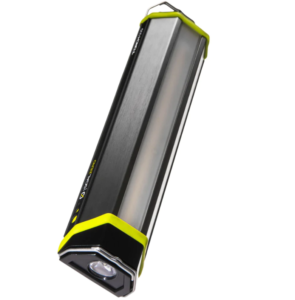 It's important to have safety equipment whether you're on the road, camping, or just having a great day hiking. This addition to our budget-friendly gifts round-up is a sturdy and dependable emergency light. With 500 Lumens and both spotlight and floodlight modes, this light has multiple functions for any adventure. With a built in solar panel and an option to charge with a USB, you can be sure you won't ever find yourself without a torch when you really need one.
Price: $39.89
Learn more about the Goal Zero Torch
10) Salomon Soft Flask Water Bottle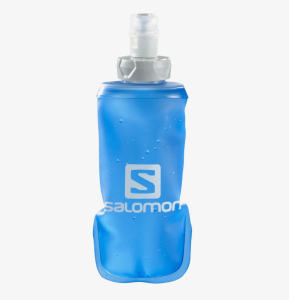 Space saving is a huge deal when you're camping, backpacking, or overlanding. To that end, a soft water bottle like the Salomon Soft Flask is a great option as a gift for the camper in your life. Its unique design holds water to keep you hydrated, but folds up when empty to save much needed space on the road.
Price: $13.00
Learn more about the Salomon Soft Flask Water Bottle.
Budget-Friendly Gifts Helping You Save
Let's face it: some years you just have to go lighter on spending when it comes to holiday gift giving. Good deals and products are available if you know where to look. At the time of this writing, many of the items on this list were even on sale at a lower price than is listed here. Happy bargain hunting!