15 Camping Essentials for Dogs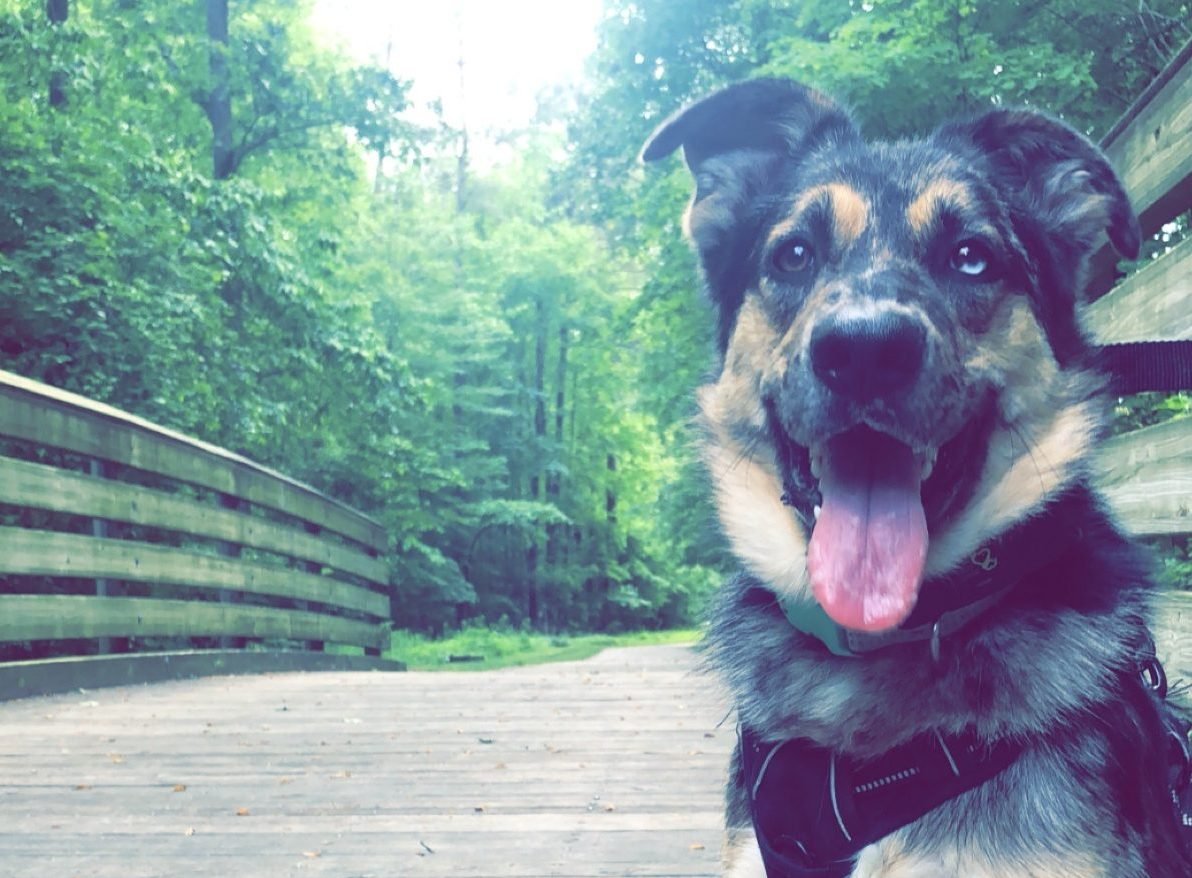 As any dog owner knows, we treat them less like pets and more like children. Even if it means packing them (and all of their gear) up for the next big adventure. If you're considering a trip in the great outdoors, you may want to invest in a few essentials first. We've rounded up 15 camping essentials for dogs that you'll want to make sure you have for your travel buddy.
Thanks to the wonderful world of Amazon and their quick shipping, you'll be off in no time!
(As an Amazon Affiliate, Tread earns from qualifying purchases, at no cost to you! Don't worry, shop on.)
1. SEAT COVER
Sometimes we only focus on the destination, but getting there is just as important! Travel in style and comfort while protecting your back seat from pet-related damage with this waterproof and non-slip seat cover.
2. COLLAPSIBLE FOOD & WATER BOWLS
These collapsible food and water bowls come in a four-pack with different color options (because who doesn't want to change things up every now and then?) and are easy to clean, carry, and store. Carabiners included.
(If you're worried about size, I have these for my GSD x Aussie mix and they are PERFECT.)
3. LED COLLAR
Convenient and cool. These light-up collars will help your dog stand out in the dark (and the crowd).
4. BOOTIES
Waterproof and reflective, these dog booties are perfect for hiking on rugged terrain or for protection around your campsite. Plus, they're cute.
5. HIKING BACKPACK
Camping and outdoor gear can be a lot to carry—now your pup can help! This durable and water-resistant doggie backpack is great for hiking, camping and trail walks. You'll be blazin' trails (or tails) in no time.
6. PET FIRST-AID KIT
Chances are you have one of these for yourself but have you thought about getting one for your dog? This may just be one of the most important camping essentials for dogs. This 100-piece pet first-aid kit has everything from bandages and wound dressings to a tick-removal kit and an emergency collar. Voila! Instant peace of mind for you and your pooch.
7. HANDS-FREE LEASH
Fun camping activities like hiking and running just got easier! Next time you go on an adventure with your pup, take them along on this hands-free leash. Hint: It'll go perfectly with their hiking backpack!
8. TIE-OUT CABLE WITH STAKE
Let your dog roam around your campsite with this tie-out cable. It comes with a stake for the ground, so you can give your furry friend the freedom to explore without being off-leash.
9. ELEVATED BED
Your dog can sleep in style while being just as comfortable as if they were at home on this elevated bed. It'll keep them off the ground, plus it folds for easy travel. Even better? It comes in different size options, so you can pamper your pup—big or small!
This one is perfect for small to medium-sized dogs. Try this one for larger dogs!
10. PAW BALM
It protects. It moisturizes. It heals. This paw balm is perfect for keeping your dog's paws protected when they're exploring the great outdoors.
11. PAW CLEANER
Did your pooch have a big day on the trail? Keep their paws clean and mud-free with this easy-to-use paw cleaner. This is definitely on my Amazon wish-list.
DISCLAIMER: You will likely still need to bathe them when you get home!
12. PET WASTE  BAGS
'Nuf said. Plus they're environmentally friendly. Get them here.
13. DOG GOGGLES
Have you ever seen a dog in goggles? If not, I'd highly suggest looking it up. These bad boys can protect your dog's eyes from (mostly) anything nature can throw their way. Check these out if you have a small dog. If you have a medium to large dog, try these!
14. JACKET
If you're camping in a cooler climate, you may want to consider a jacket for your pup. This waterproof, reflective and fleece-lined coat is just what your dog needs.
15. TRAVEL BAG
For all of my efficient packers out there—this pet travel bag comes with two containers for food or treats, two collapsible bowls, and plenty of space to store other toys and/or gear. Definitely a must-have.
There ya have it. Consider these 15 camping essentials for dogs when prepping for your next adventure. Where will you go?
For more about outdoor gear, be sure to check out this article on the best sleeping bags for cold weather or this guide to overland storage containers.
Connect with us! Stay up-to-date on the latest articles and news by visiting our Facebook, Instagram, Twitter, and YouTube pages.