Easter Jeep Safari Flat Fender Run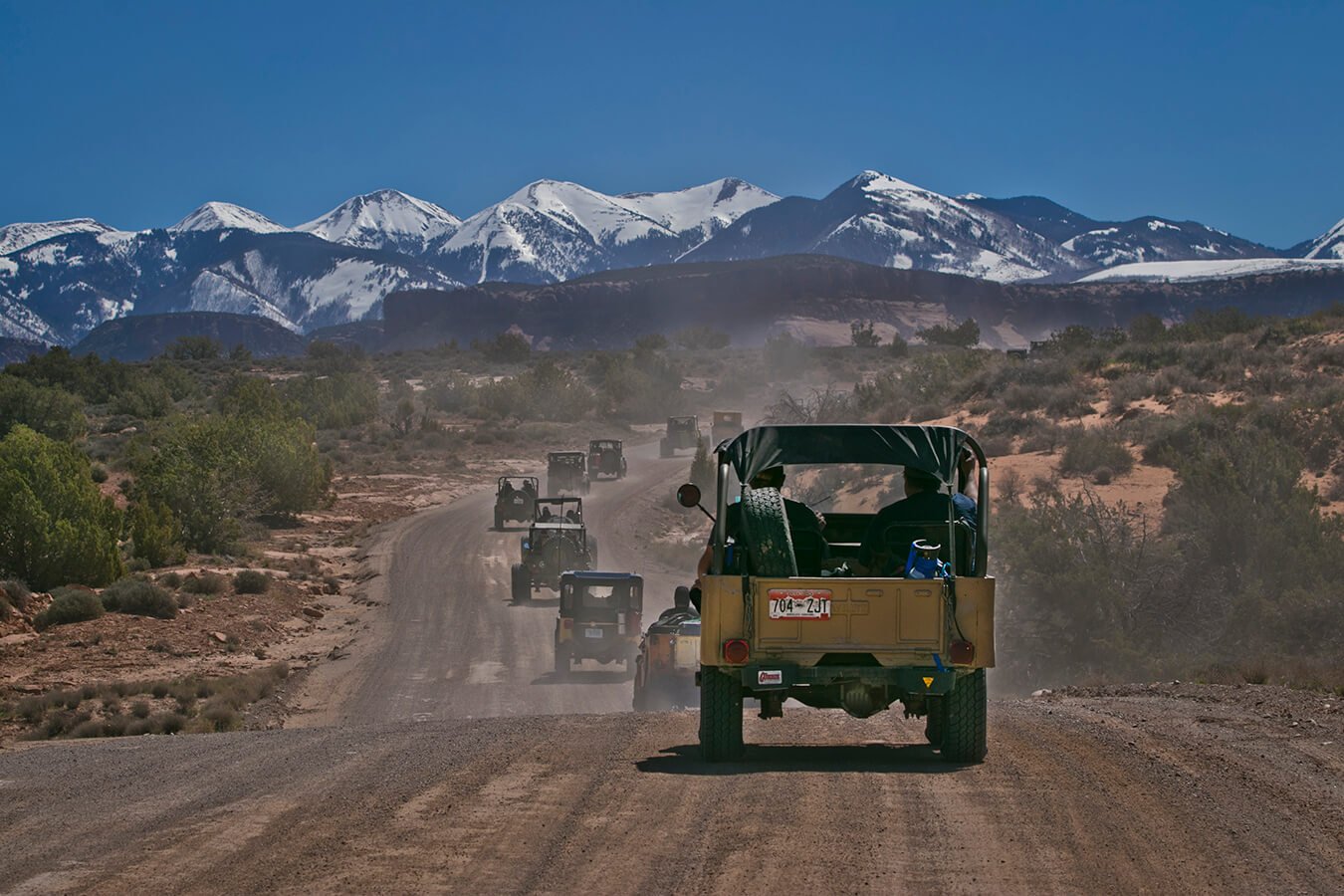 The Unofficial "Official" EJS Flat Fender Run
We're right in the middle of Moab's famed Easter Jeep Safari week, yet no one is there. No off-roading, storytelling, or hotel parking lot wrenching. Because of COVID-19, Easter Jeep Safari (EJS) was canceled. But, that didn't stop us from thinking about an incredible trail ride from last year—the unofficial "official" flat fender run. Let's reflect on an awesome event and a 2019 trail run that was one for the books.
Moab's Marvels
If you're into off-roading and navigating through challenging terrain, you're most likely familiar with the small town of Moab. Nestled among its famous red slick rock and cliff-hugging scenic trails, this southeastern high desert region also boasts sand dunes, sage brush, and beautiful waterways. It's a paradise for adventure enthusiasts—no matter if they're hiking, biking, kayaking, or off-roading their way through its breathtaking landscape.
What is FFFFR?
During last year's EJS, I joined up with an army of eclectic Jeep owners for an unofficial Willys Jeep flat fender run, otherwise called the Flat Fender Friends Friday Run (FFFFR). Flat fender Jeeps—in all shapes and conditions—came together for an eventful day we soon wouldn't forget.
After everyone joined up at a meeting spot just outside of Moab, we made our way to Sand Flats Road and started our trek. Approximately 50 flat fender Jeeps paraded up the paved road. Sand Flats Road is part of the Sand Flats Recreation Area and is used to get from many trail entrances to others. It's also a great spot to find camping areas, rest areas, and places to chill and take in the scenery.
Greg Gardner's Old Yeller
As we drove up in elevation, we started our first off-road jaunt on the popular trail called Fins 'N Things. I accompanied Greg Gardner, my wheelin' buddy and nearby resident of Grand Junction, Colorado, in his ol' 1948 Jeep Willys CJ 2A nicknamed "Old Yeller." "So, why did you call it 'Old Yeller'?" I asked. Greg chuckled and stated, "Because it sat on a farm and when I crawled underneath it, it smelled like a wet dog!"
After a good laugh together, I asked Greg about his Jeep. He's had it just over three years. His CJ 2A (CJ stands for civilian jeep) is powered by a Buick V-6 Odd Fire engine, has the original T-90 three-speed transmission as well as a Dana 18 transfer case. In addition, his Willys dons a Lock Right in back for traction, 31-inch BFGoodrich all-terrain tires, and an old WARN M8000 with synthetic rope in front. This Willys, now painted yellow, is known to have at least three other colors on it: baby blue, teal, and the original maroon/red hue.
Old Yeller also has a Dana 27 front axle, Dana 41 rear axle, as well as 5.38 gears (both front and rear). He added disc brakes to the front for safety. "You know, just in case," Greg says, "because stopping is good!" The first year of ownership was spent working on it mechanically. When he originally got Old Yeller, the brakes didn't work at all. After some work, like bleeding the factory brakes and getting them working again, it would pull really hard to the right. So, he decided disc brakes were necessary and installed them. He's been working hard to get it driving over 40 mph, too. Greg laughed and said, "It's a handful. It needs some steering work!"
Future plans for Old Yeller include getting a big drivetrain upgrade before EJS 2021, a Volkswagen TDI turbo diesel swap, an AW4 automatic transmission, Dana 300 transfer case, and late-'70s CJ axles with lockers front and rear. Greg says these upgrades should help with its driveability, give it even more torque, better reliability, and make it more capable off-road. He exclaims, "It also needs a full rollcage and suspension seats if I'm going to keep wheelin' it hard in Moab." Greg, as with many of the other participants on this fun run, say working and owning a flat-fender Willys is a labor of love. "People love to see [Old Yeller] driving around town. I get waves and double takes often," he said with a smile. "Driving with the windshield down puts a huge grin on my face, but you can't smile too wide or you'll get bugs in your teeth."
Joined by Jeeping
As we worked our way to Porcupine Rim Trail, I met up with Jeff Wills and his two sons, Jackson and Parker. Jeff had a lighter yellow 1946 Willys CJ 2A, aptly named "Granny Smith," "Because she looks like a granny smith apple," he said. Whereas Greg Gardner owned his Willys for three years, Jeff only owned this particular Jeep for six weeks. He found it on Facebook Marketplace in Colorado Springs, Colorado, for $700 and knew he had to have it. He begged his good friend, who happens to live in Colorado Springs, to pick it up for him. His friend did and the rest is history. He took the transmission and engine from his other 1946 CJ 2A, threw it in this one, and got it ready for this fun run.
The last several months—especially the last six weeks—were a challenge for Jeff and his family, however. Nearly a year before the flat fender run their family home burned. They just took back ownership of it the Friday before this run. The trip to Moab and the flat fender run was Jeff's only vacation of the year; he didn't want to miss it. He wanted to relax and have fun with the boys. He wanted to detach from house repairs, insurance claims, and so on. He ended up wrenching on his CJ 2A right up until they left. Jeff, a stay-at-home dad, didn't want to miss this opportunity for Jackson, Parker, and himself to bond over Jeeps after everything that happened. "I love being a stay-at-home dad. I get to be there for [Jackson and Parker] and do everything for them. I wouldn't change it for the world," he exclaimed.
A faulty battery exploded that ended up burning their entire kitchen. Since a battery was involved; there was a ton of smoke and damage that ensued from the explosion. They had to gut the entire house. Contractors promised them 90 days to fix the damage but it took them nine months. Jeff and his family lived in an apartment up until nearly two weeks before this flat fender run, in which insurance stopped paying for their temporary quarters—forcing them out and to live separately. Jeff's wife was living with her mother-in-law to be close to her work while Jeff and the boys lived in their 8-foot camper in the driveway. This was so the kids could keep going to school. "I'm coming out of the camper in the morning and throwing wrenches," Jeff said, "taking them to and from school and wrenching in between!" His dedication and passion to his family and to this Jeep was evident. Making EJS and the flat fender run happen was a must! They were excited to be there.
Customized Passion
Every flat fender on the run was unique. Whether deciphering through multicolored layers of paint, viewing customized carriers for cargo, or seeing a handmade stick shift constructed of a sisal-covered sword—every rig was fascinating. Kevin Hawkins, who owns a 1951 blue flat fender stood out for me. Perhaps it was the gorgeous shade of color that reminded me of our ol' teal-hued Suzuki Sidekick, aka "The Teal Terror," or maybe it was a standout because it looked completely different than the rest of the flatties.
"The only thing 'flat fender' about this vehicle is the grille and the cowl," he said with a smile.
Kevin started building this rig in the early 2000s. That's nearly 20 years of care, upgrades, and love going into this machine. Even though most parts are new or newer, it's registered as a 1951. This Jeep had upgrades such as a 6.0 Cadillac motor, an Atlas transfer case, a Currie Rock Jock 60 axle in the rear, along with a Currie high-pinion 9-inch in the front. Also included were Sway-A-Way coilovers, a WARN winch, Art Carr shifters, fuel cells, a Currie Antirock sway bar, and 40-inch Goodyear MT/R tires. Kevin even made the hood and side fenders! Whew, that's a lot of customization. And, I'm sure there'll be more to come.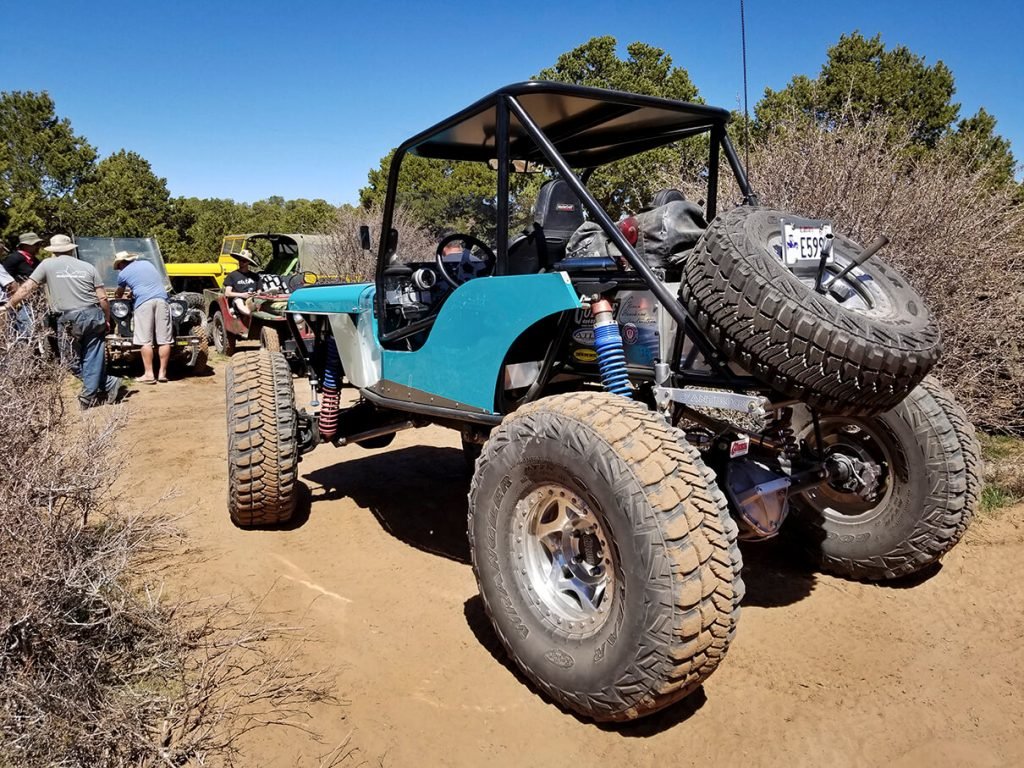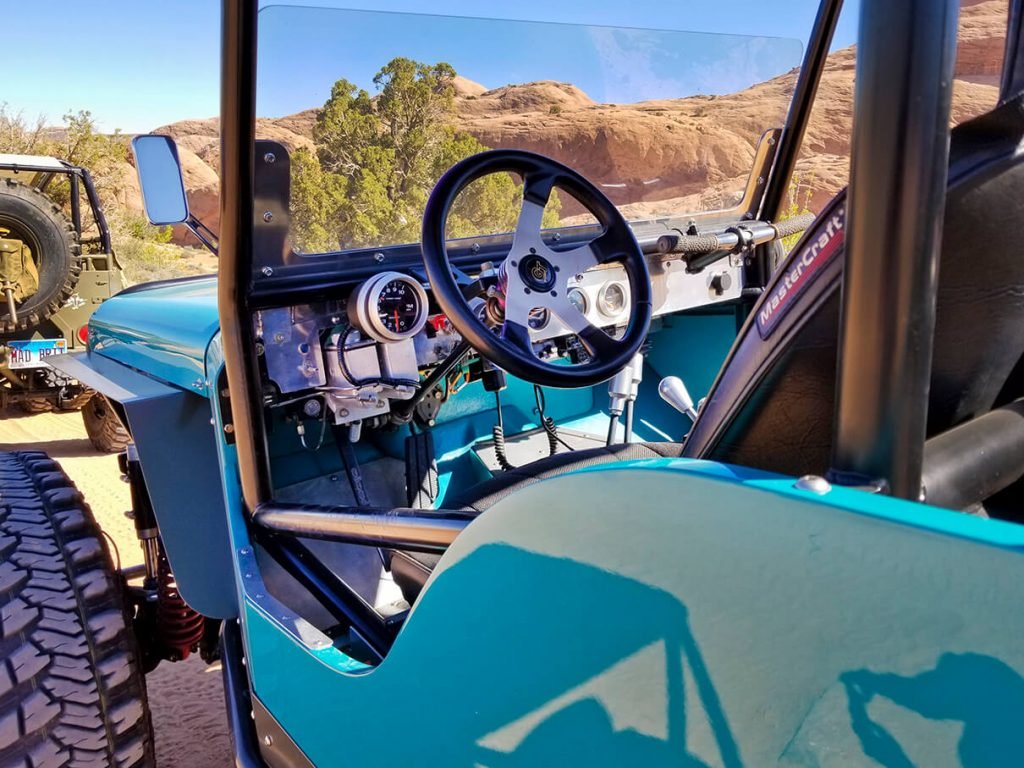 Having any vehicle for a few decades is a true testament of the bond between men, women, and their machines. Having a Jeep, especially a '40s or '50s flat fender Jeep, is particularly indicative of this. I'm already looking forward to the 2021 Easter Jeep Safari, along with its unofficial "official" flat fender run!