Call of the Wild: From Black Desert to Moab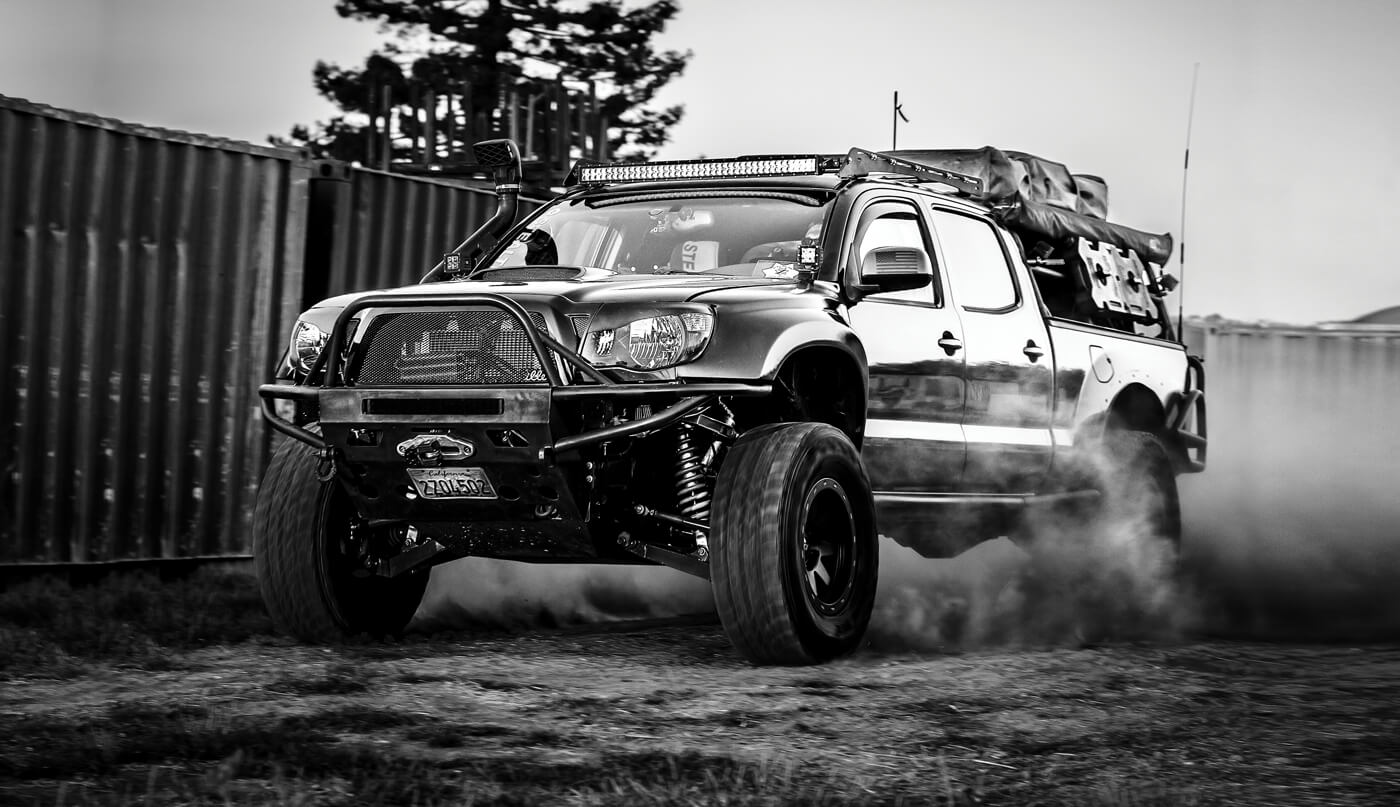 Whether it's putting together a business plan or modifying a rig, it always helps to have vision. Because when things start to change shape or take on new life, your original plan will help create a blueprint for success. When it came to Alex Chan's desire to tread backcountry through the Black Desert, he had a plan that involved a stock 2006 Toyota Tacoma, but somewhere along the way, the plan evolved, arguably for the better. Now Chan's Tacoma is the result of numerous iterations of suspension setups, tweaks and turns—perfect for how he wants to roll — well, for now, anyway.
Trip Out
It all started in 2006. Back then, Chan worked in an office and only dreamed of a life of adventure. Sure, he enjoyed the corporate quick WIFI and the comfort of his swivel chair, but after only a few months on the job, Chan found himself looking for any excuse to get outside and run errands. On weekends, he'd hit up the trails outside of San Francisco with his mountain bike, trying to get his fill of the outdoors.
Bay Area Expeditions
After a friend suggested taking a trip with Bay Area Expeditions, a San Francisco based business offering city slickers the chance to learn basic overlanding essentials and survival techniques, Chan saved up and bought himself a spot in the company's next expedition to Black Rock desert. How amazing was the trip? We don't know, but soon after, Chan found himself a 2006 Tacoma for $25,000 and began touring for Bay Area Expeditions on the weekends. It had to have been an impressive trip.
Since Chan now worked for Bay Area Expeditions, his interest in taking vehicles off the beaten path exponentially increased, but he decided that he'd play it wise by easing into the process and not tackling the hardcore trails right off the bat. Combine that with his love of mountain bike trips, he decided that he'd only slightly build up his Tacoma, just to help him access those hard-to-reach destinations. But, that was just the beginning.
Do Your Homework
Chan got the ball rolling by conducting research, loads of research, usually in various online forums or wherever he could dig up tips on the best path to tackle with his rig. Then he drew up a rough plan, which involved some basic things — a lift, racks, sliders— and he was set.
"Chan got the ball rolling by conducting research, loads of research, usually in various online forums or wherever he could dig up tips on the best path to tackle with his rig"
But this is where the plan had to be flexible. As he got further and further into his adventures, he realized that he'd have to tweak things to function the way he needed. For example, the four different suspensions he's had up front speak to the fact that he's used the Tacoma to take on a variety of terrains. Currently, his list of conquered territory includes: Black Rock, Nevada; Deer Valley, California; Pismo Beach Sand Dunes, California; Tillamook National Forrest, Oregon; Sand Lake, Oregon; Slick Rock, California and Moab, Utah.
The extremely different landscapes of these locales explain why Chan has accepted that modifying his rig isn't a one-time ordeal; for those pursuing a life of automotive adventure, it's a part of life. He currently runs a Dirt Designs 4WD Long Travel Kit with 8-inch King Coilovers, which he says works great for his expeditions. After all, he's been hitting the trails, not doing any hardcore crawling — but that could always change, too.
Form and Function in Bed
Let's delve into the Tacoma's bed because that's where things get pretty impressive. Since Chan often takes over night trips, he fitted the bed with a Bay Area Metal Fab Bed Rack and Tepui Rooftop Tent to offer a solid base for catching some Z's away from home. There's a BedSlide 1000CL, which gives Chan the flexibility to load up his truck however he likes and still pull it all out easily. A PrinSu Roof Rack is a pretty nice piece, as it allows him to mount an LED light bar up top and offers extra storage space if needed.
The aforementioned Bay Area Metal Fab (BAMF) Bed Rack is a beautiful piece of work, and it holds any accessory he likes (such as his Rotopax fuel and water cans) solidly in place. BAMF also made the sliders on the side of the cab, which not only act as an extra step, but also give the rockers some added protection. One other thing that tops off the back of the truck is a Brute Force Fab Rear Tube Bumper with swing down that holds his spare tire and various lights in place, while still giving him access to the bed.
And that's one of the things that makes this 4×4 so cool: functionality. Although he used a variety of different products from manufacturers located all over the U.S., he was able to keep the truck completely usable in the process. No metal tubing or superfluous accessories prevent him from performing any task around his rig, and that's the idea.
Check List
Looking at the inside of the truck, things get even a bit more nuts. A quick checklist shows that Alex has a lot of the essentials covered. CB? Check. Ham radio? Check. Cool stereo with a Pioneer head unit and JL Audio mids and highs? Well, that's not really essential, but it sure is cool. Oh, and "check."
Under the hood lies a reliable 4.0l V6 paired with a TRD Supercharger, TRD Cold Air Intake and a custom snorkel so that he's covered in deep-water situations. The Doug Thorley Shorty Headers and MBRP cat-back exhaust sure don't hurt things either, and when paired up with 4.56 gears and front and rear ARB air lockers, he's set.
Call of the Wild
Alex's truck took him around three years to build, and he can now use it to do all the things he wants, such as his occasional trek to Moab and the weekend excursions to nearby fun spots. And if something comes up along the way that forces him to alter his plan, he's able to adapt. If the changes affect his ride, he's okay with that, too. After all, it just means he's going to be that much more prepared the next time he hears the call.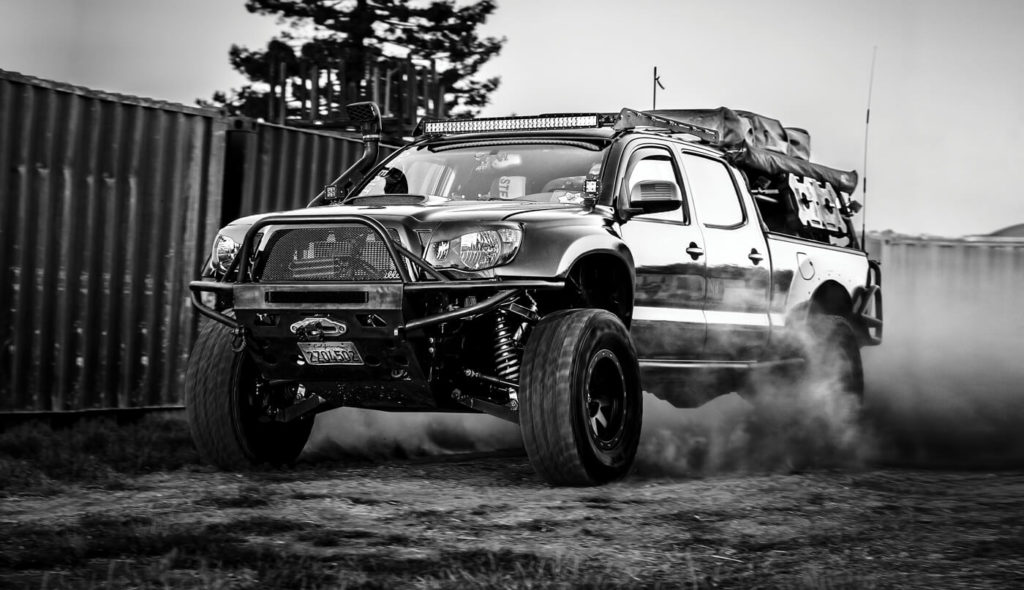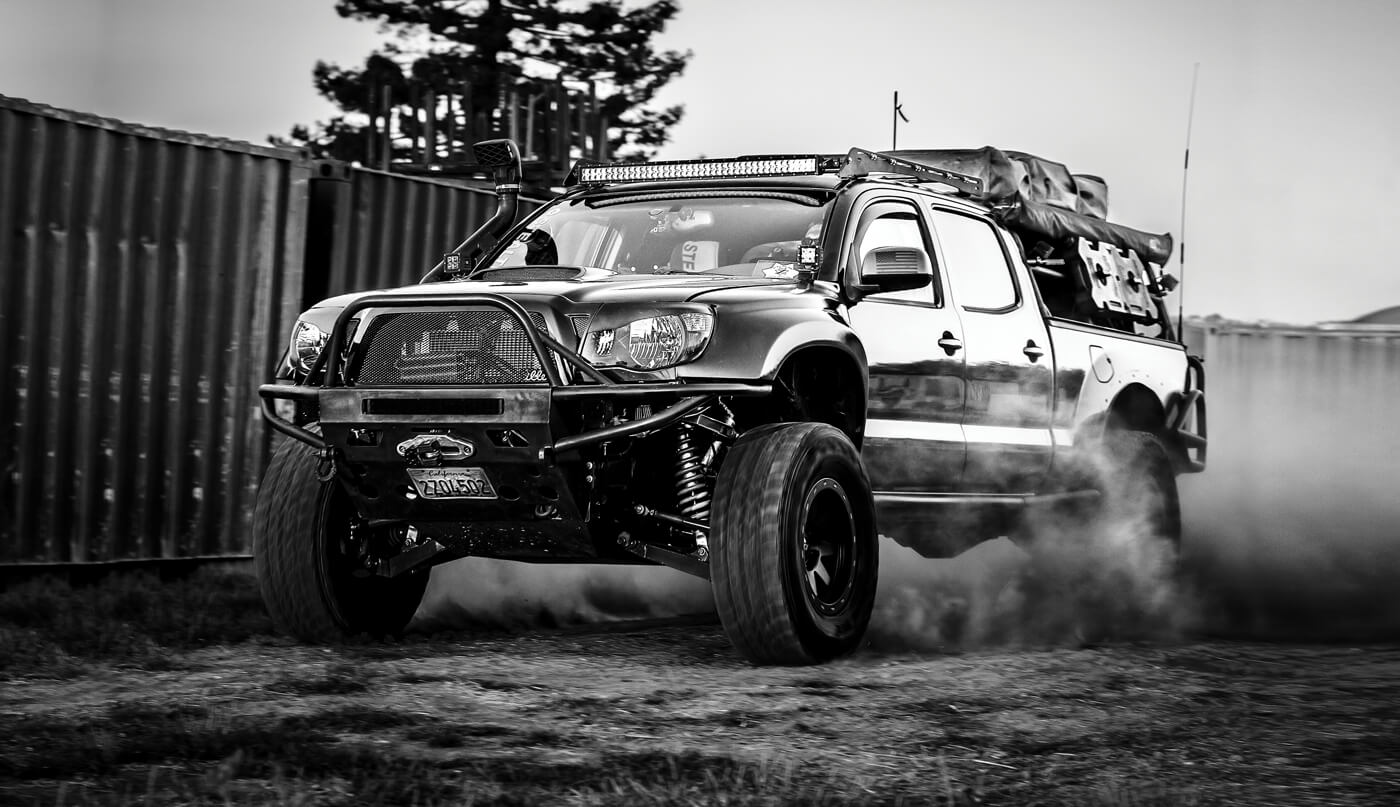 Black Desert Traveling Tacoma
PLATFORM:
2006 Toyota Tacoma Rebel
ENGINE:
4.0-Liter V-6 TRD supercharger
TRD intake system with AFE filter
Doug Thorley Shorty headers
MBRP Catback turndown exhaust
BP Fabrication cooling panel
SUSPENSION:
Front

King Racing 8 x 2.5 coilovers with remote res
Dirt Designs 4WD Race long travel kit
Wheelers Super bump-stops
Total Chaos shocks tower gussets
Total Chaos alignment tab gussets
Total Chaos 3.5″ chromoly axles

Rear

DMZ SUA long travel kit
Infamous Metal Works bed cage
Boxed frame with new cross-members
Deaver Lt springs + AAL
King Racing 16″ 2.5 triple bypass shocks with remote resi's
Bay Area Metal Fab (B.A.M.F.) outer frame gussets
Fox 2.0 air bumps 2″ travel
Poly-Performance air bump mounts
18″ limit straps
King 8″ coilovers with 700# spring
Hankook Dynapro M/T 35 x 12.5 x 17 (x5)
SCS SR8 matte/gloss black [17 x 8/0 offset / 4.5BS] (x5)
Spidertrax 1.25 wheel spacers rear
ACCESSORIES:
ARB 6.5ft retractable awning
ARB mosquito netting for awning
Truckfridge.com 40L fridge/freezer
ARB fridge tie downs
Ironman 4X4 fridge insulated cover
Custom-built fridge slide
Filtered hot water system
Tepui roof top tent
Okledlightbars.com 40″ double row LED bar
20″ double row LED bar
3″ LED spot lights x2
Rock lights x6
Rock lights on bed rack x4
B.A.M.F. behind the grille light mount
Depo OEM BHM leadlights
CBI off road ditch light brackets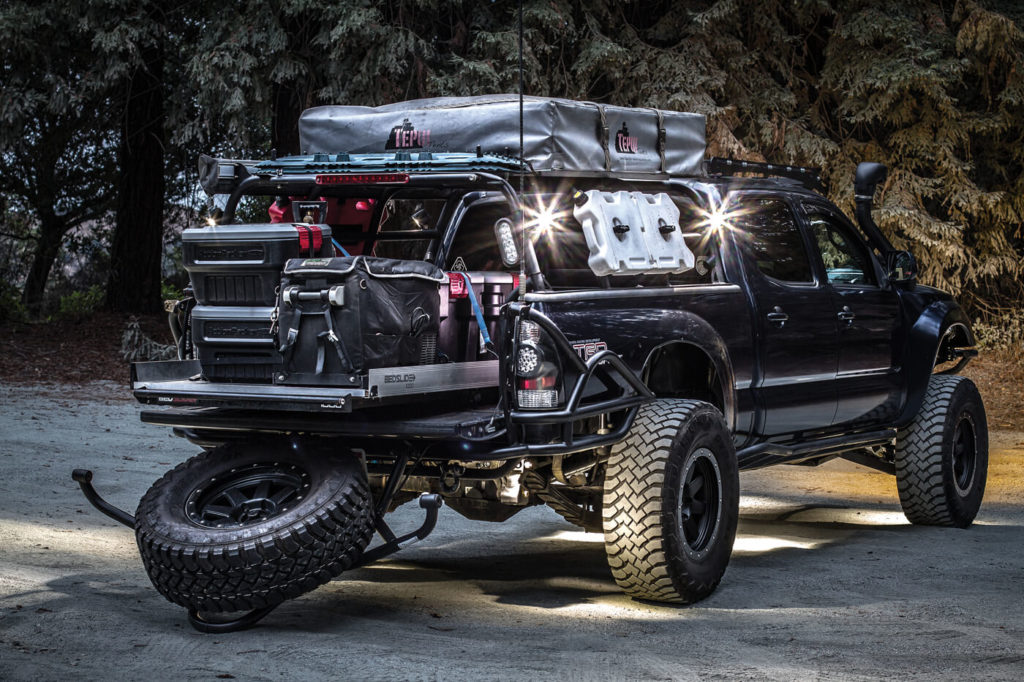 ---
Editor's Note: A version of this article first appeared in the Winter 2015 print issue of Tread Magazine.