RIDE RED WITH THIS CUSTOM RUBICON.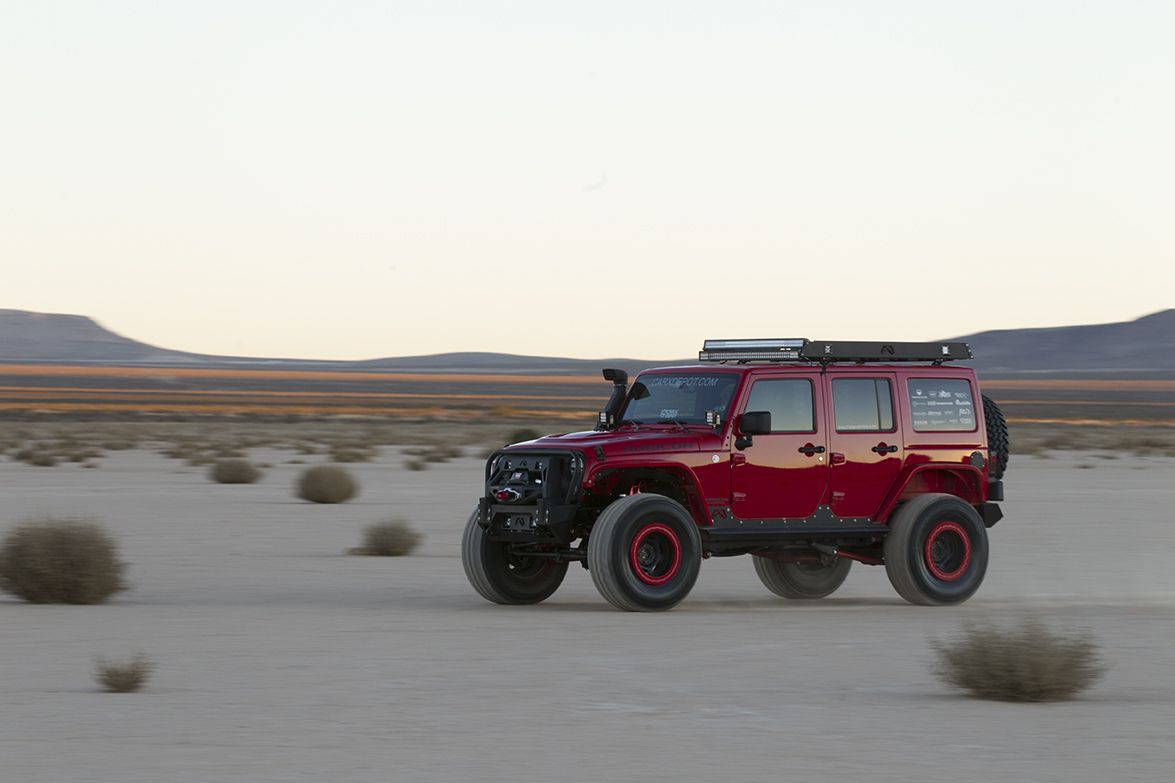 You might think a beach in Miami would be as far away from wheeling and crawling as it can get.
In the traditional sense, you'd be right. Picture, if you will, a beach in Miami (yes, that Miami)—what are the things that spring to mind? Glittering white sand, blameless blue skies, the rolling of warm surf, sun-kissed girls in teeny tiny bikinis, possibly a hand-rolled cigar bought on the sly from a street vendor on Washington Avenue. That's what we'd think of, anyway. But it doesn't mean there aren't resident Miamians who don't also dream of those very things—the call of the trail, the dust on your hood, the crush and crunch of rocks beneath 13 inches of meaty tread from a custom Jeep Rubicon.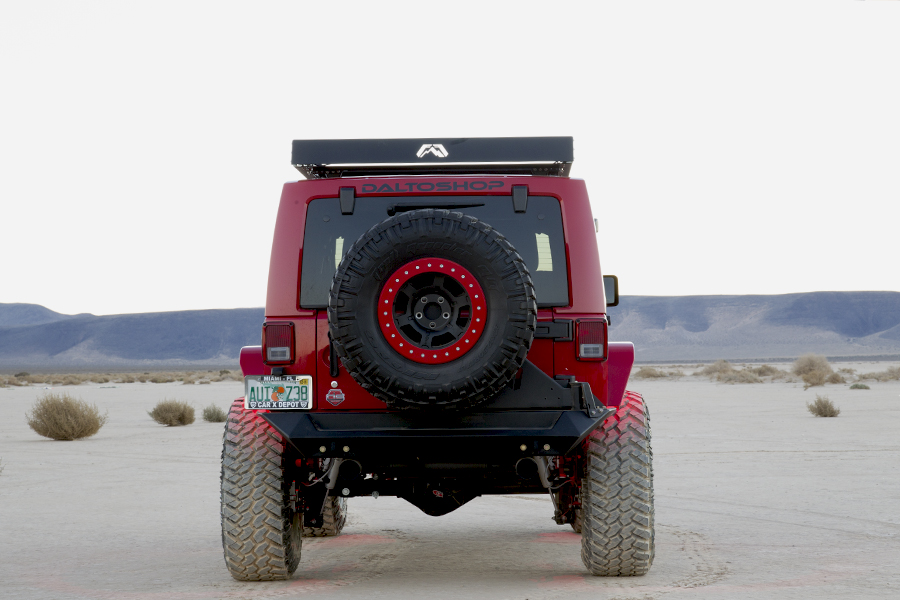 Andres Lafont is one of those Miamians. He lives not five minutes from the water by foot, but most hours of the day, his mind wanders far away from sun-drenched beaches, and the placid Eastern Seaboard. He got into the hobby with his first Jeep, a mildly modded FK, but inevitably found his mind wandering toward the notion of obtaining some new fresh metal for the trail. And, as the mind goes, so follows the body.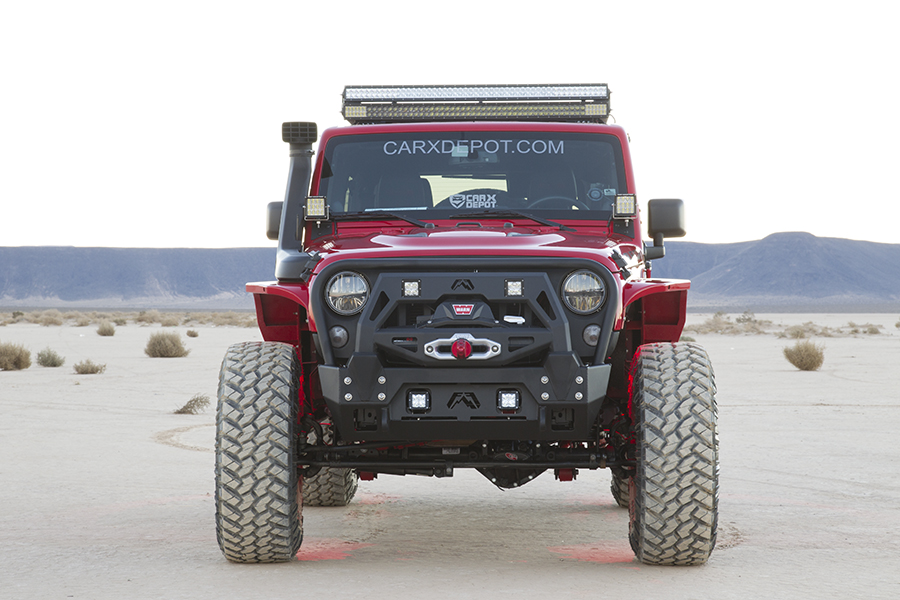 Andres' starting point was a spanking-new 2014 Rubicon Unlimited, in Firecracker Red, with all relevant options placed on the table. After a brief break-in period, which the owner completed in all of a week, the siren song of modification became too strong to ignore and Andres began outlining a plan to take the truck from bone-stock to bone-crushing. After all, a fully outfitted Rubicon cruising the boulevards of South Beach seems about as out of place as a stripper pole at a bingo tournament. The balance of the modifications was carried out through a collaboration between CarX Depot in Miami and KEG Media in Fort Smith, Ark.
He Saw Red
To help ward against stationary obstacles and flying debris, and to imbue the Rubicon with looks that stare down—if not outright kill—innocent bystanders, Andres opted to augment the body with bits from Fab Fours and JcrOffroad. The JcrOffroad fender system juts out from all four quarters; the fenders are a color match to the body. A closer inspection of the fenders reveal they are not plastic like the factory units, but are actually CNC-cut and formed from a combination of 3/16-inch and 1/8-inch stee, which are hand-finished for a perfect fit.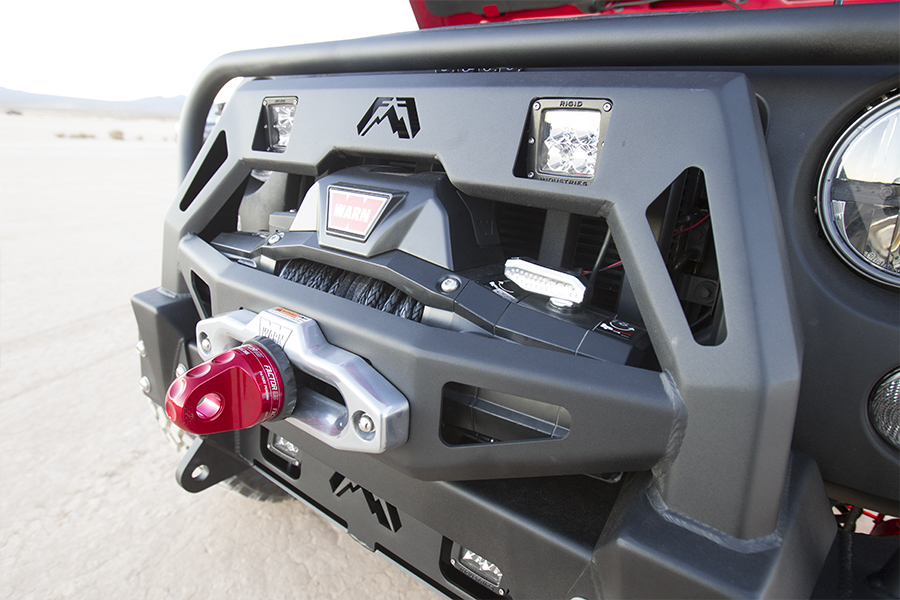 Fab Fours furnished a set of custom JK Rock Sliders for the Rubicon, not rocker panels per se, but in effect "side bumpers," as the company calls them. A far cry from those ubiquitous floating-tube side steps, these things feature beefy 3/16-inch formed construction and tie into the body mounts and 12 positions per side. Also, set against the sliders' factory matte-black finish, the rivets look damn cool. FF also contributed to the Rubicon's newly-freshened, yet still very businesslike, face with their signature Full Metal Jacket "Stubby" bumper, complete with recessed light ports and winch slot.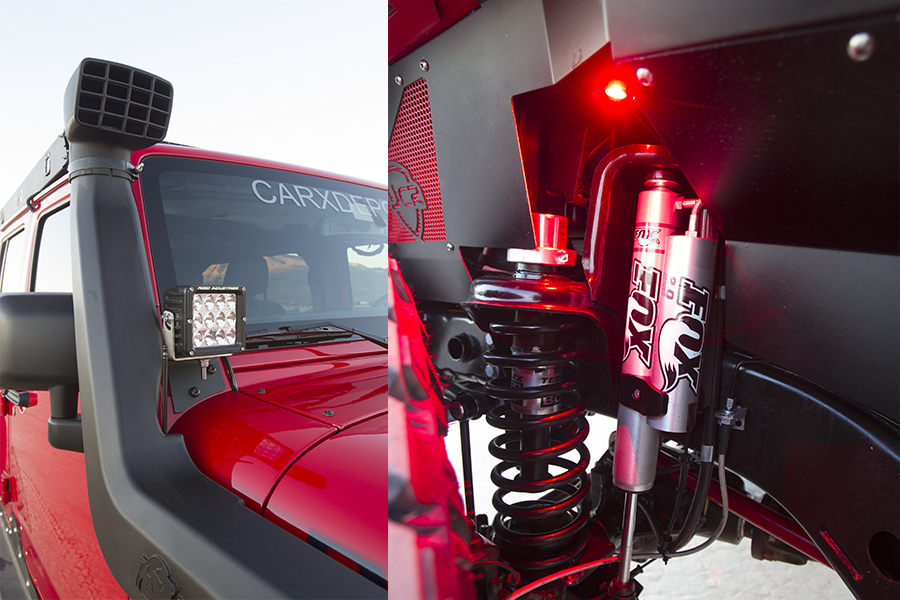 Speaking of the winch, you can just make out the Warn Factor 55 unit peeking out from behind the FF iron mask—for when Andres meets an unassailable bump in the road. Truck Lite lamps and LED lighting torch especially dark nights from critical mount points.
The Rubicon's custom interior also features a once-over courtesy of Roadwire. Smooth, black, top-grain leather replaces the factory seat fabric. Hand-sewn red stitching echoes the Jeep's red exterior, placed along all seams and in quilted-pattern inserts on the seats and seat backs.