Hitting the Trails: 2021 Honda Trail 125 ABS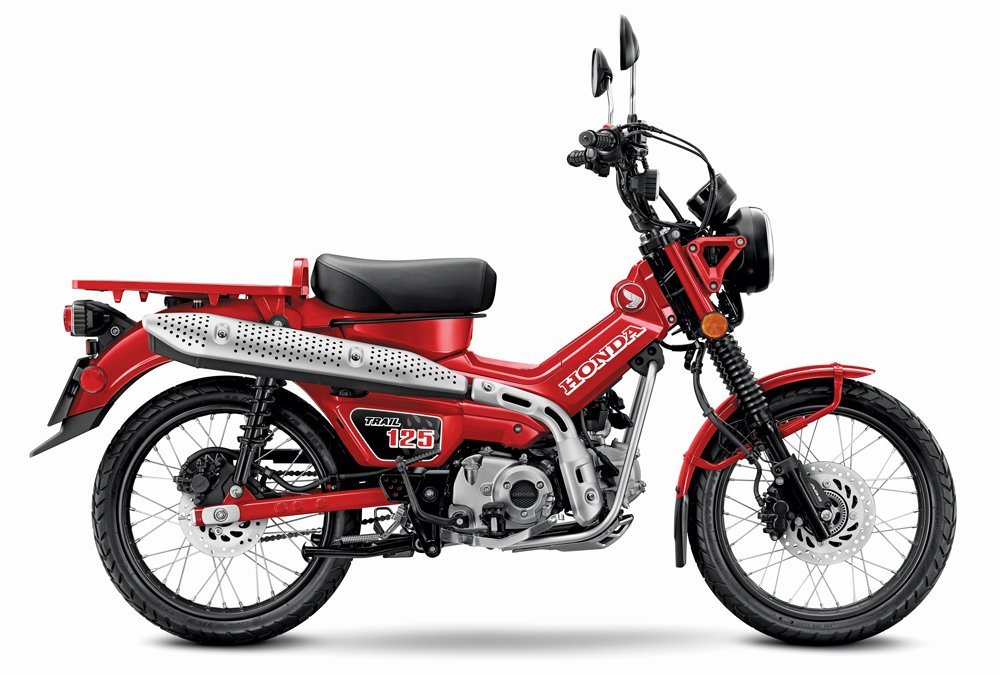 Compact Motorbike
Do you ever get the urge to jump on a motorbike for a stress-free romp around the trails without having to deal with the bulk of a heavy off-road motorcycle? If you've been looking for a fun, easy-to-ride, off-road–capable bike, you'll want to check out the all-new bike Honda has in store for you: the Honda Trail 125 ABS.
Sixty years after Honda's groundbreaking 1961 CA100T Trail 50 debuted, Honda is back at it again—this time with an updated, trail-ready, compact motorbike for modern riders. The motorcycle is designed for casual trekking on- and off-road and its styling incorporates the classic flavors of the golden era of motorcycling while updating it with a heavy dose of modern design and technology.
The 2021 Honda Trail 125 ABS is based on 2019's concept bike, the CT125. The CT125's throwback design made it a huge hit and Honda was inundated with requests to turn the concept into reality. Granting the wishes of nostalgic and casual adventure riders alike, Honda confirmed the Trail 125 for the 2021 model year.
Based on Honda's highly popular Super Cub, the Trail 125 features plenty of updates to make it more off-road capable. The wheelbase of the Trail 125 has been lengthened 1/2 inch over the Super Cub's and its front suspension stroke increased to 0.4 inch. This gives the Trail 125 an increased ground clearance of an impressive 6.5 inches. These upgrades allow the bike to traverse uneven roads and challenging terrain while also providing the rider plenty of comfort and control.
Other off-road touches include dual-sport–style tires mounted on 17-inch rims with stainless steel spokes, as well as front and rear disc brakes for confident braking power. ABS brakes are standard on this bike, by the way. An enlarged fuel tank with 1.4-gallon capacity, a high-mounted air intake with upswept exhaust, and a four-speed semiautomatic transmission are just a few of the features that get us excited about this all-new bike. We can't wait for our chance to ride the Trail 125; won't you join us?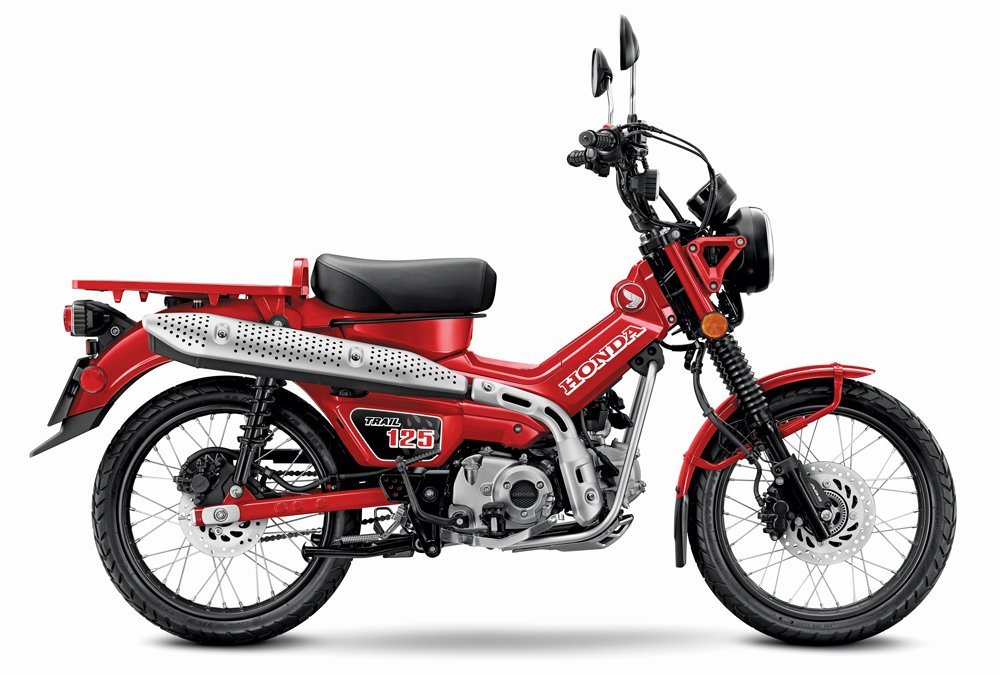 Performance
Engine
The motorcycle is powered by a 124.9cc, SOHC, two-valve, air-cooled, 80-degree, single-cylinder, four-stroke engine.
Transmission
The left foot shifter–equipped Trail 125 is driven by a semi-automatic, four-speed, no-clutch transmission. Its heel-tow shifter couldn't be easier to operate.
Fuel Injection
Outfitted with Honda's reliable PGM-FI (programmed fuel injection) with automatic enrichment.
Suspension
Suspension
The front features a 27mm telescopic fork with 3.9 inches of travel while the rearend is equipped with twin shocks and 3.4 inches of travel.
Brakes, Wheels & Tires
Front & Rear Brakes
ABS is standard. The front brakes consist of a single 220mm hydraulic disc and the rear boasts a single 190mm hydraulic disc.
Wheels & Tires
Front and rear wheels are shod with dual-purpose tires in 80/90-17 sizing. Tires are mounted on 17-inch rims with stainless steel spokes.
Spark
Ignition & Starter
The ignition is fully transistorized and the Trail 125 features electric and kick starters.
---
Overall Length
77.2 in.
Overall Width
37.1 in.
Ground Clearance
6.5 in.
Fuel Capacity
1.4 gal.
Curb Weight
259 lbs.
How much will it will run ya?
$3,899*
Editor's Note: A version of this article first appeared in the November/December 2020 print issue of Tread Magazine.