Jeep Concept Vehicles: The Concept Quartet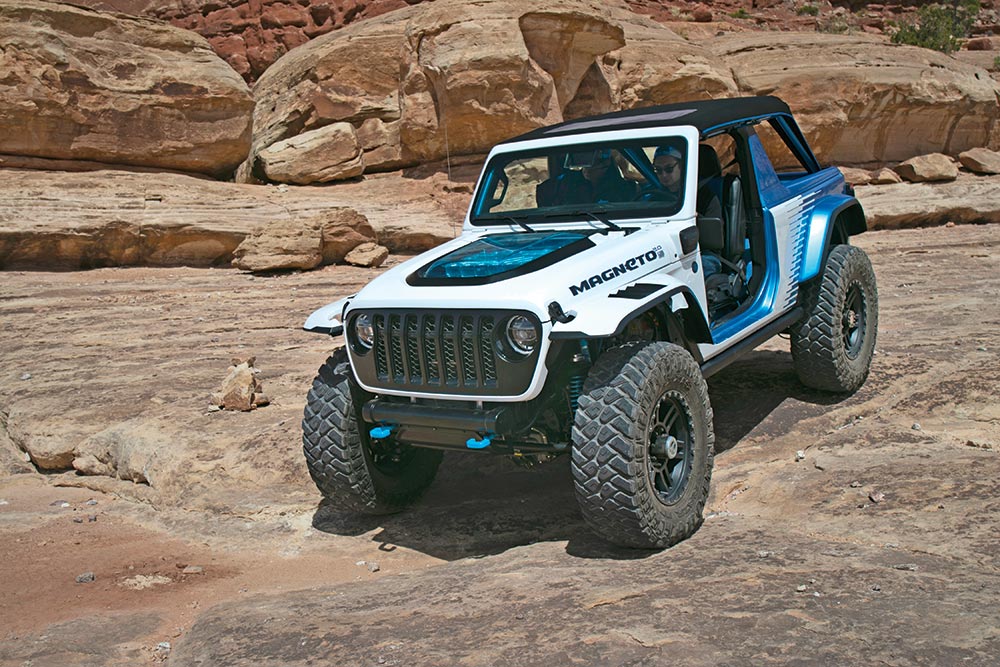 Looking at Jeep's Magneto 2.0, Grand Cherokee Trailhawk 4xe, Rubicon 20th Anniversary Concept, and Bob
When we think of Moab's Easter Jeep Safari, we think of Jeeps—and tons of them. What people may not immediately imagine, however, are the unique Jeep concept vehicles that roll into the public's view for the first time during the event.
For over 80 years, Jeep has manufactured cool and capable 4×4 vehicles. This past year was no exception. The off-road giant's trek towards electrification was evident, with five of the 10 total concepts electrified. Here, we'll look at four of our concept favorites.
The off-road giant's trek towards electrification was evident, with five of the 10 total Jeep concepts showcasing some form of electrification.
Jeep Wrangler Magneto 2.0 Concept
After a smashing success with last year's first full-EV concept debut, Jeep pushed the electrified envelope with an improved all-electric 4×4: Magneto 2.0.  Jeep built Magneto 2.0 as an open laboratory to study the mannerisms of all-electric off-roading vehicles and as a gateway towards their quest for Zero Emissions Freedom. Jeep ran with Magneto's initial design but enhanced its capability, technology and power.
Performance-focused design
Same as last year, Magneto 2.0 showcases a six-speed manual transmission. Although the 2022 rendition echoes a similar Surf Blue paint scheme and overall vibe, this two-door Wrangler is very different. It was stretched 12 inches to accommodate beefy 40-inch Maxxis Razr mud-terrains and 20-inch wheels. Double-locked Dynatrac 60 Pro-Rock front and Dynatrac 80 Pro-Rock rear axles utilize a 5.38:1 gear ratio. Jeep changed the first gear in Magneto 2.0's manual transmission from 5.13 to 3.36, showcasing an incredible amount of torque, to allow for "true, one-pedal driving," even in tricky terrain. Although last year's Magneto had a solid hood without hood scoop, this year's iteration features a massive blue-hued see-through window, drawing attention to the EV technology directly beneath it.
Electrified Power
Magneto 2.0's highest amperage is over double that of last year's version, coming in at 600 amps. Same as with other all-electric vehicles, the Magneto 2.0 EV creates instant power. It pushes an impressive 625 hp and up to 850 lb.-ft. of torque. Magneto 2.0 more than doubles its horsepower and triples the torque from last year's initial all-electric offering. Although we couldn't try this during our time with it, Magneto 2.0 apparently claims a 0-60 miles per hour acceleration in only two seconds. We say yes, please.
The 2022 Jeep Magneto 2.0 BEV pushes an impressive 625 horsepower and up to 850 pound-feet of torque.
Jeep Grand Cherokee Trailhawk PHEV Concept
Jeep showcased five electrified concept vehicles during the 2022 Easter Jeep Safari event. One of them was the Grand Cherokee Trailhawk 4xe concept. This plug-in hybrid concept offers 56 MPGe and up to 25 miles of pure all-EV range, boasting a near-silent driving experience when piloting it over off-camber rock ledges and off-pavement terrain. A new sway-bar disconnect adds to its off-road capability, too.
Off-Road Capability
Enlarged wheel wells and bespoke widened fender flares allow the Grand Cherokee 4xe concept to house 20-inch Vossen wheels and 33-inch BFGoodrich mud-terrain tires. Mopar rock sliders give this plug-in hybrid side-body protection against various trail hazards. A custom roof rack with incorporated tie-downs and a black-painted Rhino Liner roof protects against cargo-carrying abuse. In addition to the 4xe's rock-solid off-road shoes and additional cargo capacity, it also has four LED fog lamps mounted within custom bezel sets, allowing clearer visibility when conditions degrade.
Electrified in Style
Like production Grand Cherokee 4xes, the Grand Cherokee Trailhawk 4xe concept is powered by a 2.0-liter turbocharged four-cylinder engine paired with a TorqueFlite eight-speed automatic transmission. Two electric motors and a 400-volt battery pack round out electrified components. Jeep also includes a class-exclusive Quadra-Lift air suspension, which improves the concept's ride quality, especially if trails are tough.
The GC Trailhawk 4xe concept includes signature blue-accented badging, Lagoon Blue tow hooks and Surf Blue stitching, same as other Jeep 4xe plug-in hybrids.
Jeep Rubicon 20th Anniversary Concept
First built in 2002, the Jeep Wrangler Rubicon was initially a pipe dream for a small yet vocal group of engineers at the company's headquarters. Calling themselves the "Lunatic Fringe," they constructed the very first Rubicon 4x4s on their own time and dime.
An Instant Classic
After deep discussions, however, Jeep succumbed to their pleas and started a small production run of Wrangler Rubicons, expecting the beefed-up beginner to soon die off. Much to their surprise, the Jeep Wrangler Rubicon took off. It powered its way into a mainstay moniker, currently capturing 30% of sales.
Strong History, Stronger Future
The 2022 Jeep Rubicon 20th Anniversary concept pays respect to its humble beginnings. It's equipped with a 6.4-liter V8 engine that produces the same adrenaline-pumping 392 horsepower as the Rubicon 392. The Rubicon 20th Anniversary concept struts on 37-inch BFGoodrich KM3 mud-terrains and 17-inch Mopar beadlock-capable wheels. Also included is a Jeep Performance Parts (JPP) 2-inch lift kit and beefy rock sliders, a key combination when navigating over tricky trail-side obstacles. Underbody skid plates keep crucial components safe while a steel front bumper and added bull bar feature bronze-accented recovery points, factory fog lights and a WARN winch. A matte Granite Crystal exterior wrap rounds out this one-of-a-kind Jeep Wrangler 20th Anniversary Rubicon.
Note: Jeep hinted that part of the 20th Anniversary concept will work its way into next year's production-ready 20th anniversary edition, although they didn't specify the exact upgrade. Our wish: the 392's 6.4-liter V8 powerplant.
The Jeep Bob Concept
The Jeep Bob concept combines two specific models: the newcomer Gladiator JT truck and the crowd-favorite Wrangler Rubicon. Showcasing a "bobbed" bed, shortened by 12 inches, Bob's fun, retro look makes us wonder if this is what "Back to the Future's" Marty McFly would drive if he rocked a customized 4×4.
Designs of the Future
Bob boasts an eye-catching multi-finish paint scheme, marrying high-gloss and matte finishes for a strikingly unique appearance. An eye-popping orange soft top, custom seats and bed-lined floors add to its retro, funky look.
Bob boasts an eye-catching multi-finish paint scheme, marrying high-gloss and matte finishes for a strikingly unique appearance.
Exterior Mods
Along with a vivid paint scheme and interior, Bob's exterior mods add to its capability. A three-inch lift kit is joined by custom off-road suspension parts. Dynatrac Pro-Rock 60 axles, along with King coils and bypass shocks make for a lean, mean off-roading machine. Additionally, hefty 40-inch Maxxis Razr mud-terrain tires and 20-inch Raceline beadlock wheels beef up the Jeep's off-road chops. Accompanying Bob's shortened truck bed are custom front and rear steel bumpers and high-clearance fender flares that increase this concept's approach and departure angles.
Best of Both Worlds
How did Jeep made Bob a reality? By incorporating a turbocharged 3.0-liter Eco-Diesel V6 engine mated to a TorqueFlite 8HP75 eight-speed automatic transmission. This combo gives Bob the low-end torque usually associated with deisels. A Mopar-supplied cold-air intake increases the engine's airflow.
Bob's B-pillars and doors have been removed, blurring the lines of adventure from the inside out. Bob stole the show with its colorful and capable personality.
Looking to the Future
A variety of powertrains as well as JPP and Mopar parts made strong appearances at this year's concept event. However, electrification was front and center. Magneto 2.0 captured everyone's interest, with four additional Jeep 4xe concepts flanking it. Each electrified vehicle demonstrated variety and capability, as well as the company's dedication toward an electrified future. While no one knows when the first production-ready all-electric Jeep may come to life, we're 100% sure Jeep is charged up about it – and its long-awaited debut.
While no one knows when the first production-ready all-electric Jeep may come to life, we're 100% sure Jeep is charged up about it – and its long-awaited debut.
---
Editor's Note: A version of this story previously appeared in the TREAD September/October 2022 issue.