2020 Impressive Rebelle Rally Rigs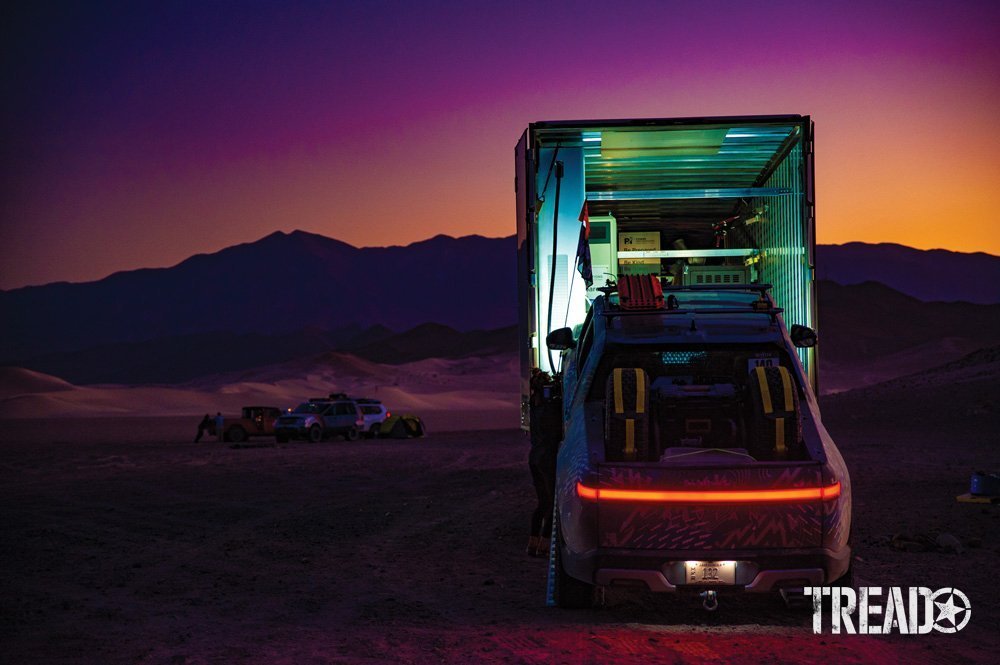 Standout 2020 Rebelle Rally Rigs
Every off-road competition poses challenges: tough terrain, vehicle breakdowns, and stressful situations. Imagine running a 1,500-mile-long rally without GPS, a cell phone, or other technology. Completely on your own; vehicle, driver, and navigator, coupled with topographic maps and a compass. This is Rebelle Rally. In the fifth year of the all-women's off-road competition, entrants certainly didn't disappoint with entering unique vehicles. Each year, we are impressed with the capabilities of the chosen vehicles. However, a few stood out more than usual and were worth shining a spotlight on: Lexus LX 570 concept, Mitsubishi Outlander PHEV, Rivian R1T, and Mercedes-Benz 350GD Turbo.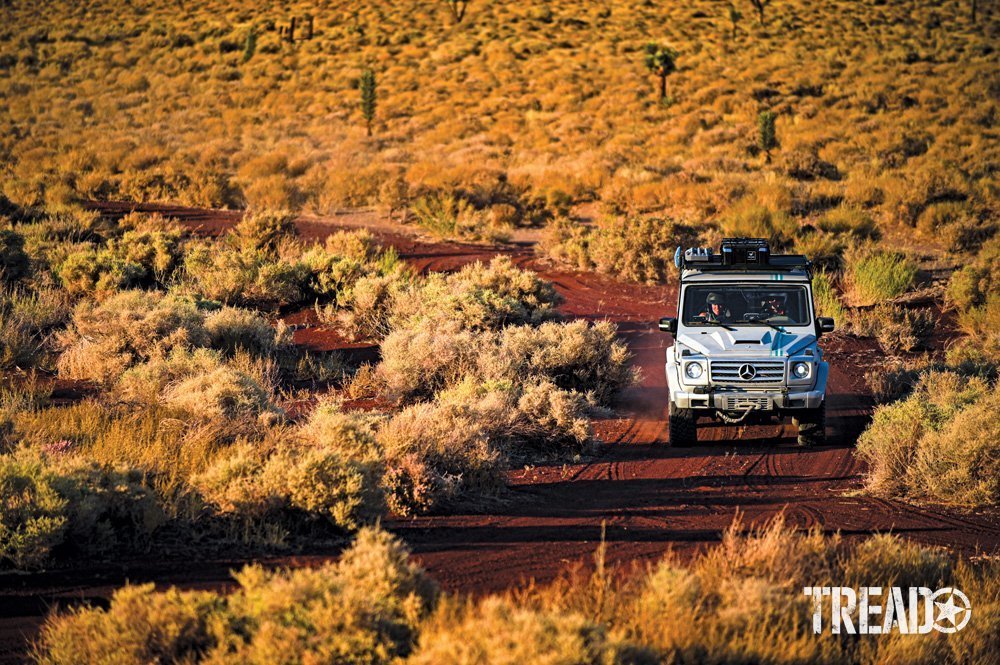 Thirty-six teams clawed their way through tricky terrain in order to chase hundreds of hidden checkpoints (CPs). Teams tested themselves and their vehicles against the ultimate challenge: conquer the longest off-road rally in the U.S.
This year, a new designation for the 2020 Rebelle Rally was announced: the Electrified Class. Two teams tackled this one-of-a-kind segment. Mitsubishi and Team Record the Journey #207 (Rachael Ridenour/Kristie Levy) competed in the X-Cross class in a Mitsubishi Outlander PHEV. Meanwhile, Team Killer Watt #140 (Emme Hall/Rebecca Donaghe) rallied the first Rivian R1T off the production line. These vehicles faced a new and different challenge: the need to power up. Both vehicles were charged via a mobile Power Innovations semi-truck, equipped with solar and hydrogen fuel cell technology.
2021 Rivian R1T
Veteran ralliers Emme Hall and Rebecca Donaghe are quite familiar with the Rebelle Rally. They've competed in it since its inception in 2016. During that time, they've won both 4×4 and crossover classes. This year, Hall championed the all-electric R1T as Donaghe navigated them to the finish line.
Every vehicle has a purpose. What do you think your vehicle's was as you completed the rally with it?
Emme Hall: Our goal was to prove you could rally an EV for multiple days. Yes, we had special charging provided by Power Innovations, an option real-world consumers likely won't have, but we wanted to be a part of the giant experiment to see if it could be done.
What part(s) of the vehicle proved to be a success, exceeded your expectations, or surprised you in a good way?
EH: The 826 lb-ft of torque is really amazing. The truck doesn't have a low gear or lockers or anything, but we didn't need them. With all that torque, the truck will climb up and over most anything. Further, the torque meant that we could accelerate to our Enduro speeds really quickly.
What is the most memorable experience you had with your vehicle during the rally?
EH: During the rally when we dropped into Glamis for the first time, I got really excited and over-drove the truck, bending a control link in the rear. After looking at the damage, we decided to skip the CP on Oldsmobile Hill and just go for two other CPs that would be easier on the truck. It was a hard decision for me to come to terms with. Since the truck was still moving forward and in a race situation, I [wanted to] just drive it until it couldn't move forward anymore. However, the rally is a marathon, not a sprint. Skipping Olds and babying the truck was the right choice. But it was really hard for me!
If you were to change anything about the vehicle, what would it be? Why?
EH: That's tough because we didn't experience a fully fleshed-out model as it would be delivered to a customer. Our truck was the first one off the production line, but that doesn't mean it's a full production vehicle. From a driver's standpoint, I want beefier control links. Rivian told us those parts are not production and will most likely get tweaked for the better. I also want the air suspension tuned a bit different. Compression was great but the whoops would often overwhelm the rebound in the rear and kick the bed up just a bit. I mean, you can solve that by going slower, but where is the fun in that?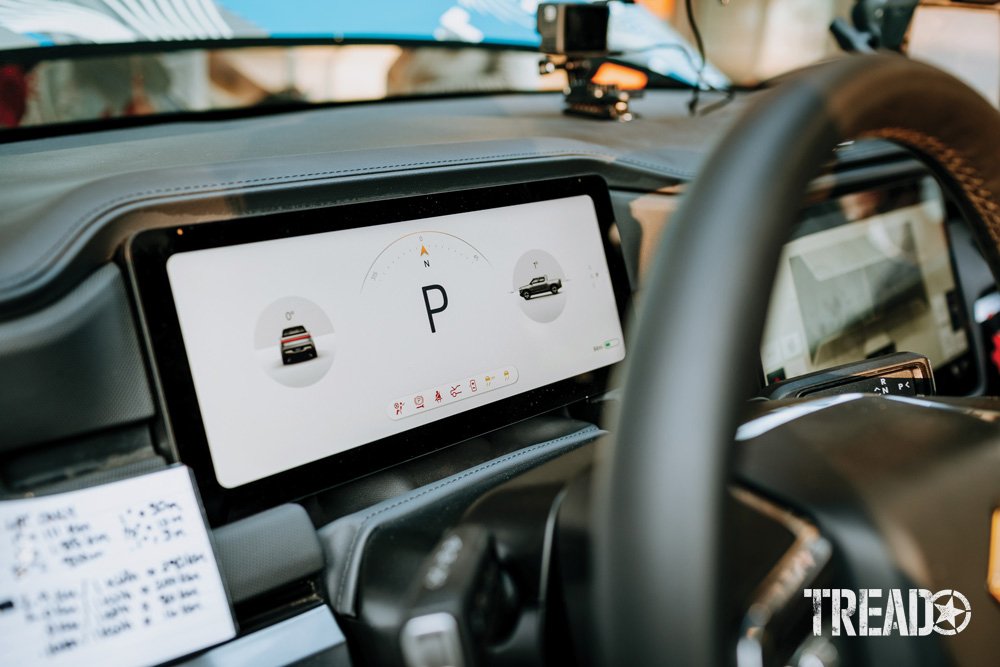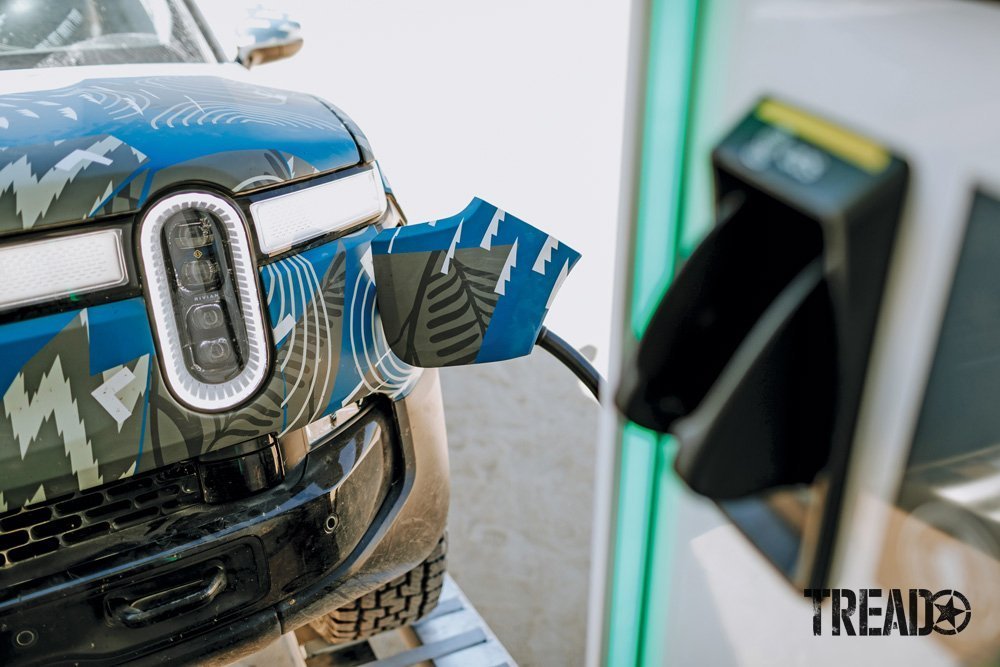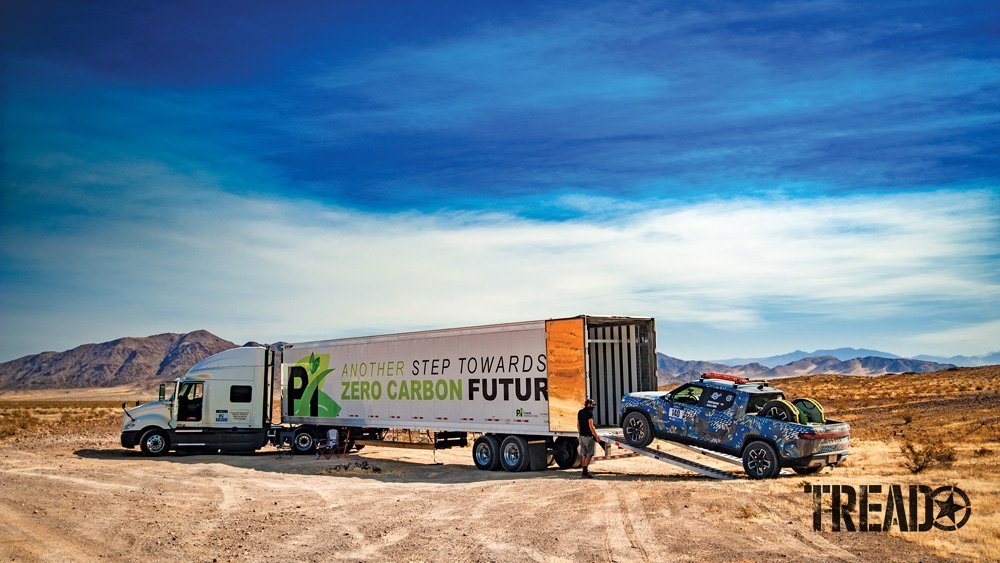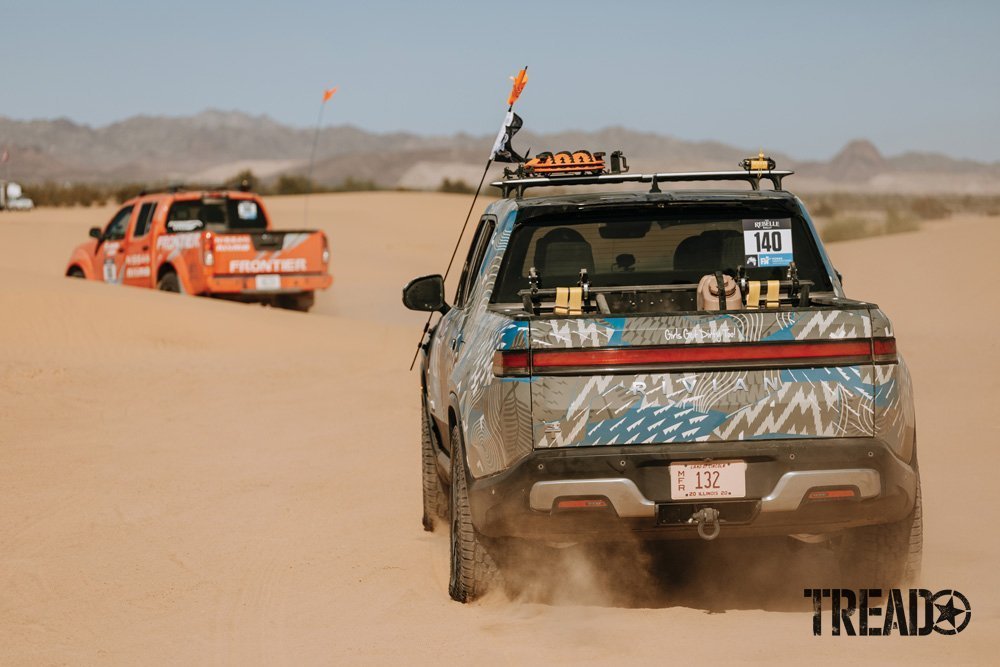 UPGRADES
2021 Rivian R1T (Pre-Production)
*Slated For June 2021 Release
Powerplant: Four Electric Motors in side-by-side pairs per axle (each motor powers a wheel); up to 754 hp with 826 lb-ft of torque
Batteries: Large Pack 135-kWh, expected 300-plus miles (also, available in Max Pack 180-kWh, expected 400-plus miles)
Basic Stats: 135-inch wheelbase; 218-inch overall length; 5,886 pounds curb weight; five different ride heights (with a maximum of 14.5 inches); 34.8-degree approach angle; 29.3-degree departure angle; 25.7-degree breakover angle; Flat-Pack–style powertrain
Wheels & Tires: OE wheels; 34-inch Pirelli Scorpions
Storage Space: 4.5-foot truck bed; 11.1 cu.-ft. in front trunk; 11.7 cu.-ft. space in the gear tunnel between the rear seats and bed
Post-Rebelle Feedback: (from team) Letting off the "gas pedal" will slow the Rivian to a complete stop, this RT1 had the smaller 135-kWh battery, which allowed roughly 167 miles per full charge. The team didn't use climate control to maximize battery charge.
(From Rivian) Pre-production vehicle used 75 percent of the production capacity battery. "According to our engineers (using Hall's real-time driving data), someone driving a production vehicle in Hall's shoes would experience an overall range average of about 220 miles of range a day" with a production R1T and battery at full capacity. Terrain was factored in. "Hall's R1T had the smaller 135-kWh battery, which is rated at a 300-mile range. So, 220 miles in those conditions is pretty excellent."
Powering Up: The Power Innovations' semi-truck, called The Mobile Energy Command, charged the Rivian during the rally. Vehicles can charge at speeds up to 130 kWh, almost three times faster with it versus most public charging stations. The team regained 80 percent of the Rivian's battery capacity in about 30 minutes, the full 100 percent takes over an hour.
*Rivian is planning to release its own charging infrastructure: Rivian Adventure Network. The Rivian R1T can also be tow charged.
2020 Mitsubishi Outlander PHEV
Veteran and founder/CEO of Team Record The Journey Rachael Ridenour, partnered up with veteran Kristie Levy to pilot the Mitsubishi Outlander PHEV in the Electrified Class. Ridenour's organization helps military veterans and their families explore the outdoors via outdoor photography and adaptive recreation programming. They help veterans in many ways—like sponsoring Levy, an avid trail runner, camper, paddle boarder, hiker, and 25-year Army veteran—for the rally. She was a perfect match; they placed Third in the X-Cross class.
Why did you choose this vehicle for the Rebelle Rally? What was your inspiration to build it or pilot it for the event?
Kristie Levy: I was blessed to have been chosen by Record The Journey, who is sponsored in this event by Mitsubishi. So though I did not have a say in the vehicle choice, I am so thankful to Mitsubishi for the opportunity.
Rachael Ridenour: The opportunity to do something that had never been done before was a huge incentive for Kristie and I. We knew that anything Mitsubishi provided us with would be more than up to the challenge.
What part(s) of the vehicle proved to be a success, exceeded your expectations, or surprised you in a good way?
KL: The instant torque from the electric motors was amazing and so strong.
RR: How the Outlander PHEV performed in the sand dunes. It is remarkably capable due to the balance and the position of the battery between the two axles. I've driven lots of 4×4 and crossover vehicles in the dunes of Glamis, and it is my favorite vehicle in the dunes to date.
Every vehicle has a purpose. What do you think your vehicle's was as you completed the rally with it?
KL: The Outlander PHEV's purpose in this event was to show the versatility and power and potential of hybrid/electric vehicles. It did great.
RR: We are primarily a photography-based non-profit and we tell people all the time that the smartphone in your pocket is a more capable camera than you think. The same holds true for the vehicle in your driveway. It's a lot more capable than people give it credit for, and we love being able to take it out into the dirt to prove that.
If you were to change anything about the vehicle, what would it be? Why?
KL: The gear shifter because it feels backward to me. You push the shifter forward to reverse and backward to drive. Not intuitive. And the radio controls are buttons for volume. I like a knob I can just reach over and turn. So, obviously nothing too egregious. Overall, it's a very solid vehicle.
RR: It might show my age, but I wish there were an actual physical knob to turn the volume up and down on the radio.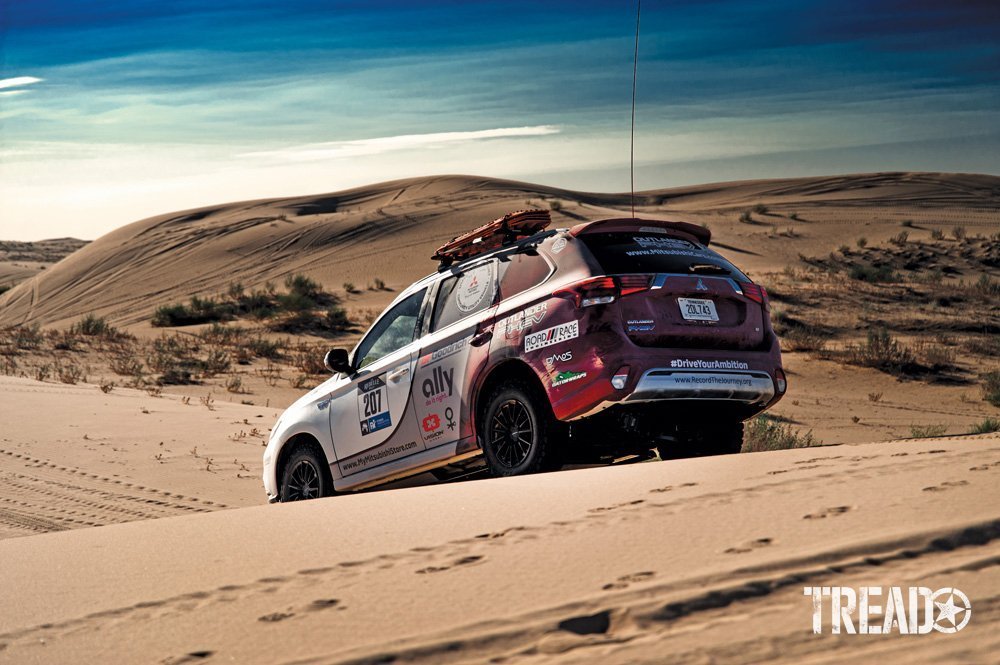 UPGRADES
2020 Mitsubishi Outlander PHEV GT S-AWC
Engine: 2.0L MIVEC DOHC, 16-valve, four-cylinder; twin 60 kWh AC Synchronous Permanent Magnet Motors (front and rear); 70 kWh generator; 12.0 kWh Lithium-Ion battery pack
Transmission: Single-speed, Drive Mode Switchable Reduction gearbox, front; single-speed, fixed reduction gearbox, rear
Suspension: Custom-machined aluminum spacers; Macpherson strut with stabilizer bar (front); relocated shock mounting point to lower control arm (rear)
Wheels & Tires: 16×7.5 Vision Wheel 473 Axis in gloss black wheels, +34 Backspacing; BFGoodrich KO2 LT225/75R16 All-Terrains
Exterior Accessories: Road Race Engineering custom skid plates; Road Race Engineering custom front bumper
Interior Accessories: Mitsubishi Motors accessory crossbars; Terratrip rally computer
2020 Lexus LX 570-Based J201 Concept
Rachelle Croft and Taylor Pawley of Team The X Elles #100 aren't new to the Rebelle Rally either. Croft, based in Montana, came into the automotive scene full time in 2011 when she first rallied in Morocco. She has since competed in the Rebelle Rally multiple times. Last year she conquered the 4×4 class with navigator Pawley. This year they placed Second in the same class with the Lexus LX 570 concept vehicle.
Every vehicle has a purpose. What do you think your vehicle's was as you completed the rally with it?
Rachelle Croft: Our vehicle's purpose was to prove that you can have luxury and comfort, yet still take on any obstacle an off-road-focused vehicle can—and do it all with style!
Taylor Pawley: The comfort and luxury of this vehicle, combined with its flawless performance, gave us incredible confidence that we could do anything we needed and get anywhere we needed to go this rally.
What is the most memorable experience you had with your vehicle during the rally?
RC: Driving up a very steep, 4WD track to the top of a hill for a blue checkpoint. I put it in 4-Lo, engaged the rear locker, and climbed up smoothly without issue over loose and sharp rocks. After we reached the top, we then had to go down the other side, which took concentrated tire placement and a slow descent to keep control. We reached the bottom and the Lexus didn't even have to think about what we just climbed up and descended.
TP: Well, I would say by no fault of the Lexus, the most memorable experience for me was the afternoon where we were running short on time, short on fuel, and then took a wrong turn leading to a treacherous and rocky track that resulted in a flat tire. After the tire change, the fuel light came on with still about 50 km left to go and, amazingly, we were able to get the vehicle to every checkpoint and make it to base camp on time.
Were there any challenges with it? Please explain.
RC: It was one of the heavier vehicles, which required lower tire pressure in the dunes and a little more care over the whoops of Johnson Valley. I also tried my best to keep the pinstripes at a minimum due to the larger size of the vehicle. I'd say the LX faired pretty well, but definitely has some good battle wounds that tell a story.
TP: Our only challenges came in the sand dunes where the incredibly hot temperatures of the last few days (105-plus degrees F) meant the sand was super soft. That combined with our heavier rig meant we weren't able to choose all the lines that we wanted to.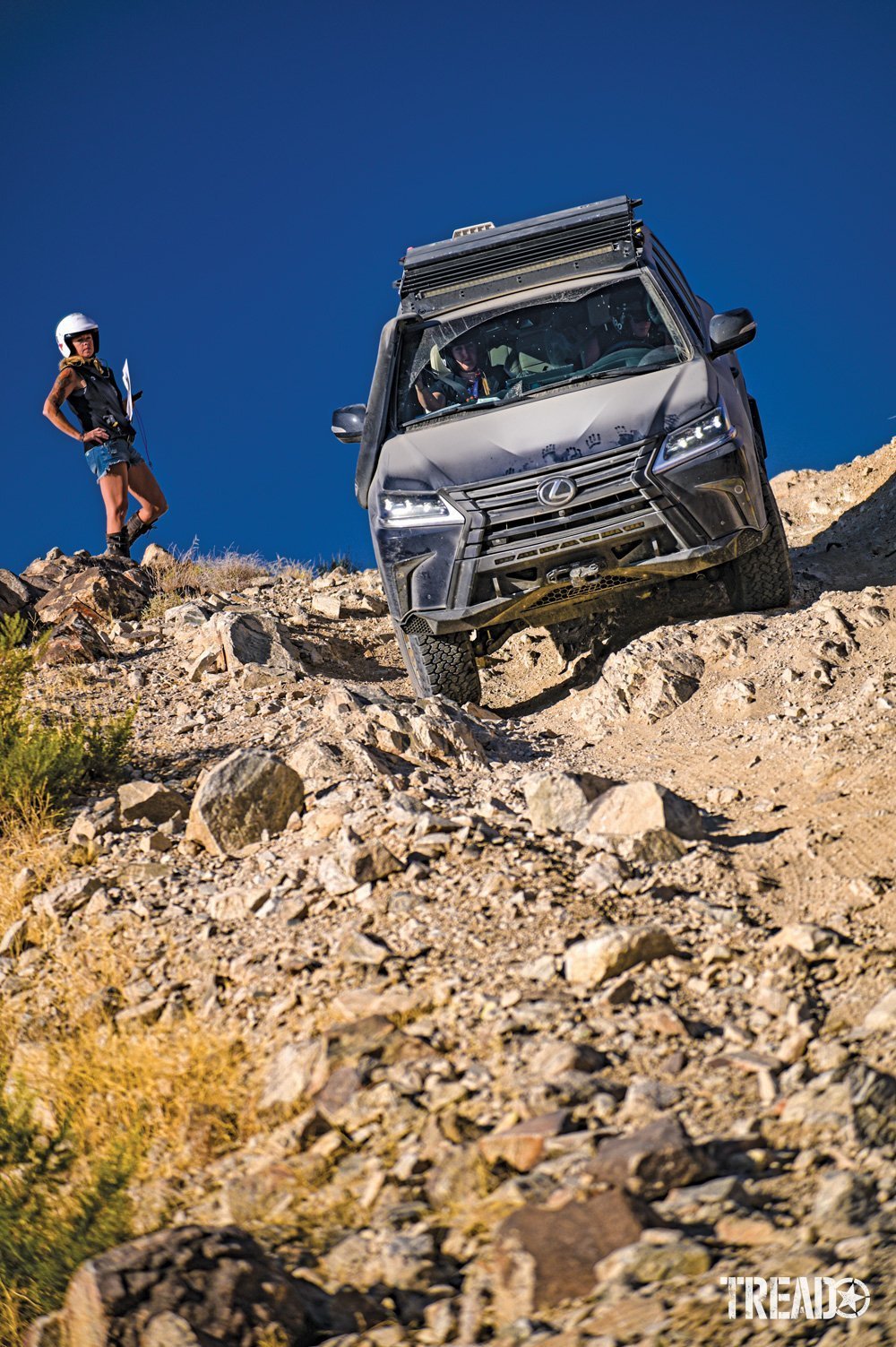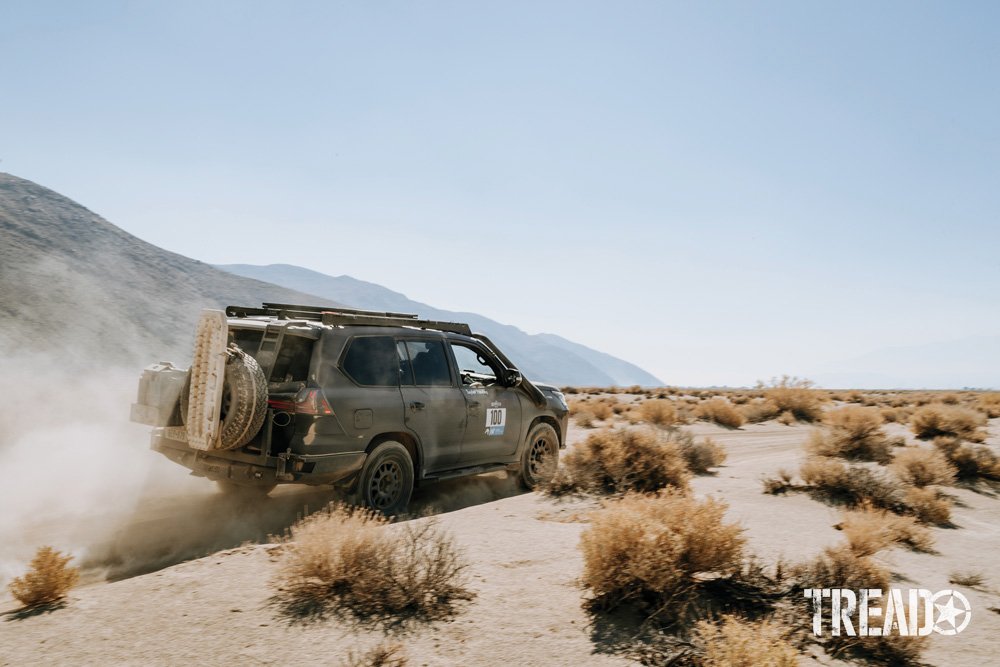 UPGRADES
2020 Lexus LX 570-Based J201 Concept
Engine: 5.7L V-8, 550 hp, 550 lb-ft, TVS1900 Magnuson Supercharger
Transmission: Eight-speed automatic transmission with paddle shifters
Differentials: Front and rear 4.30 Nitro Gears/ARB air lockers
Suspension: Icon Vehicle Dynamics suspension upper control arms (front) and lower control arms (rear), OE front and rear spacers
Wheels & Tires: 17x 8 Evo Corse Dakarzero wheels; LT285/70R17 (33-inch) General Grabber X3 Mud-Terrains
Exterior Accessories: Prinsu Design roof rack; Maxtrax; Scene lighting; Zero Halliburton for Lexus Pursuit aluminum travel cases; CBI Offroad rear bumper system with rear ladder and dual swing-outs with spare tire; TJM Airtec snorkel; Rigid Industries 40-inch Midnight Edition SR-Series Pro light bar; CBI Offroad front bumper with winch mount and recovery points; Warn Zeon 10-S winch; Rigid Industries 30-inch RDS SR-Series Pro light bar; CBI Offroad front, transfer case, and fuel tank skid plates; CBI Offroad rock sliders; Lexus Illumination; Hex Traction; Stoptech Braking drilled front and rear rotors, Super Sport Performance Pads
Interior Accessories: ARB Linx accessory interface for lighting, air lockers, and compressor control; ARB Twin On-Board compressor with Slee Off-Road compressor mount system
Mercedes-Benz 350GD Turbo
Teammates Kristian Rene and Renee Vento of Team Wunder On #124 are a tight-knit team. Driver Rene started off-roading in college and track driving in her mid twenties. Off-roading was her passion, though she says her destination is "always unknown, always a gift. The concept of man versus nature beautifully manifests when off-roading." While they are both seasoned Rebelles, driver Rene and navigator Vento paired up for the first time for the 2020 rally. Their vehicle of choice this time was not a VW, but Rene's '92 imported Mercedes-Benz 350GD diesel 4×4 named "Bertha," which typically runs on a bio-fuel she's created. This uniquely sweet fuel is made from scrap, ready-to-landfill cocoa butter after it's been used in the chocolate-making process.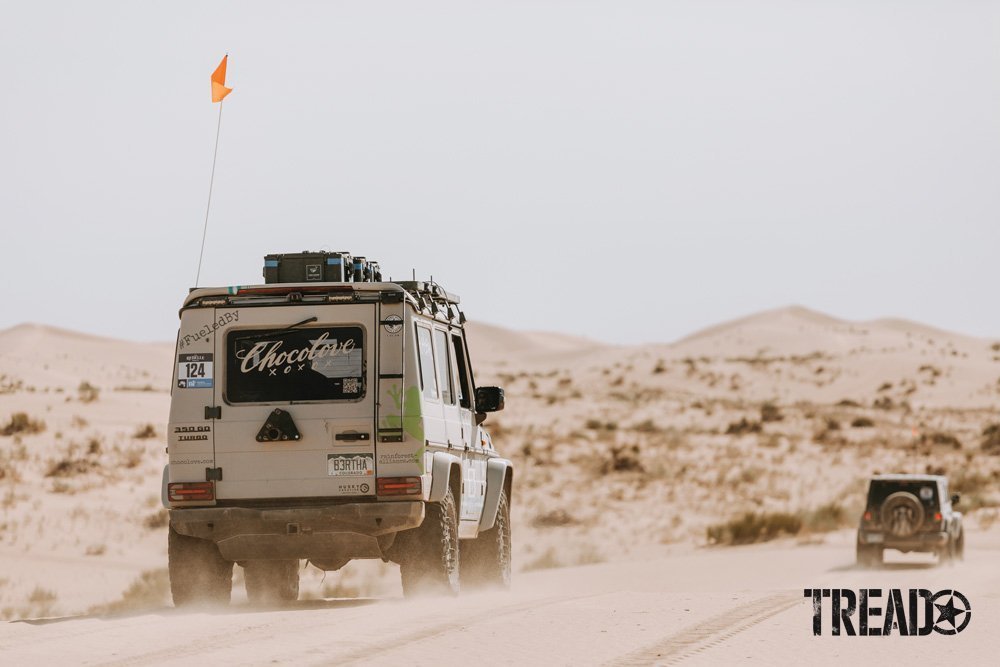 Why did you choose this vehicle for the Rebelle Rally? What was your inspiration to build it or pilot it for the event?
Kristian Rene: I love the G-Class. I drive a G55 as my daily. It has an incredible history and Mercedes-Benz is a company that sets the bar for automotive. The G was designed to be the most-capable stock vehicle imaginable and that was 40 years ago. I love that pedigree.
What was your favorite place to go with it during the rally and why?
KR: Absolutely sand.
Every vehicle has a purpose. What do you think your vehicle's was as you completed the rally with it?
KR: This year, Bertha had one job and that was to school us. She's almost 30 years old. A flaw on the G-Class are the shock mounts on the rear axle. The standard mount is double-layered construction. The cavity fills with dirt and moisture, causing the console to rust from inside to outside. In an advanced stage, the console breaks off the frame tubing. And that is precisely what happened to us about 300 miles into a 1,600-mile rally. How you choose to handle that is the lesson.
With an amazing team of mechanics, we field-built shock mounts and installed basic NAPA auto part truck shocks. Speeds were slower; some terrain was unmanageable as we had more up-and-down momentum that counteracted our forward force.
What part(s) of the vehicle proved to be a success, exceeded your expectations, or surprised you in a good way?
KR: I've driven modern Gs in sand. I've driven Jeeps, trucks, and Volkswagen Touaregs. I've driven multiple tires in sand. But the best day of rally was when that truck got to the dunes. I wish she had a bit more power for some of the climbs, but she flowed like water through the terrain. The balance of the vehicle—even without proper shocks—was exemplary, and the ability to skate through sand on her KM3-clad beadlocks was damn near poetic.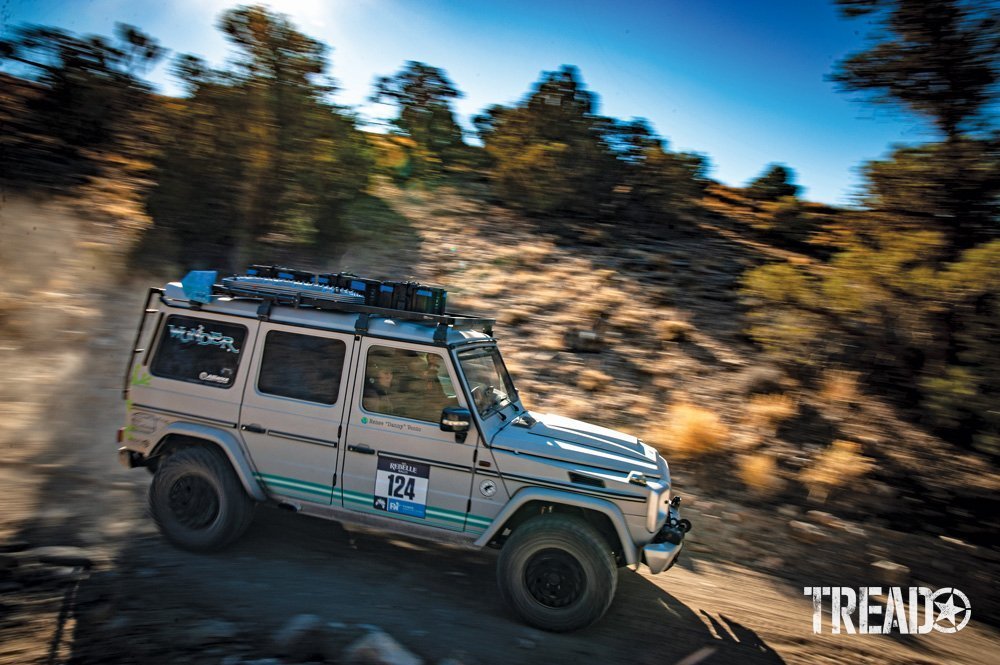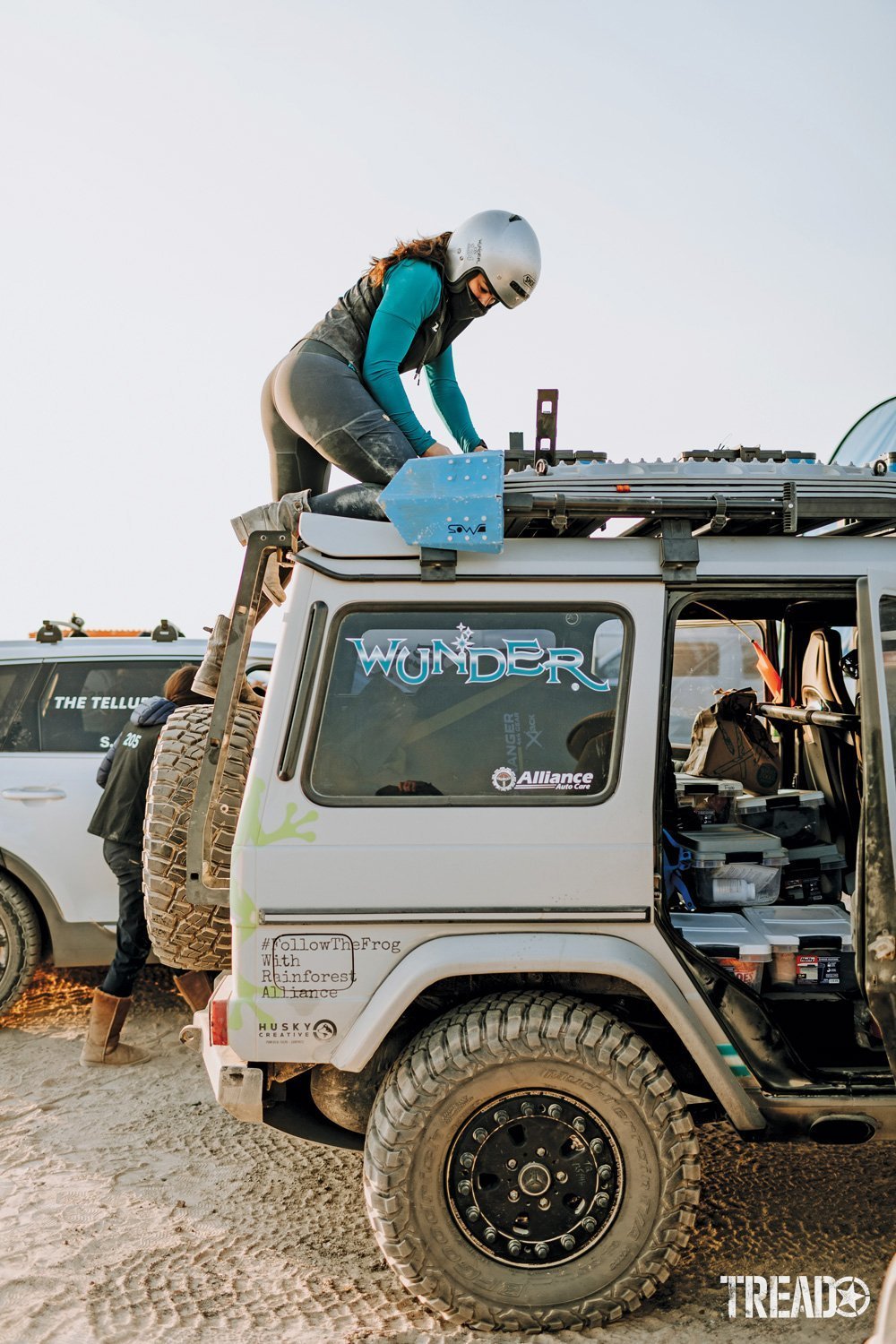 UPGRADES
1992 Mercedes-Benz
Platform: Mercedes-Benz 350GD Turbo
Engine: '98 OM06, 3.0L Indirect Injection diesel; BorgWarner 6258A turbo
Transmission: 722.6 five-speed auto
Suspension: Aldan American (front and rear)
Wheels & Tires: 16-inch Mercedes-Benz Military beadlock; BFGoodrich KM3 LT265/75R16 Mud-Terrains
Exterior Accessories: '08 G-Class OE stock headlights; Gravity LED Pro6 light bar; Front Runner Slimline roof rack; Warn Zeon 10-S winch; stainless plumbing and upgraded fuel pump for bio-fuel; Alliance Auto custom interior custom rollcage; custom 4-inch exhaust with RDG Welding Custom steel rock rails
Interior Accessories: Sparco L777 steering wheel; Recaro seats, manual navigation with non-GPS Terratrip without cumulative mileage; Front Runner Outfitters G-Wagen drawer kit; ARB Zero fridge/freezer; Odyssey dual battery system; AEM Carbon Digital Dash display; Rugged Radio RRP696 intercom
In Closing
Rebelles are fierce. They're strong, dedicated, and can withstand challenges. Rebelles are also supportive and can stare defeat or adversity straight in the face while trying to conquer it. These women range widely in age and are various ethnicities, religions, and backgrounds. However, they all share a common goal: Complete the Rebelle Rally with grace and determination, while strengthening a sense of camaraderie with those who surround them.
2020 Rebelle Rally Standings
4×4 Class Standings
Rank Team Driver/CoDriver Vehicle Total %Pts
1 125 Kaleigh Miller/Teralin Petereit '20 Jeep JLU 1427 87%
2 100 Rachelle Croft/Taylor Pawley '20 Lexus LX 570 1399 85%
3 177 Christine Benzie/Emily Benzie '18 Jeep Wrangler Willys 1366 83%
4 106 Sedona Blinson/Lyn Woodward '20 Nissan Frontier 1329 81%
5 184 Kendra Miller/Eliza Coleman '18 Jeep Wrangler 1315 80%
6 140 Emme Hall/Rebecca Donaghe '20 Rivian R1T 1315 80%
7 148 Anna Lewis/Andrea Shaffer '14 Toyota FJ Cruiser 1302 79%
8 133 Suzi McBride/Maria Guitar '20 Jeep Rubicon 1299 79%
9 145 Kristian Vockler/Elise Young '14 Jeep Wrangler JKU 1235 75%
10 146 Erin Vogel/Sara Swenson '18 Jeep JL Rubicon 1227 75%
11 129 Nena Barlow/Tana White '20 Ram Power Wagon 1189 72%
12 123 Amy Hopkins/Melissa Fischer '06 Jeep Wrangler 1181 72%
13 108 Karen Hoehn/Dana Saxten '14 Land Rover LR4 1178 72%
14 120 Tammy Battistessa/Samantha Nielsen '05 Toyota Land Cruiser 1008 61%
15 136 Lynn Edens/Susanne Bienenstock '20 Jeep Rubicon 1003 61%
16 132 Kristin Thul/Jen Henning '19 Ford F-250 Super Duty 976 59%
17 139 Mandy Brezina/Irma Bosch '20 Jeep Wrangler JL 967 59%
18 114 Ali Currie/Keri Porter '20 Jeep Gladiator 960 58%
19 188 Laura Wanlass/Wendy Fisher '20 Jeep Gladiator 958 58%
20 107 April Leone/Chelsea Weeden '11 Toyota 4Runner 956 58%
21 135 Stacey Sorenson/Christine Dahle '17 Toyota Tundra SR 5 956 58%
22 113 Kathi Van Der Werf/Valerie Roberts '20 Dodge Ram Power Wagon 912 56%
23 138 Laura Moore/Susan Pieper '18 Jeep JLU Rubicon 887 54%
24 101 Wendy Phillips/Tracie Sell '13 Range Rover 885 54%
25 137 Kathryn Goacher/Julia Bigwood '00 Land Rover Discovery 870 53%
26 142 Nicole Wakelin/Alice Chase' '20 Infiniti QX80 819 50%
27 124 Kristian Rene/Renée Vento '92 Mercedes-Benz 350 D G-Class 765 47%
28 121 Jessi Puffenbarger/Paulette Kirby '18 Jeep Wrangler Rubicon JLU 678 41%
29 144 Sue Chapin/Liza Tough '17 Toyota Tacoma 670 41%
30 141 Rochelle Bovee/Melissa Vander Wilt' '69 Ford Bronco 583 36%
---
X-Cross Class Standings
Rank Team Driver/CoDriver Vehicle Total %Pts
1 201 Shelby Hall/Penny Dale '21 Ford Bronco Sport 1089 67%
2 205 Sabrina Howells/Alyssa Roenigk '20 Kia Telluride 1073 66%
3 207 Rachael Ridenour/Kristie Levy '20 Mitsubishi Outlander PHEV 1034 64%
4 219 Sydney Stevenson/Kaitlin Mason '14 Volkswagen Touareg 873 54%
5 202 Jovina Young/Erica Martin '21 Ford Bronco Sport 812 50%
6 203 Elana Scherr/Betsy Anderson '20 Ford Bronco Sport 717 44%