Factory 4×4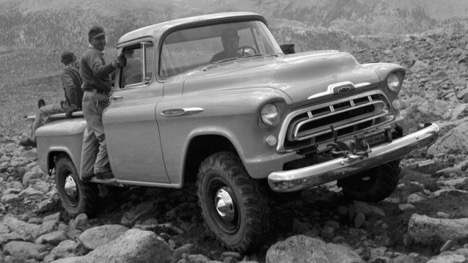 We should thank NAPCO for factory 4×4.
Dodge was the first company to offer a factory 4×4 option to the consumer market with the sale of the consumer market Dodge Power Wagon – a design that was made for WW2 and proven on the fields of war. While the Power Wagon has a legacy stretching back more than 70 years, its the NAPCO conversion parts that were supplied to General Motors in the early 50s that we really have to thank for the popularization of factory 4×4.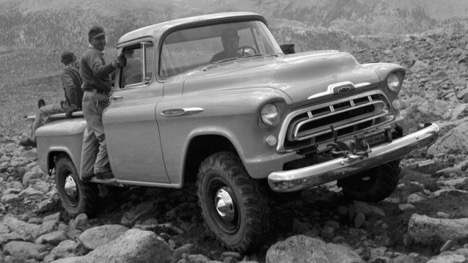 Northwestern Auto Parts Company started in 1918 in Minneapolis Minnesota. During WW2 NAPCO helped the war effort by producing mechanical components as a supplier to the Big Three. During 1942 NAPCO began building Four Wheel Drive assemblies to be fitted to Ford, GM, Chevy and Studebaker vehicles that were being shipped to Europe and the Pacific. From 1942 to 1956, Chevy and GM trucks could be ordered by the government and civilians with a NAPCO Power-Pak kit that could be installed later, for $995.
In a matter of 3-4 hours and 4 holes drilled in the existing chassis, a 2WD truck could be converted into a 4WD Mountain Goat with a shift on the fly rubber mounted transfer case with low range.
From 1956 onward NAPCO's Power-Pak could be ordered directly from GM factory installed, however in 1960 GM redesigned the front suspension of their pickups so it wasn't compatible with the NAPCO conversion, and NAPCO and GM parted ways. Shortly afterwards GM started offering their own 4×4 factory option and NAPCO sold their 4×4 business to DANA and faded away.