2020 Can-Am Defender MAX Limited HD10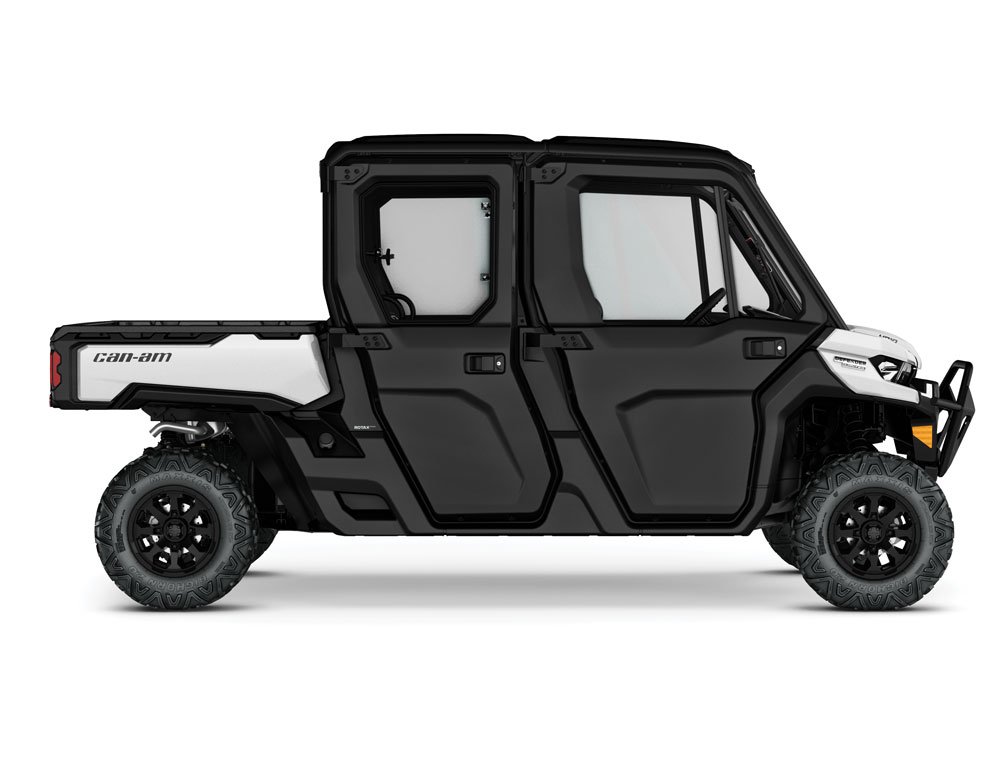 A Closer Look at the All-Conditions 2020 Can-Am Defender MAX Limited HD10 Side-by-Side
Has there ever been a point in your journey where you wish you could take the narrowest of paths in order to see what's beyond? Those of us who enjoy off-roading in our fullsized four-by-fours can appreciate the mobility that smaller side-by-sides can provide us.
Armed with plenty of off-road experience, Can-Am has been producing these pint-sized vehicles for the better part of a decade, and there are no signs of them stopping any time soon. With their highly acclaimed line of ATVs and side-by-sides, Can-Am regularly pushes the boundaries of what drivers have come to expect from their recreational vehicles. For 2020, Can-Am unveiled yet another side-by-side that is sure to please enthusiasts
As its name implies, the Can-Am Defender Limited HD10 is equipped with a powerful Rotax HD10 engine. The Rotax V-Twin engine is specifically tuned for both work duties and recreational outings. Its peak torque is enough to get you into places you want to go and out of areas you need to egress. The engine is located in the rear of the Defender's chassis for a reduction in noise, vibration, and cockpit heat, as well as improved maintenance access.
If you like the finer things in life, such as a temperature-controlled environment, don't allow the lack of it deter you from enjoying the ride in a Can-Am side-by-side. The Defender Limited HD10 package is equipped with a fully enclosed Cab system and HVAC system. That's right folks, it's a side-by-side with air conditioning and heating capabilities.
Along with a full-seal cab, the onboard, factory-installed Cab kit includes an updated integrated heat management system, air conditioning, and an industry-exclusive automatic climate mode. This auto mode regulates temperatures by operating the heater, A/C, and airflow jointly. It is capable, without further input from the driver, of modulating the power output of the airflow once the desired interior temperature is met. An onboard compressor improves fuel efficiency while also stabilizing ambient temps and decreasing horsepower loss.
With room for four plus a rear cargo box for all your junk, there's virtually no excuse not to go on a ride in a Can-Am Defender MAX Limited HD10. What are you waiting for? Get a move on right now!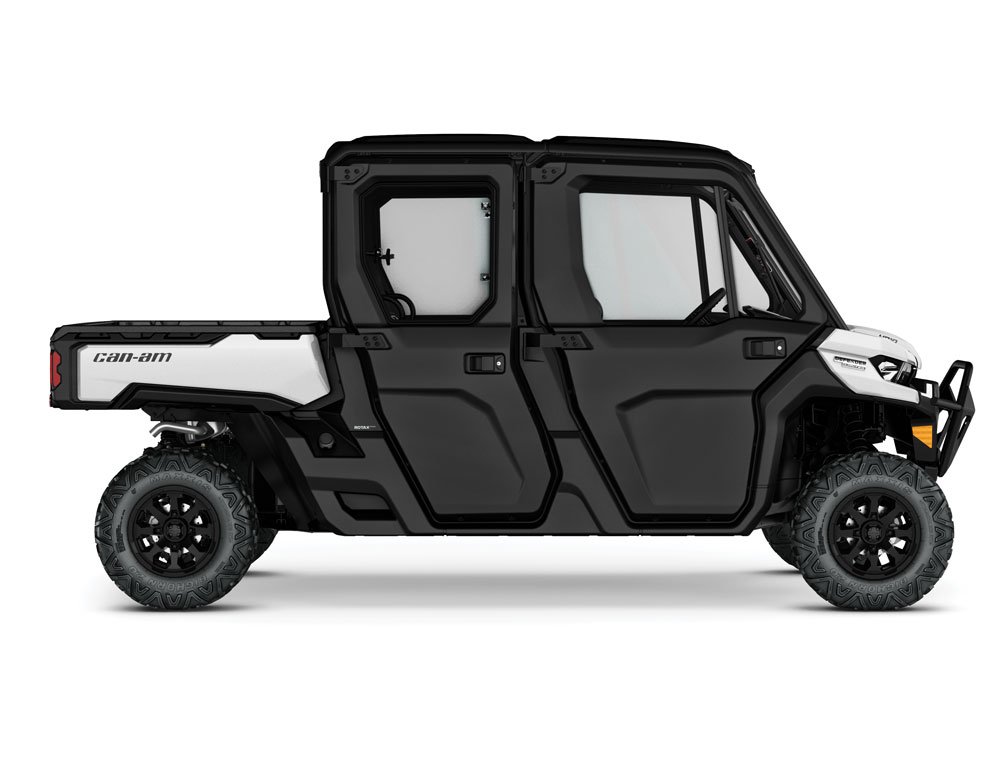 Wheelbase
115.5 in.
Ground Clearance
12.0 in.
Payload Capacity
1,300 lbs.
Storage Capacity
12.7 gal.
Tires
27 in. Maxxis Bighorn 2.0
Performance
Engine
The Rotax HD10 V-Twin Engine produces 82 hp and is specifically tuned to offer an impressive 69 lb-ft of torque and peak torque at lower rpm.
Transmission
The Can-Am Defender HD10 comes standard with Park, Reverse, Neutral, High, and Extra-Low ranges. An integrated hill descent control supplies smooth, predictable deceleration on inclines, and an Electronic Drive Belt Protection monitors the CVT belt to determine its condition and alerting the driver when it's time to switch to low gear.
Drive
The EFI-fed Can-Am Defender Limited package includes intelligent Throttle Control (iTC), which provides smooth throttle delivery even if the driver's foot is bouncing in rough terrain.
Suspension/Chassis
Front Suspension
Equipped with an arched front double A-arm suspension system, this improved Can-Am Defender is designed to offer a wider stance for improved predictable handling and control even in difficult terrain.
Rear Suspension
The arched Torsional Trailing A-arms (TTA) rear suspension, which was designed specifically for a utility and recreational usage, offers a full 10 inches of travel to provide a smooth ride, even in the most demanding terrain.
Chassis
Its high-rigidity chassis features a new integrated steel bumper and bumper plate that offers 30 percent more rigidity and weighs 5 pounds less than the previous generation Can-Am Defender.
Tech
HVAC
The integrated HVAC system keeps occupants warm even on the coldest morning and cool and comfortable on the hottest summer day. For climate control, you can select from three different modes: Heat, air conditioning, and industry-exclusive automatic mode. An onboard variable compressor allows more cooling capacity at idle, improves fuel efficiency, and also decreases horsepower loss when the A/C is not needed.
Electric Output
When in doubt, bring your electric gadget along. The Can-Am Defender MAX side-by-side has a powerful 850-watt magneto capable of handling high-powered lighting and other electrical accessories.
Features
Winch
The included winch can handle heavy-duty loads at the worksite and on the trail, thanks to its 4,500-pound pulling capacity and roller fairlead. A convenient winch button is located to the left side of the steering wheel.
Cargo
Remember, the Can-Am Defender was built for work and play. Its durable cargo box has a 1,000-pound (600-pound in California model) load capacity and has dump-assist levers. The sizable cargo box can be divided up using the integrated recesses built into the box. Its tailgate can be removed in seconds without tools.
How much will it run ya?
$27,899*
(* Taxes, destination charge, and other fees not included.)