VIEWFINDER: AERIAL PHOTOGRAPHY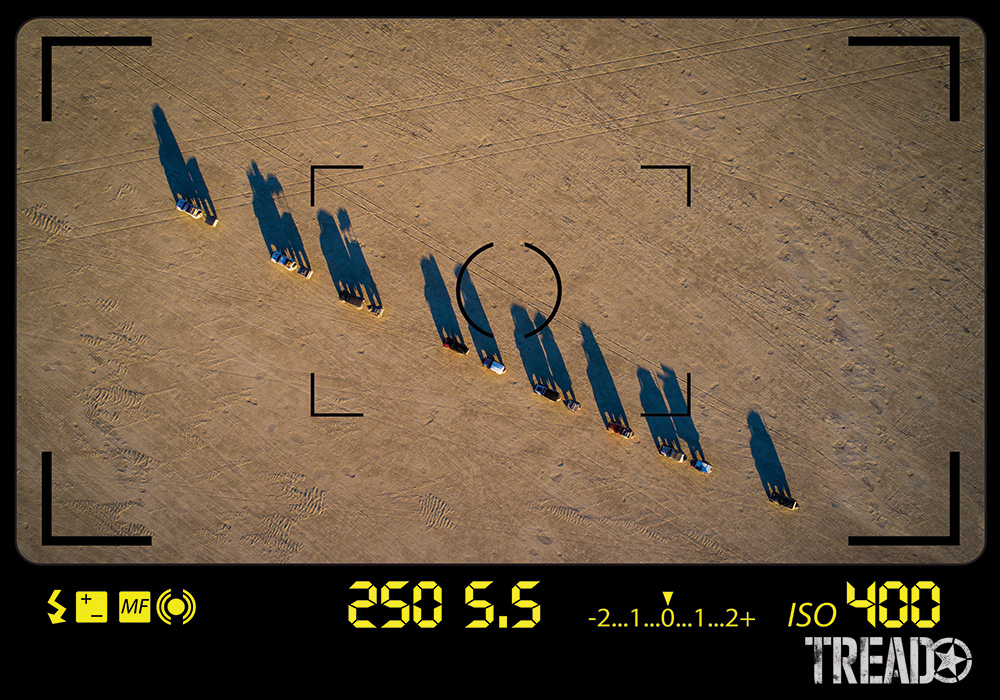 The art of aerial photography … at your fingertips
Aerial photography hit the fast track when Orville and Wilbur Wright launched the "Wright Flyer" in 1903, finding its place in military reconnaissance aircraft such as World War I-era B.E.2c and the Cold War Lockheed U-2.
Since the beginning of time, mankind has been fascinated with flight and bird's eye imaging. The 8th-century Berber merchants heading for Timbuktu most certainly observed the occasional tawny eagle overhead, envisioning its view of their camel caravan marching across the Sahara.
Leonardo da Vinci's obsession with the subject prompted him to sketch human-powered "ornithopters" (winged flight); and, as the science of photography evolved in the 1800s, it was only natural that cameras would accompany lighter-than-air dirigibles and blimps.
Fast forward to today, and the work of centuries of dreamers and technological innovators has made its way to the average Joe. The compact, little packages we call "drones" or "small, unmanned aerial systems" (sUAS) now allow us to provide friends and family with a bird's-eye view of our adventures.
Rules of the Sky
Before we jump into the fun stuff, we need to discuss some general housekeeping items.
As a commercial operator, I'm licensed under FAA Part 107 regulations, carry the appropriate insurance and so on, but this isn't required for personal use. However, when you pull back on the joystick, and your aircraft departs terra firma, it enters federally managed airspace. So, it's vitally important that you understand the rules of drone photography.
Aerial photography hit the fast track when Orville and Wilber Wright launched the 'Wright Flyer' in 1903, finding its place in military reconnaissance aircraft such as the World War I-era B.E.2c and the Cold War Lockheed U-2.
Are you encroaching on a military training route (MTR)? Is there a Notice to Airman (NOTAM) or Temporary Flight Restriction (TFR) that prohibits flight? Are you under an airport traffic pattern? To what altitude and distance can you fly? Do you need to register your drone, and what's the process if it's lost or has crashed?
While this might sound complex (and yes, some of it is), there are some great resources available to help you fly safely.
Airspace Classification Chart for
Aerial Photography
The Airspace Classification Chart provides a visual representation of what we don't see when we look up. We call Class G, or general, "good" airspace because this is where we can fly without a special-use permit.
Skyvector.com and vfrmap.com provide free digital sectional charts that contain most of the information you'll need for your next sortie.
Interested in a commercial certification? I used Drone Pilot Ground School. Because I'm a previous fixed-wing pilot, I found its online course comprehensive and easy to use. If digging through volumes of FAA regulations isn't your idea of fun, you'll enhance your flying experience and safety by first understanding airspace and adhering to the following limitations.
You're NOT allowed to fly—
more than 400 feet above the ground;
at night;
from a moving vehicle (unless you're in unpopulated rural areas);
over people not protected by a structure or vehicle;
beyond your visual line of sight;
in a national park or monument; or within a 5-mile radius of tower-controlled airports.
TIP: Always know what airspace you're operating in, and check for NOTAMs and TFRs.
Getting Started With Aerial Photography and World-Class Selfies
My buddy, Doug Stanley, an Emmy Award winner and producer of Deadliest Catch, told me, "Before you spend big bucks, buy a cheap toy and practice until you stop crashing it."
Those were wise words: Accidents are expensive. All my equipment is from DJI, one of the leading innovators in the genre. The Phantom 4 Pro is my go-to unit for most work. The Mavic is compact. It is perfect for limited spaces. The Inspire 2 can function if a shoot requires speed, For instance, chasing a race truck across the desert.
Details on Drones for Aerial Photography
The cameras on prosumer (for professional consumers) offerings are amazingly good these days. Most capture 4k video and offer 10-plus megapixel stills, image stabilization and notable dynamic range. Higher-end drones have multi-direction obstacle avoidance, longer flight times and impressive transmission connectivity. Intelligent flight modes, such as Active Track, provide incredible latitude when following a moving subject and allow for top-notch selfies. Consider these attributes before making a purchase.
Your aircraft is equipped with various systems. They can include GPS and tracking, battery and IMU monitors, collision avoidance and more. It's important to understand how they function.
Pre-Flight Testing
Set them up before you fly and do a pre-flight before each operation. For example, one-touch return-to-home (RTH) can be a beautiful thing. However, if you don't indicate a specific altitude, the drone will take the shortest possible path. If there's an obstruction between you, it could be an expensive day.
Lastly, the connection between the controller and sUAS is line-of-sight. Don't fly behind a building or hill … and re-read RTH-setting procedure.
With all these electronics onboard, you can probably guess that they're sensitive to humidity, temperature and radio interference. Cold weather, such as subzero temps in the Arctic, will require you to warm up your drone before use (I keep mine in my vehicle) and sap the life out of your batteries at a greater rate (this equals reduced flight time). Tropical humidity can be a problem, and rain is a no-fly condition.
Most systems operate in the 2.4GHz band; thus, microwave antennas, high-voltage transmission lines and cell towers can interrupt connectivity and cause erratic behavior. Lastly, birds tend to attack threats in their air space. Stay frosty, keep an eye on your unit, and be ready to take evasive action if—or when—bogies are on the horizon.
TIP: Read the manual and set system preferences in advance. 
Eye in the Sky
Now that I've beaten you up with the aerial photography rules (and emptied your wallet), let's dive into the fun stuff.
I keep my drone handy during a typical backcountry trip because aerial capture has become a key element in my routine. An image can now be nabbed in a few minutes that was once inconceivable or required considerable time and effort. I'm always analyzing what my next subject might be—a Nevada ghost town or friends snorkeling with whale sharks—and often, that subject is … me. Yep, drones have become the ultimate selfie sticks.
The creative side of aerial imaging follows the principles we've discussed in the previous "Viewfinders." Look for interesting compositions of your subject. Low (you might only need 10 feet), medium and high altitude or directly overhead. Don't forget to use your "eye in the sky" to do a 360-degree pan and take a look around. I've used my drone to recce routes, look for camels in Australia's Simpson Desert and get close to dolphins in the Sea of Cortez.
Are Drones All That?
Regarding camera settings, I suggest starting with auto white balance and exposure unless you're a manual-mode DSLR shooter. Additionally, shoot with the highest resolution in RAW (or DNG).
While drones have expanded our reach, they aren't the be-all and end-all of aerial photography. They're noisy (and will most assuredly annoy other campers). They are prohibited in some areas. Drones are not stealthy.
I noticed locals on a riverbank under a bridge I was approaching during a trek through Mozambique. The vehicle was parked. I walked out with my DSLR until I was directly over their position. I peered over the rail. A teenage boy was trolling the ochre-green water with a bamboo fishing pole as his younger siblings learned his craft. It was magic.
While waiting my turn to bungee off Zambia's Victoria Bridge, I tethered myself to the edge of the platform. I captured the adrenaline-induced emotion of fellow daredevils hanging by a thread.
TIP: Practice envisioning your surroundings from a bird's perspective.
Make it Happen
As photographers, unless we're patiently waiting for wildlife at a Kalahari water hole, we need to be opportunists. Make things happen. Don't linger. Get away from your vehicle, grab a ride in a plane or helicopter, stop on a bridge. Launch your drone.
 … we need to be opportunists: Make things happen, and don't linger. Get away from your vehicle, grab a ride in a plane or helicopter, stop on a bridge or … launch your drone.
The Berbers dreamed, da Vinci drafted, and Tournachon demonstrated. Viewing the world from a bird's-eye view was, indeed, possible. Lastly, did I mention video capture?
Well, aerial cinematography is simply remarkable. But that's a subject for another "Viewfinder."
AERIAL PHOTOGRAPHY RESOURCES
Airspace research: www.skyvector.com 
Commercial training: www.dronepilotgroundschool.com 
FAA drone registration: https://www.faa.gov/uas/getting_started/register_drone
FAA NOTAMs: https://notams.aim.faa.gov/notamSearch/nsapp.html
FAA TFRs: https://tfr.faa.gov/tfr2/list.html
(Editor's Note: A version of this story appeared in Tread July/August 2021.)