Summer Alcan 5000 Rally: An Endurance Endeavor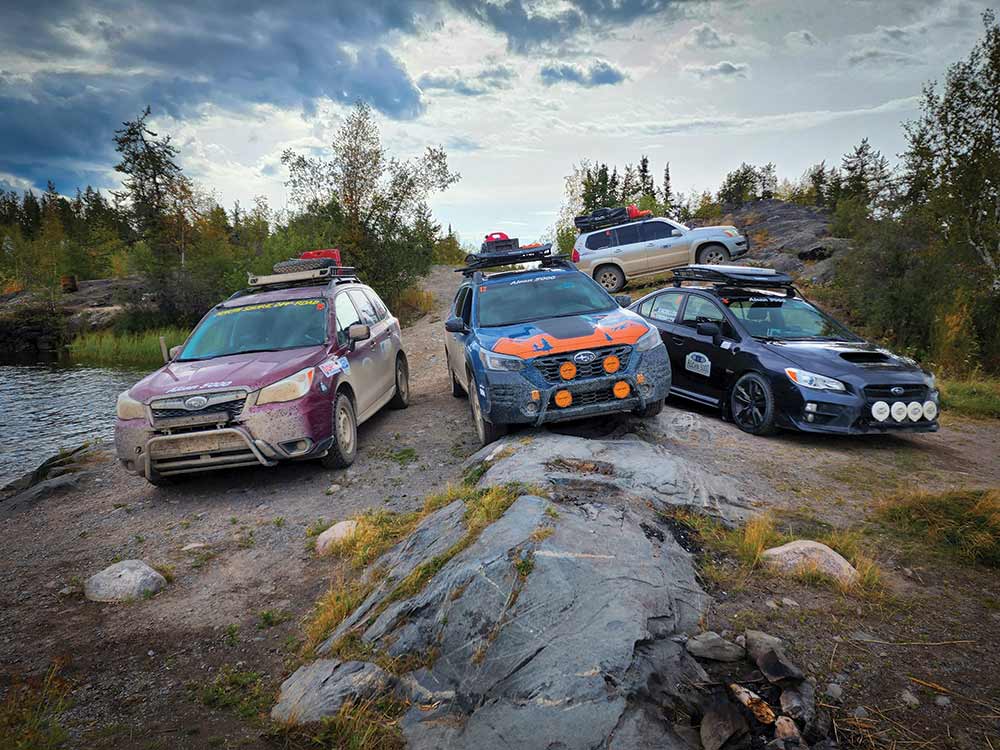 The Summer's Longest Rally Tests Competitors, Stamina, and Vehicles
Hurdling through aspen forests and sun-kissed hillsides, ralliers kept on the straight and narrow as time-speed-distance (TSD) competitions intensified. It was Day Three of the 2022 summer Alcan 5000 Rally. Teams were heading from Smithers, British Columbia, to Watson Lake, Yukon Territory. Would we hit a bear or miss a moose? Would we escape gazillions of bugs that followed us with intentional fury? Time would tell as sleep deprivation seared deeply into our competitive souls. This is the summer iteration of the Alcan 5000 Rally.
Would we hit a bear or miss a moose? Would we escape gazillions of bugs that followed us with intentional fury?
The Summer 2022 Alcan 5000 Rally
Folks were settling into the new norm: wake up, pack up, check the car. Then travel precisely 27 mph for 0.64 miles, change speeds to 34 mph for 1.29 miles, turn right and switch to 43 mph for 5.32 miles, and so on. Once the early-morning timed sections of the rally finished, teams would drive up to 600-plus miles to the next TSD challenge or that evening's motel. Lather, rinse, repeat.
The summer Alcan 5000 Rally is not a "go fast" race of speed run by high-horsepower adventure rigs. This rally is a game of precision and control while correctly following a thick spiral-bound roadbook of directions.
This rally is a game of precision and control while correctly following a thick spiral-bound roadbook of directions.
First created in 1984, the rally follows the same cadence as the Olympics. Whereas the winter Alcan 5000 Rally allows only vehicles, the summer version welcomes four-wheeled people haulers, as well as adventure motorcycles.
Canadian Wilderness
This year's summer rally took competitors from Washington state due north through Canada's remote wilderness. Teams of 26 automobiles and 17 motorcycles left Kirkland, Washington, and wound their way through Quesnel and Smithers, British Columbia, before arriving at Watson Lake, Yukon, and north up to Dawson City, Yukon—this year's northernmost point.
The 2022 summer Alcan 5000 Rally then turned south through Whitehorse, Yukon, with an optional dip into Skagway, Alaska, and back, before heading east towards Fort Nelson, British Columbia and Yellowknife, Northwest Territories, before arriving at Peace River, Alberta. The rally's finish was in Jasper, Alberta, approximately 5,000 miles later. Optional routes along the way further tested competitors. In addition to landslides, competitors dodged wildfires as well as wildlife. Mechanical issues, split windscreens, and sickness became apparent.
A Variety of Vehicles, Including a Subaru Outback Wilderness
From Porsches and Toyotas to Jeeps and a Lexus, there were several 4x4s in action. All-wheel drives were aplenty, too, while a few front- and rear-wheel-drive runabouts were challenged during the endurance rally. Subarus showed up in force, including our modified 2022 Subaru Outback Wilderness, supplied by Subaru of America.
The 2022 Outback Wilderness was already primed for competition in stock form, although the duo added a few key upgrades to enhance its rally-readiness. A Rally Innovations light bar and four Lightforce Venom auxiliary lights were added to the front, whereas a Factor 55 HitchLink 2.0 vehicle recovery point was installed in the factory-optional 2-inch hitch receiver bracket in the rear.
Other exterior accoutrements included Subaru-supplied OE flexible mud flaps (which cover a similar swath of tread as Rally Armor does) and stock Yokohama Geolandar A/T G015 all-terrain tires with full-size matching spare. A factory-available Thule roof basket carried four Maxtrax Mini recovery boards, a stout storage box, and a 5-gallon fuel canister.
Subaru Outback Interior Upgrades
Interior add-ons included a variety of Scosche mounts to hold smartphones and handheld radios for emergency communications. A Scosche invertor and power bank helped to keep camera batteries, Ledlenser headlamps and work lanterns, and other critical equipment charged while on the go. A Warn vehicle recovery bag and other essentials were safely stowed in the vehicle, too.
The Subaru Outback Wilderness' rear cargo area housed factory-optional heavy-duty rubberized cargo mat and protective sides. The rear bench seat donned an OE-available thick and fitted khaki-colored canvas seat protector—all which kept the interior from scratches and stains as cargo was loaded and unloaded during the rally.
Optional Earnings
Teams daring enough to complete all optional and extra "extreme control" driving routes earned the coveted Arctic Award. These included secluded gravel treks like 140 miles to Telegraph Creek and back after a long day of rallying or a dip across the border from Canada into Skagway, Alaska, and back through thick fog and winding narrow roads. Ralliers also awarded a Go Farther award and others.
Rally classes included various "seat of pants," or SOP, segments and unlimited designations. Historic teams consisted of vehicles with four wheels and motorcycles with two or three wheels. Up for consideration were ralliers that had autos 1991 and older (like the Mitsubishi Pajero we rallied in winter of 2020), or motorcycles 1997 and older. The top three teams in each class received First, Second, or Third Place acknowledgements.
The rally also awarded a One Team Award. Team entries had to include at least one vehicle, one motorcycle, and one rookie automobile (where no teammate has run or worked an Alcan 5000 Rally before, winter or summer). Each entry on designated award teams was given a score factor. The winning team, with the lowest average score factor, won said designation.
Rally Hardships
Of the 43 total teams that competed in this year's rally, 42 completed the grueling competition. The 5,000-mile track tore up tires and shattered fog lights. It also clogged up air filters, destroyed distributors, and whisked wheel studs into the unknown.
On day two, moto #34, Ed Fule, riding his BMW R100GS, lost control. His motorcycle laid on its side on the Blackwater Road, just outside of Quesnel, British Columbia. The bike took some damage, but he tried to continue. Matt and Rick Nash, from the rally's Sweeps 3 team, whose job was to help ralliers in need of assistance, offered to help fix the bike, but Fule ultimately turned around and headed home.
Car 21, a 1995 Ford F-150 riding on 35×12.5 R17 Nitto Ridge Grapplers driven by Lance DesBaillets from Oak View, Calif., burned through three quarts of oil in just 8,000 miles, but didn't suffer damage other than accelerated wear and tear. His words of advice: Don't put anything chocolate on the floorboards or it will melt and fill up with fuel before shenanigans ensue. Truth.
Tricky Conditions
"I loved how you could see zero cars for hours, then you come around a corner 500 miles later, and all your buddies are at the right place at the right time, and you feel like you never missed a beat," DesBaillets stated.
Rick Higgs, rolling on 12-inch wheels with his subcompact front-wheel-drive 1973 Leyland Australia Mini window van, ran into ignition issues on day 3 while driving on the Stewart Cassiar Highway, south of Dease Lake, British Columbia. On day 9, two rear-wheel studs snapped, with the other two crumbling under increased tension—undoing the wheel nuts.  Fortunately, they replaced the hub with a spare.
Unbeknownst to him, Higgs's trusty 15-75 ft.-lb. torque wrench had failed as the wheel nuts (the last two studs that failed) were torqued right before the event's start.
The Power of Community
A lot can happen on the Alcan 5000 Rally. Thankfully, the organizer, rally staff, and competitors are quick to lend a helping hand to those in need. The camaraderie is beyond imagination. Ralliers constantly assist each other with tools, knowledge, other gear, or even fuel at a moment's notice. That's what makes the Alcan 5000 Rally so special, summer or winter.
Teams get to enjoy incredible scenery and drive 5,000-plus miles of challenging roads most others will never see. As an added bonus, they also encounter an abundance of wildlife along the way, like moose, bear, caribou, porcupines, and foxes.
Alcan 5000 Rally competitors form an indelible bond with those they meet and compete alongside. It's why we are already looking forward to the winter 2024 Alcan 5000 Rally.
Alcan 5000 Rally competitors form an indelible bond with those they meet and compete alongside.
---
Editor's Note: A version of thist story previously appeared in the Jan/Feb 2023 issue of TREAD.