Keeping It Sharp: The GSI Outdoors Santoku Knife Set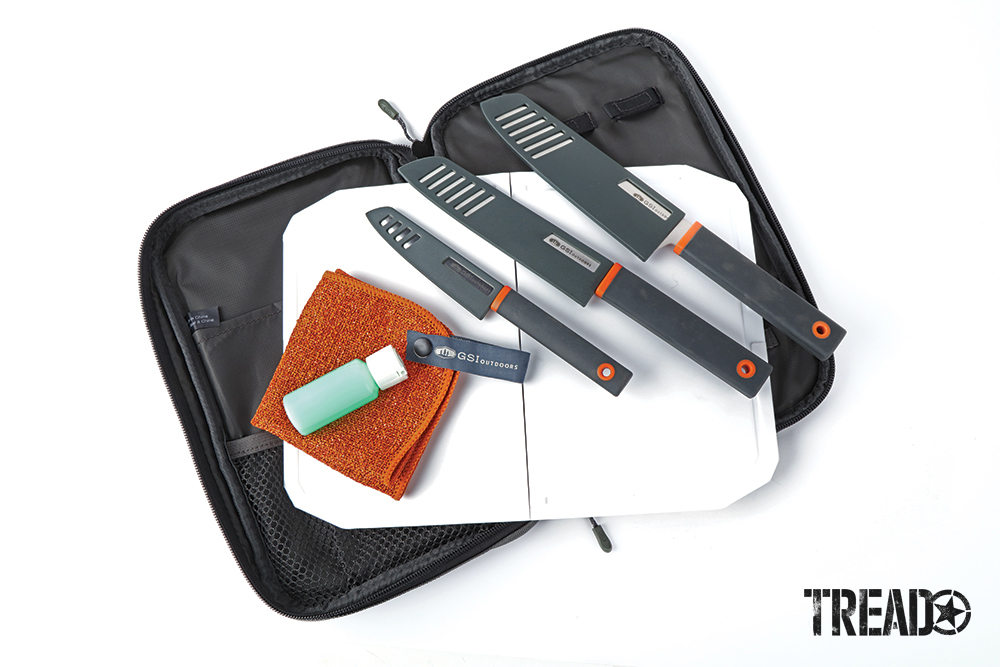 The GSI Outdoors Santoku Knife Set
If you're looking for a solid knife set, check out the GSI Outdoors Santoku knife set. Who else is guilty of packing a much-too-old kitchen knife to use as your one and only slice-and-dice food prep tool while on outdoor adventures? I am, for sure! To add insult to embarrassment, said knife lives in a cardboard-and-duct tape sheath to boot.
I finally realized it was time to upgrade my mobile food prep knife two trips ago. The knife had become way too blunt to even cut a banana through its peel, and the "sheath" had pretty much disintegrated into a tired wad of sticky duct tape (Eww, gross! is right).
Upgrade My Cutlery
So, I made a trip to my local outdoor shop (the one whose name starts with "R" and ends with an "I") and looked around for a compact knife that's suitable for camping use. I wanted a knife that came with a sheath that wasn't made of sticky cardboard, was easily stowed away and one that didn't cost a bundle.
It was during that trip to the store that a sales associate introduced me to the GSI Outdoor Santoku Knife Set. She mentioned how it's a popular item for them. The set offers much more than I was looking to get, because it came with a set of three knives and not just one. The set comes in a zippered case and also includes a cutting board, soap bottle and dishcloth. The asking price was only 35 "bones," so I decided to take the plunge.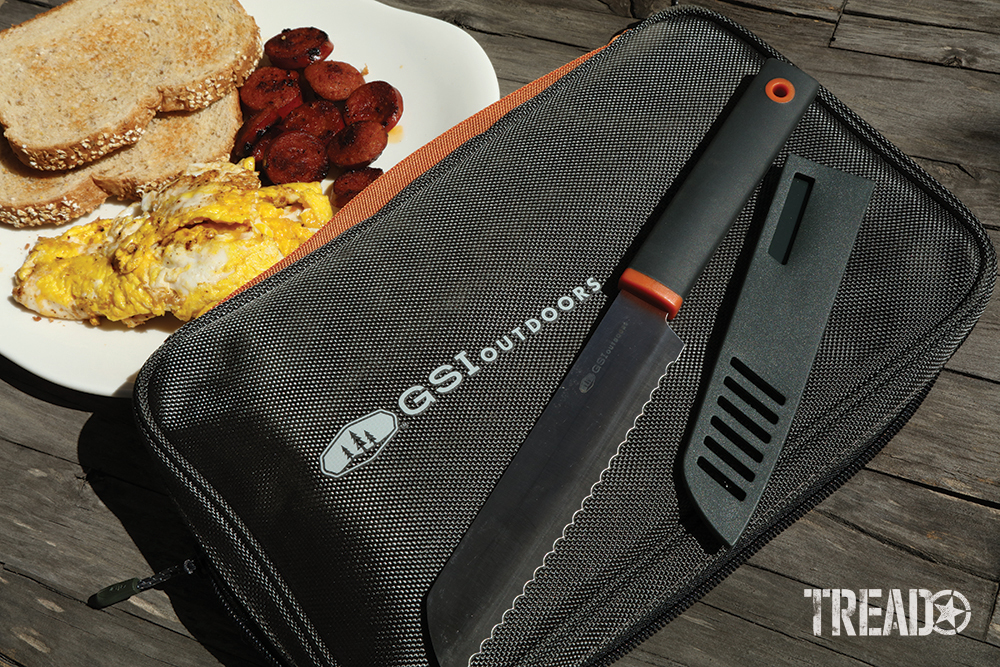 The three-knife GSI Santoku set includes a 4-inch paring knife, 6-inch Santoku chef's knife and 6-inch serrated bread knife. Each knife includes its own polymer protective sheath. The set also comes with a folding cutting board that unfolds to a generous 9×12.6-inch prep surface. To help clean up, a double-sided dishcloth and bottle for eco-friendly dish soap are also included. All of this is enclosed in a durable, zippered, ballistic nylon organizational case.
GSI Outdoors Santoku Knife Set Findings
I took the GSI Santoku knife set on my next camping trip to see what it could do. As you can imagine, having three distinctively different knives to use during meal prep was very nice. I wondered how I ever dealt with my old, worn-out knife. Collectively, the knives allowed me to slice, dice, chop, cut and pare like a pro. The stainless steel-bladed knives are rockered and feature ergonomic rubber handles that provide a confident grip. They're compact but have a nice size to them and don't feel too small. They're effectively sharp, and I had no problem using them to cut through various meats, fruits and vegetables.
The cutting board is stowed in the case folded in half, but it unfolds to roughly the size of the magazine you're now holding in your hands; it's a decent size to get most jobs done. The roomy case has several organizational pockets and, unlike other products that come with carrying cases, this case is generously sized, so there's no problem getting everything packed back into it. The quality of the case is good too. It feels as if it will last quite some time.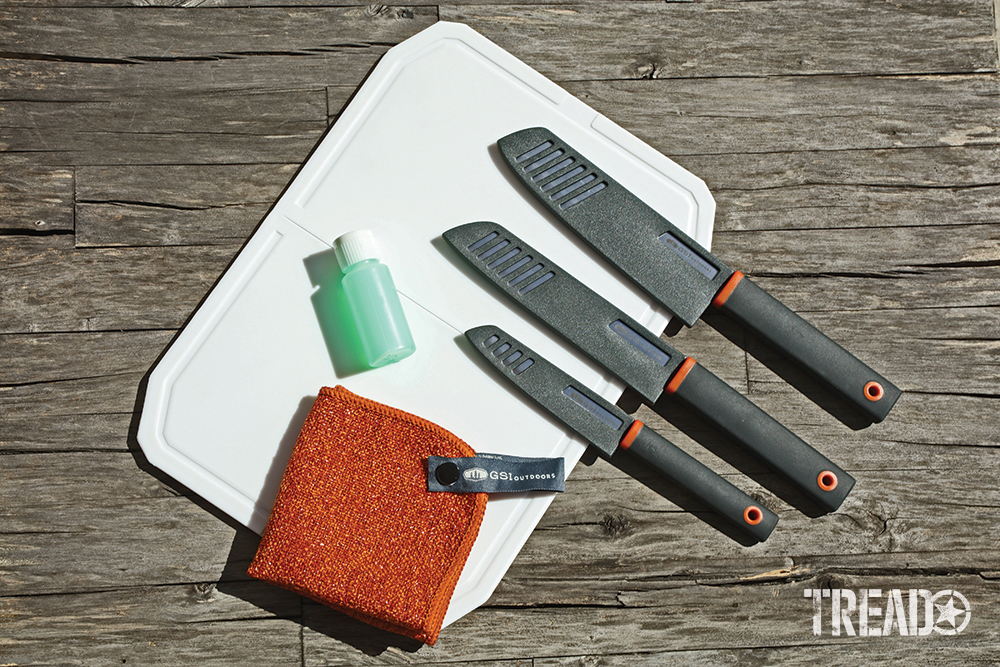 The included quick-drying dishcloth holds a surprise: I expected it to be a typical, soft, microfiber rag—which it is on one side. That side is soft and nonabrasive for drying delicate items. However, the reverse side offers a rough scouring surface for serious scrubbing. And, the addition of a bottle for dish soap with this set is a great touch.
Final Thoughts
Overall, I'm really happy with the GSI Santoku Knife Set. It's surely upped my camp kitchen "game" a few levels—all without breaking the wallet. The zippered case is easily tossed into my kitchen gear container or stuffed into my pack, and it allows me much more food prep capability than I had before. Because it weighs under 2 pounds, and with a footprint that's smaller than this magazine, it's easy to see why so many choose to use this knife set in their camp kitchens.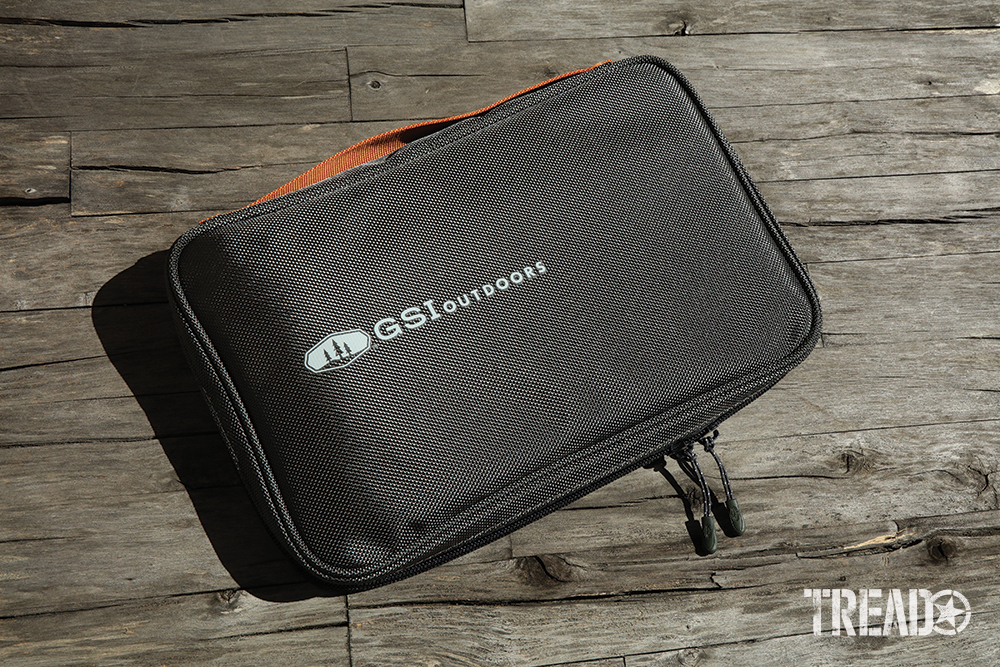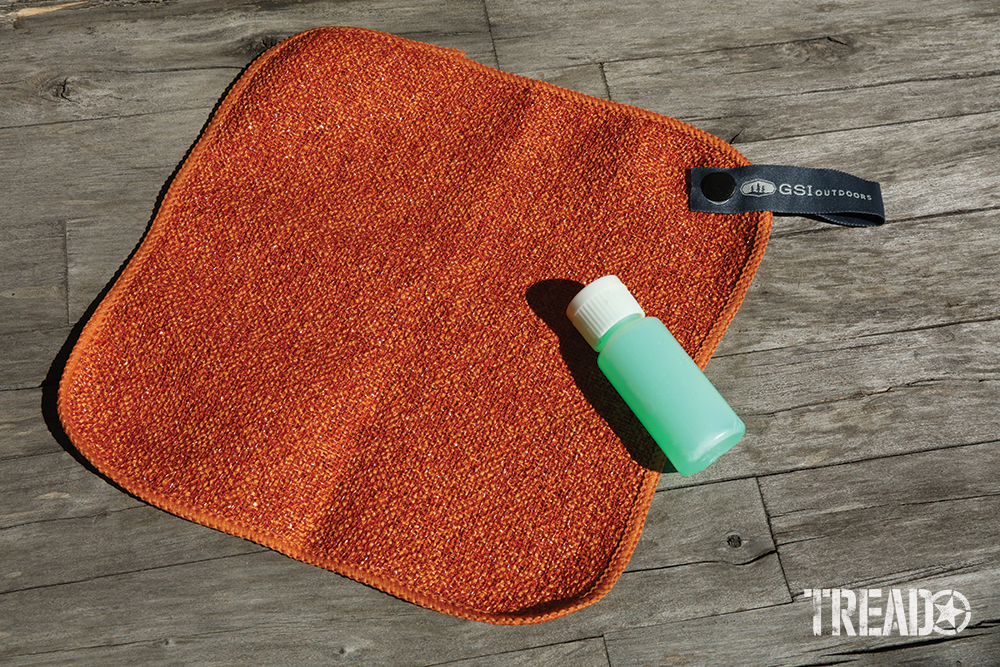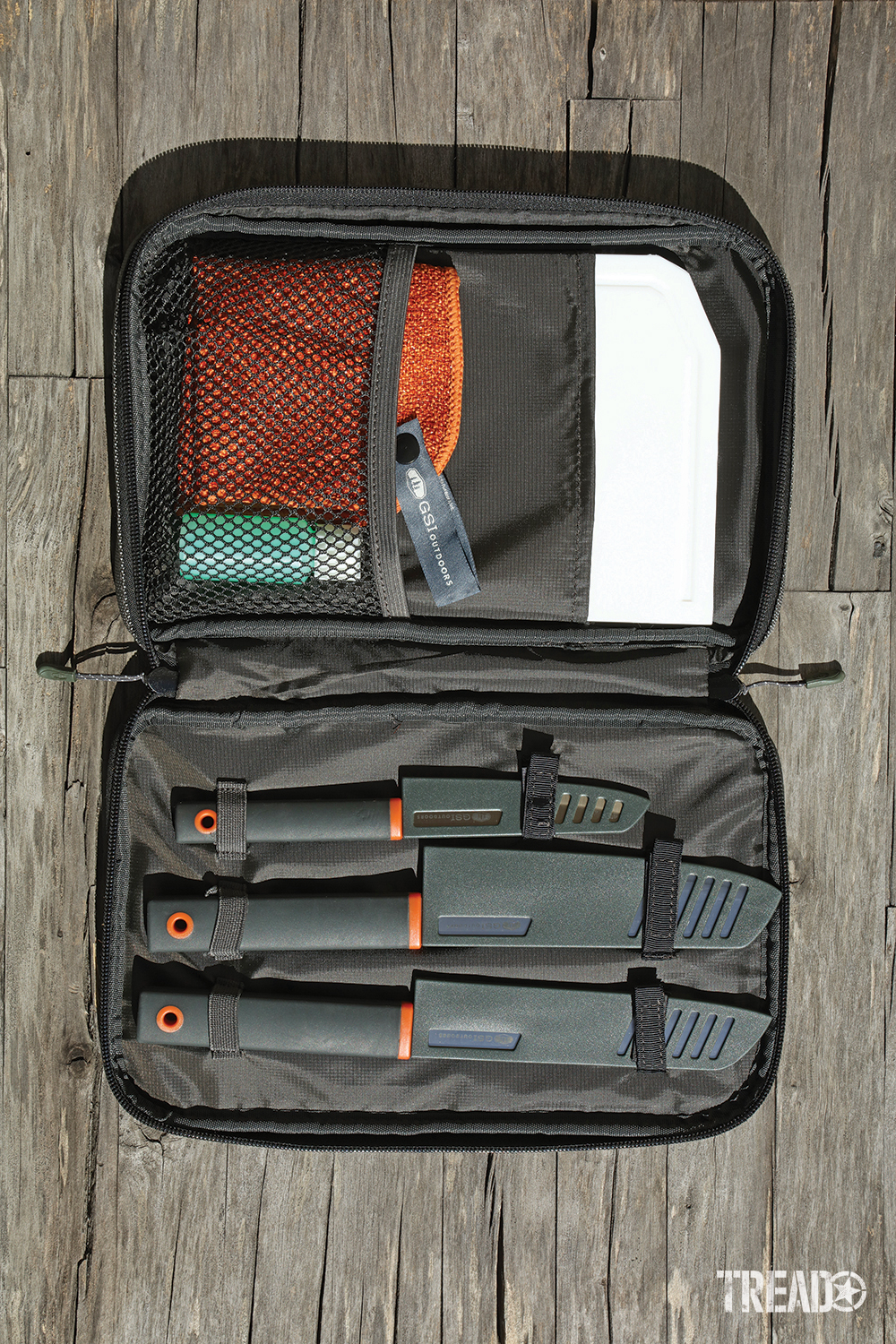 Includes: 
4″ paring knife with sheath
6″ Santoku chef's knife with sheath
6″ serrated bread knife with sheath
folding cutting board, soap bottle and dishcloth
ballistic nylon case
Weight: 1 lb., 9.6 oz.
Dimensions: 11.6×7.5×2 in.
MSRP: $35
URL: gsioutdoors.com
(Editor's Note: A version of this story appeared in Tread May/June 2021.)