The Sherpa Table: Heart and Soul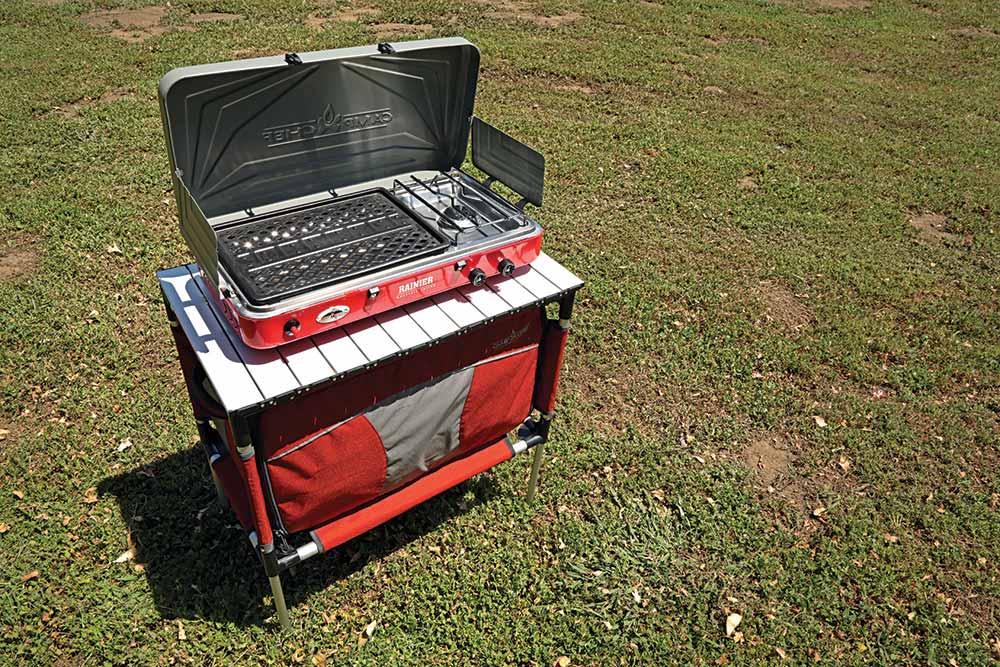 Camp Kitchen Organization with the Camp Chef Sherpa Table & Organizer
Story and Photos by Jerry Tsai
Prepping and enjoying food is a campsite tradition that's been hundreds, if not thousands, of years in the making. We locate a suitable patch of land, laydown our temporary roots, make a fire, and finally get to the good stuff; that of course means cooking up a well-deserved meal.
We find that camp kitchens are the heart and soul of the campground. Everyone is delighted to smell the aromas that waft from the stove and fellow campers invariably swing by to take a peek at what will be served up next. Camp kitchens are important to the experience of camping, so make sure yours is well set up and organized.
Kitchen Setup
There are many ways one can set up their camp kitchen. Depending on your mode of transportation, a camp kitchen can be nothing more than a pocket-sized backpacker's stove if you're a climber hoofing his or her way up to the top of a mountainous peak. As well, it can be a near replica of your home kitchen in compact form if you're traveling by off-road vehicle. For those of us who do travel to their destination via 4×4, there's a good chance that the cargo area of your rig is packed to the headliner full of camping equipment and other provisions. Where does one find enough space to cram in a camp kitchen?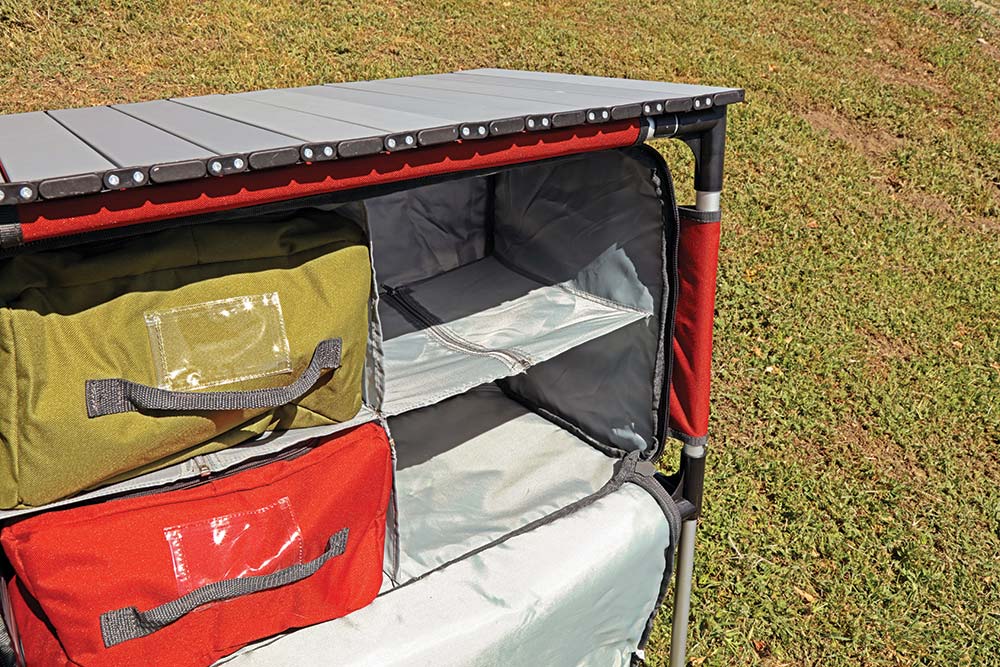 Sherpa Table & Organizer
This is where Camp Chef's Sherpa Table & Organizer steps in. This portable unit is part table and part shelving unit, and it provides a sturdy surface to work or cook on. It also contains organizational zippered storage bags and shelves to keep things neat and within reach. The Sherpa is designed as a camp kitchen, but it can easily fulfill the roll of a general utility workbench as well.
The foundation of the Sherpa is a sturdy nylon bag that contains parts that form an aluminum frame, a collapsible aluminum tabletop, as well as four zippered bags. When it's broken down to its most basic form, the Sherpa only takes up the space of a large duffle bag. Because the unit is contained in a soft-sided bag, we found it considerably easier to stuff into the rear of our truck than a hard-sided-style kitchen organizer.
Sherpa Setup
Assembling the Sherpa is like setting up a tent, only much easier and quicker. Align a few aluminum legs, thread them through loops in the bag, press them together, and you're done. We were able to set ours up in only five minutes. Once the initial set up is done, it'll be even quicker to put together the next time.
The Sherpa is lightweight yet feels amazingly sturdy and its frame exhibited no flex. Its 600-denier fabric is thick and feels like it can stand up to the rigors of off-road travel. Its aluminum tabletop is kept in a pouch in the rear of the unit. It's securely snapped on to the top of the frame with sturdy nylon clips. The table is suitable to use as a base for your stove or even use as extra prep space. As shown here, a two-burner camp stove, which is not included, can easily be accommodated on the tabletop.
Unzipping the main compartment reveals shelves that form four cubbyholes. Each one of those spaces is filled with removable storage bags to help keep your gear in its place. Each roughly cube-shaped padded bag is equipped with a heavy-duty zipper and is made of heavy-duty material. The blue bag is waterproof lined for use as a cooler or sink. The shelves can be unzipped if a larger interior space is required.
Packing Up
Packing the unit up is easier than setting it up. While you can break it all down if you wish, we left ours with the aluminum frame intact and compressed its legs. Two carry handles are located on each end of the Sherpa, which assisted us in stowing it in the back of our truck. If there were one thing we'd change about it, it would be its 28-inch table height. The height isn't bad for most uses, but for cooking and food prep while standing, we'd like it to be about six inches taller.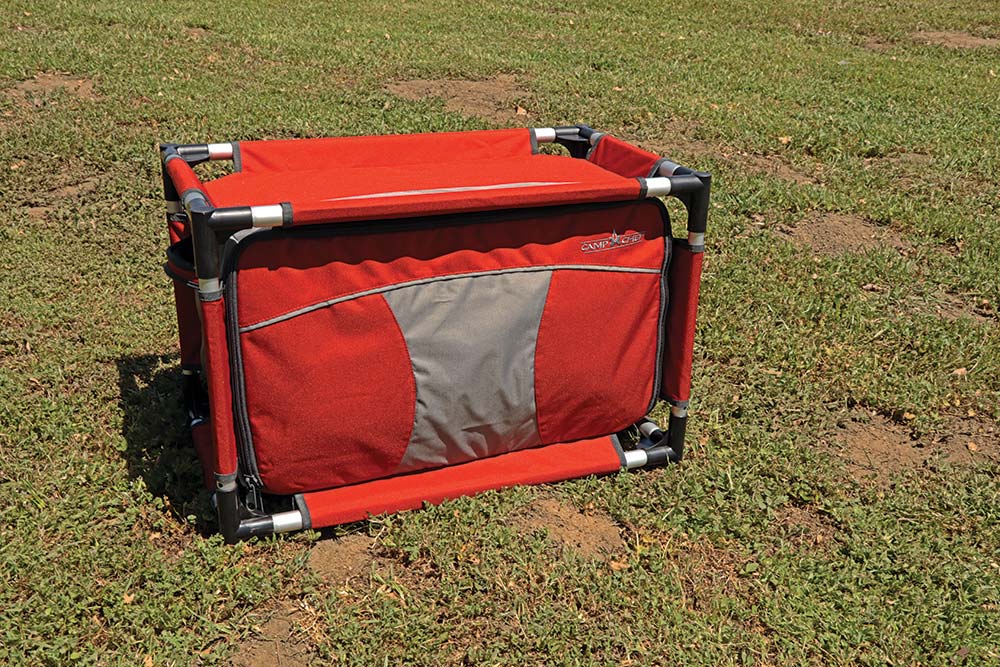 We have had hands-on experience with quite a few camp kitchen and table units. Suffice it to say, the Sherpa quickly became one of the go-to pieces. We like it for its mixture of lightweight build and sturdiness, as well as its handy organizers and ease of assembly and packing up. The Sherpa provides clear equipment organization that we look forward to using time and time again.
---
Camp Chef Sherpa Table & Organizer
Dimensions (packed): 15-3/4 x 27 x 18-1/4 inches (with legs collapsed)
Table Height: 28 inches (legs extended)
Table Dimensions: 27 x 17 inches
Individual Compartment Bag Dimensions: 12 x 11 x 6-1/2 inches
Weight: 10 lbs., 10 oz.
MSRP: $150
url: campchef.com
---