Tacoma and Khaya Camper Adventure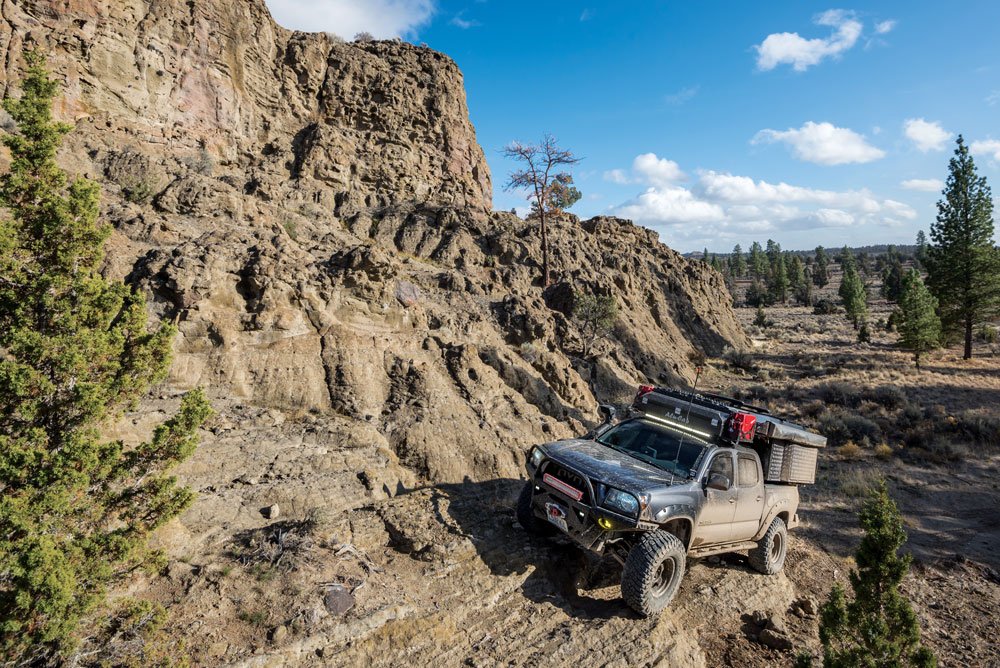 Family Taco Adventure with Khaya Camper
While the Alu-Cab Khaya Camper may catch your eye, the 2016 Toyota Tacoma TRD Off Road is just as exciting when you take a closer look. Austin Haidinyak is an industrial designer in the outdoor and travel industries. Along with his wife, 3-year-old son, and a Shiba Inu named Maggie, he loves to get outdoors and travel as often as possible. Off-road and overland travel by vehicle not only allows Haidinyak to get out and test his work creations firsthand, but also spend time with the family in the remote natural places that he loves.
Why a Tacoma?
Haidinyak's last vehicle was a 2010 Jeep Wrangler Rubicon. The two-door JK was built with long-arm long-travel suspension for crawling technical trails. Rock gardens were Haidinyak's playground. Fast-forward to his son being born and a more family oriented overland adventure vehicle was needed.
With ambitious plans over the next few years, which include long stretches of backcountry throughout the Americas for up to six months at a time, a Toyota Tacoma TRD Off-Road was the vehicle that fit his family's needs. A Tacoma is reliable, comfortable, and capable, which makes it a quality family adventure machine option.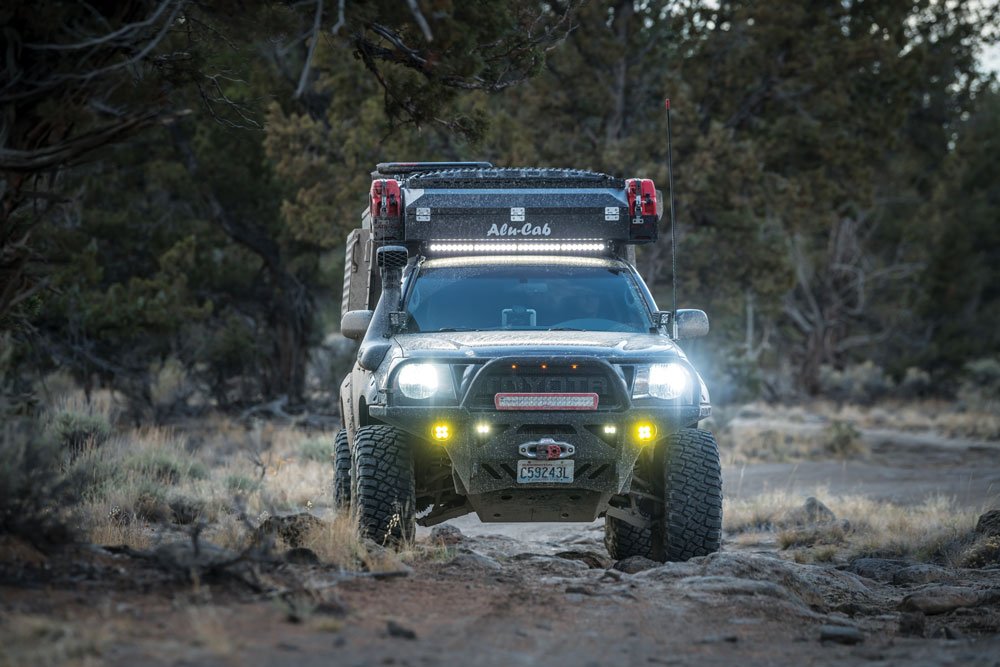 After shopping around for a third-generation Tacoma, Haidinyak decided to go with a second-gen instead. The proven reliability of the second-gen Tacoma along with the purchase price savings are what tipped the scale. Haidinyak figures that the money difference was much better used on upgrades than buying the newer truck.
2010 Toyota Tacoma TRD Off-Road Dual-Cab Shortbed
The specific truck Haidinyak found for his latest build is this Magnetic Metallic Gray 2010 Tacoma TRD Off-Road dual-cab shortbed. When he bought it in 2018 it came completely stock, except for the addition of a color-matched Snugtop truck canopy on the bed. The truck had around 110,000 miles on the clock, which was about as low as Haidinyak could find. This truck also came with the 4.0L naturally aspirated V-6 engine, automatic transmission, factory rear locker, and a factory roof rack.
Capable & Comfortable
You might ask what's unique about yet another Tacoma overland camper build. What separates this build from the crowd is the combination of quality high-end parts that give it both extreme off-road capability and extreme self-supported camp comfort. This Tacoma is a very capable trail rig and also offers a very comfortable remote camping experience—a unique combo.
Haidinyak isn't a mechanic. He can wrench enough to deal with field repairs and some maintenance, but prefers to leave the build to the experts. For this build he turned to the overland vehicle experts at Mule Expedition Outfitters in Issaquah, Washington. Not only did the shop build the truck, but they also helped consult on and source the top-quality parts that make this machine the impressively functional unit that it is.
Wheel Travel
The start of most good builds begins with suspension, wheels, and tires. An OME BP-51 2-inch lift system, featuring remote-reservoir internal-bypass shocks, were fitted for the ultimate in off- and on-road comfort. Total Chaos upper control arms were fitted for ease of alignment and additional wheel travel. Out back, Hilux leaf spring packs and Firestone airbags with Daystar cradles, handle the added weight of this build.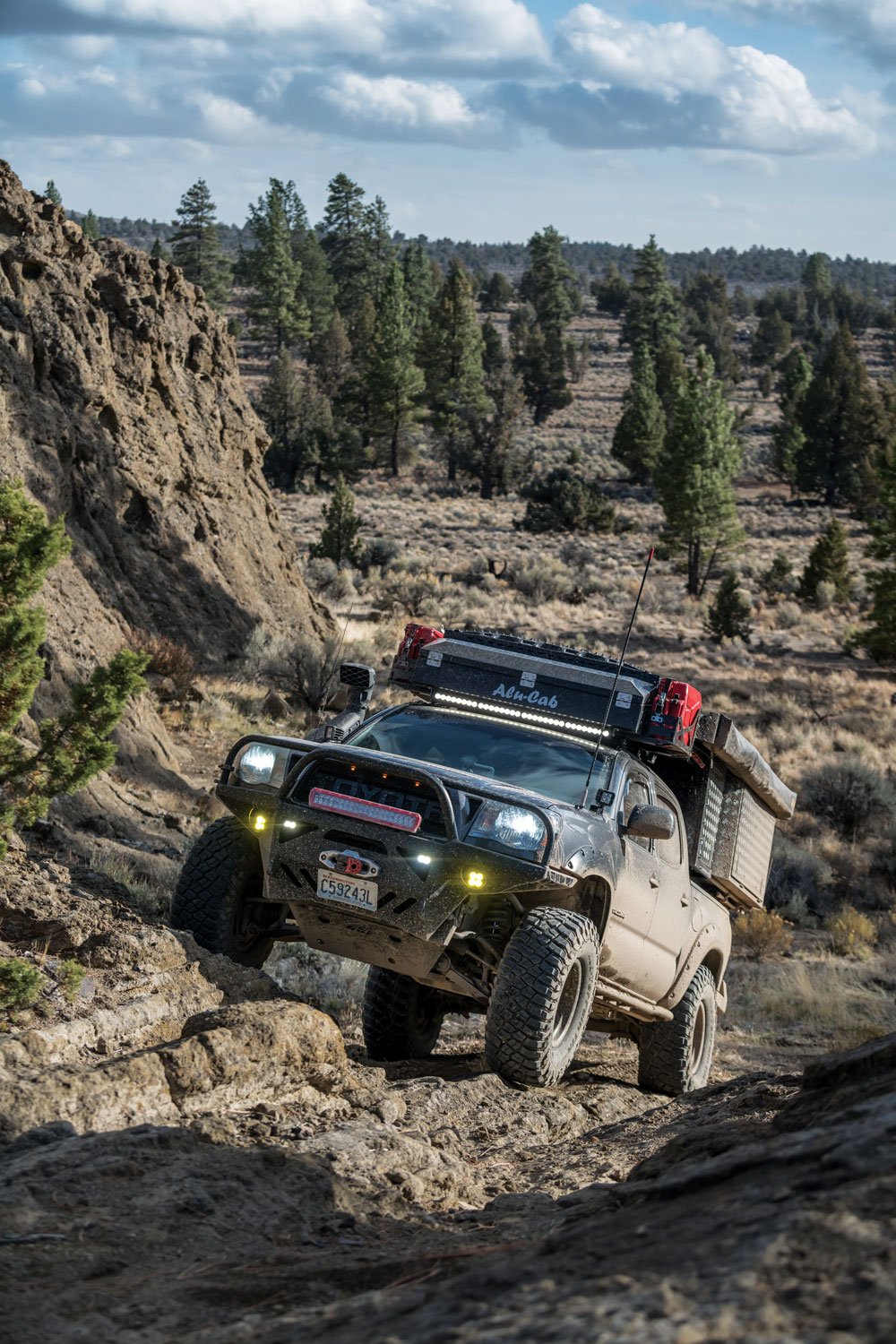 With some added clearance from the lift, some fender trimming, Bushwhacker Fender Flares, and a body mount chop, it was time for some big tires. Haidinyak managed to wedge 34.5-inch BFGoodrich KM3s under this Tacoma. In the wintertime he runs 33.1-inch BFGoodrich KO2s, which offer him enough room to run chains when needed. Bronze 16-inch SCS F5 wheels, with 3.5 inches of backspacing, allow for taller sidewall tires and a wider stance. They are also a lightweight, easy-to-clean wheel option that looks amazing, all of which Haidinyak appreciates as a designer himself.
Moving up in tire size required re-gearing. Haidinyak opted for quality 4.88 gears from Nitro Gear. While the diff was open, an ARB front air locker was also installed. The rear has a factory e-locker already, so no need for an upgrade there. Haidinyak likes to push his rigs off-road and found selectable lockers an invaluable tool on his Jeep and has found them even more invaluable with the Tacoma's limited, in comparison, articulation.
Off-Road Ready
Now that the truck was rolling right, it was time to make the rest of the truck ready for the off-road adventures ahead. Up front there is an aluminum CBI Moab 2.0 bumper, which provides more clearance and aggressive looks. The optional full grille and light protection hoop protects against animal strikes; Elk are a concern in Eastern Oregon where Haidinyak is based. A Warn Zeon 10-S winch with Factor 55 FlatLink and a full complement of ARB, Baja Designs, and Rigid LED lights are also fitted to the front bumper.
Haidinyak says that a Safari Snorkel is mandatory equipment for him. The first reason being to feed cleaner, cooler air to the engine on long days driving across the desert. The second reason is that he can't help driving through deep water every chance he gets. He says, "It makes me really, really happy." For those deep water plunges, ARB differential breather kits were also installed.
Besides the snorkel and bumper, the front end of the truck looks quite a bit different because of the ditch lights and front grille. The ditch lights are Rigid Industries Dually D2 floodlights attached using CBI brackets. The replacement front grille is a metal mesh and plastic unit from @HowerTaco. Haidinyak just couldn't handle the aesthetics of the plastic and chrome OEM grille and likes the additional visibility that the added amber LEDs in the new grille provide.
More armor was also needed, as this truck is driven hard in rough terrain. White Knuckle Off-Road sliders are drawn-over-mandrel (DOM) bent, upswept for clearance, and feature diamond plating on the rear kick-out. The slider steps not only protect the cab from damage but help Haidinyak access the roof rack and help his young son climb in and out of the truck. A full set of CBI aluminum Overland Skids protect the underside of the truck, along with Total Chaos steel LCA skids. A CBI high-clearance rear bumper rounds out the armor package.
On the roof is an Alu-Cab WoodBox 2.0 on Alu-Cab Load Bars. It swallows extra gear and is a great place to carry messy items, like firewood. The roof system also holds two Wavian jerricans in Alu-Cab holders, two pairs of Maxtrax traction boards, a Baja Designs LED light bar, and a few area lights.
The stuff you don't see is just as important as the stuff you do. Underhood an ARB twin compressor is installed with a bracket from Slee Offroad. A full electrical system, designed by Mule Expedition Outfitters, features dual Odyssey Extreme Series 35 batteries, Off Grid Engineering components, and some additional parts from Blue Sea. The headlight bulbs were replaced with IPF LED units, which greatly improved driving lighting on- and off-road. 
Additional recovery items include an ARB winch recovery kit, ARB air tools, and a tire repair kit.
Alu-Cab Khaya Camper Build
One of the last upgrades to go on this truck, and the crown jewel of this build, is the Alu-Cab Khaya Camper. The Khaya Camper is a full-featured aluminum slide-in pop-top truck-bed camper. With tons of storage, a comfy bed, and an outdoor kitchen, this camper leaves you wanting for nothing.
Creature comforts of the Khaya Camper include a National Luna fridge/freezer, diesel air heater, water heater, shower system, two-burner propane stove, and even a kitchen sink. On the roof is a massive 252-watt solar system and a pair of Yakima roof bars to haul bulky outdoor toys. An Alu-Cab Shadow Awn 270 awning and a slide-out table mounted under the cab-over round out the camper features on this quality home away from home.
Passenger Comforts
Inside the truck a Pioneer Navigation head unit with Apple CarPlay has greatly improved the roadtrip experience. Along with upgraded speakers and an amp, the audio system keeps the party going down the road. Haidinyak prefers to use his iPhone with the Gaia GPS app for navigation, with the in-car nav and a Bad Elf GPS as backups.
There are lots of electrical accessories on this truck, all controlled on a Switch Pros panel, mounted with a bracket from Expedition Essentials in the overhead sunglasses compartment. Not only is this a superclean install, but keeps Haidinyak's young kid away from the light-up switches that he'd surely love to play with.
For communication on the trail, GMRS handheld radios are used. For longer range comms, a Cobra 75WX CB radio was installed, with a FireStick antenna mounted to the front bumper. A  ham radio system is also in this truck's future.
Finishing out the interior is a critical upgrade for life on the road with a dog and a toddler. Wet Okole neoprene seat covers were installed throughout. They were optioned with air adjustable lumbar support and a full host of accessory pockets. These custom-fit washable seat covers keep the interior working and looking as good as possible.
Less is More
When this Tacoma is full of people, fuel, water, and basic camping gear, it is at about its gross vehicle weight rating (GVWR)—that is without the camper. Obviously weight is always going to be an issue with a built Tacoma because of its relatively low payload capacity, so Haidinyak is continually working on ways to lighten the load. Lately he's even considered ditching the camper and switching to an off-road trailer system. It's just too much fun to bomb around off-road in this fully built Tacoma without all the added camper weight.
Built for Adventure
This truck build has already been on big adventures throughout Utah, Nevada, Oregon, Washington, and California. Having recently completed the Mojave Road, the next big trips on the agenda are all the western states Backcountry Discovery Routes (BDRs) over the next few years. Further afield adventures in some Central American countries are also on Haidinyak's to-do list with this adventure machine.
For more on this truck, and to follow Haidinyak and his family's adventures, check out @WanderingTuesday on Instagram.
Editor's Note: A version of this article first appeared in the July/August 2020 print issue of Tread Magazine.